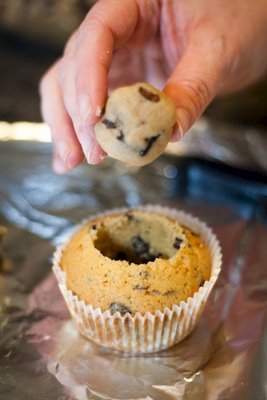 Cookie dough cupcakes have a surprise inside – cookie dough!!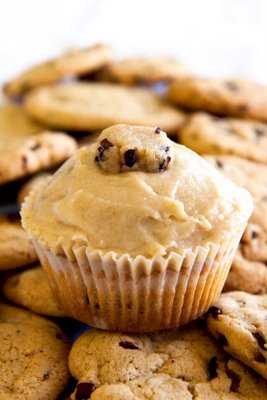 But, cookie dough cupcakes also have cookie dough on the outside; I topped these cookie dough cupcakes with cookie dough frosting – literally cookie dough thinned out with a bit of heavy cream to make it spreadable. For an added bonus, there is a raw cookie sitting on top of the cupcake.
You could use the cookie dough filling and cookie dough frosting idea on any cupcakes.
Cookie Dough Filling
Cookie Dough Filling
If you are going to be serving raw cookie dough, I recommend that you use this eggless cookie dough recipe that is safe to eat.

Cookie Dough Frosting
To make the cookie dough frosting, mix one cup of raw cookie dough with one half cup of heavy cream. It tastes just like cookie dough, but spreads perfectly!
 

Brown Butter Cupcake Recipe
Update 8/21/11: I recently developed my own brown butter cupcake recipe.  I'd recommend trying that one out instead of the one in this post.
While any cake recipe would work (which one would you use?), I decided to make brown butter (or burnt butter depending on who you are talking to) cupcakes. The cake was rich and a fitting complement to the cookie dough. It might have been even better had I actually followed instructions.
The recipe clearly stated that I should use self-rising cake flour and not all-purpose flour. Since I didn't have any self-rising cake flour sitting around, I just ignored that instruction. While I can't say for sure how that affected the recipe, I will say that my rendition of the recipe made only six cupcakes while the recipe said that it made twelve. I suppose if I had used the correct flour, I would have ended up with twelve fluffy cupcakes vs. six dense cupcakes.
The burnt butter cupcake recipe came from the blog, Create! and I am reprinting it below with my notes.
Made 6 cupcakes for me with the all-purpose flour, but the recipe with the self-rising cake flour says it should make 12.
1/2 C plus 2 T unsalted butter
3/4 C self-rising cake flour (NOT all-purpose; you can do it with all-purpose but – as I discovered – it cut the number of cupcakes in half!)
3 T sugar
5 T brown sugar
2 large eggs
1 t vanilla extract
1 t baking powder
2-3 T milk
First, you must brown the butter. There are some photos of these steps below the cupcake recipe.
Place butter in a small saucepan over medium heat, stirring constantly until it turns a dark golden color (3-5 minutes).
Take the pan off the heat and strain into a bowl (to separate from the sediment).
Let the butter sit until it solidifies, but is still a little soft. (This took almost 30 minutes because it's hot here; if hot out, put in the fridge for about 10 minutes).
When the butter is solid yet soft, place in a food processor along with ALL cupcake ingredients except milk. Blitz! (I don't own a food processor big enough to put everything in so I just used my Kitchen Aid.)
Add milk slowly and pulse till well-mixed.
Fill six cupcake liners to the top if you used all-purpose flour, or twelve cupcake liners halfway if you used self-rising cake flour.
Bake at 400 F for for 15-20 minutes.
When the cupcakes cool, use a paring knife to cut a hole in them and plop in a ball of cookie dough. See the photo at the top of this post.
Brown Butter Photos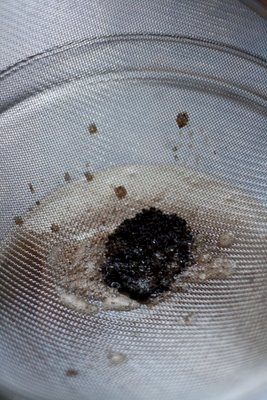 Here's what the strained stuff looks like from the brown butter. Beautiful, right?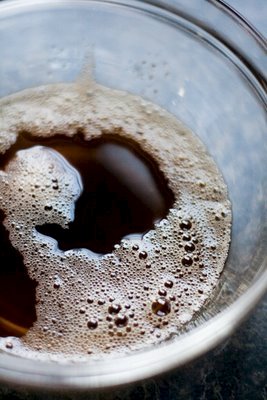 And here's the brown butter. Mmmm. There is a recipe on Create! for burnt butter frosting which I may have to try some time.
This photo has nothing to do with burnt butter. It is an expression of the joy that spring is finally here and cupcakes can be eaten outdoors!