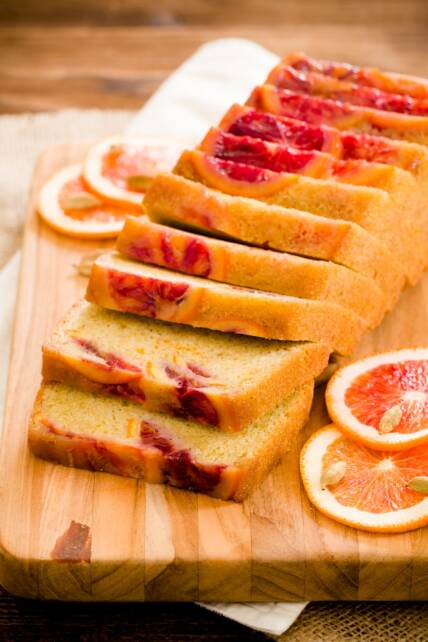 I brought this blood orange and cardamom olive oil pound cake to my book club and as they collectively tasted the cake, the group of outspoken women was left speechless for several moments.  To say this cake was hit would be an understatement.
This blood orange and cardamom olive oil pound cake is overflowing with the rich spice of cardamom, sweet splashes of vanilla, and the tart pucker of blood oranges.  It's not just the flavor of this cake that wins tasters over, though; it's the texture.  Olive oil pound cakes are just as rich as their buttery peers, more moist, and don't leave you with the same heavy feeling.
Blood Orange and Cardamom Olive Oil Pound Cake Recipe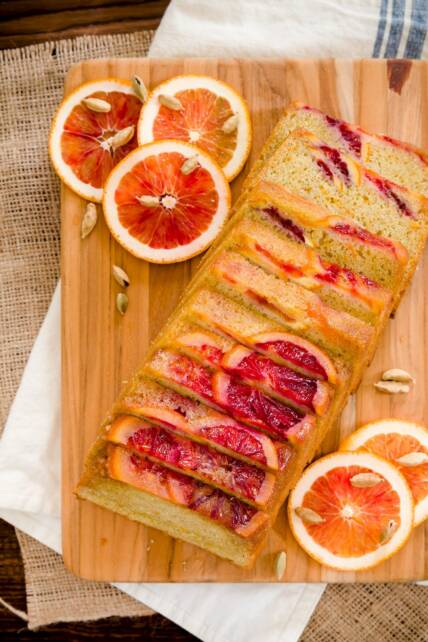 I have two lovely bloggers to thank for this recipe.  First, I was inspired to make an upside-down blood orange and cardamom cake after seeing the beautiful caramelized blood orange and cardamom cake by Louise on Cygnet Kitchen.  The olive oil pound cake recipe that I used as the base of the cake was adapted from the citrus olive oil cake by Naomi of Baker's Royale.  Both bloggers are exceptionally talented and I encourage you to check out their recipes and stunning photography.
If you've tried this recipe, please RATE THE RECIPE and leave a comment below!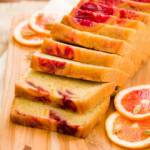 Blood Orange and Cardamom Olive Oil Pound Cake
Ingredients
Blood Orange Topping Ingredients
2

tablespoons

unsalted butter

cut into small pieces

3

tablespoons

brown sugar

1/2

of a blood orange

washed and thinly sliced
Cake Ingredients
1 1/2

cups

all-purpose flour

2

teaspoons

baking powder

1/2

teaspoon

salt

3

teaspoons

ground cardamom

1

cup

sugar

4

large eggs

1/4

cup

whole milk

1

teaspoon

vanilla extract

3/4

cup

olive oil

zest of 2 blood oranges
Instructions
Blood Orange Topping Instructions
Preheat oven to 350 F.

Place butter and brown sugar into the bottom of a loaf pan and place into the oven for about 5 minutes or until the sugar and butter are melted. Swirl the pan to evenly distribute the melted ingredients over the bottom.

Arrange blood orange slices on the melted butter/sugar - a little overlap is fine.

Grease the sides of the pan.
Cake Instructions
In a small mixing bowl, whisk together flour, baking powder, salt, and cardamom.

In a medium-sized mixing bowl, beat sugar and eggs until thick and pale yellow.

Mix in milk and vanilla until just combined.

Add in olive oil a little bit at a time until just combined.

Mix in dry ingredients a little bit at a time until just combined.

Fold in zest.

Pour batter over blood oranges.

Bake for 60 minutes or until a toothpick inserted into the center of the loaf comes out clean. 40 minutes into the bake, check to see if the top is getting overly brown. If so, cover with foil for the remaining 20 minutes.

Cool for 10 minutes before inverting onto a board. Transfer to a cooling rack.

When cool, slice and serve. (This loaf looks so much prettier sliced than it does right out of the pan.)
Lest you still have hesitation as to whether to bake this recipe soon, remember that blood oranges are not around all year.  A few years back I was obsessed with baking something with blood oranges for Halloween.  The key problem with that plan was that blood oranges aren't in season in the fall.  Hunt as I might, I couldn't find fresh blood oranges anywhere.  Now, when I see blood oranges on the grocery shelves, I need to grab them up and enjoy them while they are around.  I encourage you to do the same.