Crumb topping makes everything better. Crumb topping is the star of apple crumb pie and coffee cake. Crumb topping also makes many, many muffin recipes shine. But, you rarely find crumb topping on cupcakes. Perhaps this is because using a crumb topping leaves an uneven surface, which makes things difficult/ugly to frost. Never fear, cupcake fans, I have a solution!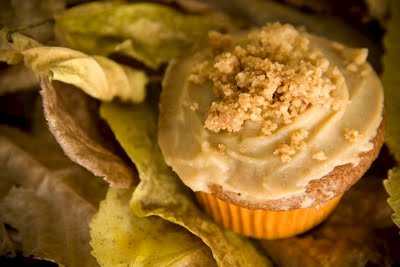 Bake the crumb topping separately and put the crumb topping on top of the frosting!
The recipe (sourced from All Recipes) couldn't be easier:
Using your hands, mix equal parts brown sugar and flour with half as much unsalted butter (e.g. 1/2 C brown sugar, 1/2 C flour, 1/4 C butter). It should stick together and form crumbs.
Spread the mixture onto a baking sheet lined with parchment paper.
Bake at 350 F for 20 minutes.
Crumble any pieces that stuck together and put the crumbs on everything in sight!
Note: The cupcake in the photo is my sweet potato casserole cupcake.