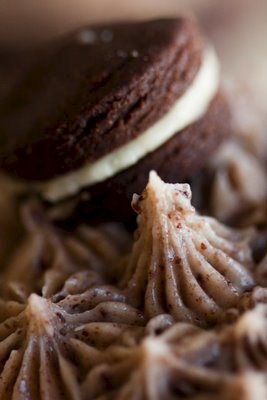 Oreo frosting, in my mind, has to be made with cream cheese. As I mentioned when I made my Oreo cookies, I love Oreo cheesecake and I thought that I could, to some degree, replicate the feel of a good Oreo cheesecake in the frosting for my Oreo cupcake. I started with a basic cream cheese frosting and mixed in Oreos and a splash of vanilla extract.
I consider my Oreo frosting a success! It was perfect on the Oreo cupcakes, but it would also be great on any plain chocolate or vanilla cupcake. Even a box mix cupcake would be kicked up many notches if you topped it with homemade Oreo frosting.
Oreo Frosting Recipe
Oreo Frosting – Cream Cheese is the Key
Ingredients
8 oz package of cream cheese, room temperature
1/4 C butter, room temperature
3-4 C powdered sugar (use more or less depending on how stiff you want the frosting to be)
1/2 t vanilla extract
3/4 C crushed Oreos (I crushed them in the food processor to be sure the pieces would be really tiny and wouldn't get stuck in my piping tips. If you are going to spread the frosting, it might be fun to use bigger chunks of Oreo. Also, I used my homemade Oreo cookies which aren't standard size - so I can't tell you exactly how many Oreos 3/4 of a cup is.)
Instructions
Whip cream cheese and butter until light and fluffy.
Mix in powdered sugar one cup at a time.
Add vanilla extract.
Gently stir in crushed Oreos.
http://www.cupcakeproject.com/2009/02/oreo-frosting-cream-cheese-is-key.html