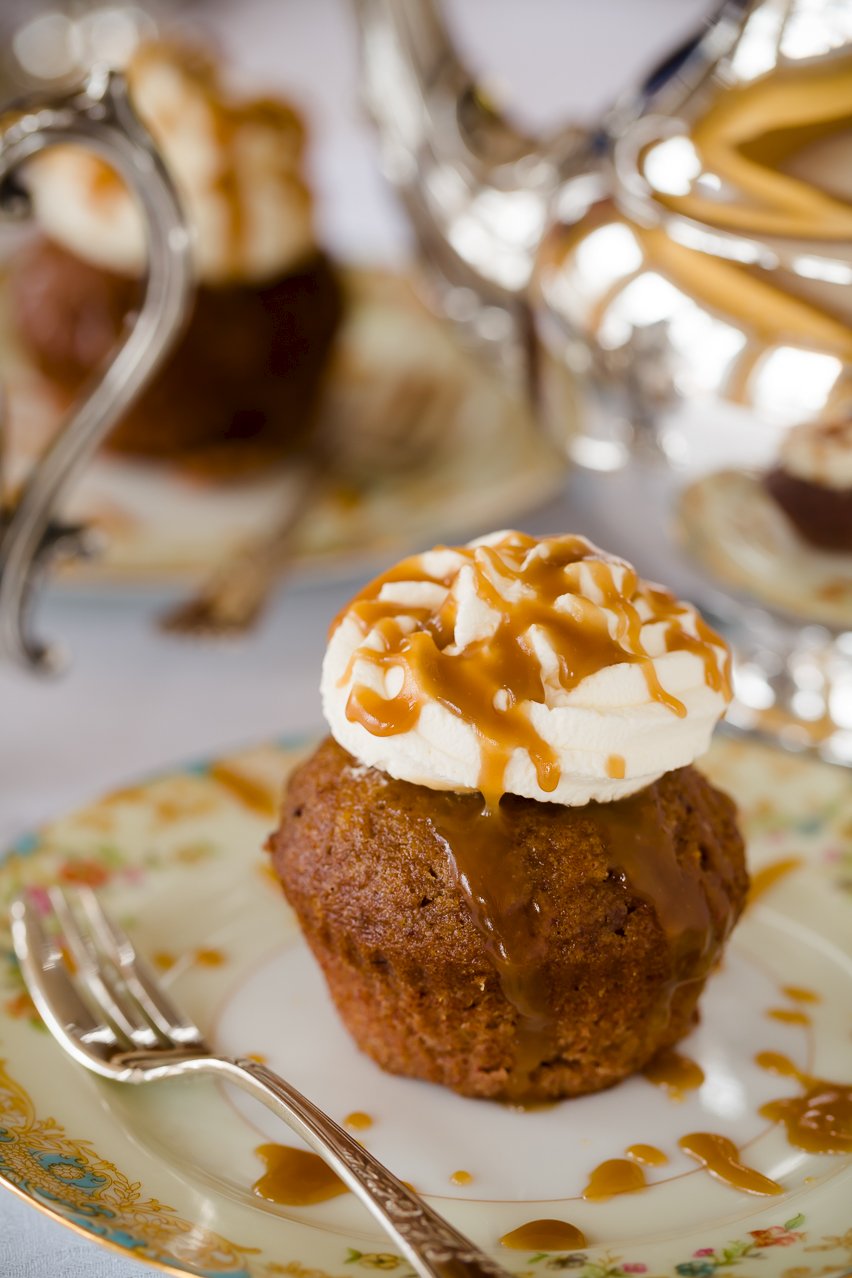 I first discovered sticky toffee pudding many moons ago on a questionable date (the kind where you can't tell if you're on a date or not).  My "date" insisted that I try the sticky toffee pudding at The Schlafly Tap Room, claiming that it was the very best dessert in St. Louis.  The "date" ended up being a great friend, but the sticky toffee pudding became a lifelong love.
Sticky toffee pudding is a moist cake – not what we think of as a pudding on this side of the pond.  Sticky toffee pudding is made with dates, but no one seems to know.  At The Schlafly Tap Room, the menu description simply states that it's a "very moist dense cake."  The dates are chopped so finely that you don't notice them when you eat the cake.  However, it's the dates that make the cake sticky and give the cake its distinctive flavor – well, the dates and the sauce.  This dessert is really all about the sauce.  The caramel sauce is made with dark brown sugar, butter, vanilla extract, and heavy whipping cream, and when sticky toffee pudding is served at The Schlafly Tap Room, it's in a lake of the saucy goodness.  It takes all possible self-control to save any for others at the table.
For my sticky toffee pudding cupcakes, I used Schlafly's recipe and adapted it to cupcake form.  I cut a hole in each cupcake and filled it with the caramel sauce, then topped each cupcake with whipped cream and more caramel.
Sticky Toffee pudding is a British dessert and perfect for a Downton Abbey viewing party!
Also, check out my other British desserts like :
Sticky Toffee Pudding Cupcake Recipe
Below is the sticky toffee pudding recipe adapted to cupcake form from Schlafly's recipe.
If you've tried this recipe, please RATE THE RECIPE and leave a comment below!
Sticky Toffee Pudding Cupcakes
Ingredients
Cupcake Ingredients
1

pound

pitted dates

chopped finely in a food processor

2

cups

hot water

2

teaspoons

baking soda

1/2

cup

+ 2 tablespoons unsalted butter

2 1/2

cups

sugar

5

large eggs

2

teaspoons

vanilla extract

3 1/2

cups

all-purpose flour

2

teaspoons

baking powder

pinch

salt
Sauce Ingredients
3

cups

dark brown sugar

1

pound

unsalted butter

four sticks

1

teaspoon

vanilla extract

1

cup

heavy whipping cream
Instructions
Cupcake Instructions
Preheat oven to 350 F.

In a medium-sized saucepan, combine chopped dates and hot water and bring to a boil.

Remove from heat and add baking soda.

Set aside to cool.

In a large mixing bowl, mix butter and sugar until light and fluffy.

Mix in eggs one at a time until fully incorporated.

Mix in vanilla extract, flour, baking powder, and salt.

Mix in dates and their liquid.

Fill cupcake liners 2/3 full.

Bake for 25 minutes or until a toothpick comes out clean.
Sauce Instructions
In a medium-sized saucepan on low heat, stir together brown sugar, butter, and vanilla until the brown sugar is fully dissolved.

Remove from heat.

Whisk in the heavy cream.
Assembly Instructions
Remove cupcakes from liners.

Using a cupcake corer or a small knife, cut a hole into the top of each cupcake.

Fill each hole to the top with the sauce.

Replace the cores. Let the sauce spill over onto the tops of the cupcakes when you press each core back into its hole.

Store in an airtight container.

When ready to serve, heat in an oven on low heat or in the microwave and top with whipped cream and more sauce.
Recipe Notes
When I made this recipe, I halved the sauce ingredients thinking that a pound of butter seemed extreme. Don't make this mistake. You will want all of that sauce. If you choose not to eat it all with your sticky toffee pudding cupcakes, you'll have extra to put over ice cream.
Special Thanks
Special thanks to Peggy of Peggy's Sweet Creations for giving me the idea for this post.  We've been chatting on email and she shared some of her Downton Abbey premiere ideas with me:
English Garden – Carrot cake filled with custard and topped with an orange cream cream cheese frosting
Syllabub Crumpets and Jam  – Pound cake filled with raspberry mousse and topped with a little dab of raspberry jam and an Italian meringue buttercream
Lady Lemon tart – White chocolate cake topped with a circle of buttercream and filled with lemon curd
Afternoon tea – Black tea cupcakes with honey buttercream and lemon zest garnish
Don't they sound lovely?
Thanks to Schlafly for their outstanding recipe.  In case you were wondering, they did not pay me to write this post; I just love their sticky toffee pudding (and their beer).  If you find that you love the sticky toffee pudding, you may want to become a fan of it.  In writing this post, I discovered that Schlafly's sticky toffee pudding actually has its own Facebook fan page.
Thanks to my friend Rebecca for loaning me her heirloom silver tea set to create the Downton Abbey look and thanks to Jonathan who worked like the downstairs at Downton Abbey to polish the silver and iron the tablecloth for the shoot.