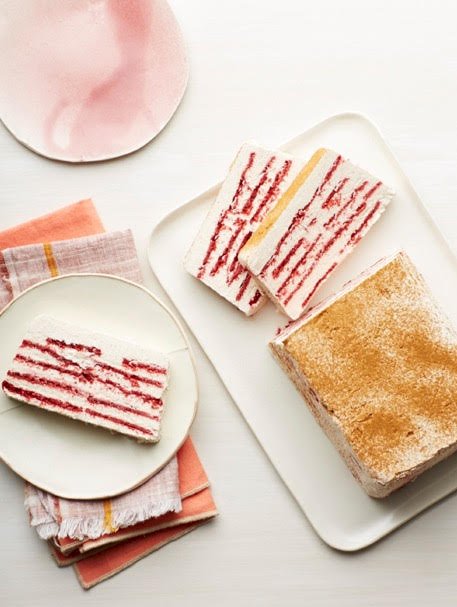 When Jessie Sheehan approached me about contributing to this blog, I knew that I wanted her to talk about icebox cakes. I didn't have a single icebox cake recipe here and she literally co-wrote the book on icebox cakes! In this post, Jessie tells you everything you need to know about icebox cakes – including the fact that they aren't just for summertime. In the next post, she shares a recipe for a super easy holiday icebox cake and I share my experience making it in a fun video!
Here's Jessie:
To put it simply, an icebox cake is an old-fashioned, no-bake, refrigerated cake, made from nothing more than cookies and whipped cream. Such a description, however, hardly does the confection justice, for the cake-making alchemy that takes place in your icebox (refrigerator) is truly magical. In short, while these two simple ingredients rest together in the fridge, the cookies turn soft, pillow-y, and cake-like as they absorb the cream, resulting in a treat that is luscious, light, and deeply addictive. And that's not all…
You can you substitute ladyfingers or graham crackers for the cookies and swap pudding for the whipped cream. Flavoring your whipped cream (or pudding) is highly encouraged. A traditional icebox cake is made with a chocolate cookie, but those assembled with lemon or ginger cookies – or even lavender – will bring your old-school treat to a whole new 21st century level.
Moreover, an icebox cake can be flavored for any occasion or time of year, making them deliciously season-less. One made of peppermint chocolate wafers and mint whipped cream is perfect for Christmas and one assembled with chai whipped cream and ginger snaps deserves a place on the Thanksgiving dessert buffet. Lemon whipped cream with strawberries and ladyfingers is delightful in the spring, and who wouldn't want a S'mores icebox cake in the summer?
Not only are there endless options for flavoring your cake, but assembling it, too, can take many forms. Icebox cakes can be made in springform pans, pans made of Pyrex, a loaf pan, in cupcake liners, or assembled free-form on a platter.
Finally, an icebox cake can be as easy-peasy or as DIY as your heart desires. An oven and a bit more time is required to make your own cookies or graham crackers or ladyfingers. Or you can choose to buy them in the grocery store, eliminating time on task and oven-use. The same holds true for the whipped cream or pudding: homemade is great, requiring time (and in the case of pudding, a stove-top), but cakes made with Cool-Whip and Jell-O Pudding mixes are awfully yummy, too.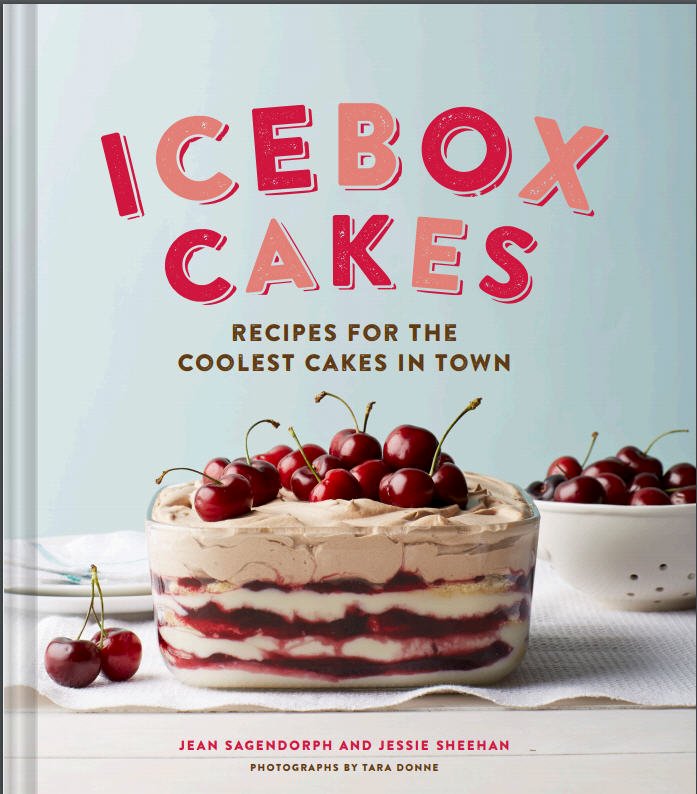 Below you will find instructions and tips and tricks for assembling the icebox cake of your dreams. You can always follow a recipe, and you will find many, as well as the gorgeous Tara Donne photos from this post, in the book I co-wrote on the subject, aptly named Icebox Cakes, and on my website: www.jessiesheehanbakes.com. But the beauty of icebox cakes is that you can also wing it, as it were, provided you follow the few pointers I have compiled and promise me you'll have loads of fun doing it!
Recipe for the Icebox Cake of Your Dreams
Ingredients:
Cookies, graham crackers, or ladyfingers (the "cakey component" of an icebox cake, as I like to call it, can take many forms, be it cookie, cracker or finger):
Cookies must be thin and very crispy. Soft and/or very thick cookies (such as shortbread or biscotti) will not absorb the whipped cream as well, and make for either a soggy cake, or one that is a tad too toothsome. Cookies are best assembled with cakes calling for whipped cream. They tend to get a bit too mushy when combined with pudding.
Graham crackers are a perfect "cakey component" and should be combined with pudding, as opposed to whipped cream, due to their sturdiness.
Ladyfingers also do best with pudding and I prefer a soft, cakey finger, to a crunchy one.
Whipped cream or pudding (a.k.a. the "creamy component"):
Whipped cream is best whipped until stiff peaks form, a bit longer than you would if topping a piece of pie or a bowl of ice cream. The stiffer the peak, the more stable the cake will be, and this is particularly important if you assemble a free-form cake or cupcake. I tend to add about 1 to 2 tablespoons of confectioners' sugar to every cup of heavy cream. And, if adding extract, zest, juice, booze or spice, the safest bet is to add to taste.
Pudding, as mentioned above, is best combined with graham crackers or ladyfingers as it tends to turn cookies to mush. As for homemade pudding recipes, the strawberry lemon icebox cake linked to above includes a recipe for lemon pudding that easily becomes one for vanilla by omitting the juice, zest, and extract. Moreover, the S'mores recipe linked to above includes a recipe for chocolate pudding. If adding extract, zest, juice, booze, or spice, the safest bet (as with the whipped cream) is to add to taste.
Add-ins:
This is where you can have a lot of fun with your cake. Not only can you flavor your cream or pudding, or use flavored cookies (as described above), but you can add layers of lemon curd, salty caramel, dark chocolate ganache or marshmallow fluff to your cake, transforming it into nothing short of a celebration show-stopper.
Icebox Cake Assembly:
Choosing a vessel or shape:
Icebox cakes can be assembled in any vessel or in any shape that you choose, provided you remember this: cakes made with pudding or runny add-ins such as caramel or ganache do best in vessels with sides to eliminate oozing and spillage. Can you attempt a cake with ganache in a springform pan and hope for the best upon removal of the pan's sides? Of course, and I have done so in my book. But to be on the safe side, I would save add-ins for cakes made in your prettiest pottery or a Pyrex dish.
The layering:
I always begin with a layer of the creamy component, as it anchors the cake to the surface of the pan, dish or platter, followed by a layer of the cakey component.
I like to keep my layers thin – just enough of the creamy component to completely cover a layer of the cakey, and then just enough of the cakey component so that the entire layer of creamy is covered, with no holes or gaps between cookies or crackers. This usually requires breaking the cakey component into pieces.
If assembling with add-ins, I like to thinly spread those on top of the cakey layers. Layer the components until you run out (!) or reach the top of your vessel.
The set-up:
Once assembled, place the cake in the refrigerator, lightly covered in plastic wrap.
If using store-bought ingredients, I like to let the cake rest for 5-8 hours, but preferably overnight.
If using a homemade cakey component, a full 24 hours is required, as the homemade cookies, crackers, and fingers take longer to absorb the creamy component than their store-bought counterparts.
Decorating:
I recommend decorating your cake after it has set-up, with sparkling sugar, crushed candy, chocolate curls, or sprinkles.
---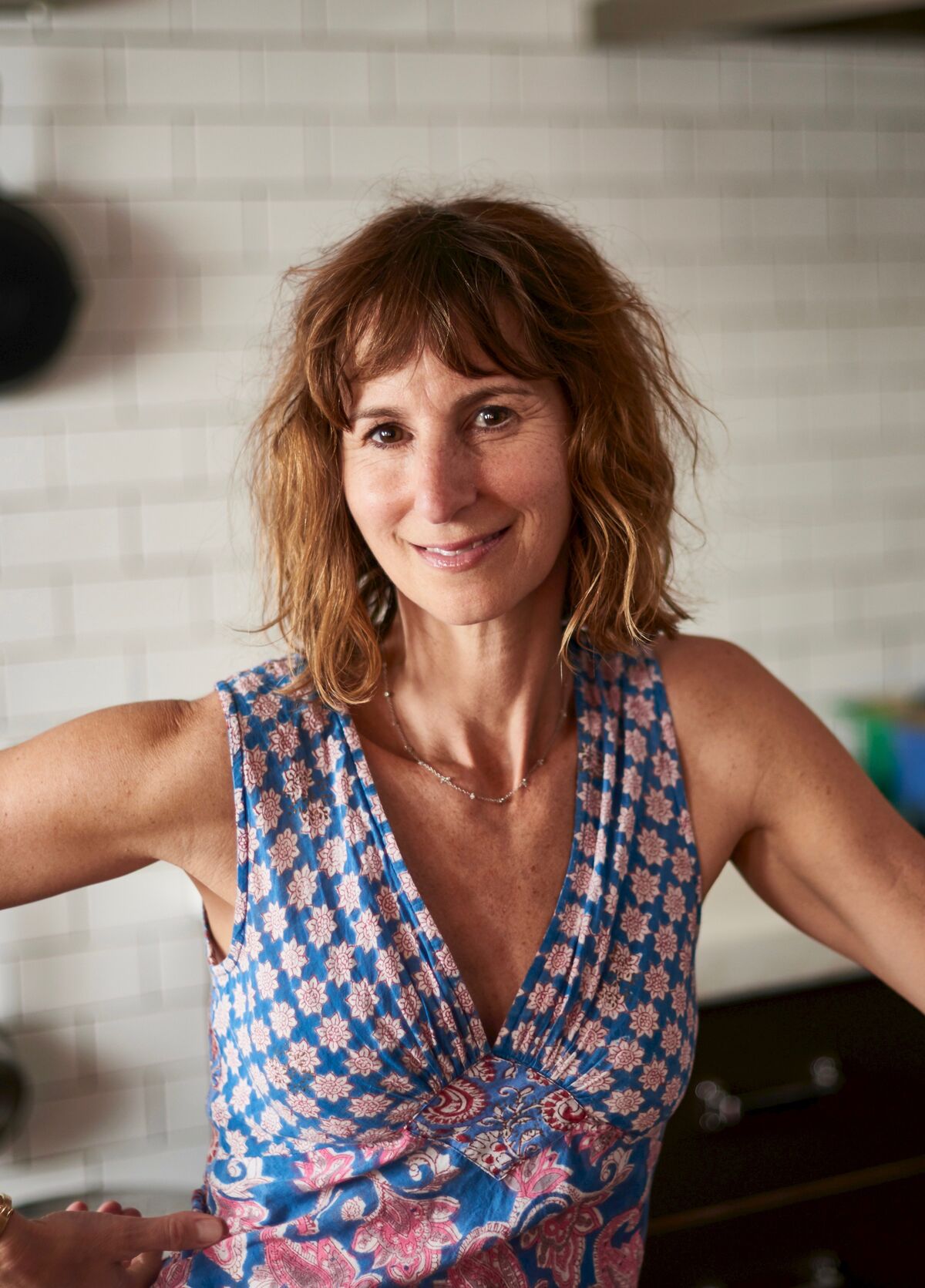 Jessie Sheehan is a cookbook author, baker, and recipe developer. She is the co-author of Icebox Cakes (Chronicle Books, 2015), the author of the upcoming The Vintage Baker (Chronicle Books, April 2018), and has contributed to many other cookbooks. She blogs at jessiesheehanbakes.com, writes and edits for various blogs and publications, and can be found on Instagram at @jessiesheehanbakes.