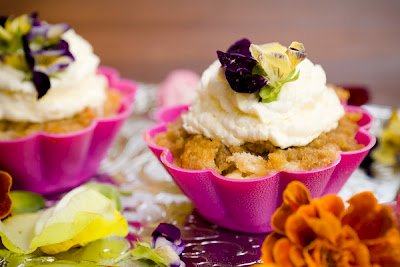 For my second recipe inspired by Muffin Tin Chef (my first was potato and egg cupcakes, a cupcake version of Matt's Parmesan hashbrowns), I put the Cupcake Project spin on his French toast made in muffin cups.  I stuffed the French toast with brown sugar coated peaches and mascarpone cheese and topped them with fresh whipped cream and edible flowers.

Although I developed this stuffed French toast recipe with a traditional family Mother's Day brunch in mind, it was the gaggle of gals in my book club that got to enjoy these stuffed French toast cupcakes – with wine, cheese, and crackers on a crisp evening in a friend's yard. Most of the conversation that night centered around our lives as women and mothers (we were discussing The Awakening, considered to be one of the first feminist novels).  Reflecting on the night, sharing Mother's Day cupcakes with my peers while discussing motherhood seems like such a fitting way to celebrate the holiday – so much so that I am considering making Mother's Day with friends a secondary tradition (I'm not giving up the family one, of course).
Whether you savor these cupcakes with your mom or any moms in your life, have a happy Mother's Day!
For the stuffed French toast cupcakes recipe, head to Paula Deen's website.  I'm a regular contributor to Paula Deen's site, and this month I've shared these cupcakes with her readers.