French toast casserole is custardy and sweet and can be made with your favorite fruit. You can prep the French toast casserole overnight and bake it up in the morning. The whole house will smell amazing!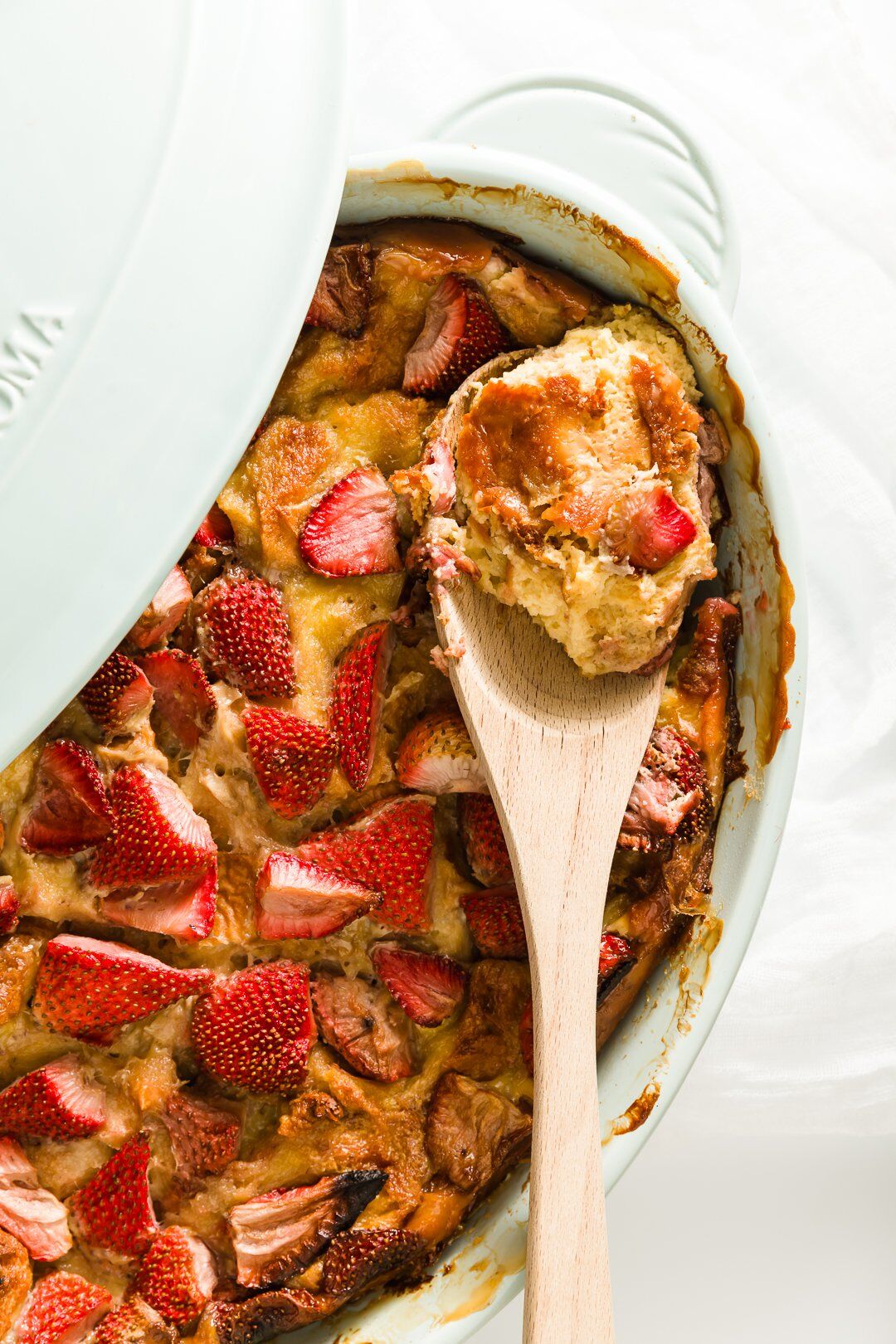 French toast casserole (sometimes called overnight French toast) is French toast that is prepared in a casserole dish the night before it is baked – allowing time for the liquid to absorb into the bread.
Instead of frying it in a skillet, you bake it the oven the morning you plan to serve it.
It tastes very similar to bread pudding.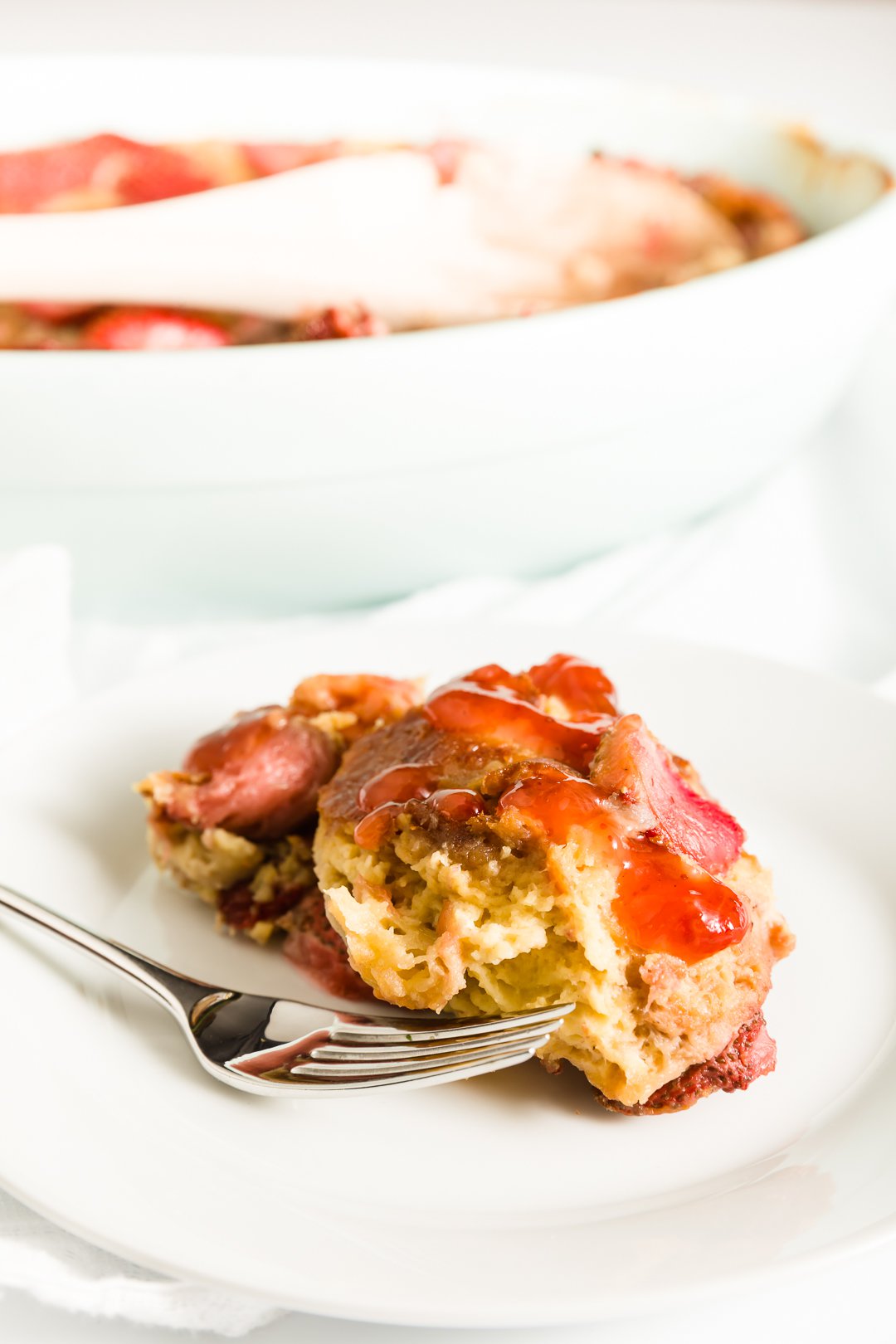 What Makes This The Best French Toast Casserole?
While I've made this casserole with challah, baguettes, and croissants before, I've found that brioche bread makes the very best French toast casserole. It is buttery and decadent and oh-so-good!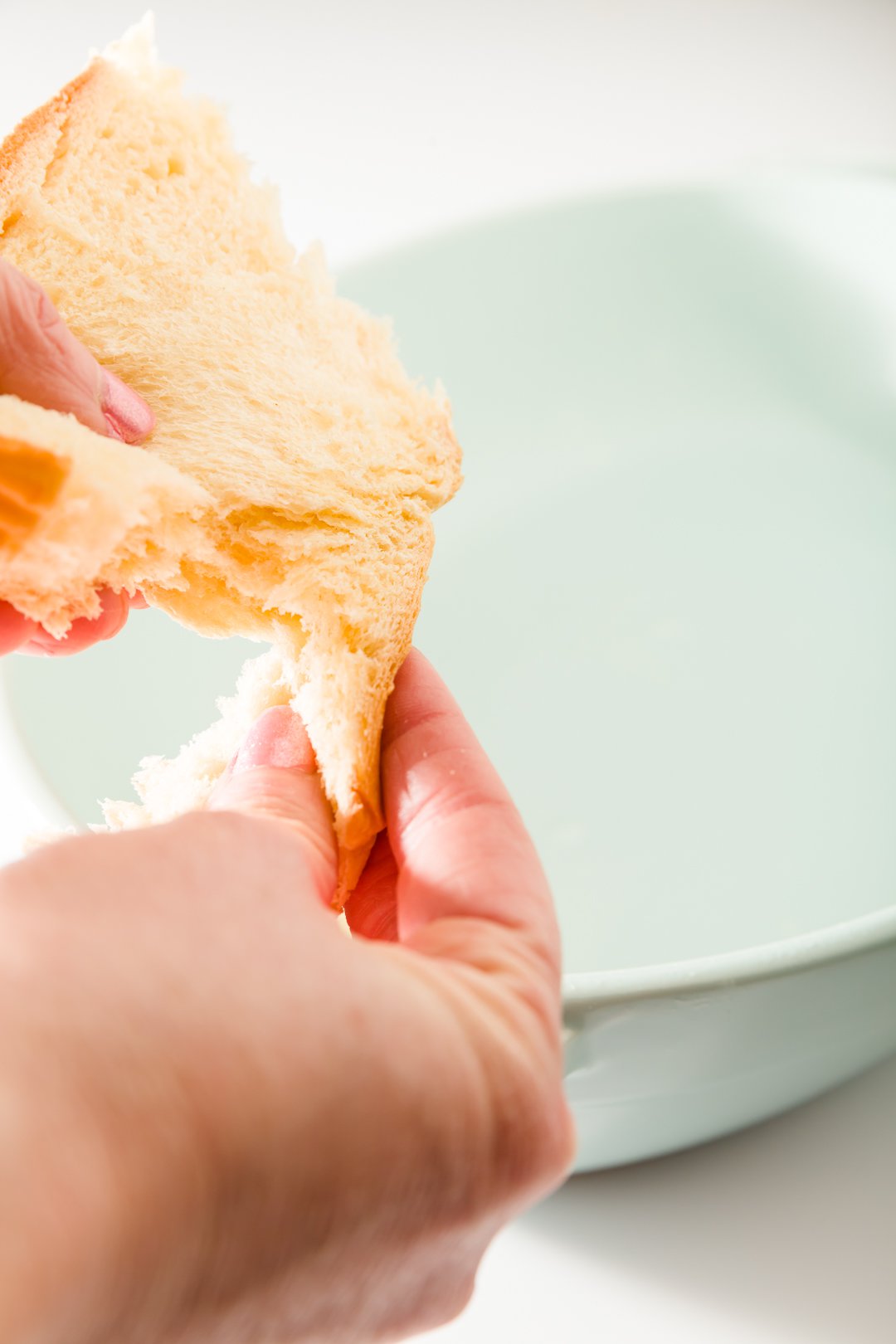 Brioche is a bread made from an enriched dough. This means instead of just having flour, water, yeast, and salt, brioche has the good stuff – butter, eggs, and sugar!
It's a light, pillowy bread that is perfect for absorbing liquid that you add to French toast.
Because challah originates from Jewish homes that keep kosher, it can't have butter in the recipe and still be served with a main meat course (milk and meat must be kept separate in Kosher homes). Instead of using butter, challah is made with oil.
It's the butter that makes brioche better for French toast than challah.
Many people say that stale bread is the best for French toast. I disagree! Fresh brioche makes for a really moist French toast.
Tip: If you prefer drier French toast, try using a stale French baguette instead of Brioche. This recipe is designed to be incredibly moist.
How to Make Strawberry French Toast Casserole
Start by ripping brioche apart into a 3 quart casserole dish. The whole point is to break the bread up so it isn't one big piece. The size of the pieces you end up with doesn't really matter.
Tip: A 9″ x 13″ casserole dish is a perfect choice for this recipe. Although it's a different shape from the DoveWare oval casserole dish that I used, it will also hold 3 quarts.
Top with macerated strawberries. Be sure to include all of the strawberry juice as well. Macerating strawberries is a method of bringing out the natural juices in the berries and making them sweeter and glossy. While fresh, unsugared strawberries work in this recipe, macerating them first makes them extra special.
Tip: If you only have access to frozen strawberries, skip the maceration step. Once thawed, remove the berries from the liquid and whisk the sugar that you would have used to macerate the berries into the remaining juice.
Pour a mixture of the eggs, milk, heavy whipping cream, sugar, and vanilla over the top.
Then, cover the dish and refrigerate overnight so it's ready to bake and serve in the morning.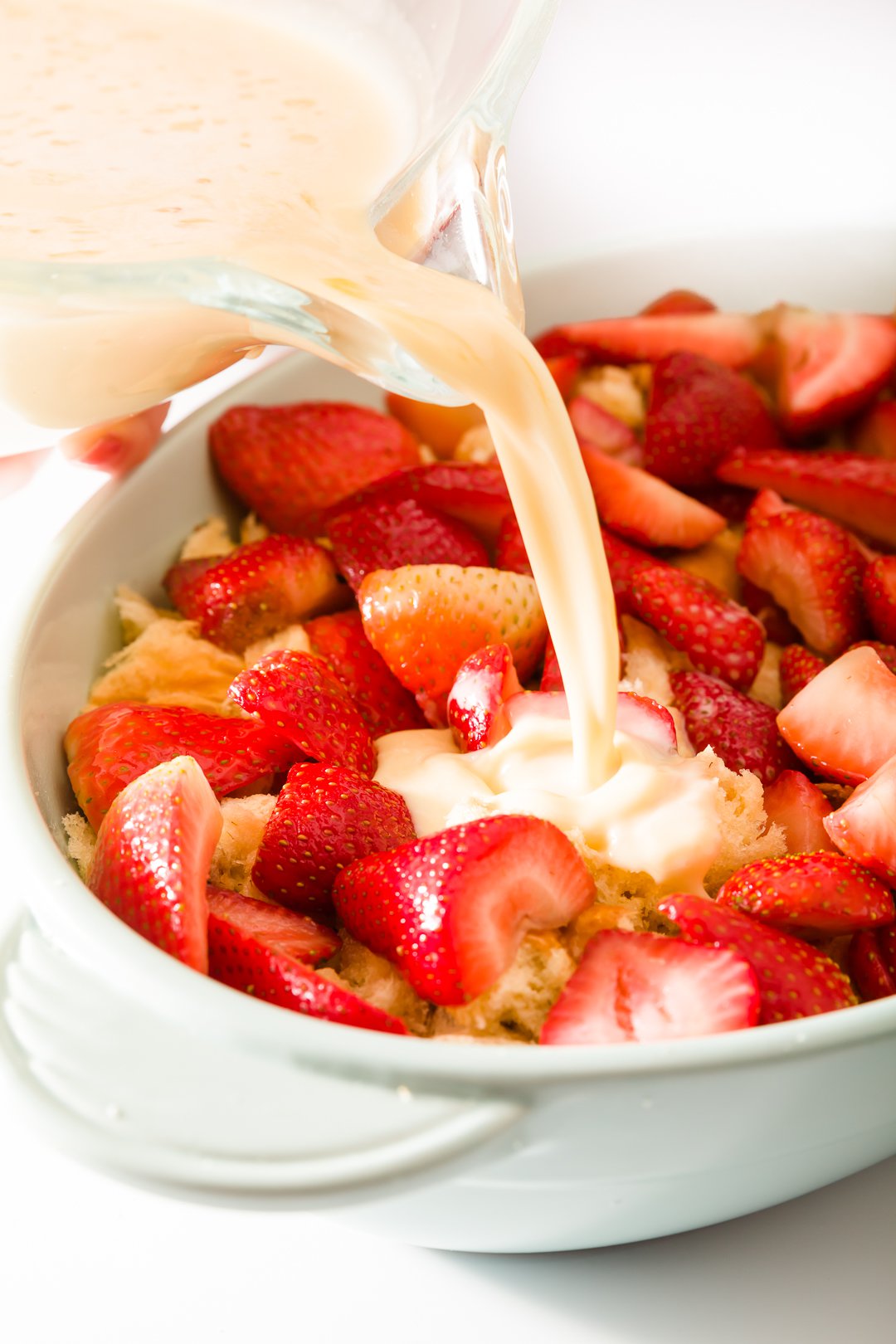 Bake until there is no liquid remaining. If you see any liquid pooling at the top of the dish, it's not done yet.
Tip: Food cooked in more shallow bakeware cooks more quickly. Since bakeware varies by brands, always keep an eye on your French toast as it nears completion to make sure it doesn't get too dried out.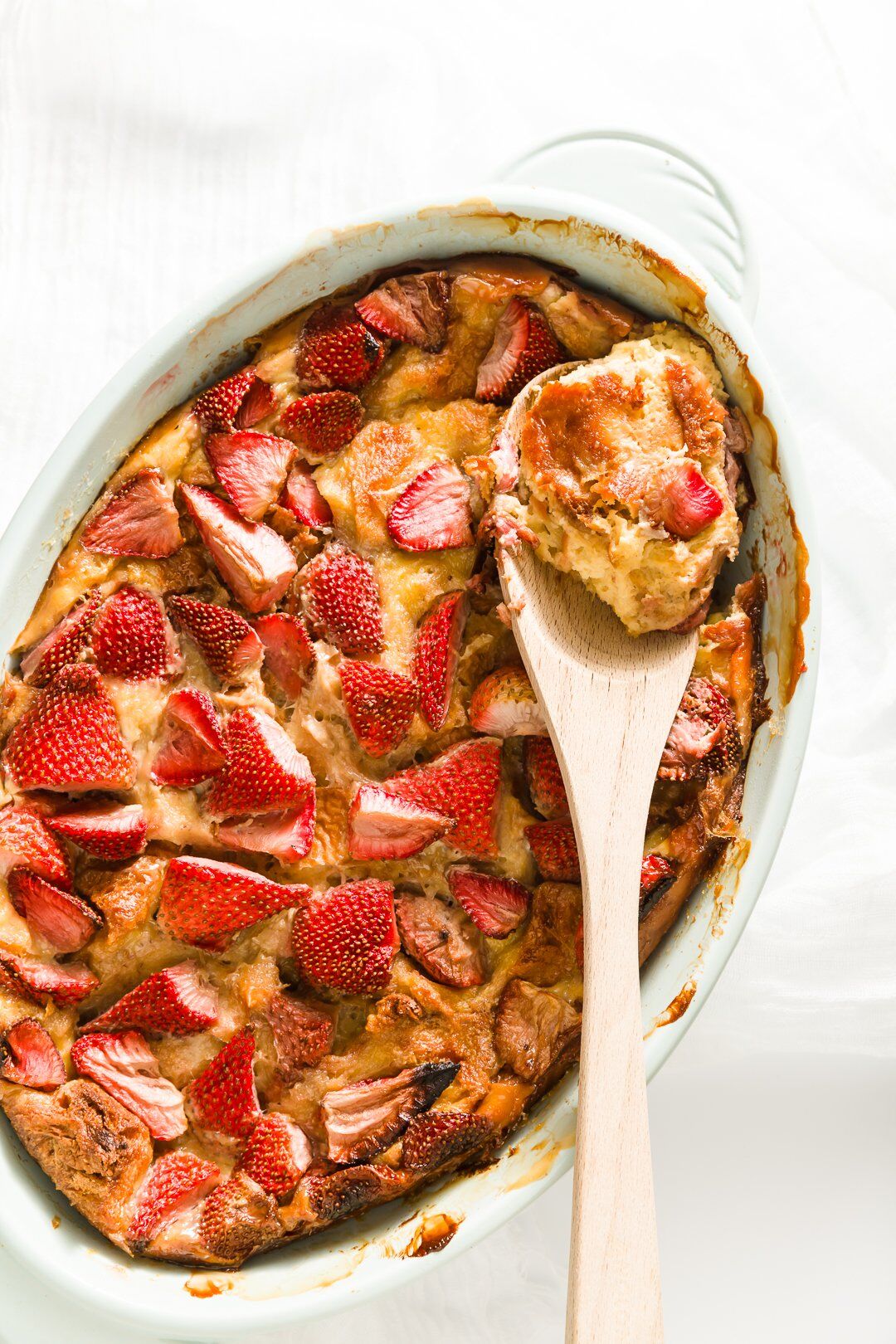 Serving Instructions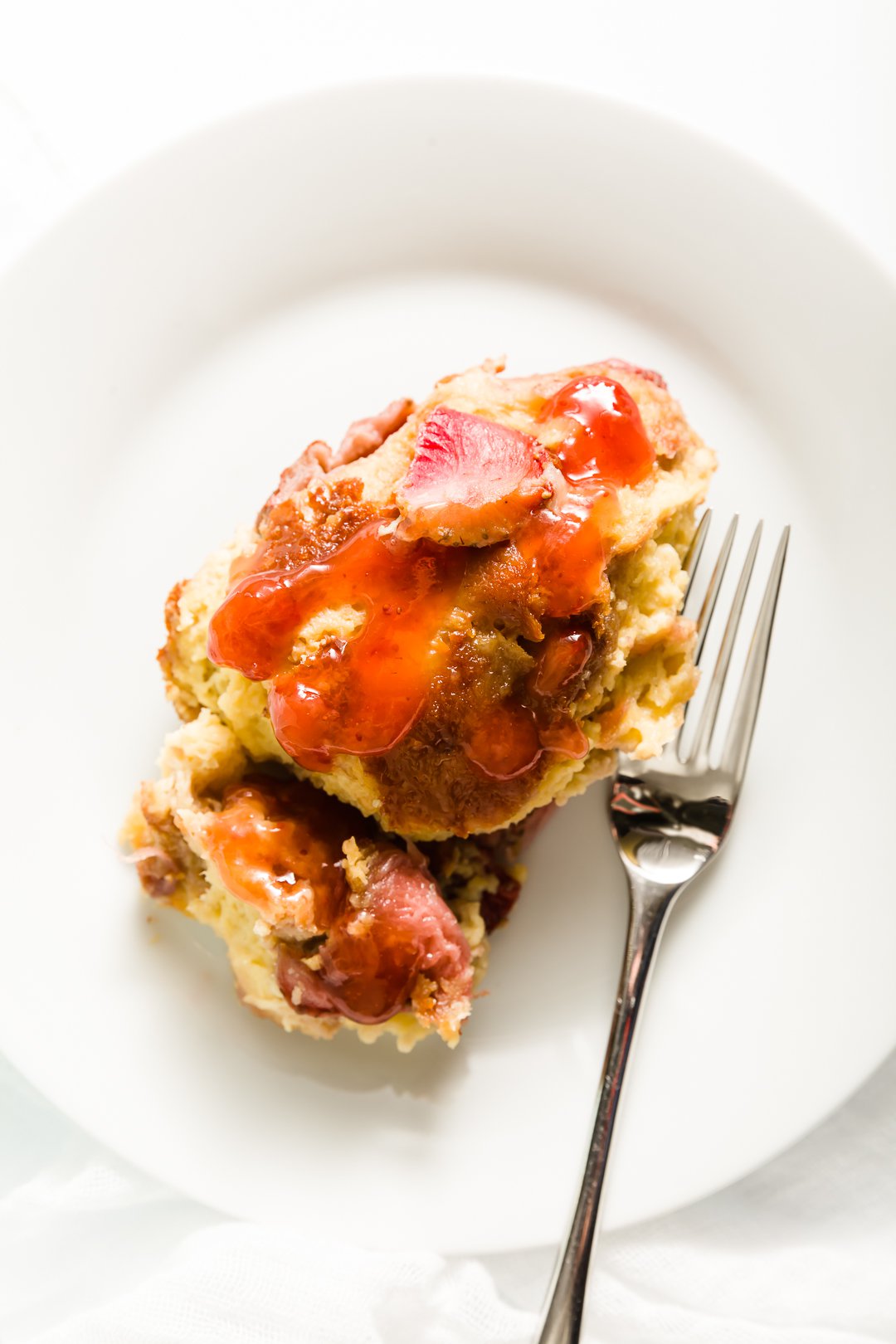 French toast casserole is sweet enough that it doesn't need any topping, but if you want it to be extra decadent, some topping suggestions are:
jam
berry syrup
whipped cream
caramel sauce
Tip: Ideally, serve brioche French toast hot out of the oven. Like a souffle, you'll find that the French toast will look prettiest right out of the oven and will deflate some as it cools. If you need to reheat it, microwave individual pieces for about one minute or heat the whole casserole dish covered in the oven at 250 F for 30 minutes.
This French toast lasts about one week in the refrigerator or several months in the freezer if removed from the casserole dish and sealed in an airtight container.
French Toast Casserole Variations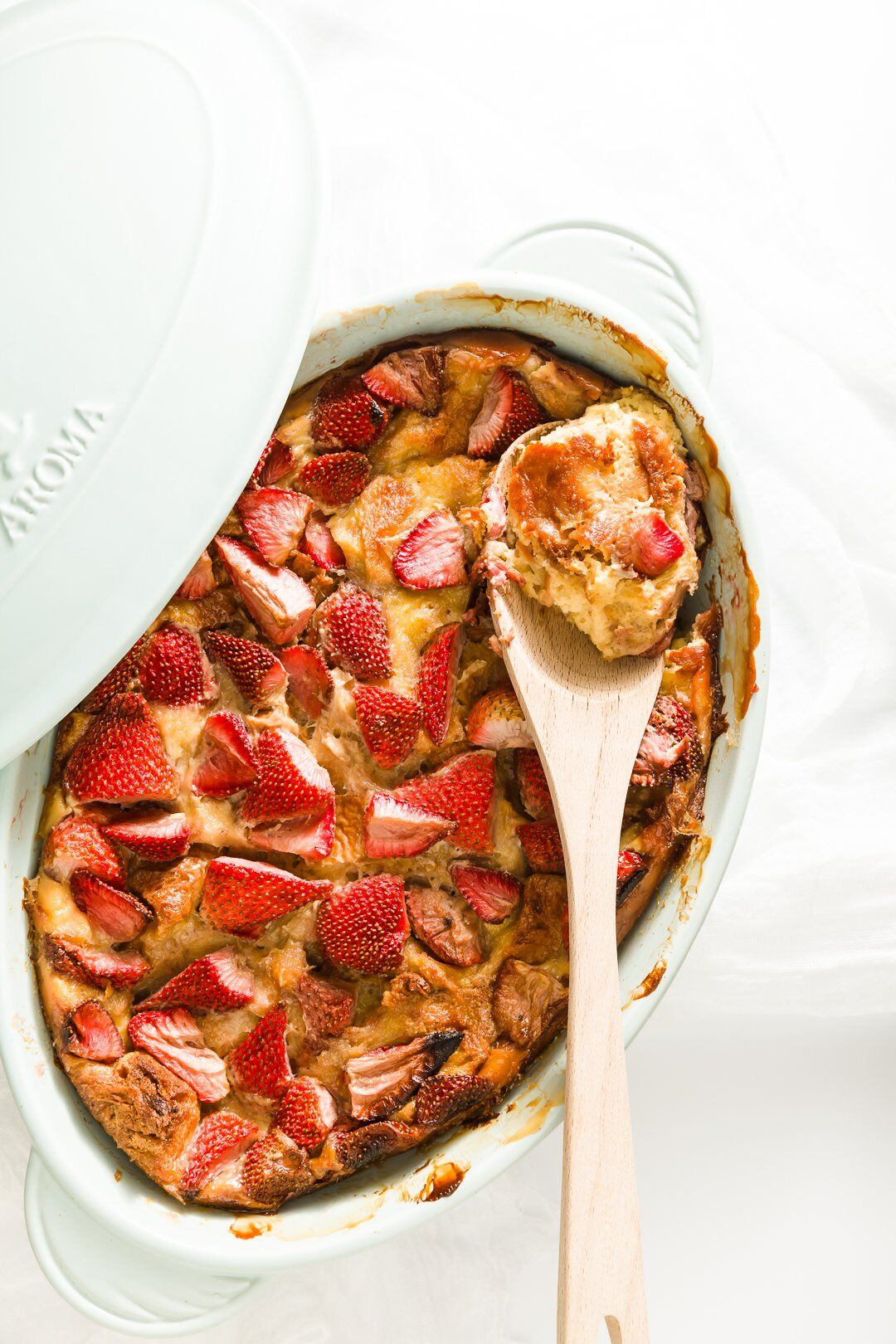 I love adding strawberries to French toast casseroles. But, there are so many other great fruit and non-fruit options:
apples (Chop them roughly and add them in place of the strawberries. Do not macerate them; instead, add the extra sugar to the recipe.)
raspberries (like in my stuffed French toast.)
caramelized bananas (like in my Bananas Foster french toast.)
granola (In the image below, I used apples and topped the French toast with granola.)
Nutella (It's really sweet, but sometimes you want that.)
pumpkin spice (Replace half of the eggs with pumpkin puree and add pumpkin pie spice.)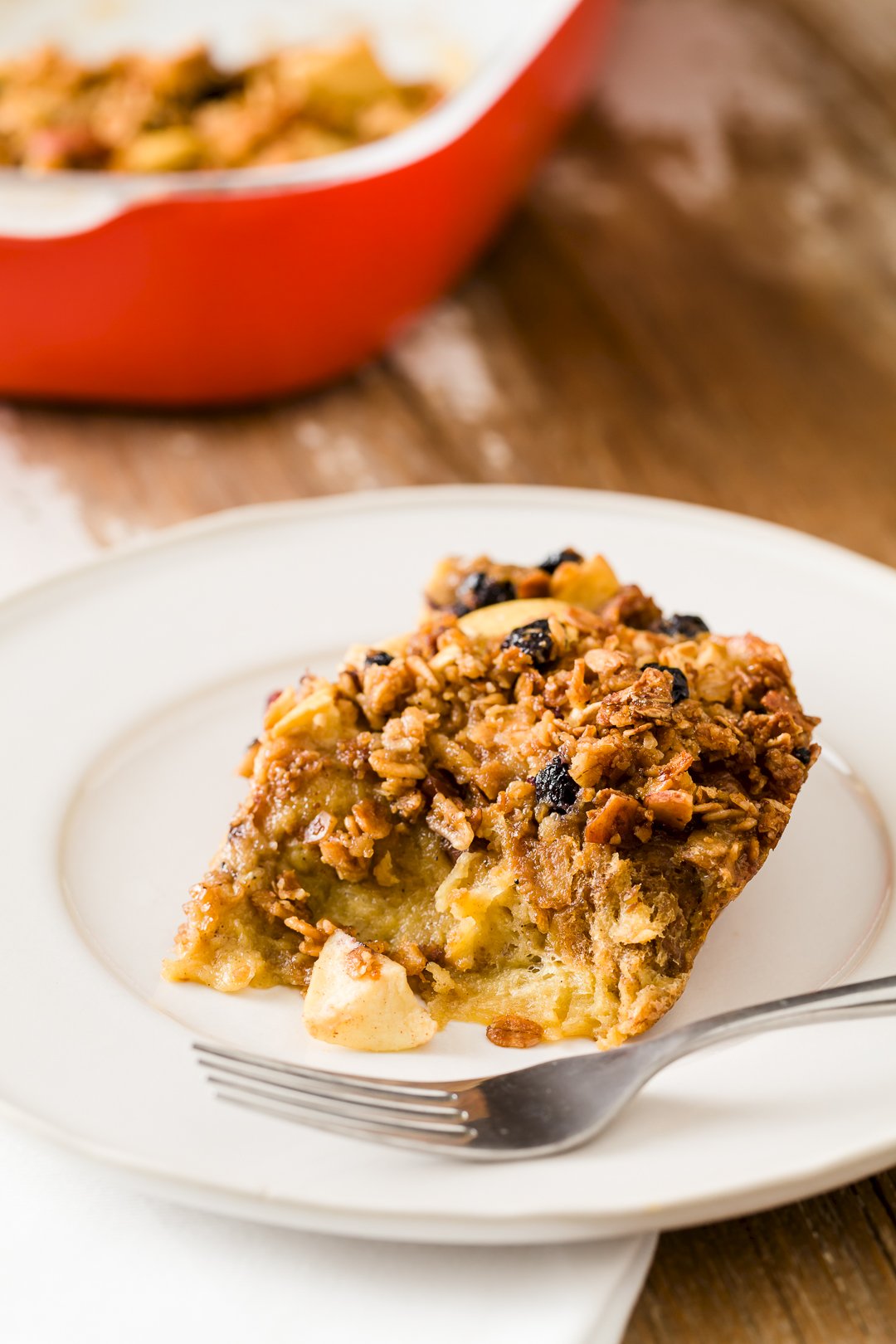 Strawberry French Toast Casserole
French toast casserole is so easy to make. It's custardy and sweet with a wonderful strawberry flavor. 
Cook Time
1
hour
30
minutes
Total Time
1
hour
40
minutes
Ingredients
Macerated Strawberry Ingredients
24

ounces

fresh strawberries

1/4

cup

sugar
Brioche French Toast Ingredients
1

pound

brioche

ripped into chunks

8

large

large eggs

2

cups

whole milk

1/2

cup

heavy whipping cream

1/2

cup

granulated sugar

2

teaspoons

vanilla extract
Instructions
Macerated Strawberry Instructions
Wash, dry, and cut tops off of the strawberries.

Place strawberries in a small bowl and toss with sugar.

Cover and refrigerate for at least one hour. After the hour, the strawberries should look glossy and will have released some juice.
Brioche French Toast Instructions
Grease a 3 quart casserole dish, such as a 9"×13" casserole dish.

Evenly distribute the brioche in the dish and top with the macerated strawberries, including their juices.

In a large bowl, whisk together the remaining ingredients and pour evenly over bread and strawberries.

Cover the casserole dish and refrigerate overnight.

When ready to bake, preheat the oven to 350 F.

Bake for 90 minutes or until no liquid remains.
Notes
Use fresh brioche for soft and custardy French toast.
If you are using frozen strawberries, thaw them on the counter, remove the berries, and whisk the sugar into the remaining juice.
Whisk all of the wet ingredients really well so there are no separate cooked egg bits in the French toast.
Don't be afraid to add spices or other fruits, nuts, or chocolate to make the recipe your own.
Food cooked in more shallow bakeware cooks more quickly. Since bakeware varies by brands, always keep an eye on your French toast as it nears completion to make sure it doesn't get too dried out. 
Serve straight from the oven if possible. Like a souffle, you'll find that the French toast will look prettiest right out of the oven and will deflate some as it cools. 
Nutrition
Nutrition Facts
Strawberry French Toast Casserole
Amount Per Serving
Calories 343
Calories from Fat 153
% Daily Value*
Fat 17g26%
Cholesterol 222mg74%
Sodium 248mg10%
Potassium 200mg6%
Carbohydrates 36g12%
Protein 10g20%
Vitamin A 745IU15%
Vitamin C 33.3mg40%
Calcium 104mg10%
Iron 1.3mg7%
* Percent Daily Values are based on a 2000 calorie diet.