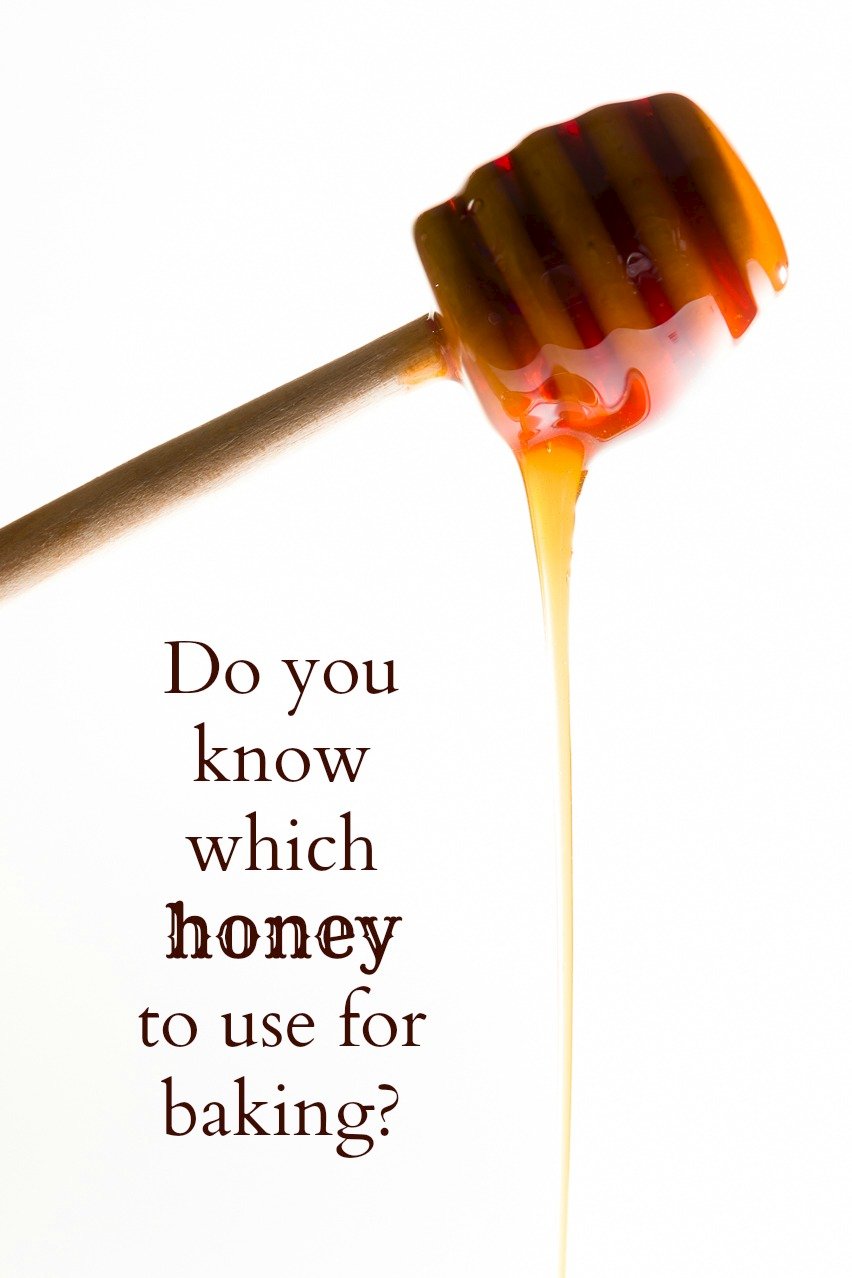 Depending on what bees are eating, honey can take on all different flavors and even colors (Did you catch the story about bees feeding on remnants of colored M&M candy shells?).  I was reminded of this during a recent trip to Florida where I did a honey tasting offered by a company called Keez Bees.  Each honey tasted dramatically different from the next.  Their mamey honey was the most distinctive, with a chocolaty flavor derived from the bees feeding on that unique fruit.
With such an array of honey options, surely choosing the right honey would matter tremendously in baking, wouldn't it?  I set out to find out.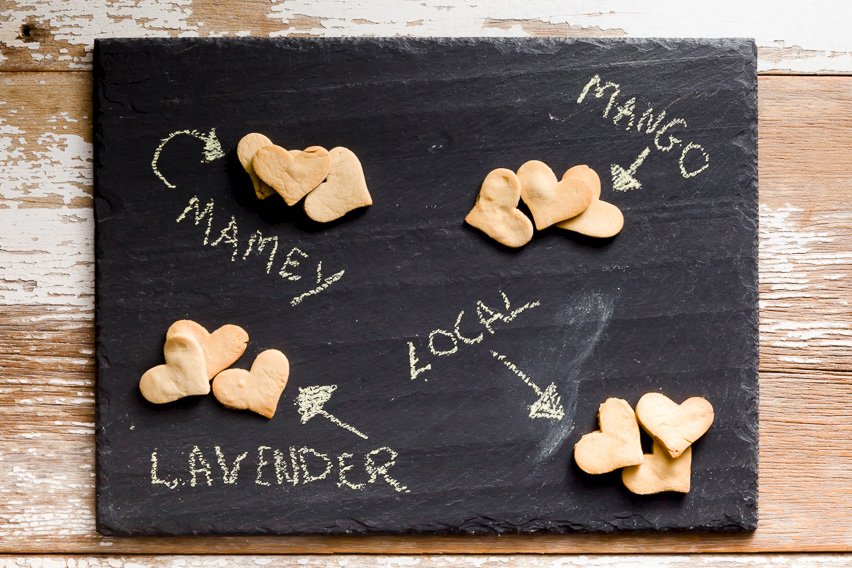 To conduct my test, I did the following:
I selected four honeys that tasted very different from each other.
I baked some simple honey cookies four times, once with each honey.  I made sure that honey was the predominant flavor of the cookie; the recipe has no other sugars and aside from a little vanilla extract, there is no other spice.
Jonathan gave me a blind cookie taste test and I gave the test to other willing subjects.
My subjects kept asking if I was tricking them: "Are these all the same cookie?"  I could taste no difference between the cookies and neither could my tasters.  I was surprised by this result because I've done similar tests with chocolate brands and there was a dramatic difference in taste.  Clearly, honey is a more subtle flavor.
But, the results of the next test were more surprising…
Jonathan and I couldn't taste a difference in the cookies, but we were certain that these different flavors of honey would really stand out in tea – we were so sure of this that we almost didn't test the theory.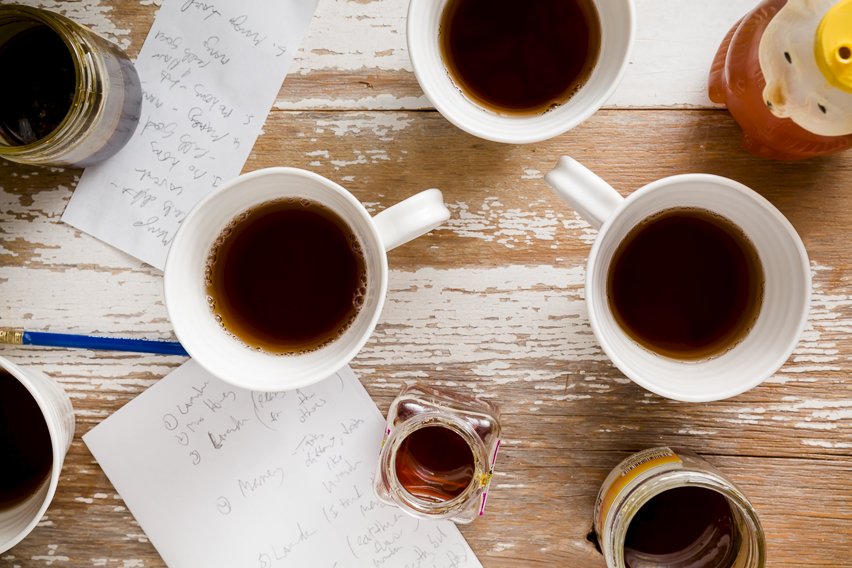 But, then we did.  We brewed a pot of oolong tea, filled mugs equally with the tea, and added the same quantity (but a different variety) of honey to each mug.  Jonathan left the room and I brought him mugs one at a time with a glass of water in between as a palate cleanser.  He believed that I would be bringing him tea with a different kind of honey each time and then repeating the sequence for a second taste – little did he know what I had planned:
Mug 1:  Lavender honey (no comment from him)
Mug 2: Missouri honey (no comment from him)
Mug 3:  I brought out the lavender honey again ("This is really different from the others!" He was so confident that I almost lost control laughing.)
Mug 4: Mamey honey ("Tastes different, maybe it's lavender.")
Mug 5: I brought out the Lavender honey again. ("I think this one is mango.")
Mug 6: Mango honey ("It's got an earthy flavor.  I think it's lavender.")
Mug 7: I brought out the mango honey again. ("This one is also earthy, but it's more chocolaty.  This one must be the mamey."  He was clearly searching for differences that didn't really exist.)
Mug 8: Missouri honey ("I think this is the Missouri honey.")
Sadly, I didn't fare much better.  I said that the lavender honey was "less flavorful than the others" and when Jonathan brought it out to me the second time I said, "This one's really good."  I did identify the mamey honey both times.  It's definitely the most unique of the honey flavors we tested, but the difference was still minimal.
As an interesting follow up, Jonathan and I did a tasting that wasn't blind where we drank the teas one after the next, knowing what kinds they were.  The differences seemed so clear when the test was done that way.  However, with any kind of break between tastings, the differences faded away.
My Conclusions
Which kind of honey is best for baking?
I would not suggest using your favorite specialty honey for baking.  It's just not worth it since you will most likely not be able to detect the honey's subtleties in the end product.  If you are making a dessert that has a honey drizzle added after baking, that may be a nice time to break out your more special honeys.
Although any honey will do for baking, I would always recommend buying local honey.  Talking with Bees has a great list that covers some key reasons to purchase local honey.  I'm not going to get into a debate here about raw honey versus processed honey, but if you have an opinion on it, you are welcomed to share it in the comments.
Which kind of honey is best for tea?
If you have a honey type that you believe is better than another in tea, I encourage you to try a blind taste test like we did and see if you can pick it out.  I'd love to hear the results.  As it stands now, we will not be using our specialty honeys in tea.
When is it best to use specialty honey?
If you've purchased a honey that you adore, I would suggest saving it to spread on toast or pancakes or to drizzle over cheese or dessert.  Use it anywhere where you can enjoy it in its purest form.  The best scenario is if you are able to serve a dish with two honeys that can be enjoyed side by side – that way you and your guests will really appreciate the differences between them.