Easy Snickerdoodle Bars
Disclosure: As an Amazon Associate, I earn from qualifying purchases.
Snickerdoodle bars are for fans of snickerdoodle cookies, but they're much easier to make and perfect for parties. These snickerdoodle bars are soft, chewy, loaded with cinnamon flavor, and mouthwatering.
Did I mention that they're easy to make? Making a batch takes only 5 minutes of prep time!
You will love snickerdoodle bars if you love the classic cookies! (If you've never heard of snickerdoodles, they are sweet chewy cookies that are rolled in cinnamon and sugar just before baking.)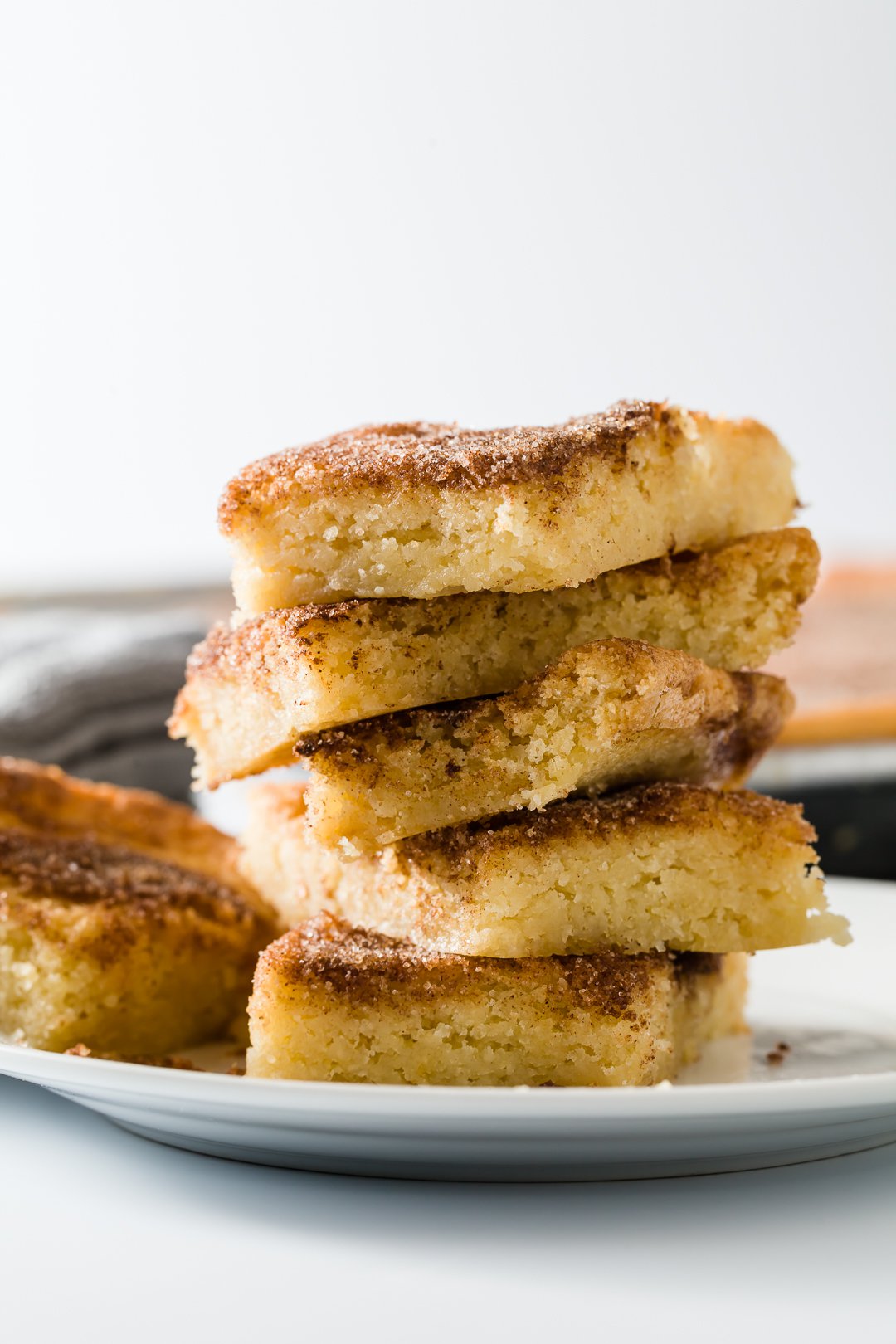 The advantage of snickerdoodle bars over cookies is that it is so much easier to make bar cookies for a crowd than rolled cookies; instead of taking time and forming cookies, you simply dump all of the batter on a baking sheet. It's so much easier to make a pan of brownies, brookies, or gooey butter bars instead of batches of chocolate cookies or sugar cookies, and the same holds true when you make snickerdoodle bars instead of their cookie equivalent.
My recipe is for a half sheet pan [paid link] worth of bars (about 24 bars).
How to Make Snickerdoodle Bars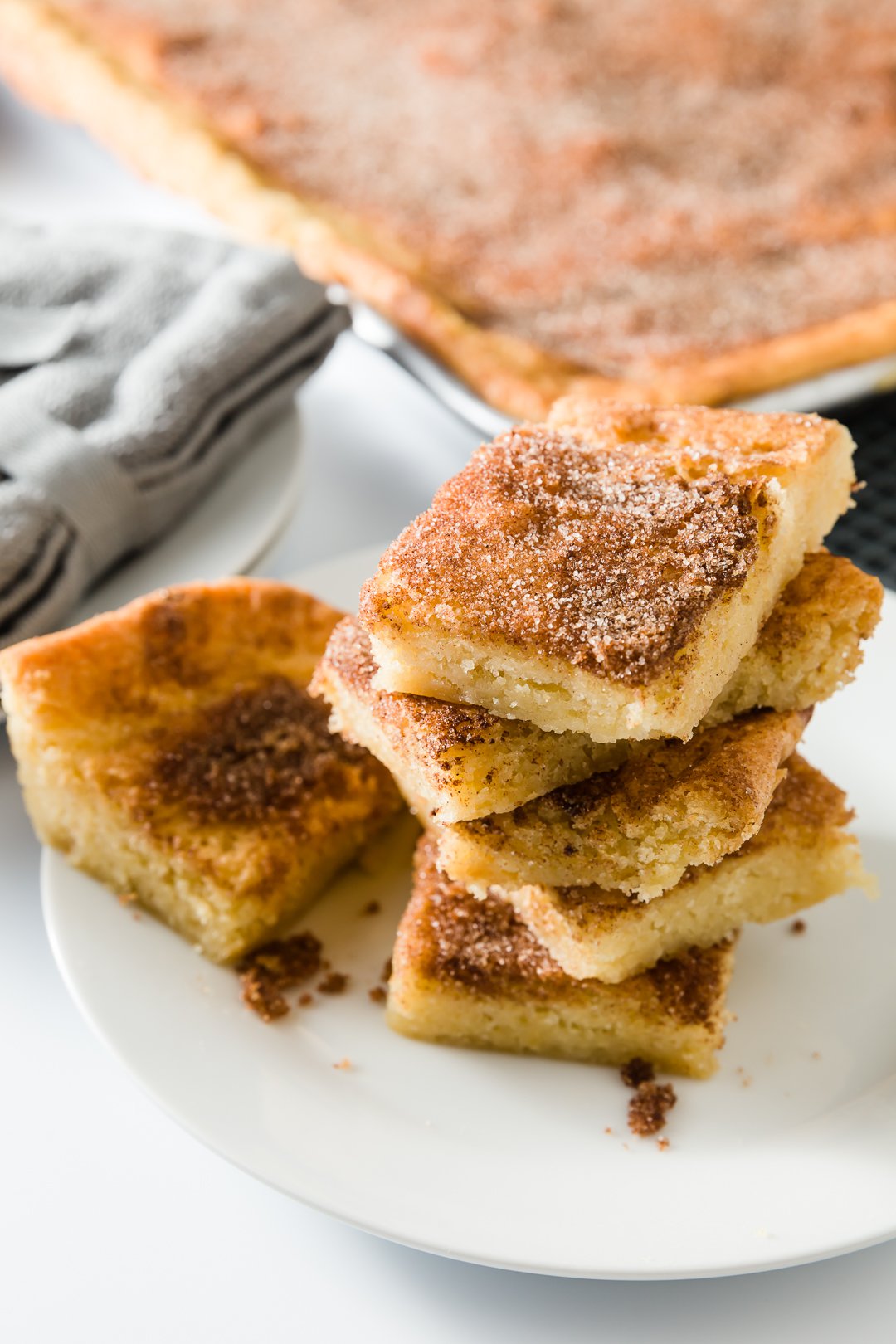 To make the bars, start by mixing up your favorite snickerdoodle cookie recipe – I share mine below. Keep in mind that if you aren't following my recipe, you'll want to check the volume of your recipe. You will most likely need to double it in order it fit it into a large sheet pan.
Snickerdoodle cookie batter is really easy to make and comes together in a matter of minutes using ingredients that you most likely have on hand.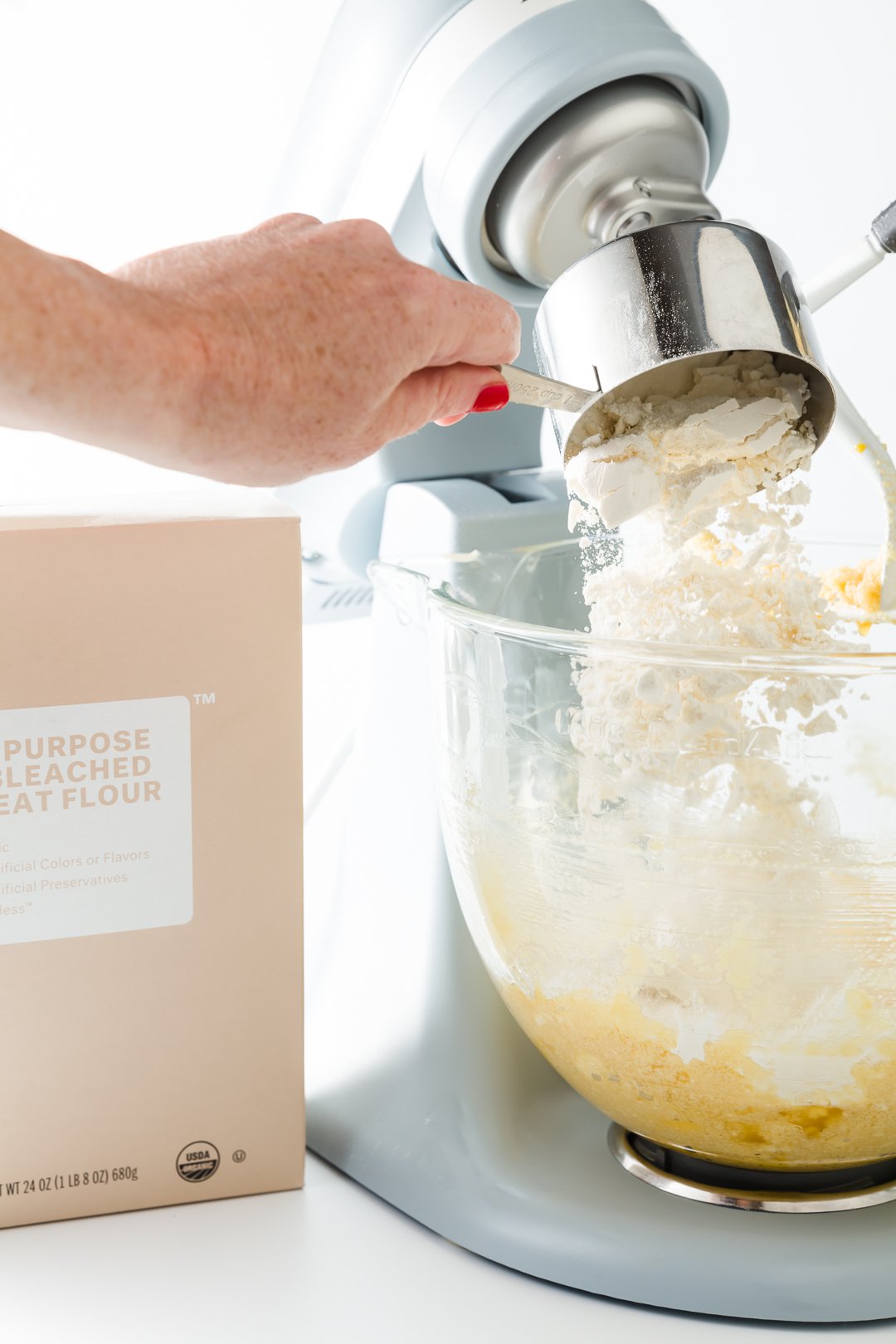 The one less common ingredient in snickerdoodles is cream of tartar. Cream of tartar gives these cookies their tang and chewiness. Without it, sugar crystals form that would make the cookies more crunchy (like sugar cookies).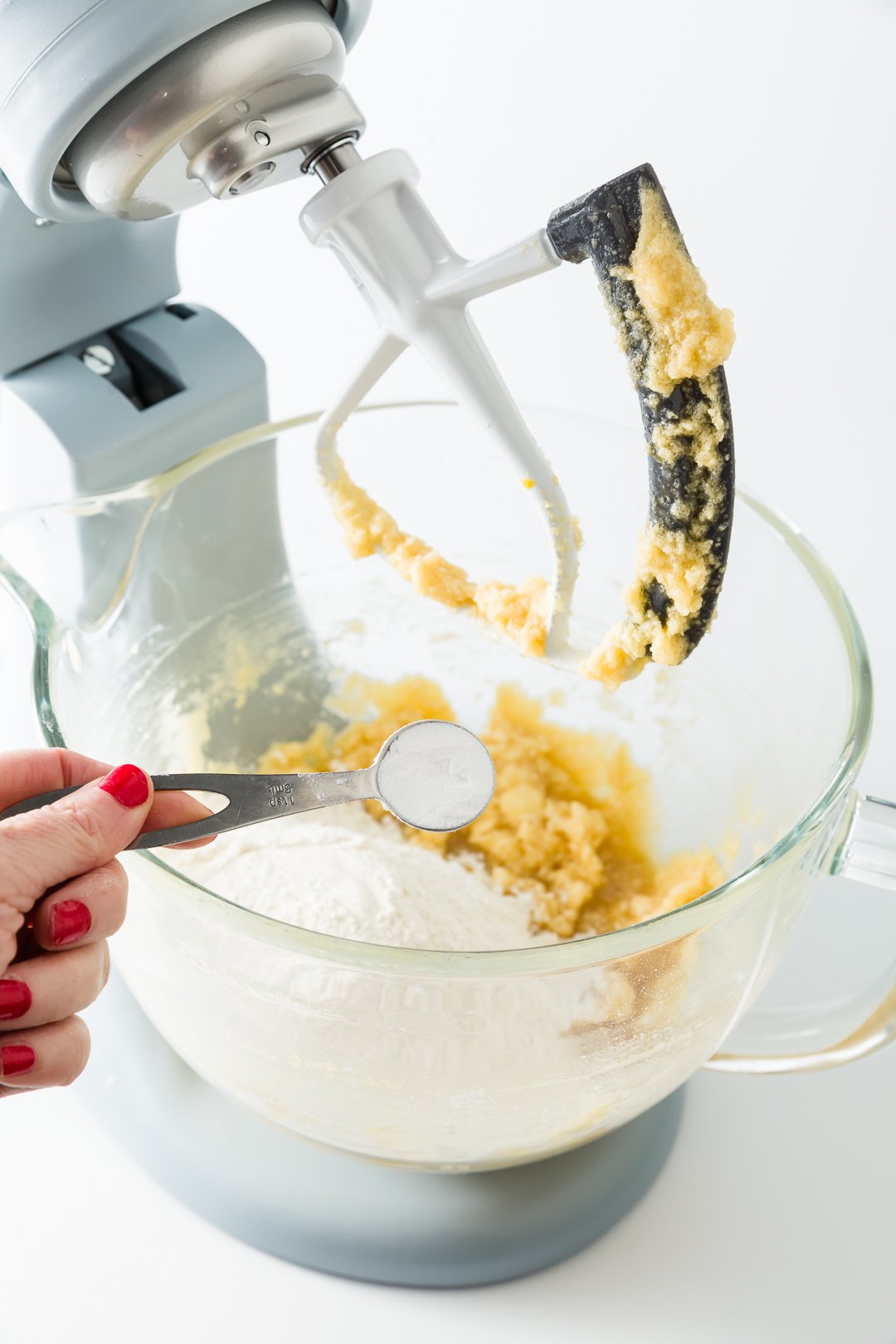 Line a half sheet pan with a parchment paper or a silicone mat to prevent sticking and to make cleaning up a breeze. Then, spread the batter evenly over the paper or mat. Because the batter is sticky, this can be tricky to do.
If you are struggling with spreading the dough using a spatula, try wetting your hands with a little water and pressing the dough down with them. The water will keep the dough from sticking to your fingers.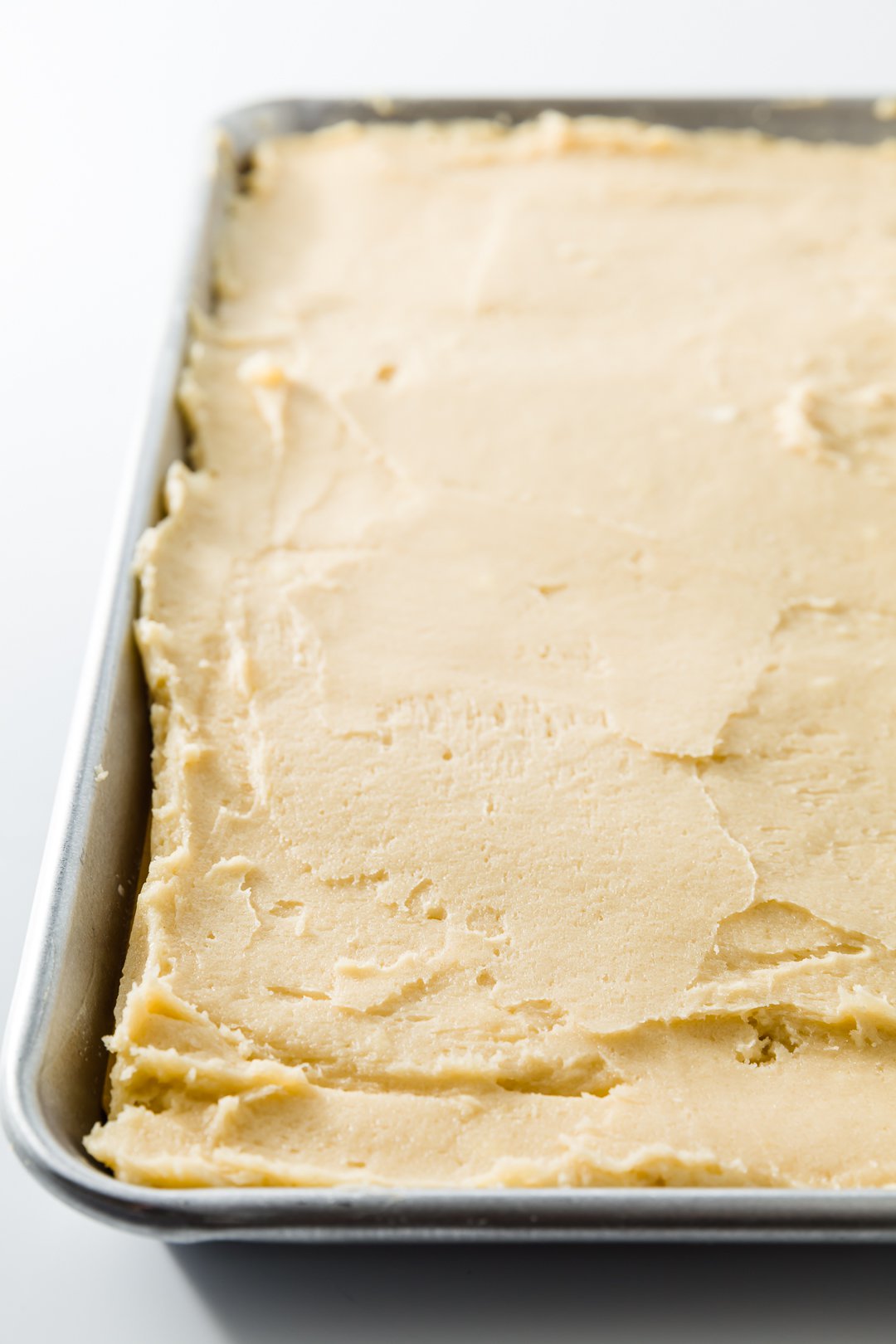 Next, make a mixture of cinnamon and sugar. I like to use two parts sugar to one part cinnamon. But, if you prefer more sweet or more cinnamon flavor, you can adjust the ratio.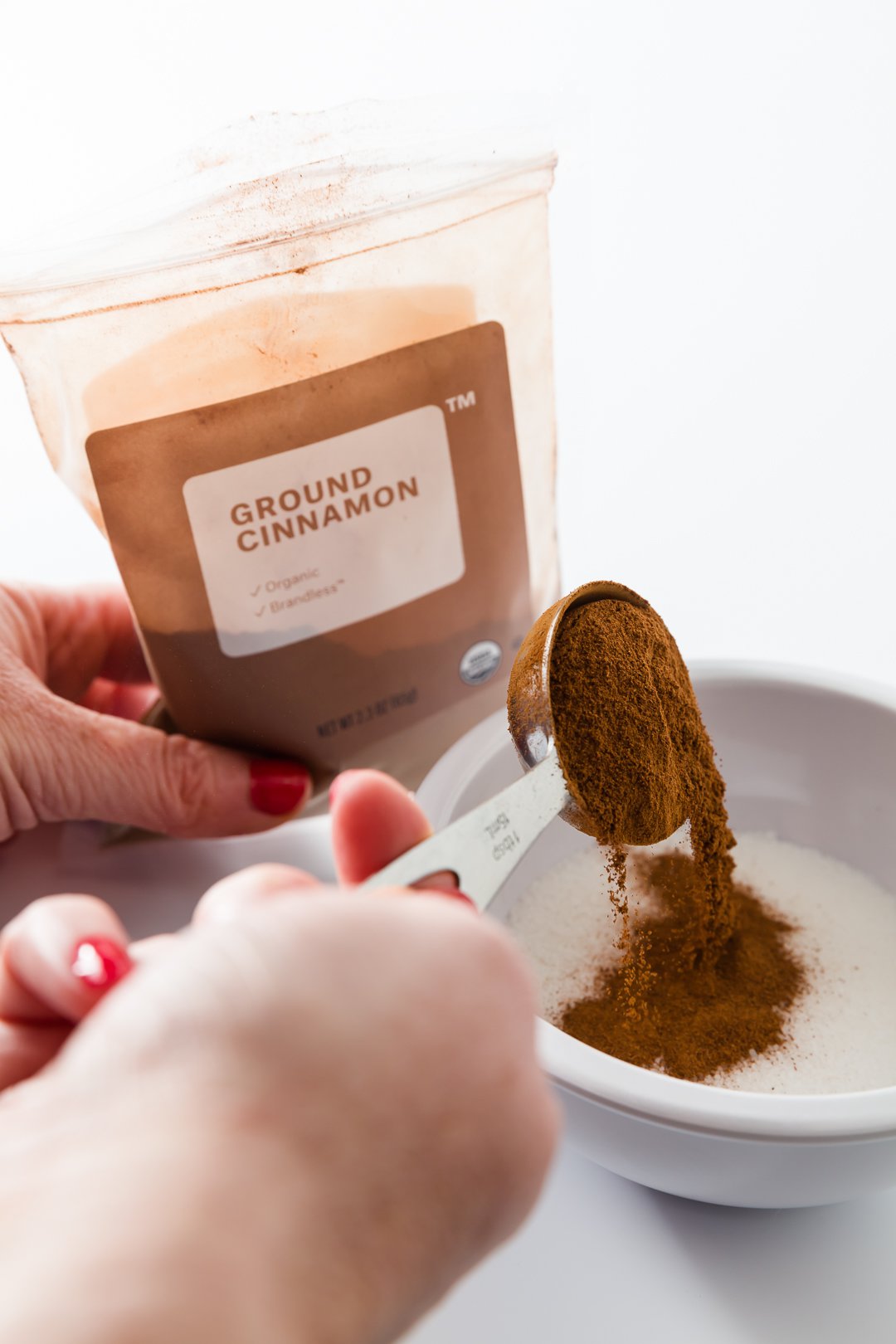 Sprinkle the unbaked batter with the cinnamon and sugar and bake about twice as long as you would for your standard recipe of snickerdoodle cookies. You'll know the recipe is done when the top is browned and a toothpick comes out clean.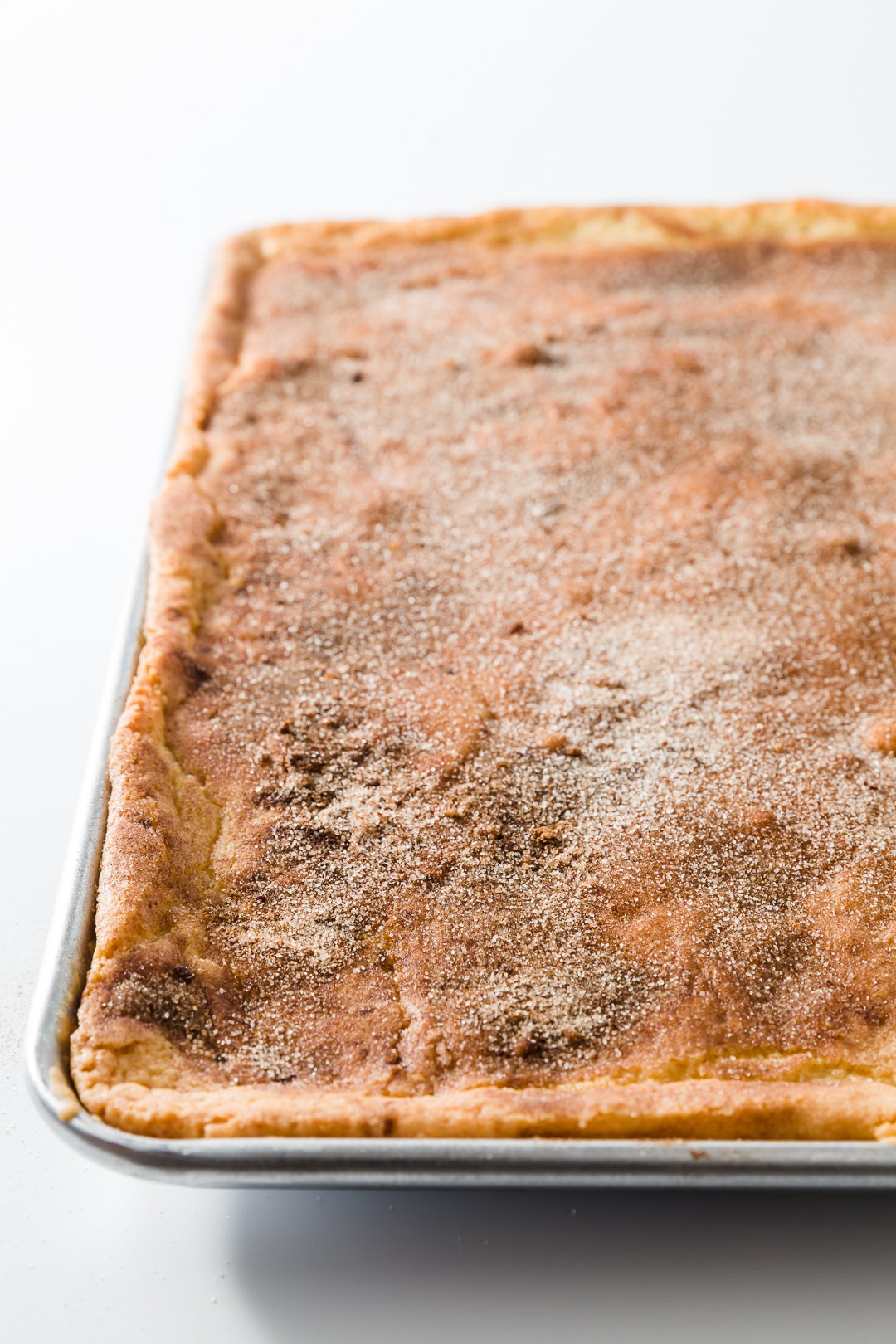 Sprinkle a little more cinnamon and sugar on top after the bake for good measure!
Once cool, cut the bars into squares and serve!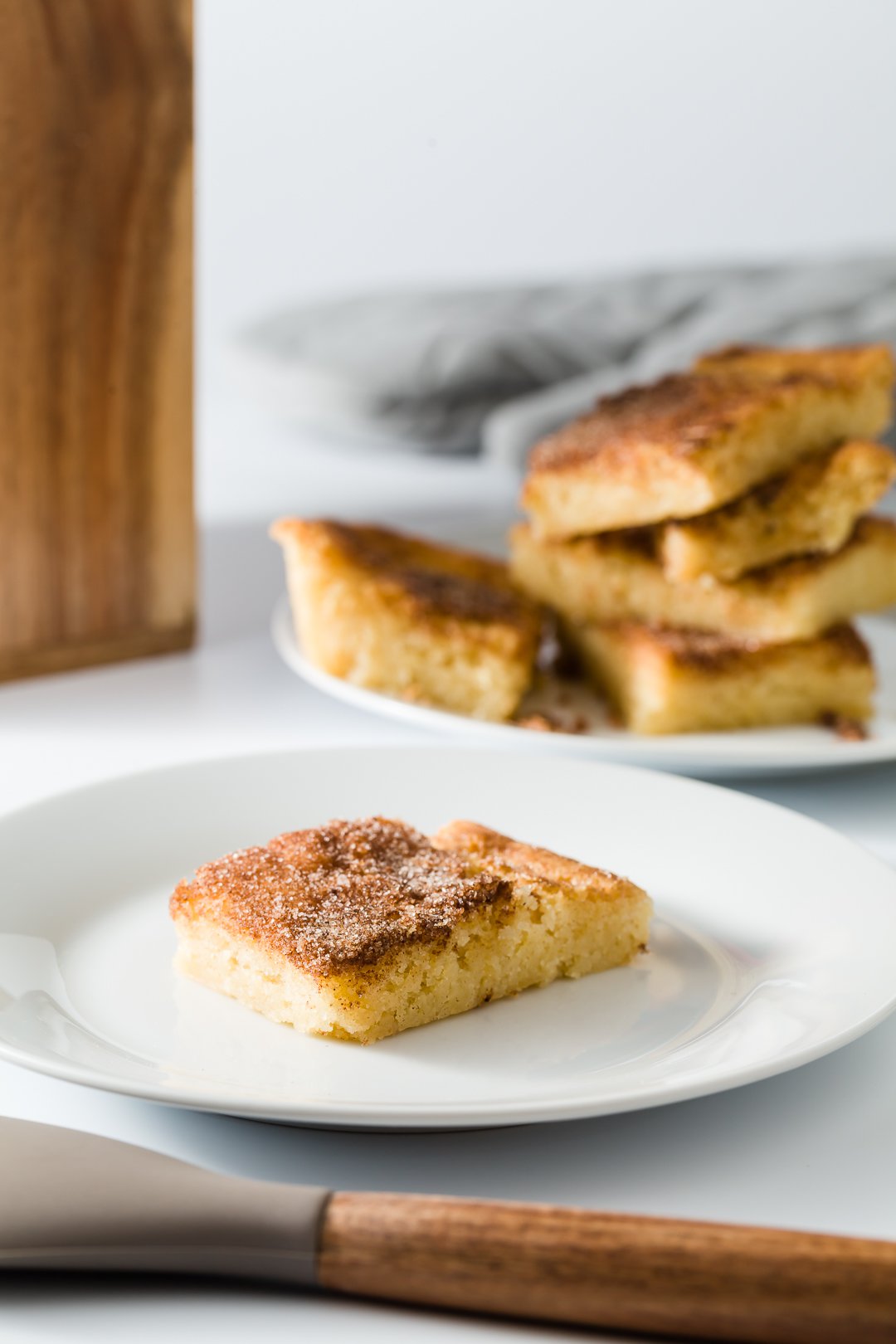 Snickerdoodle Bar Variations
To make them even more cinnamony, try mixing cinnamon chips into the batter.
For visual appeal – and because almost everything is better with chocolate – try topping the cut bars with chocolate turtles. To adhere the chocolate turtles to the bars, use a little hot caramel or melted chocolate as glue!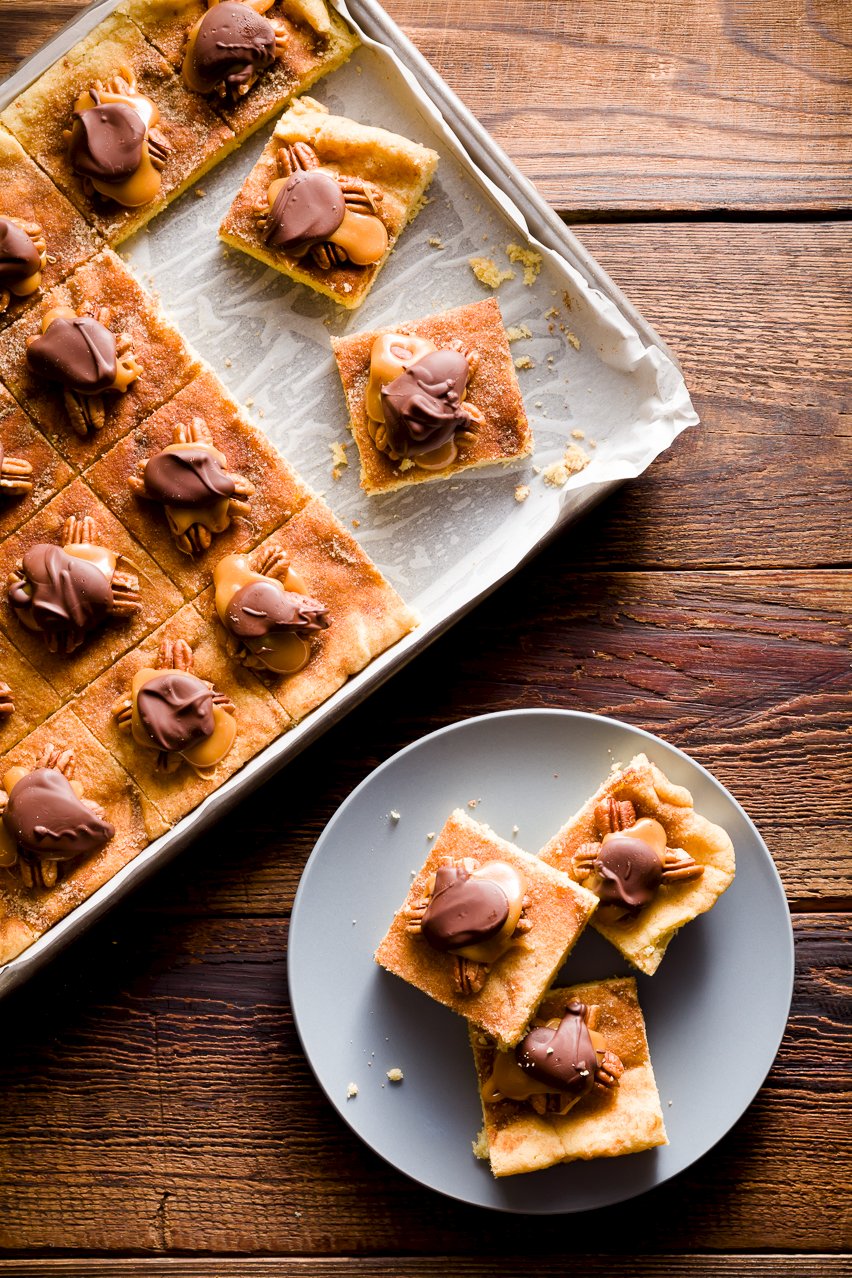 Other variations to try include cinnamon chip snickerdoodle bars, white chocolate snickerdoodle bars, or forget the bars altogether and try a snickerdoodle cake or cinnamon sugar cookies.
Snickerdoodle Bars
Snickerdoodle bars are an easy-to-make version of snickerdoodle cookies. They're great for crowds!
Ingredients
Topping Ingredients
6

tablespoons

granulated sugar

4

teaspoons

ground cinnamon
Cookie Ingredients
1

cup

unsalted butter

room temperature

1 1/2

cups

granulated sugar

2

large eggs

1

tablespoon

vanilla extract

2 2/3

cups

all-purpose flour

1

teaspoon

cream of tartar

1

teaspoon

baking soda

1/4

teaspoon

salt
Instructions
Topping Instructions
In a small bowl, mix sugar and cinnamon and set aside.
Cookie Instructions
Preheat oven to 400 F.

In a medium-sized mixing bowl, mix butter, sugar, eggs, and vanilla.

Mix in flour, cream of tartar, baking soda, and salt until just combined.

Evenly spread dough onto a half sheet pan (12.5" x 17") lined with parchment paper or a silicone mat.

Sprinkle roughly two thirds of the cinnamon sugar mixture on top of the batter.

Bake for 25 minutes or until the top is browned and a toothpick comes out clean.

Transfer to a cooling rack and sprinkle with the remaining cinnamon sugar mixture.

When cool, cut into squares and serve.
Notes
The dough is sticky, so spreading it in the pan can be tricky. If you have difficulty spreading it with a spatula, try wetting your hands a little bit and use them to press it down.
Half the recipe if you are using a quarter sheet pan rather than a half sheet.
Store the cut bars in an airtight container at room temperature for up to five days.
Nutrition
Calories:
186
kcal
|
Carbohydrates:
27
g
|
Protein:
2
g
|
Fat:
8
g
|
Saturated Fat:
5
g
|
Cholesterol:
34
mg
|
Sodium:
77
mg
|
Potassium:
43
mg
|
Fiber:
1
g
|
Sugar:
16
g
|
Vitamin A:
255
IU
|
Calcium:
10
mg
|
Iron:
0.7
mg