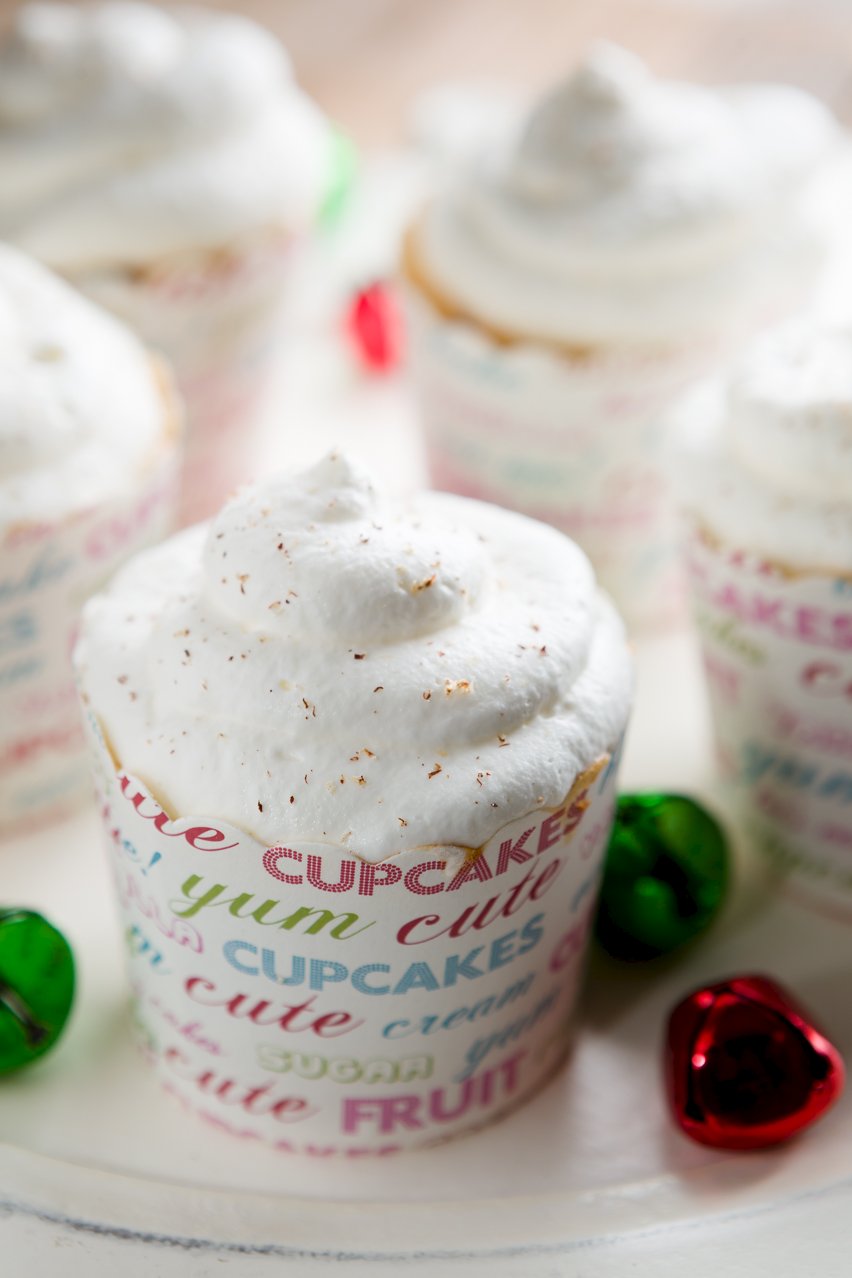 These cappuccino eggnog angel food cupcakes have changed everything. Angel food cake is no longer relegated to the summer, topped with fresh, seasonal fruit.  These heavenly light cappuccino eggnog angel food cupcakes, topped with a dollop of snowy white whipped cream, smell like a bag of coffee beans kissed under the mistletoe by a jug of eggnog.  Their taste follows through on the scent's promise – each bite like a drink of the season's flavors.
Cappuccino Eggnog Angel Food Cupcakes

To develop this recipe, I adapted my plain angel food cupcakes (very slightly adapted from Alton's Brown's recipe).
If you've tried this recipe, please RATE THE RECIPE and leave a comment below!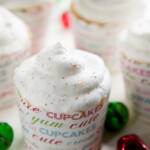 Cappuccino Eggnog Angel Food Cupcakes
Ingredients
1 3/4

cups

super fine sugar

I used C&H's Baker's Sugar. Alton suggests using regular granulated sugar and spinning it in a food processor for two minutes until it is super fine.

1

cup

cake flour

not self-rising

1/4

teaspoon

salt

1

teaspoon

nutmeg + extra to top cupcakes

1

teaspoon

instant coffee

12

egg whites

the closer to room temperature, the better

1

teaspoon

vanilla extract

1 1/2

teaspoons

cream of tartar

1/3

cup

alcohol-free eggnog

whipped cream

to taste
Instructions
Preheat oven to 350 F.

In a small mixing bowl, combine one cup of the sugar with the cake flour, salt, nutmeg, and instant coffee.

In a large mixing bowl, whisk egg whites, vanilla extract, and cream of tartar until frothy.

Slowly mix in the remaining 3/4 cup of sugar.

Keep beating until the mixture looks like a fluffy white cloud (medium peaks).

Sprinkle the top of the foam with a little bit of the flour mixture and, using a spatula, gently fold it in.

Continue adding the flour mixture and gently folding it in until all of the flour mixture is incorporated.

Add the eggnog and gently fold it in.

Fill cupcake liners almost all of the way to the top.

Bake for 20 minutes or until cupcakes bounce back when lightly touched.

Frost cooled cupcakes with whipped cream and sprinkle nutmeg on top.
Meet Bakin' Mama
I got the inspiration for these cappuccino eggnog angel food cupcakes from my latest round of Cupcake Roulette.  Cupcake Roulette is a game that we play on the Cupcake Project Facebook Page. 38 bloggers grab a spot on the roulette wheel and I randomly choose a blogger to partner with.  I then bake a cupcake inspired by something on their blog.  If you aren't already part of the Cupcake Project Facebook Community, be sure to "Like" Cupcake Project on Facebook so that you don't miss out on the next round.
The winner of this round of Cupcake Roulette was Bakin' Mama.  Bakin' Mama has been blogging since February and has already amassed a large list of baked goods worth trying.  The first recipe that struck my eye was a chocolate angel food cake (yum!).  I loved the idea of a flavored angel food cake for the holidays, but decided that for my cupcake inspired by her blog, I'd switch up the flavor.  You already know what I ended up with.  Although it wasn't part of the game, I'll be posting a second dessert inspired by Bakin' Mama soon.  Be on the lookout for it!
Thanks also to Peter from Feed Your Soul for the flavor idea.