Simple Speculoos Cookies (Copycat Biscoff)
Published , Last updated by
Stef
Disclosure: As an Amazon Associate, I earn from qualifying purchases.
Biscoff cookies (the brand name for Dutch speculoos cookies) are a cult favorite – crispy, spiced, and so addictive. They are simple to make, and once you try my recipe, you'll never look back!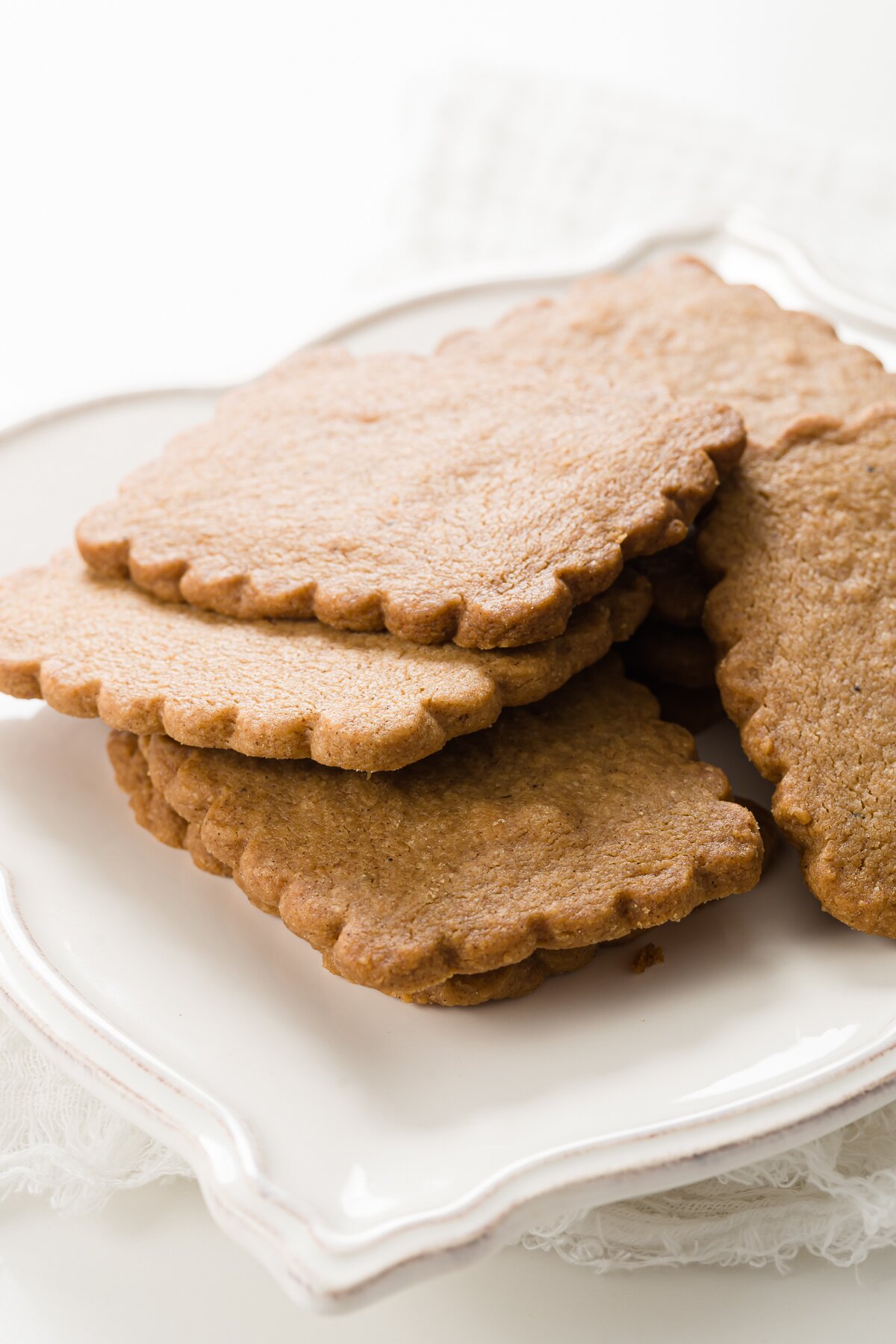 Did you know that Biscoff stands for "biscuit" plus "coffee"? You can drink coffee with them, dip them in milk, or just eat them plain. You can't go wrong!
Ingredients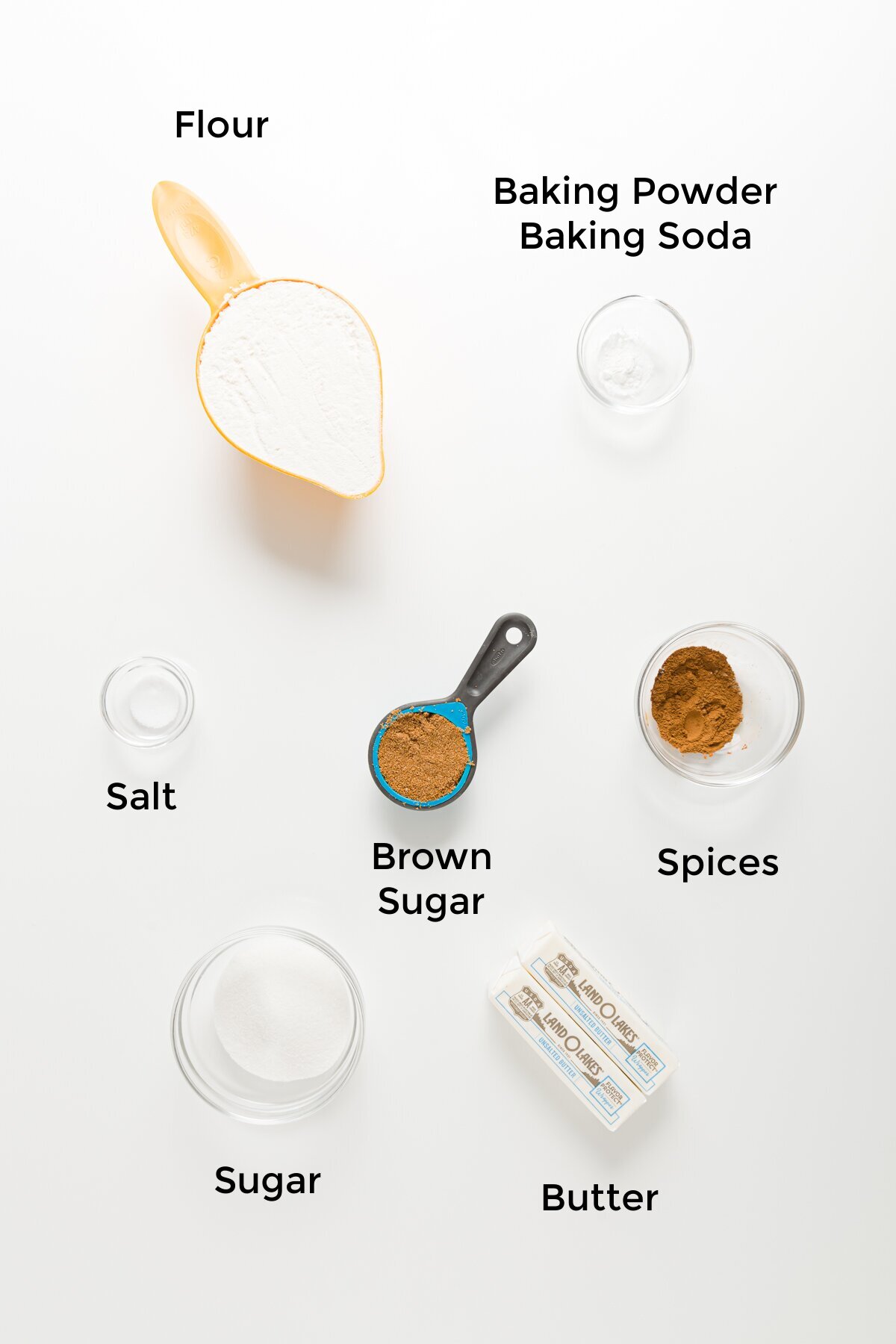 These cookies are made entirely with pantry basics. What makes them special is the blend of spices. I updated the recipe (December, 2020) with new spice measurements after several people said the spices weren't quite strong enough. I think the new amounts are perfect and I hope you'll agree. I use a blend of cinnamon and nutmeg with just a touch of cloves and cardamom.
How It's Made
Start by whisking together all of the dry ingredients. This includes the flour, salt, spices, baking powder, and baking soda.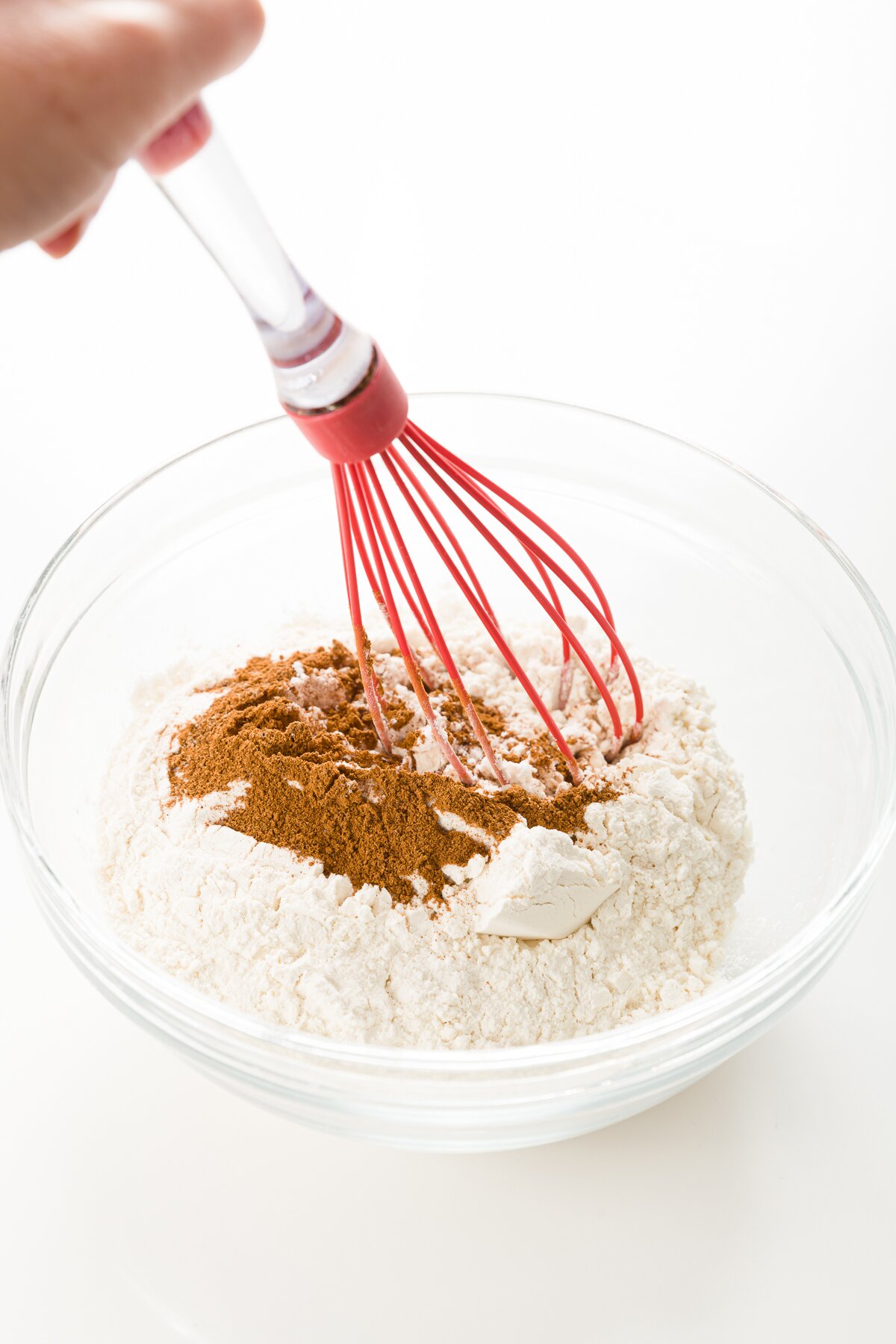 Next, mix together the butter, granulated sugar, and brown sugar. I recommend using an electric mixer for this to get it light and fluffy.
Add the dry ingredients a little bit at a time until the dough comes together.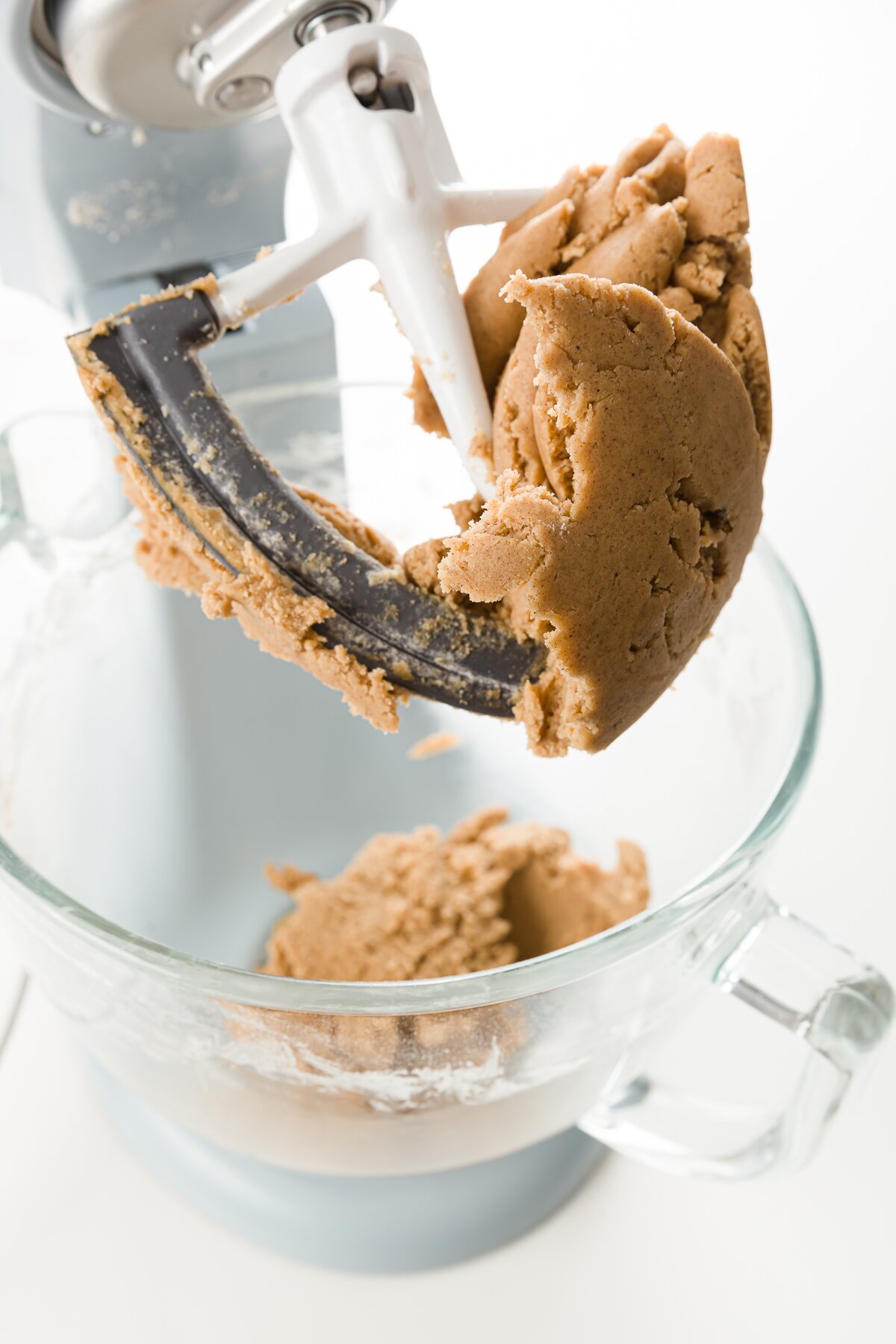 Many of the comments on my recipe said the dough was difficult to roll out. In my updated recipe, I call for chilling the dough for at least 30 minutes before rolling out. Working with the chilled dough makes rolling out a breeze!
I divide the dough the into two flat discs and wrap them in plastic wrap before chilling. That way, I can take out one at a time to roll while the other one remains chilled.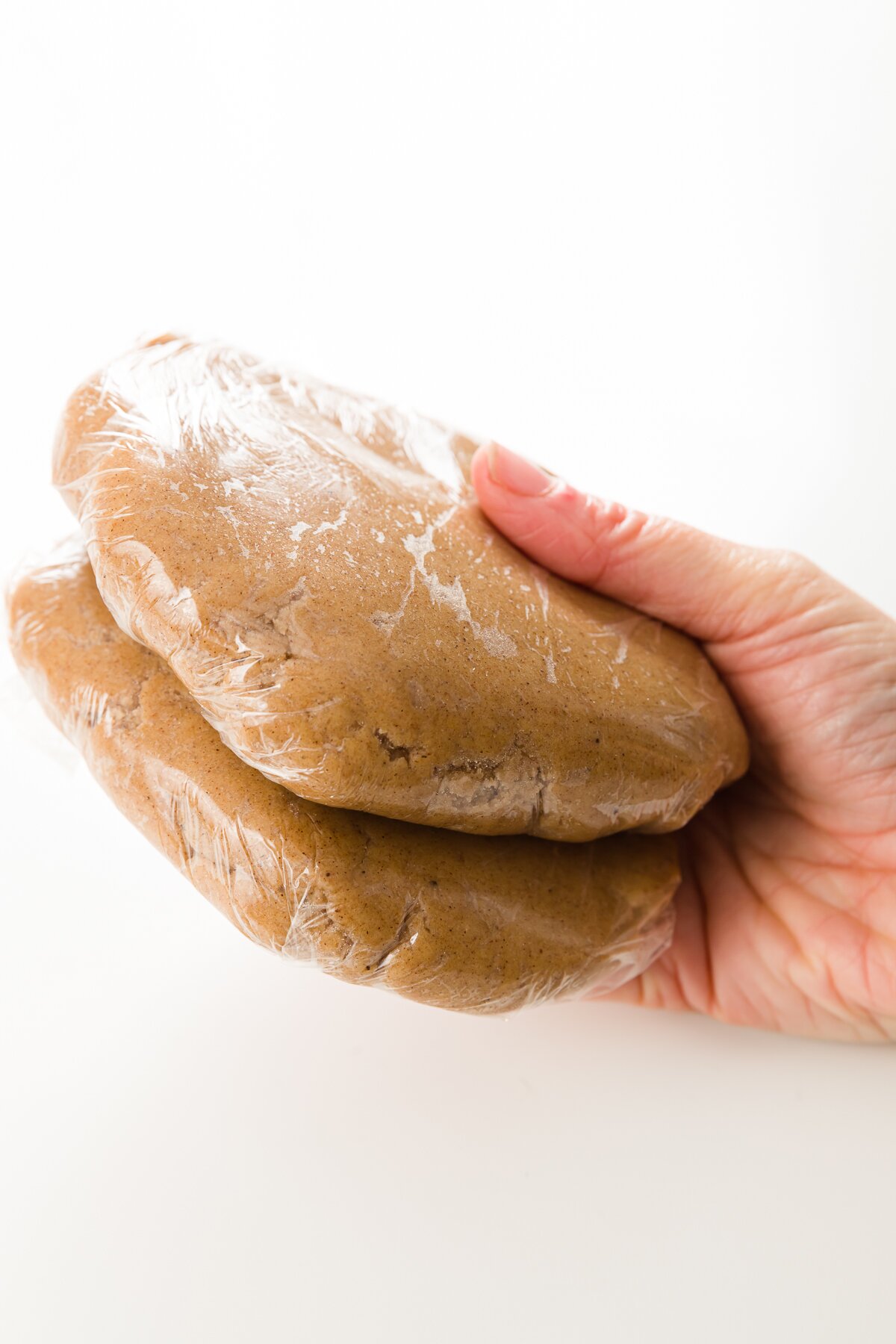 Tip: I suggest that you roll out dough between two pieces of parchment paper, between two silicone mats, or by folding one extra-large silicone rolling mat like the one from DoughEz [paid link] over on itself.
Roll the dough to 1/4″ inch thick and cut into any shape you like. I used a 3×2″ scalloped rectangle.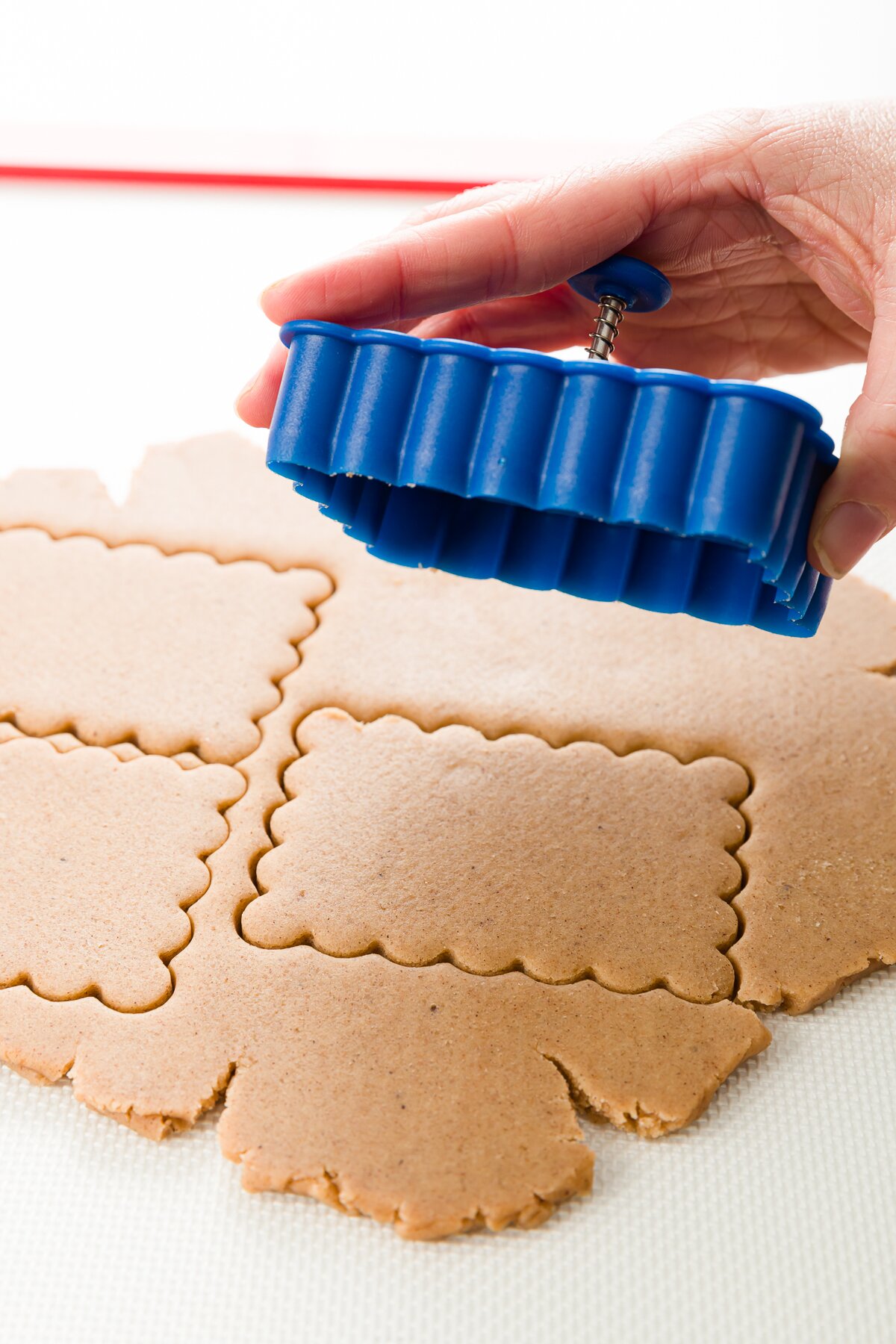 Bake at 350 F for 20 minutes. You'll know they are done when the edges will brown slightly. If you under-bake them, they won't turn out as crispy!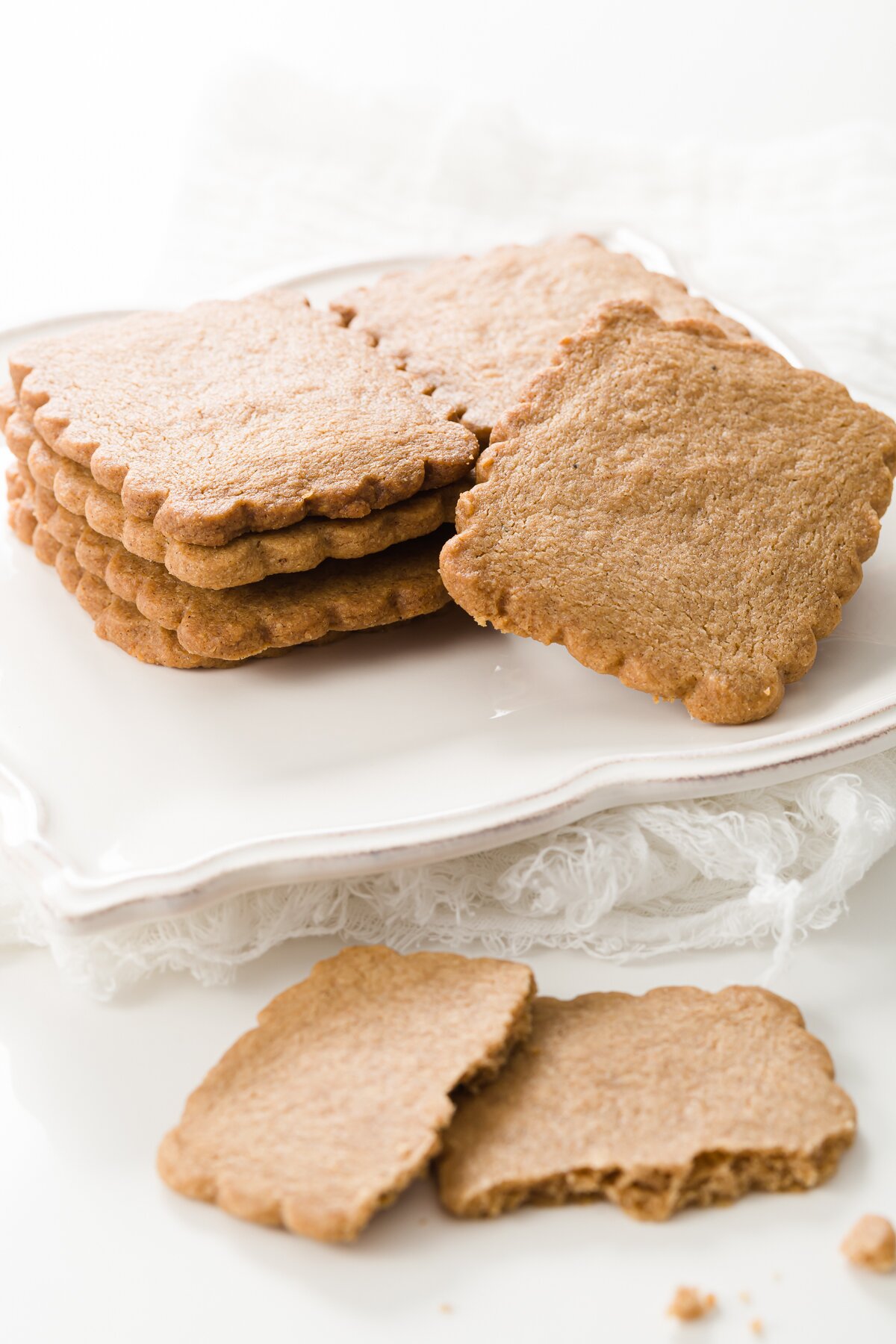 Expert Tips and FAQs
If you like the look of the actual Biscoff cookies that have text printed on them, it's easy to achieve that using the Cookie Imprinter [paid link]. It comes with all the letters you need. You load them into the cookie cutter and then press down to make the letters.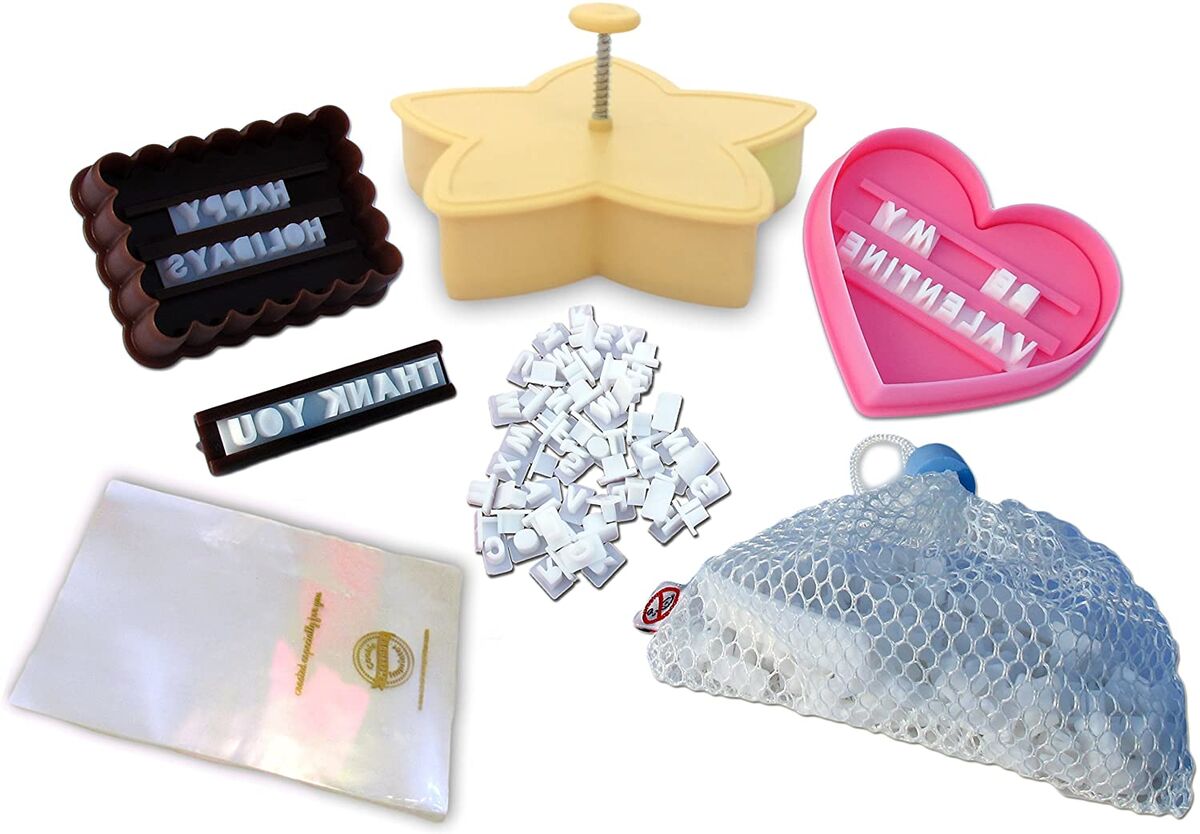 Here's how mine came out stamped with "Cupcake Project". Keep in mind that when you roll the dough to 1/4″ thick, it won't hold its shape as well as if it's rolled to 1/8″ thick.
Tip: Although I usually recommend baking these at 1/4″ thick, if you plan to try this imprint or any intricate cookie cutter design, roll the cookies out thinner.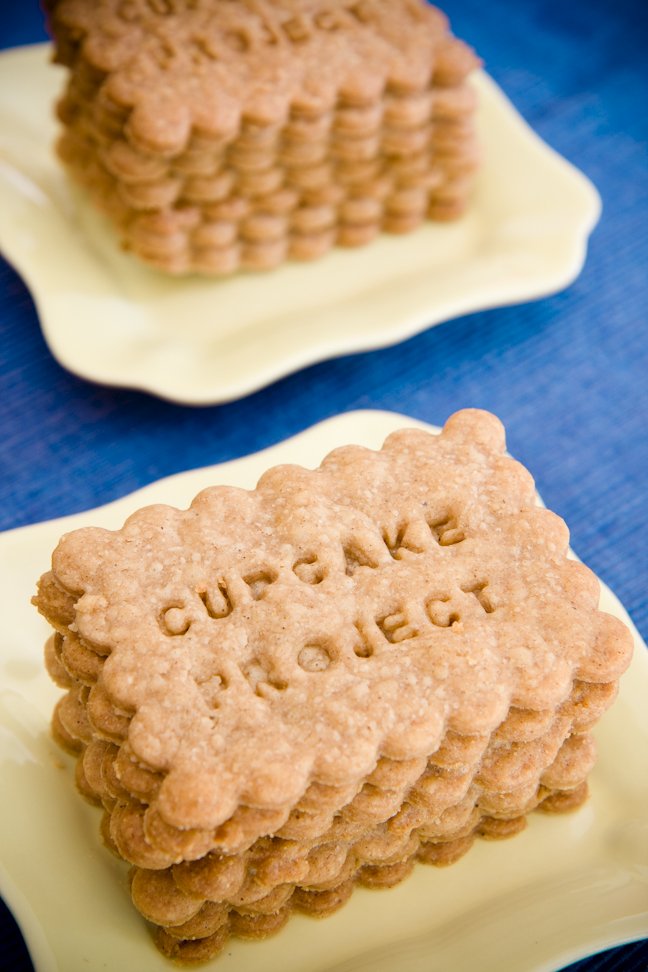 Many people also imprint their speculoos cookies using decorative rolling pins [paid link]. There are a ton of different designs to choose from and they all come out so pretty!
FAQs
Help! I've having trouble rolling the dough.
Make sure it is chilled well. Then, roll it between two pieces of parchment or two silicone mats.
I don't like cloves; can I leave them out?
Sure! The spice quantities are suggested amounts to make the cookies taste the most like Biscoff cookies. If you want more or less of any of the spices, go ahead and adjust the quantities.
I heard that you need special sugar for Biscoff cookies. Is that true?
Some people use Belgian candi sugar [paid link] instead of brown sugar. Brown sugar is made using molasses and candi sugar is made using caramel. I haven't personally tried it because I am thrilled with the results from brown sugar – which I already have in my pantry. But, if you want to get fancy, give the candi sugar a go!
How long do these cookies last?
Leave them at room temperature in an airtight container for up to a week or freeze for months.
Related Recipes
Speculoos Cookies
Super easy to make speculoos cookies that taste just like Biscoff!
Ingredients
2

cups

all-purpose flour

1

tablespoon

ground cinnamon

1/2

teaspoon

ground nutmeg

1/4

teaspoon

ground cloves

1/4

teaspoon

ground cardamom

1/2

teaspoon

salt

1/4

teaspoon

baking soda

1/4

teaspoon

baking powder

1

cup

unsalted butter

room temperature

1/2

cup

sugar

1/4

cup

dark brown sugar

firmly packed
Instructions
Preheat oven to 350 F.

In a medium-sized bowl, mix together flour, spices (cinnamon, nutmeg, cloves, and cardamom), baking soda, baking powder, and salt.

In a separate large bowl, cream together butter, sugar, and brown sugar with an electric mixer on low speed.

Gradually blend the flour mixture into the butter mixture until it is well combined.

Divide the dough into flat discs. Wrap in plastic wrap and refrigerate for at least 30 minutes or overnight.

Roll out half of the dough at time to 1/4 inch thickness between two sheets of parchment paper or two silicone mats. Cut out using your favorite cookie cutters. They do spread a little bit so don't choose something with an intricate shape.

Bake for 20 minutes or until the edges of the cookies are lightly browned. They will still be soft. The cookies crisp up as they cool.

Cool on cooling rack before serving.
Notes
Adapted from Matzo & Rice's Biscoff (speculoos) cookie recipe. 
Store in an airtight container at room temperature for up to one week or freeze for several months.
Although I usually recommend baking these at 1/4″ thick, roll the cookies out thinner if you plan to use an intricate cookie cutter design. It will also make double the cookies.
Nutrition
Calories:
211
kcal
|
Carbohydrates:
24
g
|
Protein:
2
g
|
Fat:
12
g
|
Saturated Fat:
8
g
|
Cholesterol:
33
mg
|
Sodium:
99
mg
|
Potassium:
33
mg
|
Fiber:
1
g
|
Sugar:
10
g
|
Vitamin A:
378
IU
|
Calcium:
17
mg
|
Iron:
1
mg
Stay Connected!
Join my mailing list - and receive a free eBook!