These key lime pie cupcakes are like upside-down key lime pies.  The cake (the bottom part) is moist and intensely key lime-flavored (prepare to pucker your lips) and the frosting (the top part) is packed with crushed graham crackers so you feel like you're eating a graham cracker crust on top of the cake.
Haven't You Made Key Lime Pie Cupcakes Before?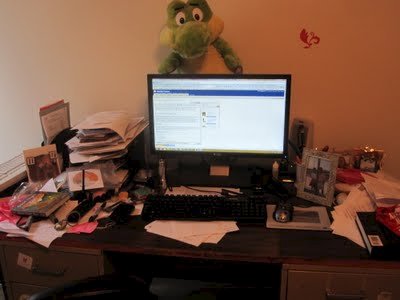 Scary, huh?  Our kitchen gets cleaned all of the time;
my desk, not so much.
I made key lime pie cupcakes back in '08 and just like it's a good idea to dust off your shelves every three years (oh, am I supposed to do that more often?), I decided that the recipe could use a little freshening.  The original key lime pie cupcake recipe was a huge crowd pleaser, but I wasn't happy with the graham flavor.  I baked the graham crackers into the cake and you couldn't really taste them.  I also didn't like that the frosting required a very difficult to find ingredient – lime extract.  My latest key lime pie cupcakes feel fresh, new, and Spring-cleaned – now onto my my desk!
The Wrappers
The wrappers on these key lime pie cupcakes were a gift to me from cupcakewrappers.com.  Aside from the fact that I adore the pattern, I LOVE that you can wash the wrappers and use them again and again!  Why didn't someone think of this before?  Check back later this week for your chance to win some!
Key Lime Pie Cupcake Recipe
Key Lime Pie Cupcakes – Upside-Down Key Lime Pies
Ingredients
Cupcake Ingredients

1 1/2 C cake flour
2 tsp baking powder
pinch of salt
1/2 C unsalted butter, room temperature
1 C sugar
3 large eggs
1/2 C sweetened condensed milk
3/4 C key lime juice

Graham Cracker Frosting Ingredients

1/4 C unsalted butter, room temperature
8 oz cream cheese, room temperature
2 C powdered sugar
2 tsp vanilla extract
1 1/3 C finely crushed graham crackers
Instructions
Cupcake Instructions

In a small bowl, whisk together flour, baking powder, and salt. Set aside.
In a medium-sized bowl, cream butter and sugar.
Mix eggs into butter/sugar, one at a time.
Mix sweetened condensed milk and key lime juice into wet ingredients.
Mix dry ingredients into wet ingredients until just combined.
Divide evenly between 12 cupcake liners. Note: The batter will be very liquidy. This is normal.
Bake at 350 F for thirty minutes or until cupcakes bounce back when touched lightly. The center will still be wet. It solidifies as it cools.

Graham Cracker Frosting Instructions

In a large mixing bowl, mix butter and cream cheese until light and fluffy.
Mix in the powdered sugar a little bit at a time. Note: You can add more if you prefer a stiffer consistency.
Mix in vanilla extract.
Fold in graham crackers.
Pipe or spread onto cooled cupcakes.
http://www.cupcakeproject.com/2011/05/key-lime-pie-cupcakes-upside-down-key.html