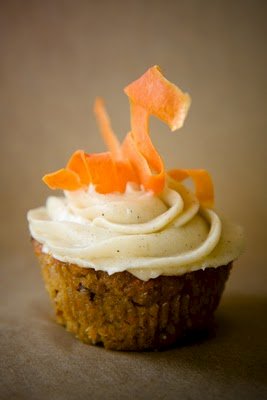 The carrot flavor shines in these unforgettably moist carrot cake cupcakes – but the coconut, pineapple, currants, and a surprising cardamom finish makes this classic American dessert taste just a bit exotic. These carrot cake cupcakes are the best carrot cake cupcakes (or carrot cake) that I've ever had and I hope you'll feel the same way.
The Back Story
Two readers (Stephanie and Erin) recently asked me if I had a good carrot cake cupcake recipe.  I didn't!  I made carrot cupcakes with orange a long time ago (3 years!) and while I liked them, the orange was far more dominant than the carrot. I set out to find a killer carrot cake cupcake.
To find the best carrot cake cupcake out there, I first turned to my Twitter friends – and they came through!  The carrot cake cupcake recipe that most appealed to me was from Laureen at Eat and Be Happy (if you read her description of it, you'll want it immediately, too!).  I based my carrot cake cupcakes on hers, but (of course) I made some changes; I used coconut oil to kick up the coconut flavor, currants instead of raisins, and added cardamom to both the cake and the frosting.  Here's my adaptation of her recipe:
Carrot Cake Cupcake Recipe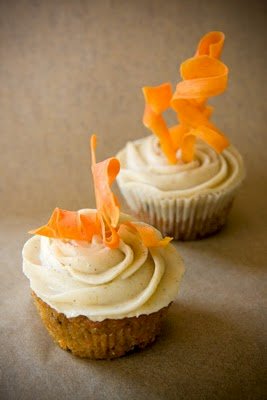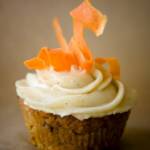 Carrot Cupcakes – Unforgettably Moist
Ingredients
Cupcake Ingredients
1/2

cup

sugar

3/4

teaspoon

baking soda

1

teaspoon

baking powder

1/2

teaspoon

salt

1/2

teaspoon

cinnamon

1/2

teaspoon

ground cardamom

1

cup

finely chopped carrot

about 1 large carrot - It's easiest to do this in a food processor. If you use organic carrots and scrub them well, you don't even have to peel them first.

1

cup

200 g crushed pineapple, drained

1

cup

dessicated coconut

3

handfuls of currants

You could use raisins instead if you prefer. You could also add a half cup of any kind of nut.

1/4

cup

coconut oil

1/4

cup

unsalted butter

room temperature

2

eggs

1

cup

flour
Cardamom Cream Cheese Frosting Ingredients
8

ounces

cream cheese

room temperature

1/4

cup

unsalted butter

room temperature

3

cups

powdered sugar

2

teaspoons

ground cardamom

1

teaspoon

vanilla extract
Instructions
Cupcake Instructions
In a large bowl, combine everything but flour, eggs, oil, and butter.

Add oil and butter and stir vigorously to combine.

Add eggs in one at a time, combining well after each addition.

Add flour in 2 batches, mixing until just combined.

Divide evenly among cupcake liners.

Bake at 350 F for 25 minutes or until a toothpick comes out dry.
Cardamom Cream Cheese Frosting Instructions
Mix cream cheese and butter until creamy and light.

Mix in powdered sugar one cup at a time. You can add more or less to get your desired consistency.

Mix in cardamom and vanilla until fully integrated.

Pipe or slather onto your cupcakes.
Candied Carrot Toppers
Check out my post on candied carrot toppers to learn how to make the topper for these cupcakes. Wait until just before serving to add the toppers – otherwise, they will get soggy.
Alternate Recipe
For an alternate carrot cupcake recipe, my Twitter friend Garrick suggests a carrot cake cupcake recipe using baby food.  I haven't tried it, but you may want to check it out.
UPDATE: My bloggy friend, Little Ivy, left me a comment saying that she had made carrot cupcakes with candied carrot curls on top. I went to leave her a comment (something to the effect of how I couldn't believe I had missed that post) and I saw that I had already left a comment in 2007!  So, it looks like my subconscious might have stolen her idea and not given her due credit.  Go check out her carrot cupcake post and all of her other wonderful creations.