I know I said that I had found my favorite carrot cupcake.  I called that carrot cupcake "unforgettably moist".  These paleo diet carrot cupcakes are just as satisfying as my original carrot cupcakes (I may even like them better), with the added benefit that they are fairly healthy and can be eaten by those who subscribe to a paleolithic diet, those who are gluten-free, and those who are dairy-free.
These paleo diet carrot cupcakes don't taste like "diet" cupcakes.  All of my tasters have loved them – even those who don't like traditional carrot cakes.  Surprisingly, even my anti-coconut tasters enjoyed the coconut maple frosting (a mix of coconut oil and maple syrup).  Everyone also commented on the texture of the cupcakes.  The combination of moist carrots, sweet and chewy dates, and the crunch of pecans makes for a cupcake that's more of a sensory experience that your typical light and fluffy cupcake.
What is the Paleo  Diet?
If you are still grunting, "ugg?" with your arms up in the air trying to figure out what the paleo diet is, here is your answer, straight from Wikipedia:
The paleolithic diet (abbreviated paleo diet or paleodiet), also popularly referred to as the caveman diet, Stone Age diet and hunter-gatherer diet, is a modern nutritional plan based on the presumed ancient diet of wild plants and animals that various hominid species habitually consumed during the Paleolithic era—a period of about 2.5 million years duration that ended around 10,000 years ago with the development of agriculture. In common usage, such terms as the "Paleolithic diet" also refer to the actual ancestral human diet. Centered on commonly available modern foods, the "contemporary" Paleolithic diet consists mainly of fish, grass-fed pasture raised meats, vegetables, fruit, roots, and nuts, and excludes grains, legumes, dairy products, salt, refined sugar, and processed oils.
Like a gluten-free diet, wheat flour is out but flours made from nuts are OK.  Most paleo followers avoid all dairy products, so coconut oil is often used as a substitute for butter.  Some paleo followers use no sugar at all, while others will use honey and maple syrup in small amounts.  Sam Hoxie has complied a fairly thorough list of allowed paleo diet foods that you can reference if you are interested.
Paleo Diet Carrot Cupcake Recipe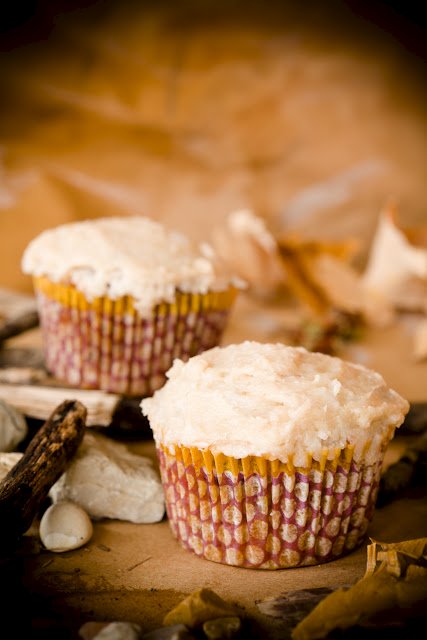 I created this paleo diet carrot cupcake recipe by modifying the paleo carrot cake recipe found on They Call It Falling For A Reason (adapted slightly from a recipe on Elana's Pantry).  The recipe uses walnuts instead of pecans (and fewer of them), honey rather than maple, and it does not include cardamom (I'm a huge fan of cardamom in carrot cake, so I threw it in).  The frosting I used is a coconut maple frosting that was originally used to top delicious looking paleo pancakes on Health-Bent.
As I noted above, I realize that not everyone following the paleo diet is willing to eat maple syrup.  I opted to use it after reading a post on Paleo Cookies on the subject.
Paleo Diet Carrot Cupcakes (Gluten-free and Dairy-free)
The combination of moist carrots, sweet and chewy dates, and the crunch of pecans makes for a cupcake that's more of a sensory experience that your typical light and fluffy cupcake.
Ingredients
Cupcake Ingredients
1 1/2

cups

blanched almond flour

1

teaspoon

sea salt

1/2

teaspoon

baking soda

1

teaspoon

cinnamon

1/2

teaspoon

nutmeg

1/4

teaspoon

cardamom

3

eggs

1/4

cup

maple syrup

2

tablespoons

almond oil or grapeseed oil

1 1/2

cups

carrots

finely chopped (The food processor is the easiest way to do this.)

1/2

cup

pureed dates

If you buy dried dates and they are too hard to puree in your food processor, microwave them with a little bit of water to soften them. Strain out any excess water and then puree them.

1

cup

coarsely chopped pecans
Frosting Ingredients
1/2

cup

coconut oil

1/4

cup

+ 2 tablespoons maple syrup
Instructions
Cupcake Directions
Preheat oven to 325 F.

In a large bowl, combine almond flour, salt, baking soda, cinnamon, nutmeg, and cardamom.

In a separate bowl, mix together eggs, maple syrup, and oil.

Mix carrots and dates into the wet ingredients.

Stir wet ingredients into the dry ingredients.

Fold in the pecans.

Divide evenly between 12 cupcake liners.

Bake at 325 F for 20 minutes or until a toothpick comes out dry.
Frosting Directions
Mix coconut oil and maple syrup until smooth. This will be nearly impossible to do by hand. A hand mixer or an

immersion blender

works best for this because they allow you to mix in a small bowl which keeps the oil and syrup from simply spreading out all over a big mixing bowl.

Spread frosting over cooled cupcakes.

Eat and grunt with joy.
Nutrition
Nutrition Facts
Paleo Diet Carrot Cupcakes (Gluten-free and Dairy-free)
Amount Per Serving
Calories 311
Calories from Fat 225
% Daily Value*
Total Fat 25g 38%
Cholesterol 40mg 13%
Sodium 267mg 11%
Potassium 170mg 5%
Total Carbohydrates 19g 6%
Protein 5g 10%
* Percent Daily Values are based on a 2000 calorie diet.