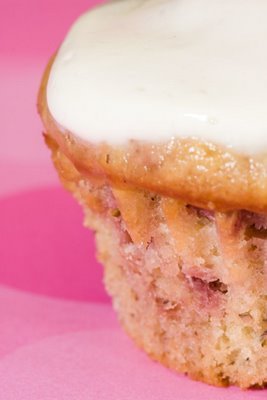 Greek yogurt frosting might be just the thing to top your light, summery cupcakes. Because Greek yogurt is thicker than regular yogurt, it doesn't drip off the side of the cupcake (much) as long as you don't leave the frosting in the sun.
Greek yogurt frosting has a yogurt tang, but like many of the flavors at the FroYo (frozen yogurt) places popping up all over the country, the tang plus a little bit of sweetness works like a charm.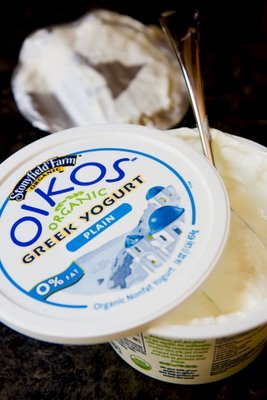 Greek yogurt frosting is obviously healthier than buttercream or cream cheese frostings and although I wouldn't use it on every cupcake, it could be a nice option if you are trying to get into that summer bikini and are able to convince yourself that a healthier frosting negates the cupcake's calories.
Two Important Credits
I got the Greek Yogurt that I used in my frosting compliments of Stonyfield Farms. I actually buy the majority of my yogurt from Stonyfield (when I'm not making my own), but I'd never tried the Greek Yogurt. When Stonyfield asked about sending me some coupons for some free yogurt, I was all over it! Aside from working perfectly for frosting, the yogurt was great for eating all on its own with some fresh fruit and a little sugar. Thanks, Stonyfield!
I got the recipe for the Greek Yogurt frosting from Peter at Souvlaki for the Soul. Peter used his frosting to top some banana muffins – mine topped strawberry banana cupcakes.
Greek Yogurt Frosting Recipe
Here is the recipe for the Greek yogurt frosting from Souvlaki for the Soul, reprinted with my notes.