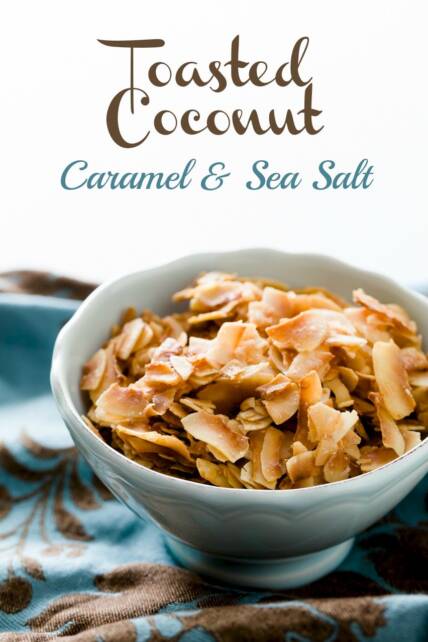 One of my favorite snack foods right now is toasted coconut chips with caramel and sea salt.  You might have seen this product at Trader Joe's sold under the name roasted coconut chips or you may have encountered a version made by Dang sold at other grocery stores.  Toasted coconut chips are sweet, salty, not at all greasy, relatively healthy, insanely delicious, and totally addictive.  After yet another bag of toasted coconut chips ended up in my shopping cart the other day, I started to to think about how to make them myself.
On Amazon right now, it costs $2.26 an ounce for the Trader Joe's chips (they are less in the store), $1.42 an ounce for Dang chips, and $0.26 per ounce for unsweetened flaked coconut.  Just how hard could it be to toast and sweeten coconut myself?
If you follow me on Instagram, you saw a photo yesterday of four test batches that I wasn't happy with.  I experimented with toasting coconut on the stovetop and in the oven, using different types of sugars, and at which stage to add the sugar.  In the end, I developed a recipe for toasted coconut with caramel and sea salt that tastes just like Dang.  Bonus:  The whole thing is done in under 10 minutes!  Get ready to get snacking!
How To Make Toasted Coconut with Caramel and Sea Salt
If you've tried this recipe, please RATE THE RECIPE and leave a comment below!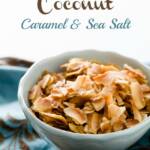 How To Make Toasted Coconut Chips with Sea Salt and Caramel
Servings
1
1/3 cup toasted coconut flakes
Ingredients
2

tablespoons

granulated sugar

2

teaspoons

water

1/8

teaspoon

sea salt

1 1/3

cup

unsweetened coconut flakes
Instructions
Preheat oven to 325 F.

Stir the sugar, water, and salt together until they combine to make a thick liquid.

Pour the mixture over the coconut flakes and stir to coat the flakes.

Spread the flakes out on a baking sheet covered with parchment paper or a silicone mat.

Check on the flakes regularly, starting at five minutes, until they are lightly toasted. They can quickly go from toasted to burnt, so be sure to keep your eye on them.

You can eat them immediately, but they will be more crispy after they cool.
Recipe Notes
Dang coconut chips are made with coconut sugar. If you choose, you can replace the granulated sugar in the this recipe with coconut sugar. I tried this method and found that results tasted so similar to the granulated sugar that it wouldn't be worth spending the extra money on coconut sugar unless you planned to use it for something else as well.