Adorable Easter Bunny Cupcakes
Published , Last updated by
Stef
Disclosure: As an Amazon Associate, I earn from qualifying purchases.
These adorable Easter Bunny Cupcakes have an Easter bunny surprise hidden inside of them! They look like basic vanilla cupcakes until you cut them open!
The best part is that it's easy to make these cute and impressive Easter cupcakes!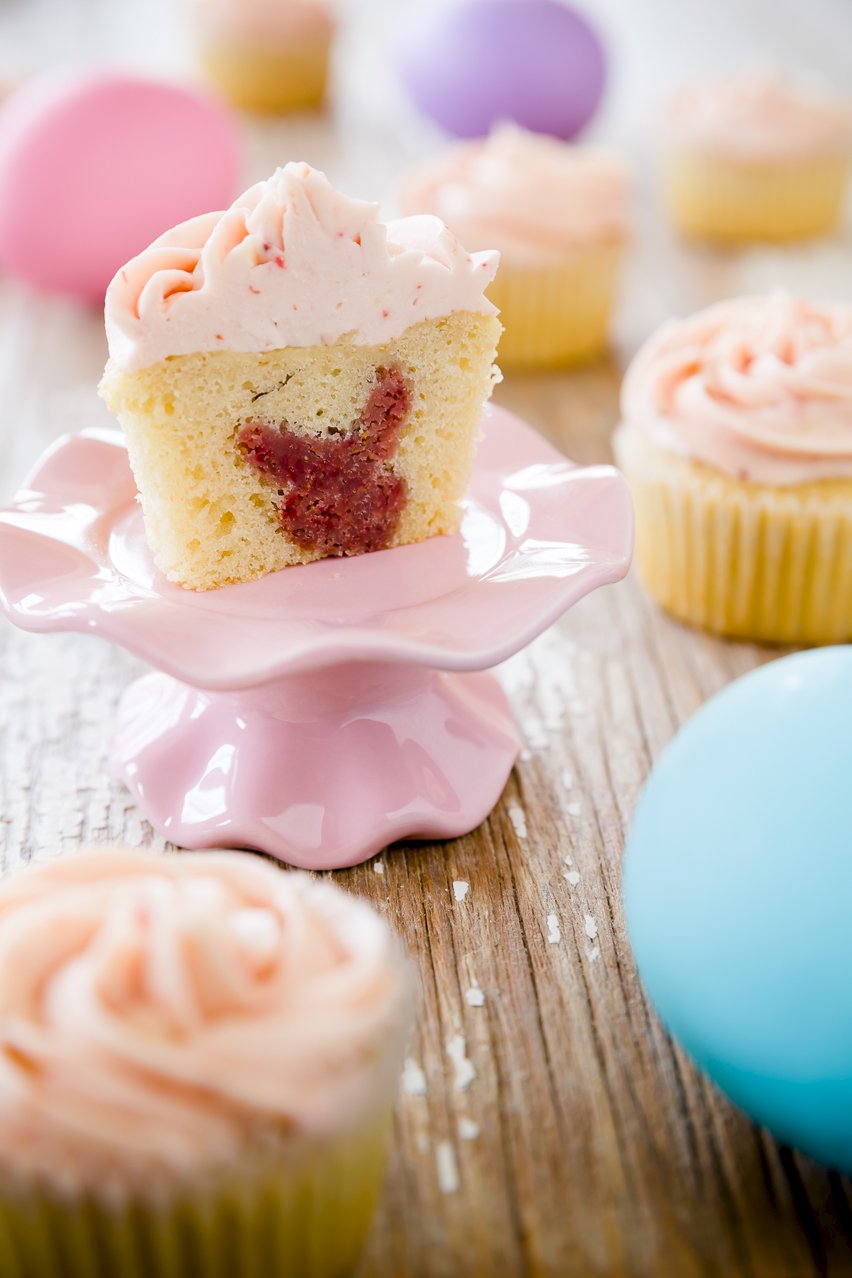 Imagine the look of delight on someone's face when they break open a cupcake and find a bunny hidden inside! These Easter themed cupcakes will brighten anyone's day.
You can use any flavor of cupcake to make the Easter bunny cupcakes, but I suggest you pick a light color so that the bunny stands out. I make from-scratch vanilla cupcakes with strawberry cream cheese frosting.
How to Make Easter Bunny Cupcakes
The trick to making these Easter bunny cupcakes is learning the technique for making the hidden bunny inside. Although making a hidden bunny is my idea, the technique for hiding designs inside cake comes from the fabulous book Surprise-Inside Cakes [paid link] written by Amanda of I Am Baker.
To make the hidden bunny, start with a combination of frosting and cake. It's what Amanda calls "cake mixture."
Bake a single cupcake before you bake the rest of the cupcakes. Combine that single cupcake with frosting to make the cake mixture.
Add red food coloring or strawberry powder the cake mixture to make it red.
Shape the cake mixture so that it looks like the picture below. One of these will go inside of each cupcake and create a head and bunny ears.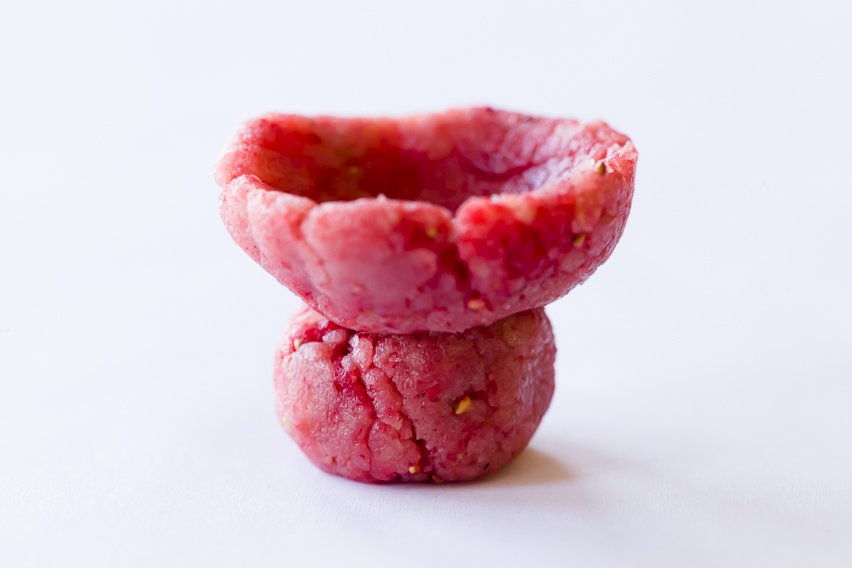 True, this cake mixture looks nothing like a bunny. For this bunny cupcake recipe, we have to think in three dimensions.
When you take a ball of cake mixture and place a bowl-shaped piece of cake mixture on top of it, then slice it straight down the middle, you should have two pieces in the shape of a bunny. If you don't believe me, grab some Play-Doh and try it yourself. I am seriously challenged in three-dimensional thought so I had to break out the Doh to see how this shape ends up looking like a bunny.
Prepare the Easter Bunny Cupcakes Using the Cake Bunny
To make the surprise bunny inside the Easter bunny cupcakes:
Fill cupcake liners just 1/3 full with cupcake batter.
Place a ball and bowl shaped cake mixture exactly in the center of the batter. As you see below, it should rise slightly over the batter.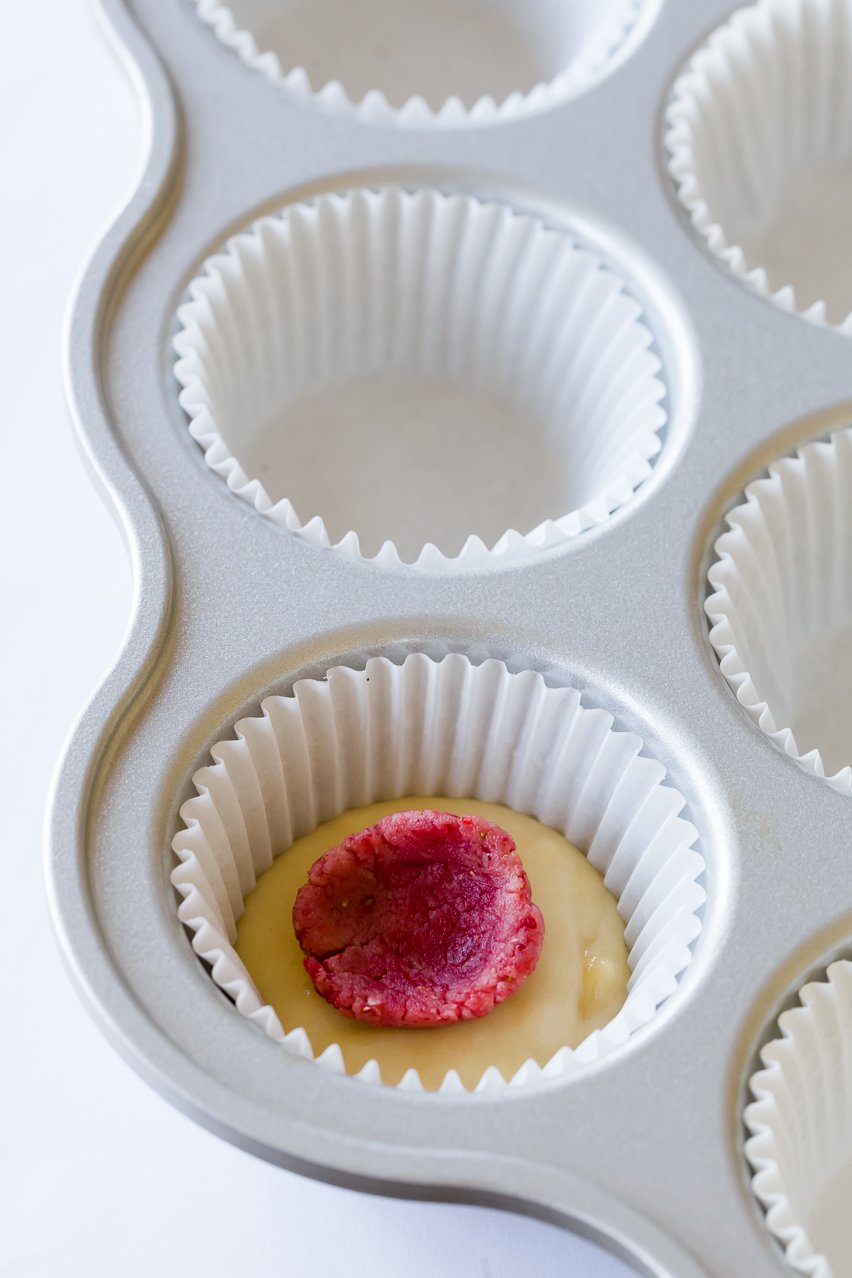 Place a small dollop of batter into the bowl you made, as shown in the photo below. This ensures that there will be cake between the bunny's ears.
Add more cupcake batter, until it is 3/4 of the way to top of the liner.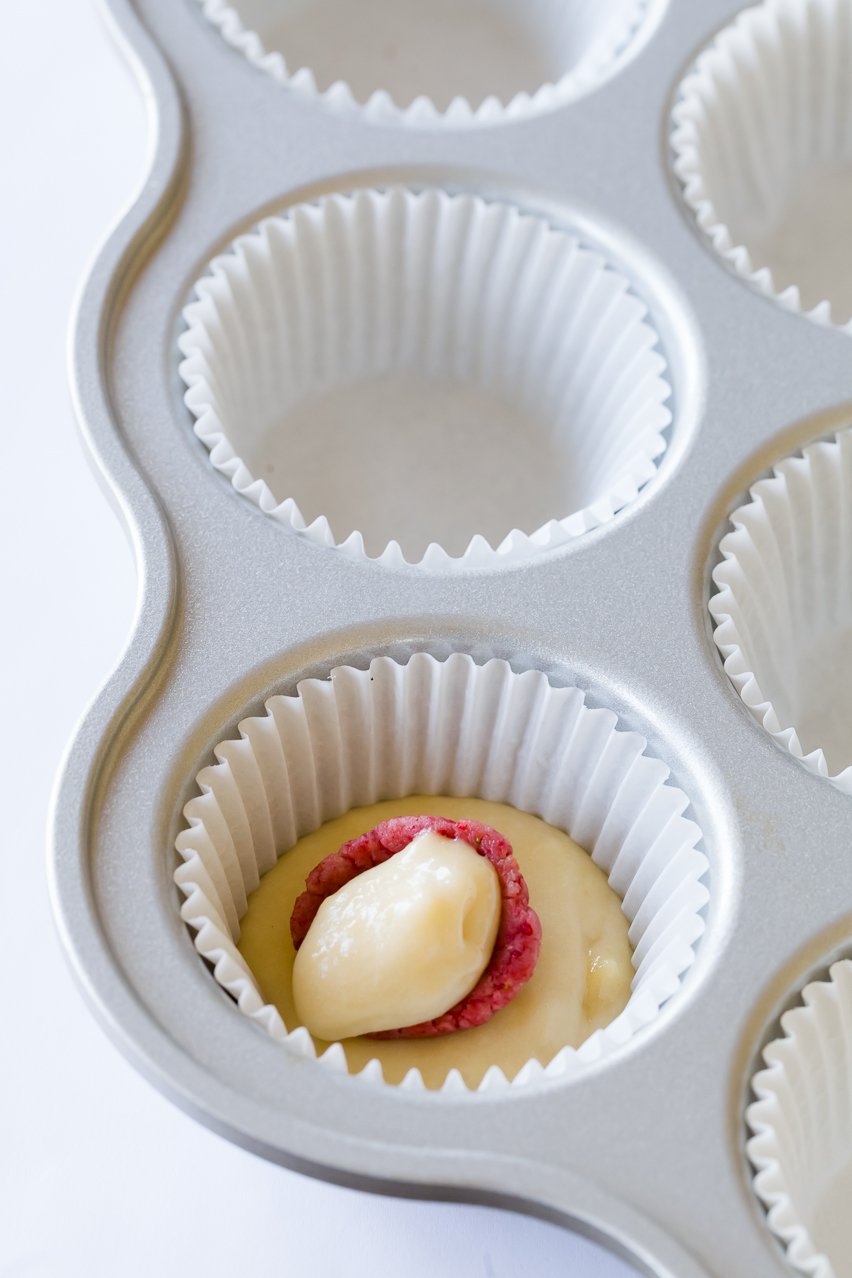 Important Tip: I highly recommend that you make one or two test bunny cupcakes to get the knack of this before baking all of the batter. It can take some tweaking to make the bunny the perfect size and to get the batter to rise just the right amount.
FAQs
How do you cut marshmallows into rabbit ears?
If you want to add another layer of bunny decoration, feel free to grab some marshmallows. Using food-safe scissors, cut them on a diagonal to make triangles and dip the sticky part into some pink sanding sugar. Then stick them into your frosting!
What is the secret to moist cupcakes?
Fluffy and moist cupcakes are the result of well-combined batter that hasn't been overmixed. The inclusion of sour cream in these easy bunny cupcakes also adds moisture and extra rich flavor.
Can I add other things to my bunny cupcakes?
Of course! Feel free to add other ingredients like mini chocolate chips in the cake mix as well for some chocolate flavor and pops of color around the bunny head.
Other Recipes for Easter Cupcakes
When I think of Easter cupcakes, I think of light cupcakes and festive spring flavors. Some of my favorite Easter cupcakes are:
Easter Bunny Cupcakes
These cute Easter bunny cupcakes have a surprise hidden inside them! It's easy to create these very impressive cupcakes for Easter!
Ingredients
Cupcake Ingredients
1

cup

granulated sugar

1

vanilla bean

1 3/4

cups

cake flour

not self-rising

1 1/2

teaspoons

baking powder

1/2

teaspoon

baking soda

1/2

teaspoon

salt

1/4

cup

unsalted butter

room temperature

2

large eggs

room temperature

1/3

cup

full-fat sour cream

1/4

cup

canola oil

you can also use vegetable oil

1

tablespoon

vanilla extract

use pure, not imitation

2/3

cup

whole milk

room temperature
Strawberry Frosting Ingredients
1

cup

unsalted butter

room temperature

16

ounces

cream cheese

room temperature

2

cups

powdered sugar

2

tablespoons

freeze-dried strawberries

finely ground in a food processor

1/4

teaspoon

salt
Cake Mixture Ingredients
1

baked cupcake

2

teaspoons

strawberry frosting

from above

freeze-dried strawberries

ground in a food processor, as needed – up to 1/2 ounce (you can also use a few drop of red food coloring if you prefer)
Instructions
Cupcake Instructions, Part One
Preheat oven to 350 F (175 C).

In a small bowl, combine sugar and seeds from the vanilla bean.

Using the back of a spoon, move around the bowl and apply pressure to break up any clumps of seeds and to better infuse the vanilla flavor into the sugar. Set aside.

In a medium-sized mixing bowl or bowl of a stand mixer, mix together cake flour, baking powder, baking soda, and salt.

Add the vanilla bean sugar and mix until well combined.

Add butter and mix on medium-low speed for three minutes. Because there is so little butter, you'll end up with a very fine crumb texture.

In a small mixing bowl, whisk together eggs, sour cream, oil, and vanilla extract until smooth.

Add the egg mixture to the flour mixture and beat on medium speed until just combined.

Slowly add milk and mix on low speed until just combined. The batter will be liquid. (Don't worry, you didn't do anything wrong. It's supposed to be that way.)

Fill a single cupcake liner just over 1/2 full. Bake for 14 minutes and then test to see if it's done. It's done when a toothpick comes out without wet batter stuck to it. The cupcake should appear white with specks of vanilla bean. It should not turn a golden brown. If it is not done, test again in two minutes. If it is still not done, test again in another two minutes. When the cupcake is done, remove it immediately from the tin and leave it on a cooling rack (or just on your counter if you don't own a cooling rack) to cool.

Fill the remaining cupcake liners 1/3 full with batter. There should still be some batter left over.
Frosting Instructions
In a medium-sized mixing bowl, mix butter and cream cheese until light and fluffy (about three minutes at high speed).

Mix in powdered sugar a little at a time.

Mix in strawberry powder and salt.

Cake Mixture Instructions

Remove cooled baked cupcake from the liner and break into crumbs.

Mix crumbs with 2 teaspoons of the frosting until it forms a Play-Doh-like consistency.

Mix in the strawberry powder until the cake mixture becomes a color that you like.
Cupcake Instructions, Part Two
Rip off pieces of the cake mixture and sculpt into the shape illustrated in this post – a small ball with a bowl on top that is just big enough to rise slightly above the batter.

Place the ball/bowl shape in the center of each filled cupcake liner.

Fill each bowl with a small dollop of batter.

Bake for 20 minutes or until the cupcakes bounce back when lightly touched.

The cupcake batter should have risen enough to completely hide the bunnies.

Remove cupcakes from the tin and set on a cooling rack or the counter to cool.

Pipe strawberry frosting onto cooled cupcakes.

Serve with a knife and instructions to cut each cupcake open down the center. If people just bite quickly into the cupcakes, they will miss the surprise!
Notes
I highly recommend that you do one or two test cupcakes to get the knack of this before baking all of the batter. It can take some tweaking to make the bunny the perfect size and to get the batter to rise just the right amount.
Nutrition
Calories:
296
kcal
|
Carbohydrates:
27
g
|
Protein:
3
g
|
Fat:
19
g
|
Saturated Fat:
10
g
|
Cholesterol:
62
mg
|
Sodium:
168
mg
|
Potassium:
97
mg
|
Sugar:
20
g
|
Vitamin A:
600
IU
|
Vitamin C:
15.1
mg
|
Calcium:
47
mg
|
Iron:
0.5
mg
Stay Connected!
Join my mailing list - and receive a free eBook!