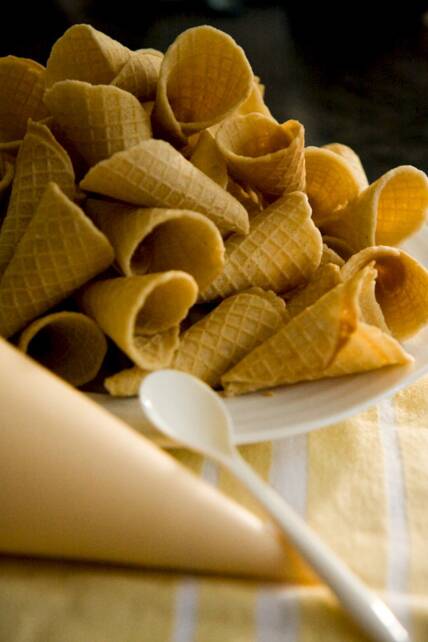 I've been wanting to try out a waffle cone recipe for quite a while. The only problem was that I couldn't make a waffle cone recipe without a waffle cone maker. Lucky for me – Chef's Choice sent me a Petite Cone Express waffle cone maker to try out!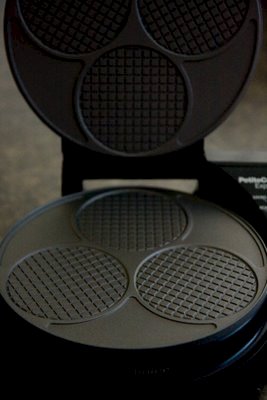 Rather than making one big cone, it makes three little ones. You know that I like things mini, so this waffle cone maker was perfect for me!
The waffle cone recipe that comes with the maker tells you to use the Chef's Choice waffle cone mix, but since I am a from-scratch kinda gal, I decided to go a different route.
I used a waffle cone recipe by Gale Gand that I found on the Food Network. In the comments on that recipe, some readers complained that the dough was too cookie-like. But, if you think about it, a good waffle cone is essentially a crisp sugar cookie. I found that Gale's recipe was ideal for making fresh, crunchy, sweet waffle cones. The recipe contains cinnamon and nutmeg, which gives the cones a slightly different flavor than the ones you get in your local ice cream shop. I liked the spices, but if you don't, you can always leave them out.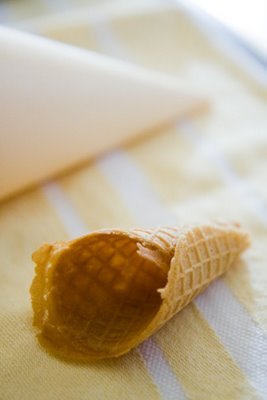 I've reprinted the waffle cone recipe below, along with step-by-step instructions for making the cones in the Chef's Choice PetiteCone Express (obviously, the recipe would work in any waffle cone maker). I didn't count how many waffle cones it made, but you can look at the pictures at the top and bottom of this post to get an idea. It made a lot!
1 C heavy cream
1 1/2 t vanilla extract
1 1/2 C powdered sugar
1 1/2 C all-purpose flour
1/4 t ground cinnamon
Pinch ground nutmeg
1 T cornstarch
In a bowl with a whisk, whip the cream with the vanilla until mousse-like (it won't form peaks).
Sift the remaining ingredients together and stir them into the cream to make a batter.
Let the batter sit for 30 minutes.
Heat up the waffle cone iron. I used heat setting 2.5.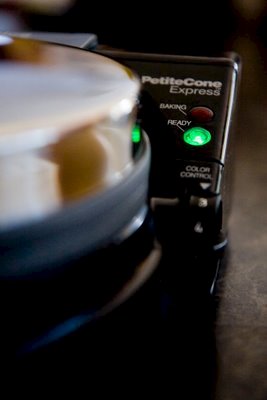 You'll know that it is ready to go because the light turns green.
Grease the top and bottom of the waffle iron. I used a non-stick spray.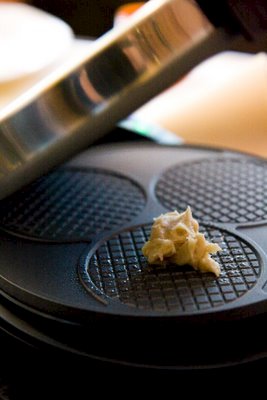 Put a dollop of batter onto each of the three waffle molds. The waffle maker comes with a spoon to scoop the batter with so you know exactly how much batter to use. If you use too much, the three waffles will stick together. If you use too little, the waffles will be hard to roll. Tip: The first time that you do it, I would highly recommend doing only one at a time. That way, you can make sure that you've got the technique down without wasting any batter.
Close the lid.
The light will turn red. When it turns green again, it's time to roll your waffle.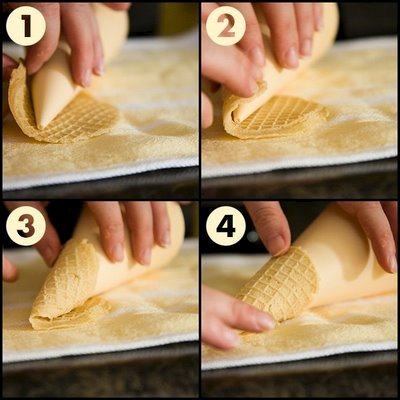 The waffle maker comes with a cone shaped mold to roll the waffle around. Here are a couple of rolling tips:
Work fast. The waffles harden super quickly.
Protect your hands. The waffle will be really hot and you could burn yourself. You might want to use a towel or wear gloves to help you roll.
As soon as the cone begins to overlap itself, press down firmly as you continue to roll to make it stick closed. It also helps to hold the waffle in the position shown in step four for a few seconds.
Use your fingers to pinch together the hole at the bottom of the cone.
If you are making three waffles at once, take them off the iron one at a time. Don't take a waffle off of the iron until you are ready to mold it, otherwise the third waffle will be too hard to shape by the time you get to it.
Store the cooled waffle cones in a Ziploc bag until you are ready to fill them with ice cream or whatever else your mind dreams up. Mine are going in 4th of July cupcakes.