Sugar Plums
Published , Last updated by
Stef
Disclosure: I may earn a commission from purchases you make through affiliate links in this post at no additional cost to you.
What is a sugar plum, and how do you make it? It's one of the most iconic Christmas desserts and yet most people have never had it. Here's what you need to know!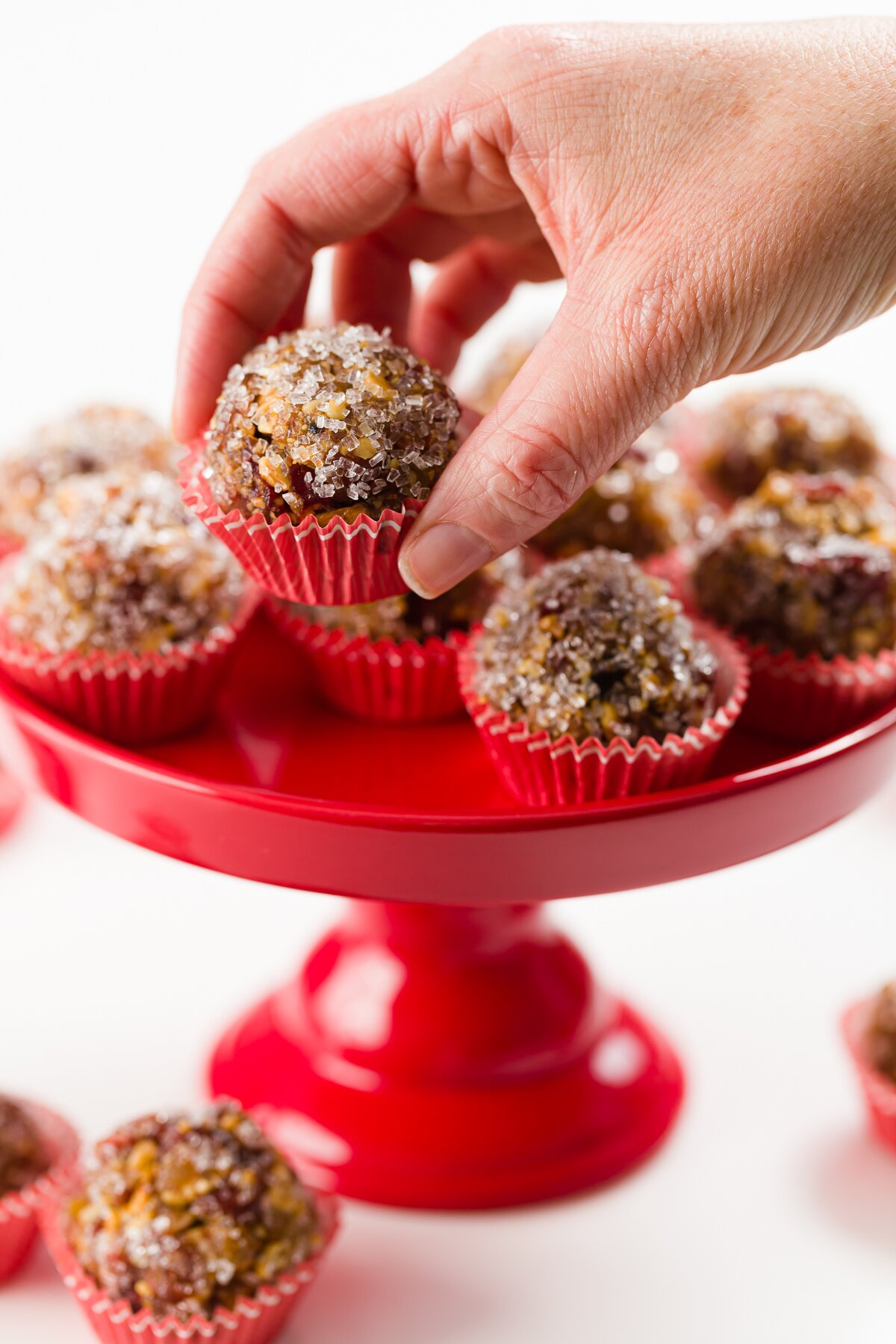 You have probably heard 'Twas the Night Before Christmas several hundred times, but if you are like me, you may not have stopped to find out just what a sugar plum is after hearing the verse:
The children were nestled all snug in their beds,
While visions of sugar-plums danced in their heads.
I always assumed that this referred to sugared and baked plums.
What are Sugar Plums?
It turns out that the traditional candies had nothing to do with plums. They were seeds (often coriander) coated with layer upon layer of melted sugar. At some point, the term came to represent all manner of sweet things. (To learn more, read the Atlantic article entitled Sugar Plums: They Are Not What You Think They Are by Samira Kawash, author of Candy Professor.)
Today, this dessert is something else entirely. A modern version like mine is a no-bake dessert made by rolling up balls of dried fruit, nuts, honey, and spices in sugar.
They could be called healthy – before you roll them in sugar.
These sugar plums taste more like energy bars than cookies, which is actually a good thing around Christmas time when we are bombarded with sweet after sweet.
Ingredients
For my recipe, you'll need:
Dried fruit – I use pitted dates, apricots, and prunes (dried plums). You can always experiment with your favorite dried fruits; many people add raisins to theirs.
Honey – Honey binds it all together.
Walnuts – Whole walnuts are usually cheaper than the chopped ones, so I buy the whole ones and chop them with everything else when I make the recipe. You can use almonds if you prefer.
Orange zest – This brightens the flavor.
Spices – Most of the spices found in this treat, like the nutmeg, cinnamon, and allspice, are typical for desserts. However, the coriander makes this recipe pop! It also connects the modern dessert to the traditional candy of the same name. Don't skip it!
Coarse sugar (sanding sugar) – This is optional, but I highly recommend it for decorating. It makes the sugar plums sparkle!
How It's Made
Start by toasting the walnuts. It gives them a much more robust flavor. Place them on a cookie sheet in a single layer and bake at 300 F for 8 to 10 minutes or until the nuts turn a deeper brown color. Remove and let them cool to room temperature.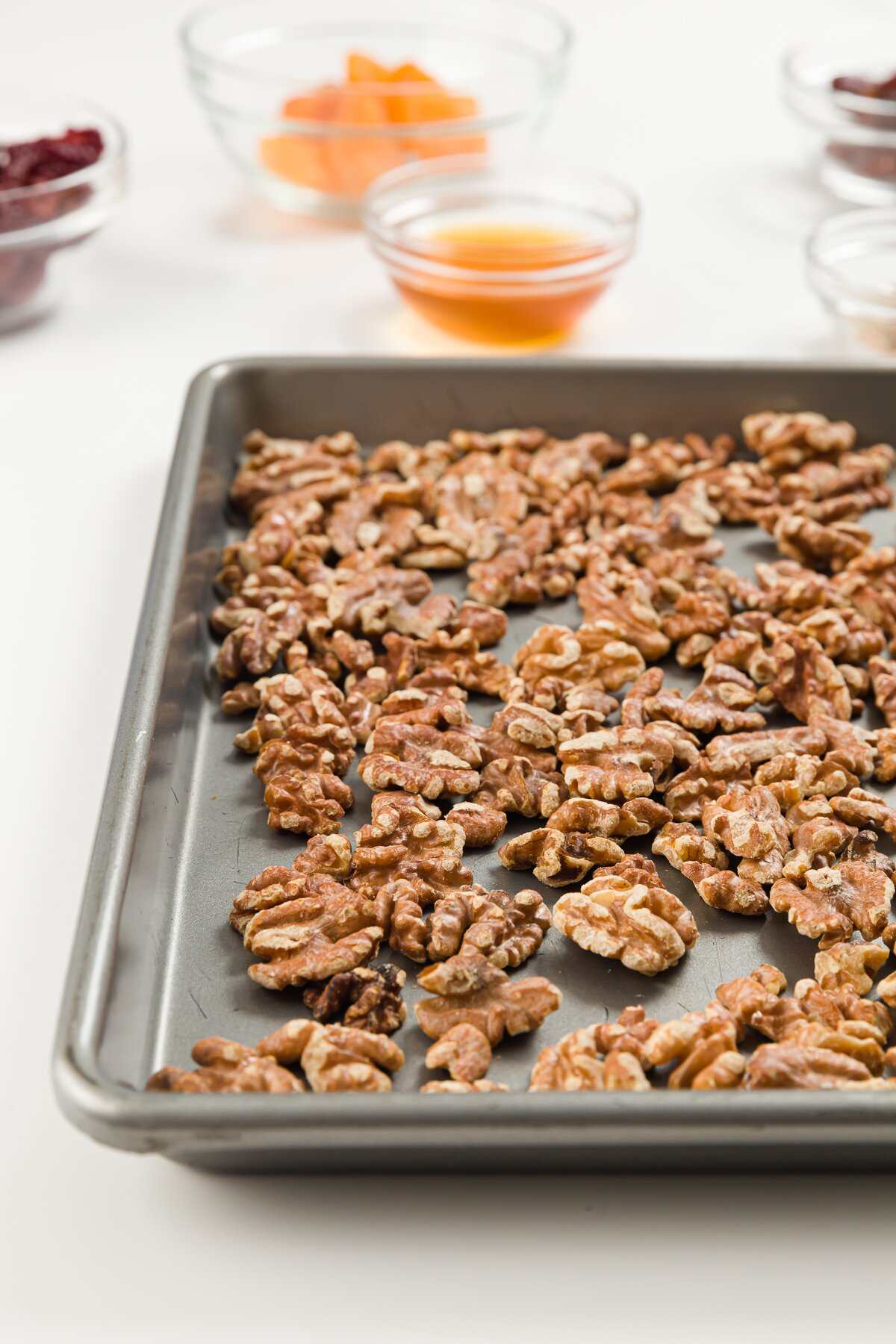 Add all of the ingredients (included the toasted walnuts) to a food processor and process for about a minute until there are no large pieces of anything. If you grab some of it, it should stick together.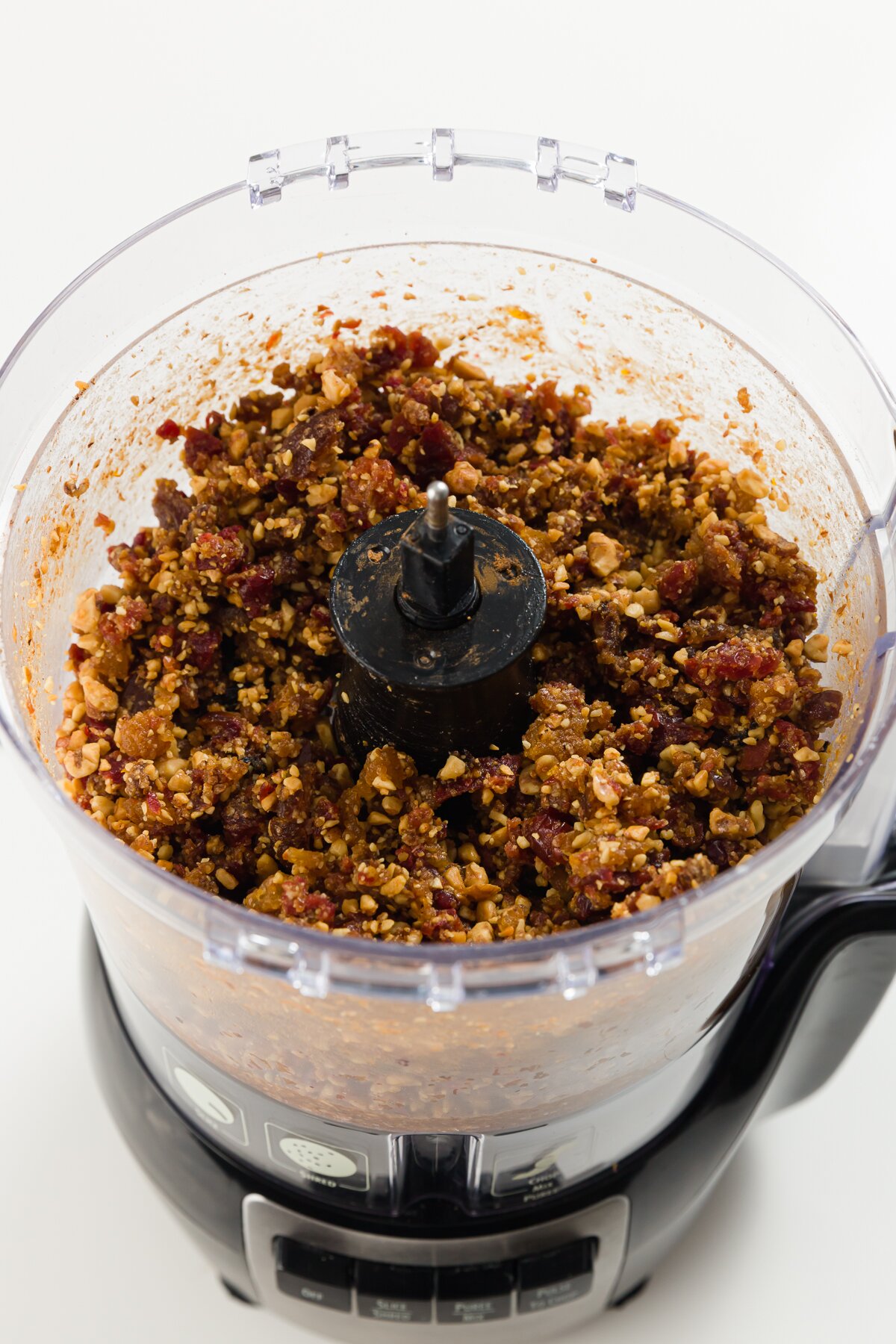 Roll the mixture into small balls. Use a disher to help make the balls evenly-sized. I've made these really small (teaspoon-sized, yielding 50 balls) and made them much larger (2 tablespoon-sized, yielding 16 balls).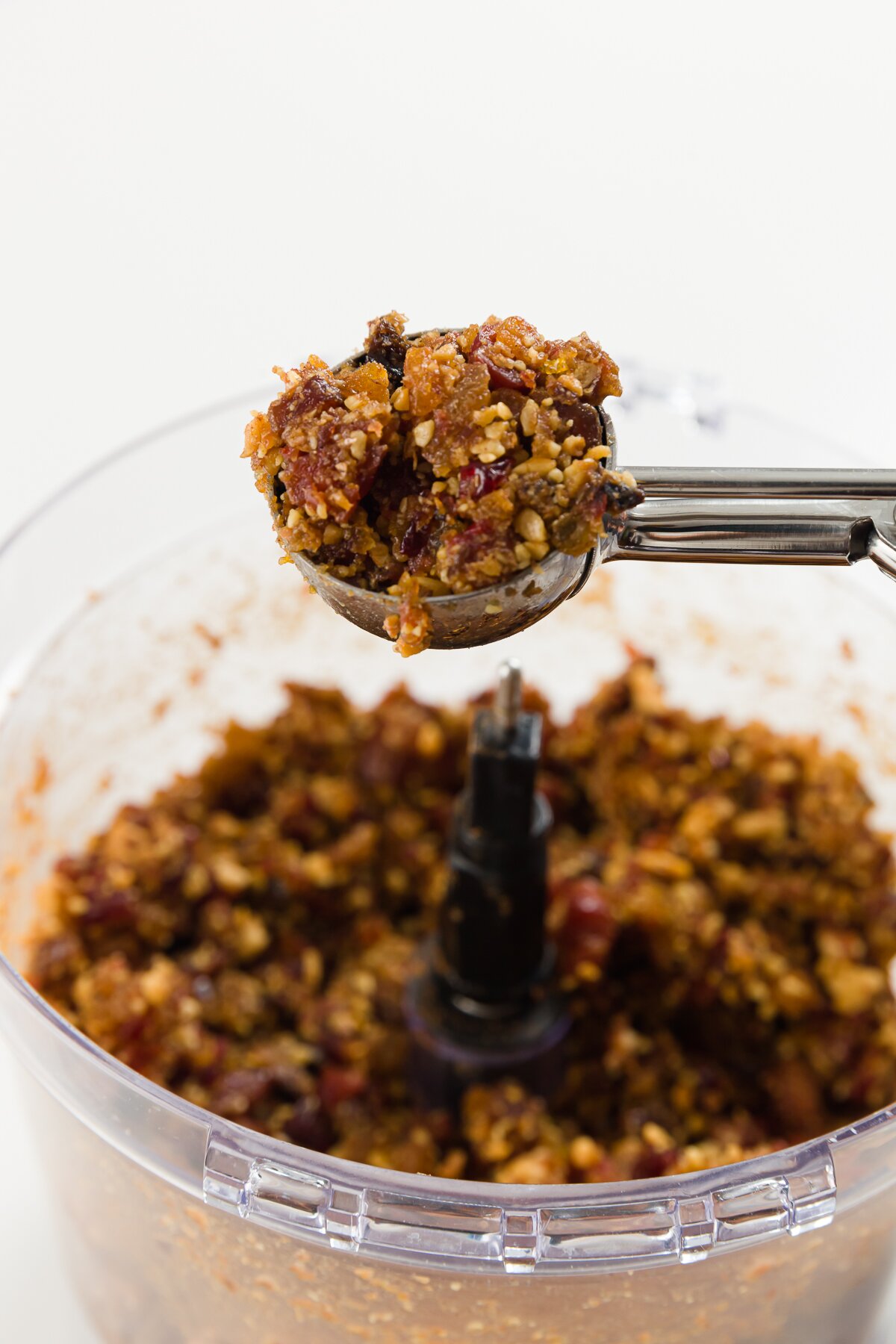 Roll each of the balls in coarse sugar (sanding sugar).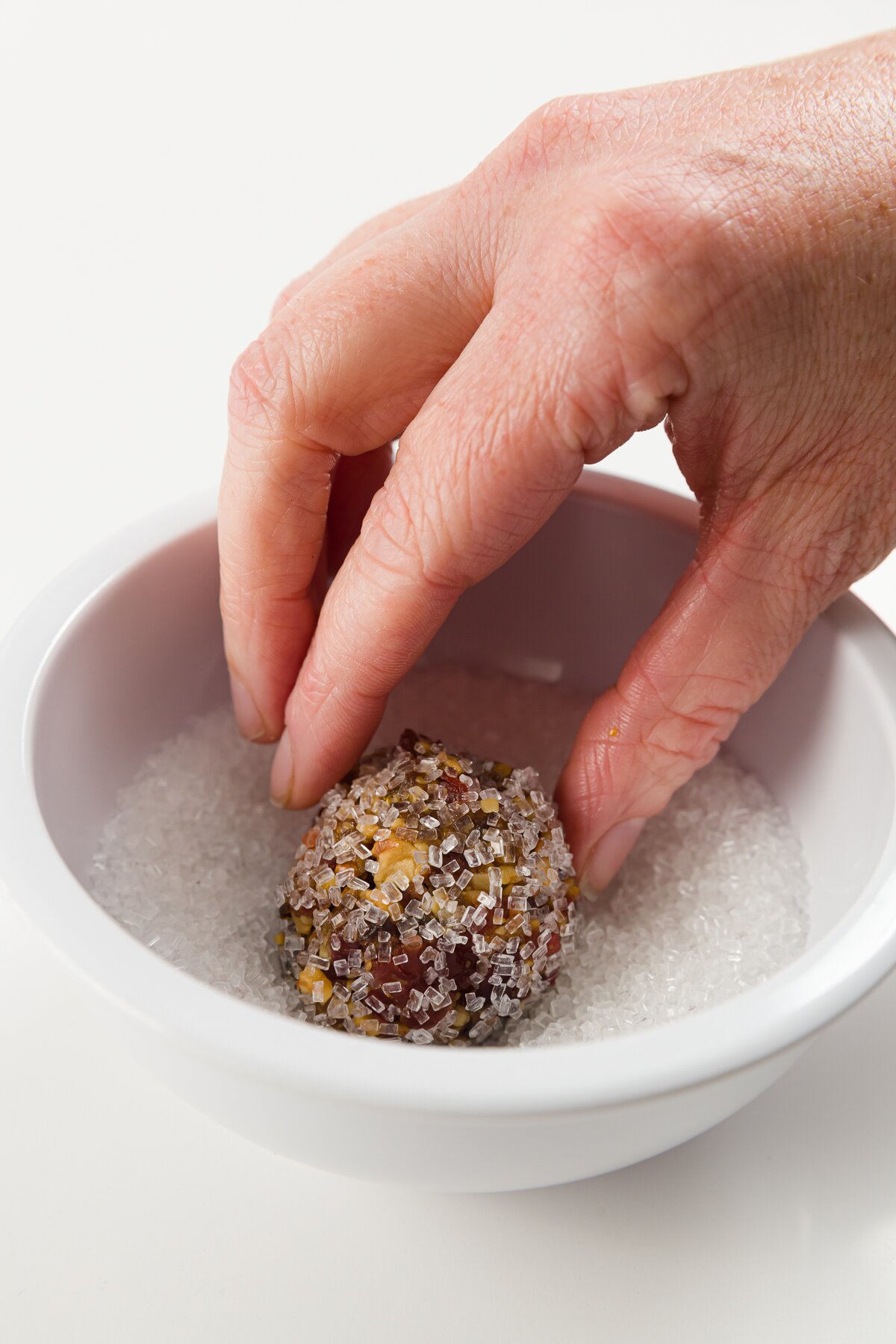 Expert Tips and FAQs
Decorating Ideas
I like to place each sugar plum into a mini cupcake liner. You can find so many cute holiday-themed liners that will make these look so festive!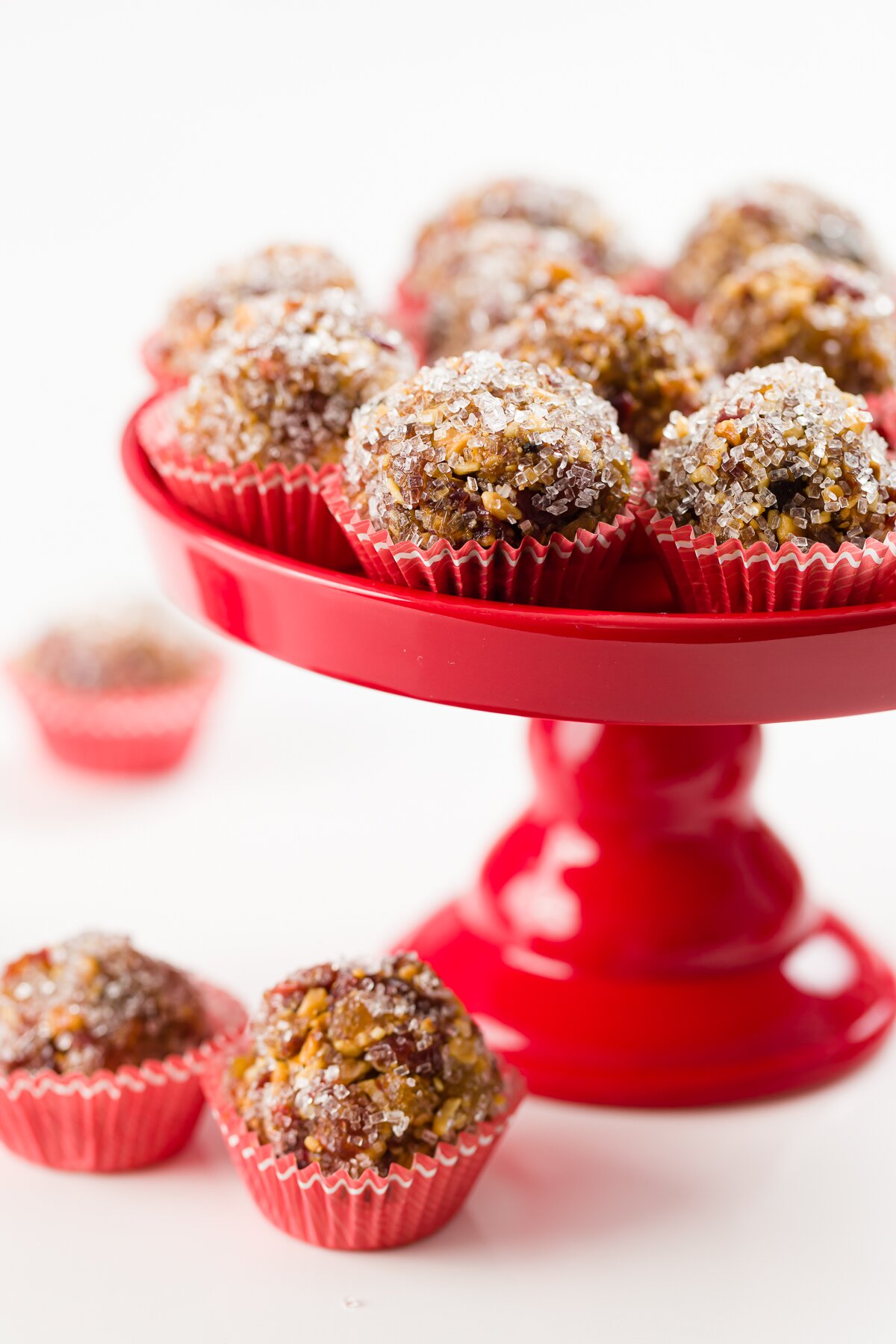 You can also use colored sanding sugar and even use several different colors. You can purchase sanding sugar in every possible color or dye your own using food coloring.
I've also decorated sugar plums with edible glitter. Some edible glitters are made of plastic and really aren't meant to be eaten. I recommend Jewel Dust sold by Layer Cake Shop. It's an example of an FDA-approved edible glitter. I dust them in powdered sugar first since the glitter shows up better on white.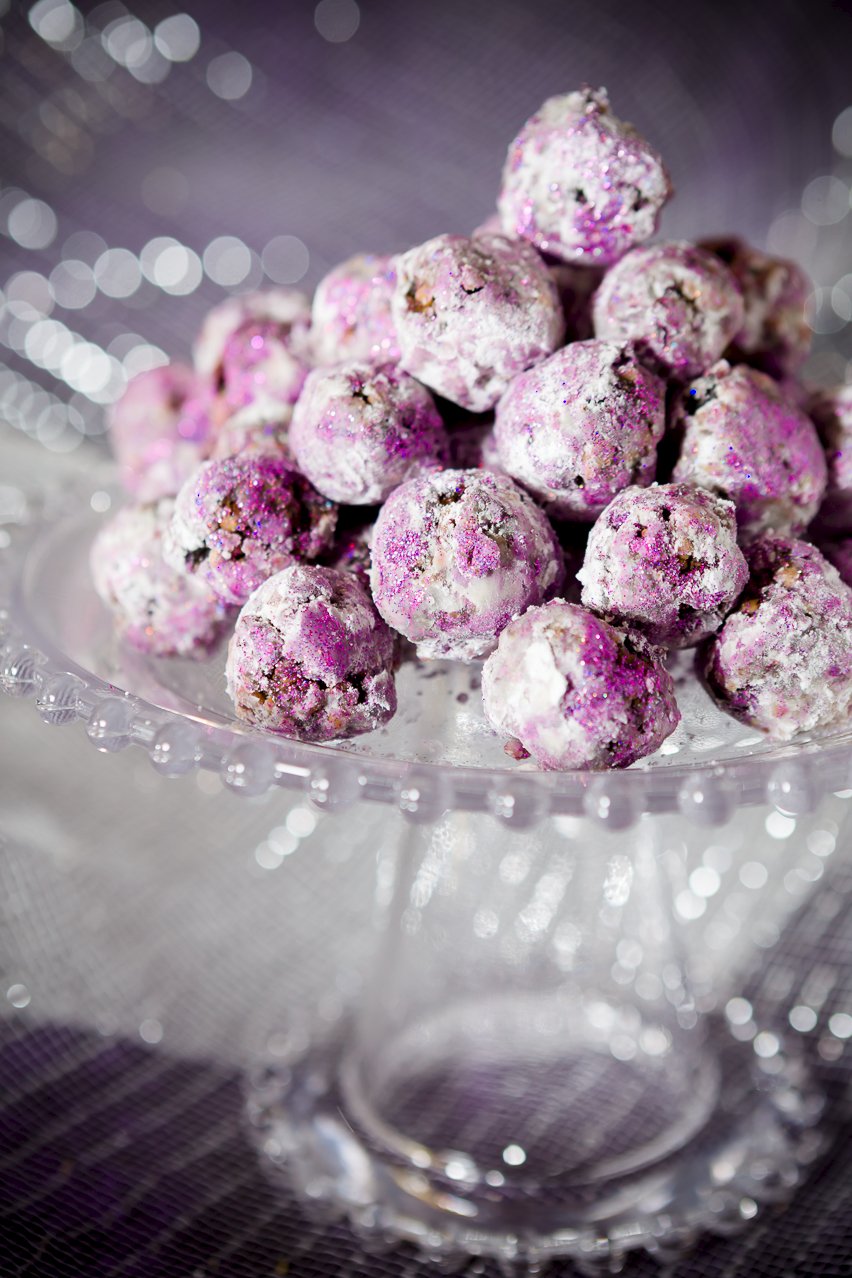 FAQs
How long do these last for?
Like fruit cake, sugar plums actually taste better over time. You can store them in an airtight container in the refrigerator for a month.
Can I use other dried fruits?
Sure! You need a total of two cups of dried fruit. If you want to switch it up and experiment with raisins, cranberries, or cherries, go for it!
I am allergic to nuts; can I leave them out?
Yes. You can leave off the nuts. The texture won't be quite the same, but they will still taste great!
Related Recipes
Sugar Plums
An easy sugar plum recipe for Christmas with a little sparkle. 'Tis the season!
Ingredients
2

cups

toasted walnuts

1/4

cup

honey

1

teaspoon

ground cinnamon

1/2

teaspoon

ground allspice

1/2

teaspoon

ground nutmeg

1/4

teaspoon

ground coriander

1

teaspoon

orange zest

1

cup

pitted prunes

1/2

cup

dried apricots

1/2

cup

pitted dates

1/2

cup

sanding sugar

optional, for decorating
Instructions
Place all of the ingredients except for the sanding sugar in the food processor and process for a minute or until everything is finely chopped and sticks together if you squeeze it.

Form the mixture into balls, about two tablespoons each.

Roll the balls in sanding sugar.
Notes
Like fruit cake, sugar plums actually taste better over time. You can store them in an airtight container in the refrigerator for a month.
If you'd like, you can use other kinds of dried fruit – you'll need two cups of dried fruit total.
If you are allergic to nuts, you can leave them off. The texture won't be quite the same, but they will still taste great!
You can experiment with making them different sizes. I like the 2 tablespoon size because they fit nicely in mini cupcake liners.
Nutrition
Calories:
186
kcal
|
Carbohydrates:
26
g
|
Protein:
3
g
|
Fat:
10
g
|
Saturated Fat:
1
g
|
Sodium:
1
mg
|
Potassium:
224
mg
|
Fiber:
2
g
|
Sugar:
20
g
|
Vitamin A:
231
IU
|
Vitamin C:
1
mg
|
Calcium:
24
mg
|
Iron:
1
mg
Stay Connected!
Join my mailing list - and receive a free eBook!