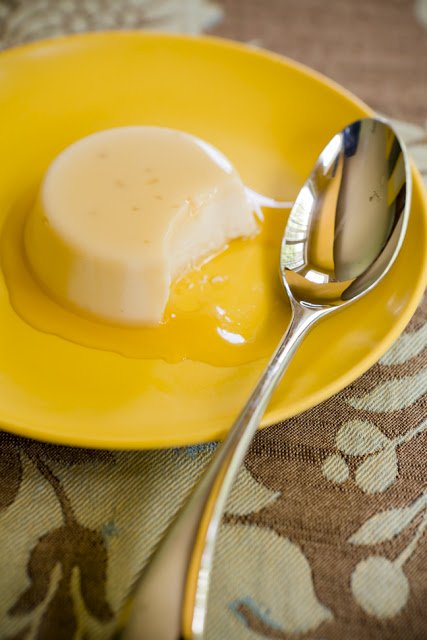 Hot milk and honey is my coffee shop beverage of choice – just a simple steamed milk (2% or whole if I'm splurging) with a touch of sweet honey.  I realize that as an adult (and a foodie) I should have graduated from hot milk and honey to more sophisticated drinks: lattes, cappuccinos, and whole leaf teas.  However, I've never found anything as satisfying as the drink my mama made me as a kid – heating up a big pot of milk and stirring in some golden blossom honey
. Hot milk and honey temporarily cured my tiny scratchy throat when I wasn't feeling well, and today, it can untie the knots in my stomach on the days when stress creeps in and attacks.
Right now, it's summer and it's TOO HOT for hot milk and honey.
Enter milk and honey panna cotta.  Milk and honey panna cotta has the same flavor as my beloved hot milk and honey, but in a chilled, jello-like format.  It would make a perfect palate cleanser in a multi-course meal or an after-work calm-you-down snack.  It doesn't have a massive flavor punch, it's not super sweet or spicy, it's just simple and calming, like an edible hug.
Milk and Honey Panna Cotta Recipe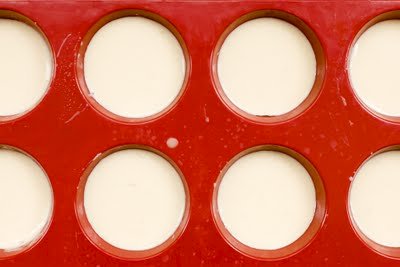 This milk and honey panna cotta contains agar-agar, a vegetarian gelatin substitute made from red algae.  While you can make panna cotta with gelatin, the advantage of agar-agar (other than the fact that it's vegetarian) is that it is stable at room temperature.  This will come into play in my next post when you see how I used this panna cotta to frost sweet pea cupcakes!
You can find agar-agar in the Asian section of your grocery (I found it at Whole Foods) or in an Asian market.  It is sold as flakes
or a powder
.  I used the flakes, but found that I had trouble with them dissolving in the milk.  My only disappointment with this recipe was that I could still see the flakes in the end result (you can see them in the photos; they look like grains of rice).  I would recommend either using the powder or grinding the flakes in a spice grinder before using them.
Regular panna cotta eaters should also know that this panna cotta is more solid than typical panna cotta.  It will easily hold the shape of whatever silicone mold you pour it into.
I got the recipe for the honey panna cotta by adjusting a recipe for vanilla panna cotta from from Linden Tea.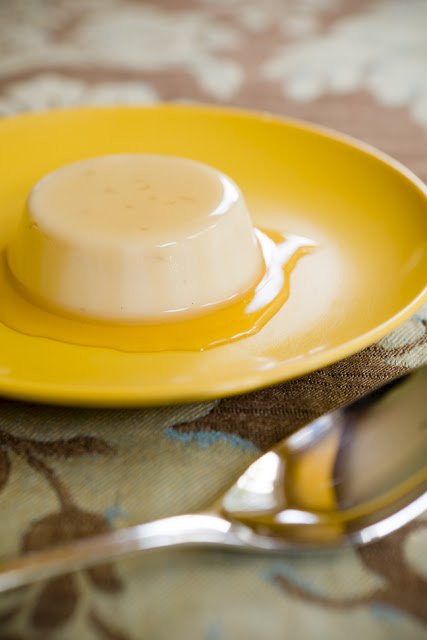 Milk and Honey
Hot milk and honey is my coffee shop beverage of choice - just a simple steamed milk (2% or whole if I'm splurging) with a touch of sweet honey.
Ingredients
1 1/2

cups

whole milk

1/2

cup

heavy cream

2

tablespoons

agar-agar flakes

if you care about seeing them in the end result, grind the flakes before using or 2 teaspoons agar-agar powder

1/4

cup

honey + extra for drizzling
Instructions
Place all ingredients in a saucepan over medium high heat and stir occasionally until the agar-agar has dissolved completely or almost completely (as noted above, I could never get the flakes to completely dissolve), about 15 minutes. The mixture should remain simmering, but not come to a heavy boil.

Let the mixture stand for about 10 minutes at room temperature and pour into a silicone mold (any shape you'd like) or ramekins. I made mine in my

silicone cupcake tin

. I filled the molds 3/4 full and the recipe made eight.

Refrigerate until the panna cotta sets, 2-3 hours.

Serve cold, drizzled with honey.
Nutrition
Nutrition Facts
Milk and Honey
Amount Per Serving
Calories 115
Calories from Fat 54
% Daily Value*
Fat 6g9%
Cholesterol 24mg8%
Sodium 27mg1%
Potassium 91mg3%
Carbohydrates 12g4%
Protein 1g2%
Vitamin A 295IU6%
Calcium 69mg7%
Iron 0.3mg2%
* Percent Daily Values are based on a 2000 calorie diet.