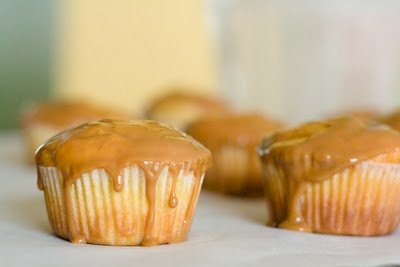 These moist mango cupcakes topped with decadent, drippy dulce de leche are the mango cupcakes that I've been wanting to create, but until now, hadn't. Don't you want to lick the dulce de leche right off the side of the mango cupcake wrappers? Confession: I loved that the mango cupcakes were messy because every time I handed someone a mango cupcake, I got to sneak a little taste of it off of my fingers.
The Secret to Mango Cupcakes
My last mango cupcakes didn't taste mango-ey at all and the mango cupcakes before those tasted like corn muffins. I turned to you, my incredibly creative readers, for suggestions on how to give the cupcakes more mango flavor. You had some fantastic ideas (go read the comments on my last mango attempt if you haven't). While I'd love to try all of them, the one that stuck out for me was using mango extract (one of my friends on Facebook suggested it and SilverMoon Dragon and Sommer had similar suggestions of using mango essence and mango flavoring oil).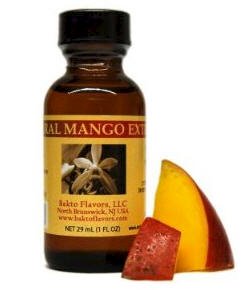 I found natural mango extract on Amazon and as soon as I opened the bottle, I knew that I had found the mango prize! It smelled like mango – not fake, candy mango, but like the fresh mango that I eat over the sink because it's so juicy. Just like vanilla extract is necessary for a heavenly vanilla cake experience, it seems that mango extract is needed for a noticeable mango flavor.
Mango Cupcake Recipe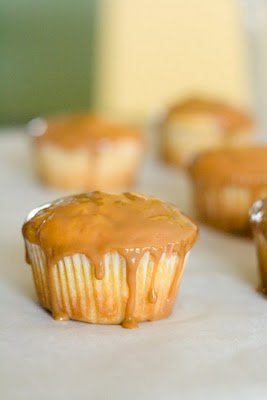 If you've tried this recipe, please RATE THE RECIPE and leave a comment below!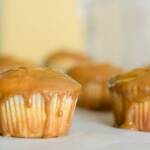 Mango Cupcakes – I Learned The Secret
Ingredients
2 C flour
1 1/2 t baking powder
1/2 t baking soda
3/4 C butter room temperature
2/3 C sugar
2 eggs
2/3 C plain yogurt
2 t mango extract
1 C mango juice Check the label on your juice. It's hard to find 100% mango juice. If you can, that is best. But, if not, a mango juice blend would also work.
Dulce de leche to taste (see my post on how to make dulce de leche)
Instructions
Whisk flour, baking powder, and baking soda in a bowl.

Beat butter and sugar until light and fluffy.

Beat in eggs, yogurt, and mango extract until blended.

Alternately fold in flour mixture and mango juice, beginning and ending with the flour.

Fill cupcake liners 3/4 full.

Bake at 350 F for about 25 minutes or until a toothpick comes out of the cupcake clean.

Top with dulce de leche and either:

Eat fast, using your tongue to keep up with anything that drips down the side.