Mango Whipped Cream Frosting Recipe: Light and Refreshing
Disclosure: As an Amazon Associate, I earn from qualifying purchases.
Mango whipped cream frosting is light and refreshing! It's wonderful on so many cakes and cupcakes.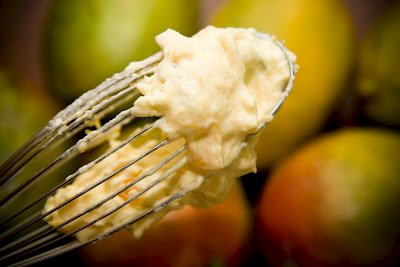 This mango frosting is great on pound cake, angel food cupcakes, or when used as a dip for crackers!
Like Chantilly cream, this frosting starts with a base of whipped cream and sugar. However, it quickly diverges as you add in pulverized mango and picks up the amazing flavor and aroma of fresh mango.
Buying Mangoes
Buy the Correct Kind of Mango
The man in front of me at the mango section of my grocery store was spending a long time trying to decide which mango to purchase. He clearly knew what he was doing.
Not knowing much about mangoes, I asked him for help in picking a good one. He told me something that surprised me – none of the mangoes in that bin would work for me. I was looking at raw mangoes, which are unripe mangoes used for pickling. He directed me to the more common mangoes I would want to use for my whipped cream.
You probably won't find raw mangoes in your standard U.S. grocery store. However, I happened to be shopping at an international supermarket because I needed specialty Indian ingredients that they don't sell at most groceries. If you find yourself shopping somewhere with multiple mango varieties and you are not a mango maven, ask someone before buying the first mango you see.
Make Sure the Mango is Ripe
Before you use the mango, make sure it is ripe. Kate's Global Kitchen tells us how to tell if a mango is ripe:
Smell it. It should have a fragrance and the skin should give slightly when pressed. Some books say a mango is ripe when it has a pink blush to it, but that depends on the variety.
If you are looking for something really unique and delicious, try sprinkling latik over mango whipped cream. Latik is coconut curd made from a can of coconut milk.
Mango Whipped Cream Frosting
I wanted a light and refreshing topping for my Indian cupcakes. Mango whipped cream frosting fit the bill. Mango whipped cream frosting would also be great on a pound cake or angel food cake or cheesecake or to dip crackers in or whatever you can dream up!
Ingredients
1

cup

heavy whipping cream

1/3

cup

sugar

2/3

cup

mango

about one large mango
Instructions
Using a whisk attachment, whip heavy cream using an electric mixer on medium speed for about five minutes or until soft peaks form.

Add sugar and whisk until incorporated.

Cut up your mango, being sure to remove all skin. Then, use a food processor or blender to turn your mango into a pulp.

Gently fold the mango into the sweetened whipped cream.

Be sure to keep refrigerated.
Nutrition
Calories:
48
kcal
|
Carbohydrates:
4
g
|
Protein:
1
g
|
Fat:
4
g
|
Saturated Fat:
2
g
|
Cholesterol:
14
mg
|
Sodium:
4
mg
|
Potassium:
15
mg
|
Fiber:
1
g
|
Sugar:
3
g
|
Vitamin A:
195
IU
|
Vitamin C:
2
mg
|
Calcium:
7
mg