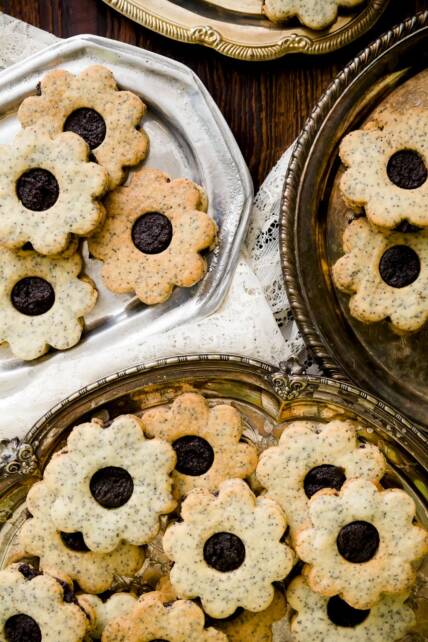 Poppy seed filling is seldom used in American cookies.  In fact, the only time I see it with regularity is in Hamantashen, and even then, I'd never heard of someone making the poppy seed filling from scratch.  I decided to experiment with from-scratch filling in these lemon poppy seed sandwich cookies.  While you could use lemon curd as a filling for these little butter cookies dotted with poppy seeds (I wouldn't fault you for making that splendid choice), filling the cookies with a poppy seed filling gives them more of a winter warmth.
Poppy seed filling, you'll find, isn't tough to make.  Once you have it on hand, you can use any extra filling as a spread on toast or crackers.
To make poppy seed filling that is smooth (not gritty and crunchy), you'll need ground poppy seeds.
Alternatively, you can buy regular poppy seeds (these should be easy to find with the spices at your local grocery store) and use a poppy seed grinder to grind them.  But, that is an expensive purchase which doesn't have much application unless you are always making desserts with poppy seeds.
If all else fails, you can use pre-made poppyseed filling.  I highly encourage you to first give making your own poppy seed filling a shot with my recipe below.
Lemon Poppy Seed Sandwich Cookie Recipe