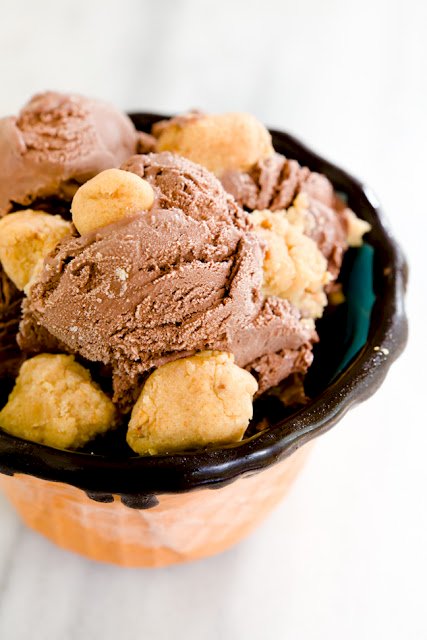 Why does cookie dough always refer to chocolate chip cookie dough?  For that matter, why does 90% of cookie dough ice cream use a vanilla ice cream base?  In the name of variety and a flavor combination that's hard to go wrong with, I present a recipe for peanut butter cookie dough that's safe to eat raw (no eggs!) and a recommendation that you mix it into chocolate ice cream.
When making peanut butter cookie dough, you needn't worry about ingredient order, mixing speeds, temperature, or times.  You aren't going to bake the cookie dough, so you can say, "Nanny nanny poo poo," to the laws of baking chemistry – just mix and eat!
Peanut Butter Cookie Dough Recipe
Peanut Butter Cookie Dough That's Safe to Eat
Ingredients
3/4 cup all-purpose flour
pinch of salt
1/4 cup unsalted butter, room temperature
1/2 cup peanut butter (chunky or smooth will both work, so pick your favorite kind)
1/4 cup granulated sugar
1/4 cup brown sugar
1 1/2 teaspoons whole milk (add more if you prefer a more wet dough)
1 teaspoon vanilla extract
Instructions
Mix everything in a big mixing bowl.
Eat!
Notes
Remember: this is a recipe for raw cookie dough. If you bake the peanut butter cookie dough, it won't turn into perfect peanut butter cookies; it does not contain baking powder, baking soda, or eggs. The peanut butter cookie dough is meant to be eaten straight from the bowl - just like you would anyway, but without the guilt.
http://www.cupcakeproject.com/2011/08/peanut-butter-cookie-dough-thats-safe.html
Want More?
Peanut Butter, You?
Long time readers know that I don't like peanut butter and I vowed never to make flavors that I don't personally like.  In this case, I made a batch of the cookie dough with almond butter and a batch with the peanut butter.  I taste-tested the almond butter batch and loved it (I highly recommend that you try this recipe with all kinds of nut butters) and relied on my testers to tell me how much they enjoyed the peanut butter batch.
Credits
Thanks to Janice Willis for her idea to make peanut butter cookie dough.  She left me a note on my Facebook page requesting a recipe.  If there is ever something you'd like me to try, let me know.  No promises, but I'll do my best to either make it or point you in the right direction to find a recipe.