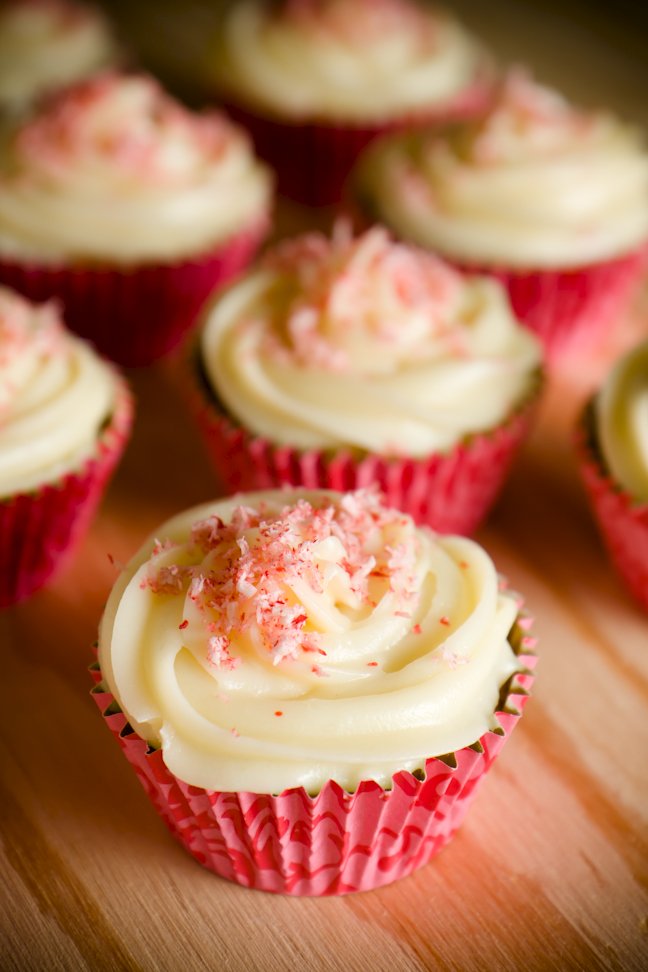 Groom 4.0 (read the back story for more details) has selected these Piña Colada cupcakes as his pick for one of their wedding cupcake flavors (he gets one and Bride 4.0 gets one).  "Is there anything you would change about these Piña Colada cupcakes?" I asked him after he'd finished it.  "I just want there to be lots more of them," he replied with a grin.  His wish will be granted because there will be over 100 Piña Colada cupcakes at his wedding!
As my friend Andrew (of Church of Burger/Pizza fame) notes, these cupcakes aren't just moist, the inside is almost wet due to the juicy pineapple bites scattered throughout the cake.  These Piña Colada cupcakes are so close to the real deal that Andrew pointed out that the Piña Colada cupcakes would be the perfect cupcake to eat poolside in Las Vegas.
Piña Colada Cupcakes and Las Vegas

After Andrew mentioned Vegas, I had to wonder which hotel in Vegas would be most suited for Couple 4.0's cupcake eating.  Since they will be honeymooning in Italy, the choice was clear…
…the Venetian
.  Sure, Venice has absolutely NOTHING to do with Piña Coladas – but that's no stranger than the fact that Groom 4.0 doesn't like rum and he loves these cupcakes.  Let's just go with it and move on.
Piña Colada Cupcake Recipe
Ingredients
Cupcake Ingredients

1/3 cup coconut rum (or any rum you have on hand)
3/4 cup coconut milk
1/4 cup pineapple juice
1 teaspoon vanilla
1 1/2 cups all-purpose flour
1 teaspoon baking soda
1/4 teaspoon salt
1/2 cup unsalted butter, room temperature
1 cup + 3 tablespoons sugar
3 large eggs
1 cup shredded baker's coconut (check out my post on how to make homemade baker's coconut)
1 cup crushed pineapple, drained

Coconut Cream Cheese Frosting*

8 oz cream cheese, room temperature
1/4 C unsalted butter, room temperature
2 C powdered sugar
3 tbsp coconut cream
Instructions
Cupcake Instructions

In a small bowl, combine rum, coconut milk, pineapple juice, and vanilla. Set aside.
In a medium-sized bowl, whisk together the flour, baking soda, and salt. Set aside.
In a large mixing bowl, beat butter and sugar until light and fluffy.
Add eggs to the sugar mixture one at a time, beating well after each addition.
Alternately add the flour mixture and the rum mixture, beating well after each addition.
Fold in the coconut and pineapple.
Fill cupcake liners 3/4 full.
Bake at 350 F for 25 minutes or until cupcakes bounce back when lightly touched.

Coconut Cream Cheese Frosting Instructions

Mix cream cheese and butter until light and fluffy.
Mix in powdered sugar a little bit at a time.
Mix in coconut cream.
Pipe or spread on cupcakes.
Notes
*Double this recipe if you like lots of frosting.
Alternative frosting: While I believe coconut cream cheese frosting to be the ideal frosting choice for Piña Colada cupcakes, I also made a batch of these cupcakes with the vanilla bean cream cheese frosting that I used on the chocolate coconut rum cupcakes. Tasters seemed to like both frostings equally.
Topping: Bride 4.0 said that she wanted the wedding cupcakes to have red, so I topped the Piña Colada cupcakes with shredded baker's coconut mixed with a little red food coloring.
http://www.cupcakeproject.com/2011/02/pina-colada-cupcakes.html