"Biscoff cookies, peanuts, pretzels?" asks the friendly flight attendant. "Biscoff cookies, please," I reply – as if there were any question.
Southwest Airlines is my favorite U.S. airline; so much so that I dressed as a 60′s Southwest flight attendant one year for Halloween.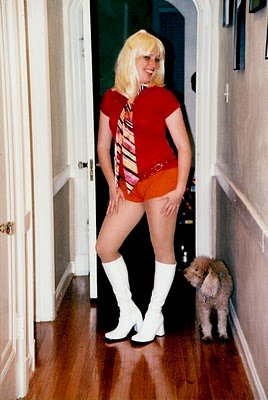 Before there was baby Myles, there was my poodle, Scruffles.
But, Delta offers Biscoff cookies, and in doing so, they won a piece of my heart.
Biscoff cookies are a simple cinnamon/sugar biscuit-type cookie with an ingredient list that doesn't contain any funky chemicals or high fructose corn syrup!
When browsing one of my favorite food blogs, Coconut and Lime, I discovered that Biscoff cookies are actually branded  Belgian biscuits called speculoos.  Biscoff stands for "biscuit" plus "coffee" (it's served with coffee – it's not not coffee flavored).  I decided that I had to make some myself.
I used a speculoos recipe that I found on Matzoh and Rice.  Most tasters thought that the flavor was spot on for a Biscoff cookie, but the texture was slightly off – there wasn't as much crumb.  It was close enough for me. I would eat them on a plane.  I would eat them in the rain.  I would eat them in a house.  I would eat them with a mouse.  I would eat them here or there.  Say!  I would eat them anywhere!
But, How Did You Brand The Homemade Biscoff Cookies With Cupcake Project?
Branding the homemade Biscoff cookies with Cupcake Project was my favorite part of making them!
To brand my cookies, I used Williams Sonoma's Message-in-a-Cookie Cutters.  The cookie cutters come with letters that you slide into the cutter to write any message.  They were super easy to use.
The only hard part for me was figuring out how to write "Cupcake Project" mirrored so that it would look correct after being pressed into the Biscoff dough.  The cookie cutter set also came with a heart which would be so perfect for custom Valentine's Day cookies.
The Biscoff Cookie Recipe
Here is my reprinted version of Matzo & Rice's Biscoff (speculoos) cookie recipe with a few notes.  The only change I made was to omit sprinkling sugar on top of the cookies.  I didn't think that was necessary.
Final Notes
You know already there is a related cupcake coming soon, but I thought I should tell you anyway.
And, just for fun, here's a pic of my husband as the 60′s Southwest pilot (although some confused him for a certain famous porn star
).