Round Challah
Published , Last updated by
Stef
Disclosure: As an Amazon Associate, I earn from qualifying purchases.
Round challah (airy, eggy, braided bread) is baked for Rosh Hashana, the Jewish new year. Learn to make this traditional bread from scratch!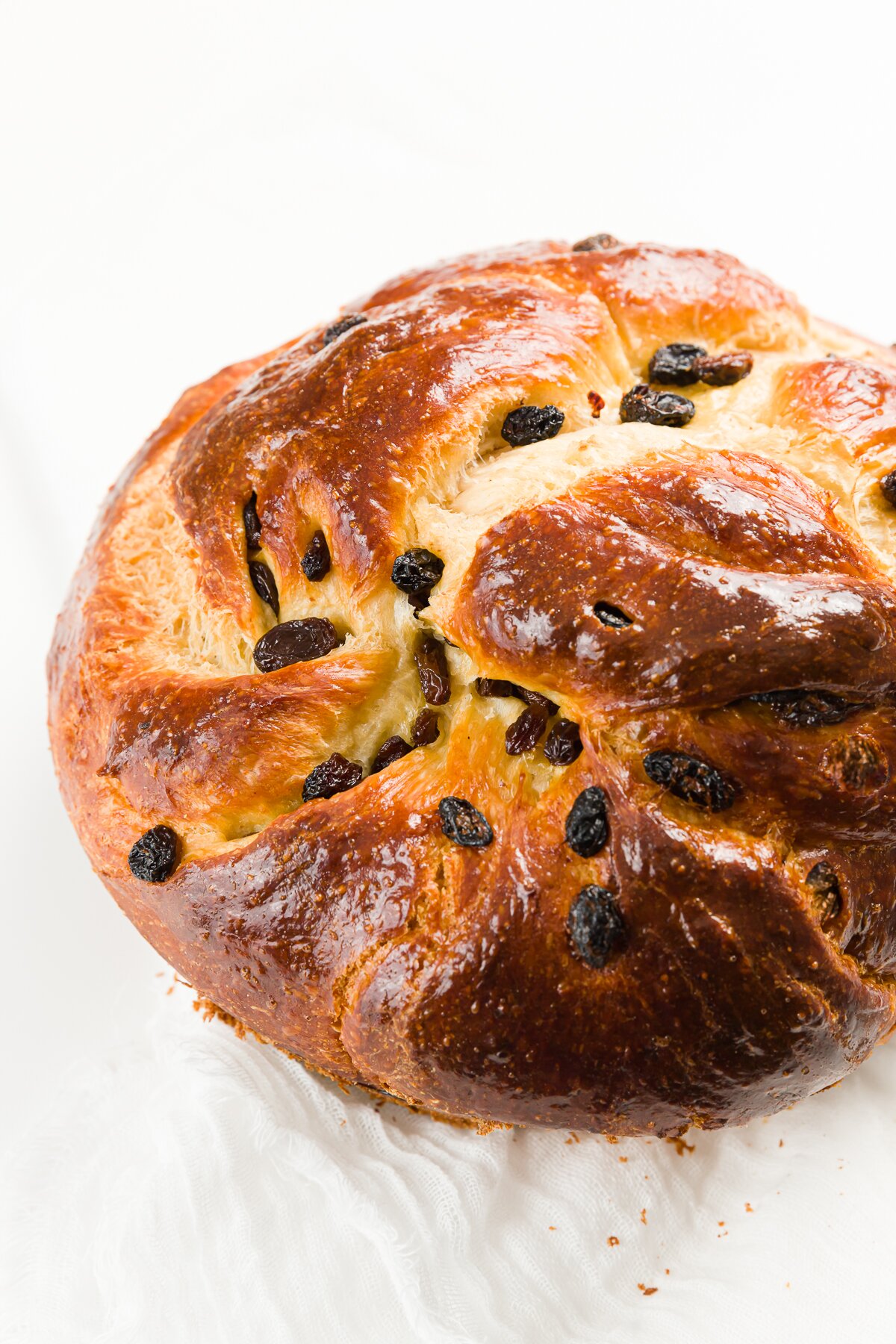 Challah is a rich bread almost like a brioche, but more eggy and less buttery. It works just as well as brioche in my brioche French toast. In fact, challah is one of the best breads around for French toast.
During most of the year, challah is served as an oval loaf. But, on Rosh Hashana, round challah is always served. Rosh Hashana is the Jewish new year and the round shape represents the cycle of life.
How to Braid Round Challah
The step-by-step guide below shows the braiding process for a medium or large round challah.
Divide the dough into four pieces.
If desired, press raisins into each piece.
Roll the pieces between your hands to make little snakes of dough.
Lay the dough out in a tic-tac-toe board shape. One horizontal snake should be weaved over and then under the vertical pieces and the other should be weaved under and then over the vertical pieces.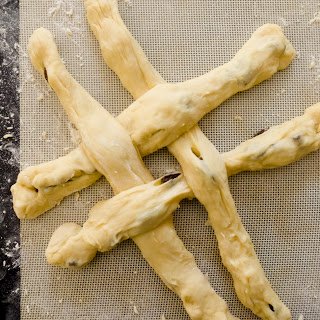 On each side of the tic-tac-toe board, you'll now have one piece of dough that is an under piece and one that is an over piece. Grab the piece that is under and cross it on top of the over piece.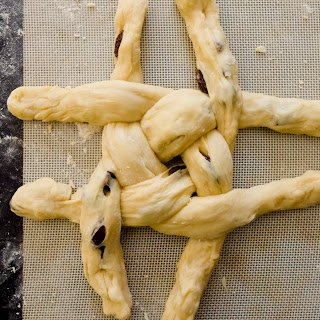 Repeat the same process, only now you'll cross the dough in the opposite direction.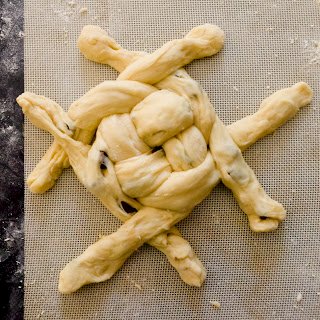 Repeat one last time in the original direction.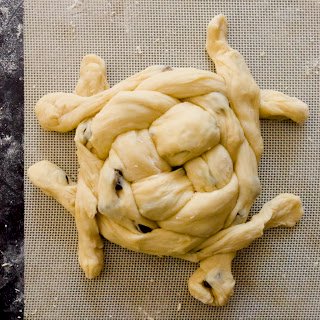 End it all by doing one final cross of each piece in the second direction. This time as you cross, press the dough into the center, sealing it closed.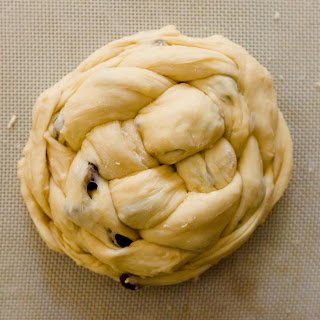 Flip the circle upside-down onto parchment paper on a baking sheet or a silpat [paid link].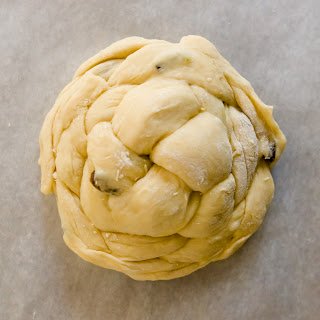 An egg wash won't affect the taste of your challah, but it will affect the appearance. Brushing an egg over your challah just before it bakes will give it a shine. If you use just the egg yolk, it will look more yellow and dark. The images in this post use the whole egg. However, I actually prefer the look of the egg yolk only.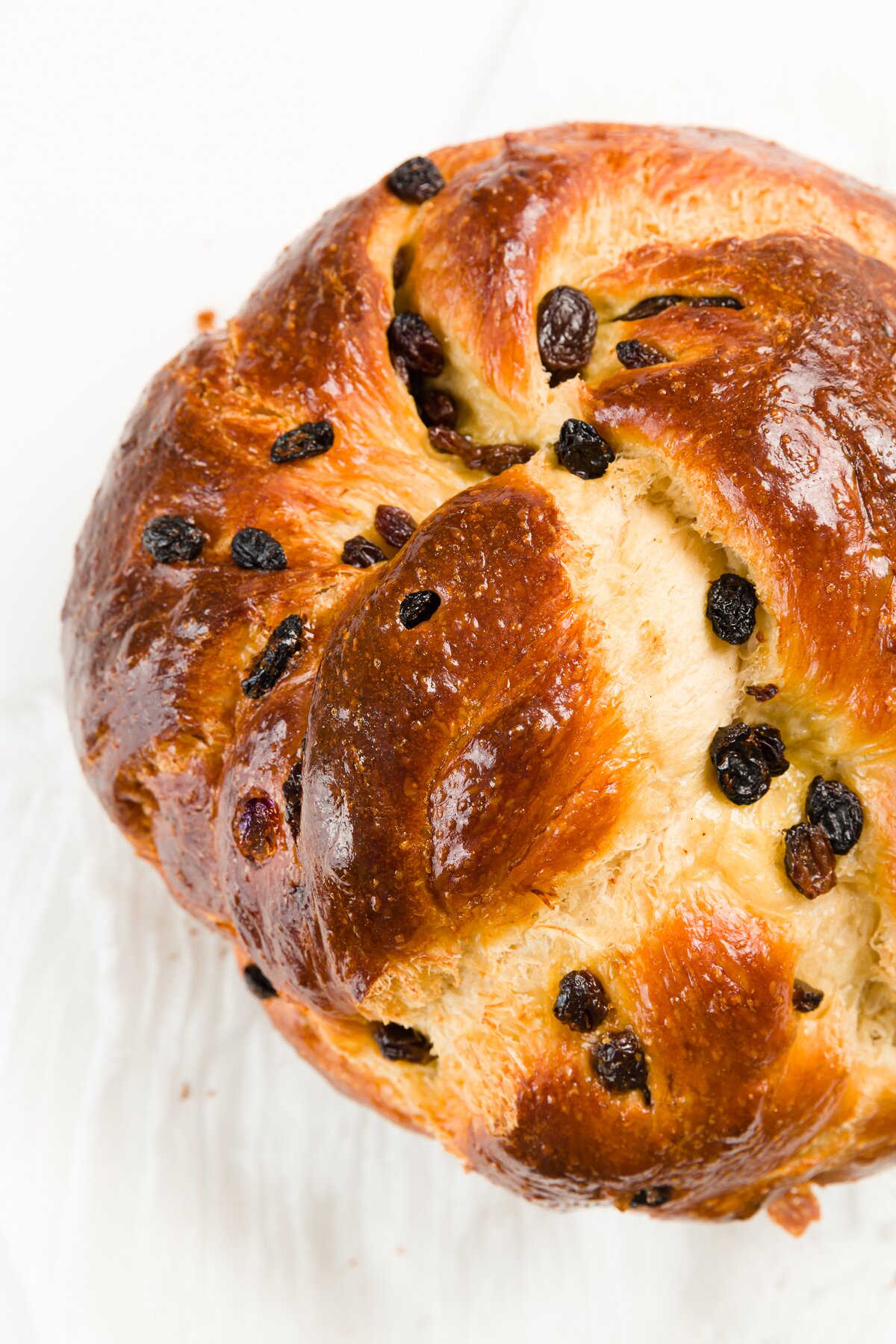 This bread doesn't typically have a glaze, but there are tons of fancy variations on challah such as my spiced apple challah.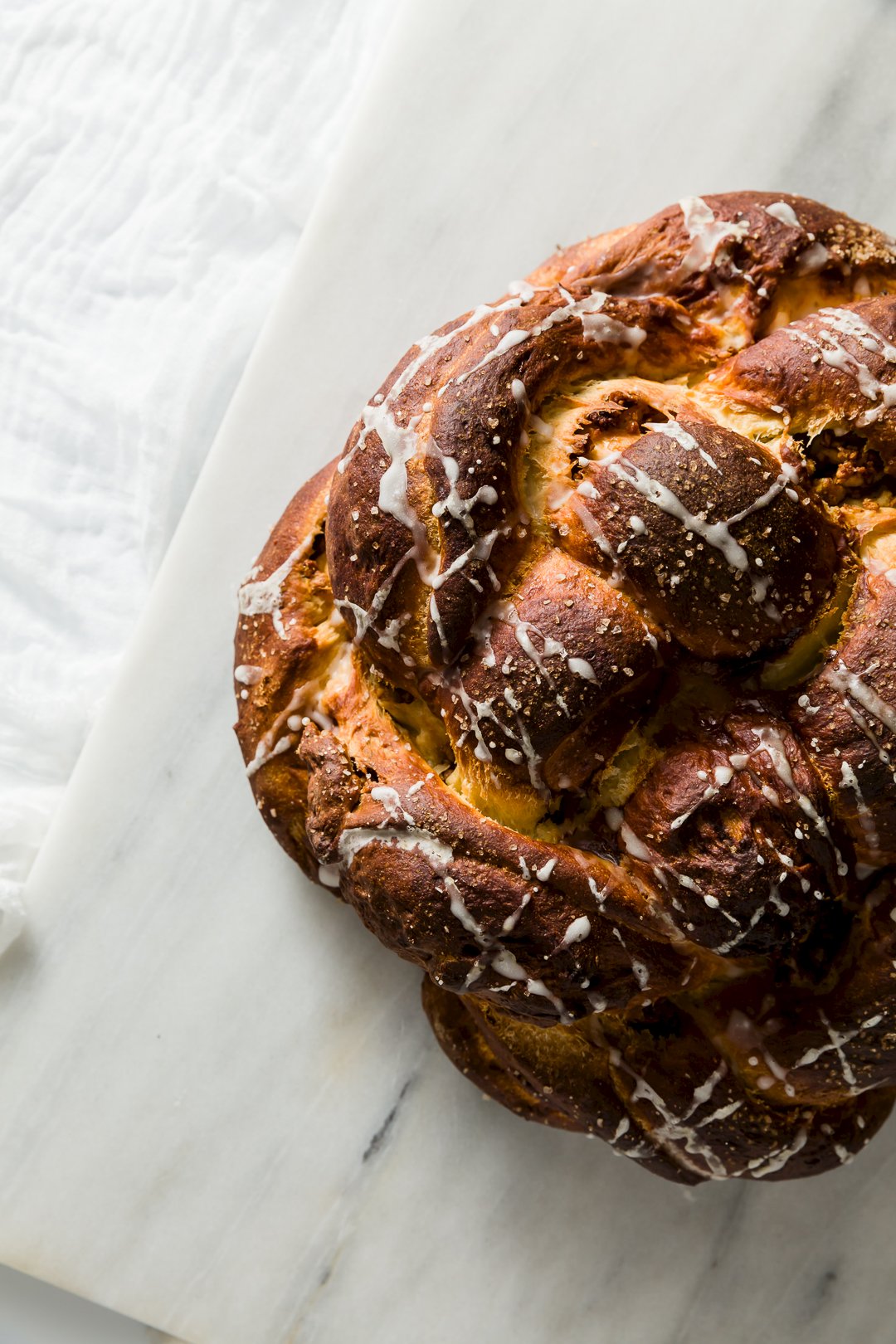 Variation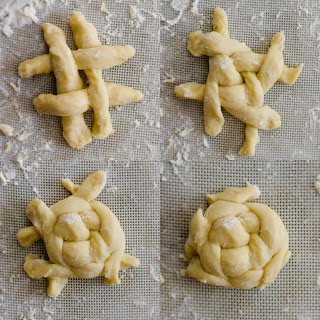 For mini challah rolls, use the same braiding technique as shown above. However, everything is so much smaller so it's a little harder to work with. You'll only be able to get two cross-overs done before you run out of dough to work with.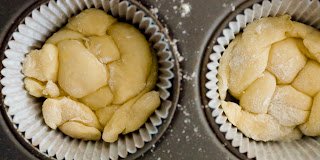 The braiding effect wasn't as pronounced on the cupcakes as it was on the large round challah. However (especially if kids are involved), braiding is half of the fun! If you want to skip it, though, the challah cupcakes will still be beautiful and tasty!

Round Challah for Rosh Hashana
How to make a round challah for Rosh Hashana
Ingredients
4

cups

all-purpose flour

1

teaspoon

salt

1

package yeast

I prefer Red Star Platinum Yeast

1/3

cup

honey

1/2

tablespoon

vanilla extract

3

large eggs

2

large egg yolks

3

tablespoon

vegetable oil

1/2

cup

warm water

1

large egg yolk

for egg wash, optional
Instructions
Whisk together flour, salt, and yeast in the bowl of stand mixer.

Add honey, vanilla extract, eggs, egg yolks, vegetable oil, and water.

Place on the stand mixer fitted with dough hook, Mix on low for 30 seconds and gradually increase to high speed. Continue to mix for about 2 minutes or until the starts to come together.

Remove from the mixing bowl and place surface covered with a little oil. Form the dough into a ball.

Place in loosely covered (I suggest lightly oiled plastic wrap) bowl and set out to rise for about two hours or until roughly doubled in size.

Punch down the dough.

If you plan to make one large loaf, divide the dough into four even pieces. If you want to make cupcake-sized challah rolls, divide the dough into 12 pieces and then divide each piece into four pieces.

Use the photos and video instruction in this post to braid the dough into a round loaf.

Set in a warm place to rise for 90 minutes.

Preheat oven to 350 F.

Brush challah with egg yolk.

Bake for 40 minutes or until the top is golden and you can see some light browning in the folds of the bread.

Set on a cooling rack to cool.
Nutrition
Calories:
242
kcal
|
Carbohydrates:
39
g
|
Protein:
6
g
|
Fat:
6
g
|
Saturated Fat:
3
g
|
Cholesterol:
89
mg
|
Sodium:
212
mg
|
Potassium:
67
mg
|
Fiber:
1
g
|
Sugar:
7
g
|
Vitamin A:
125
IU
|
Calcium:
18
mg
|
Iron:
2.3
mg
Stay Connected!
Join my mailing list - and receive a free eBook!