Spiced Apple Challah with a Pretzel Crust
Disclosure: As an Amazon Associate, I earn from qualifying purchases.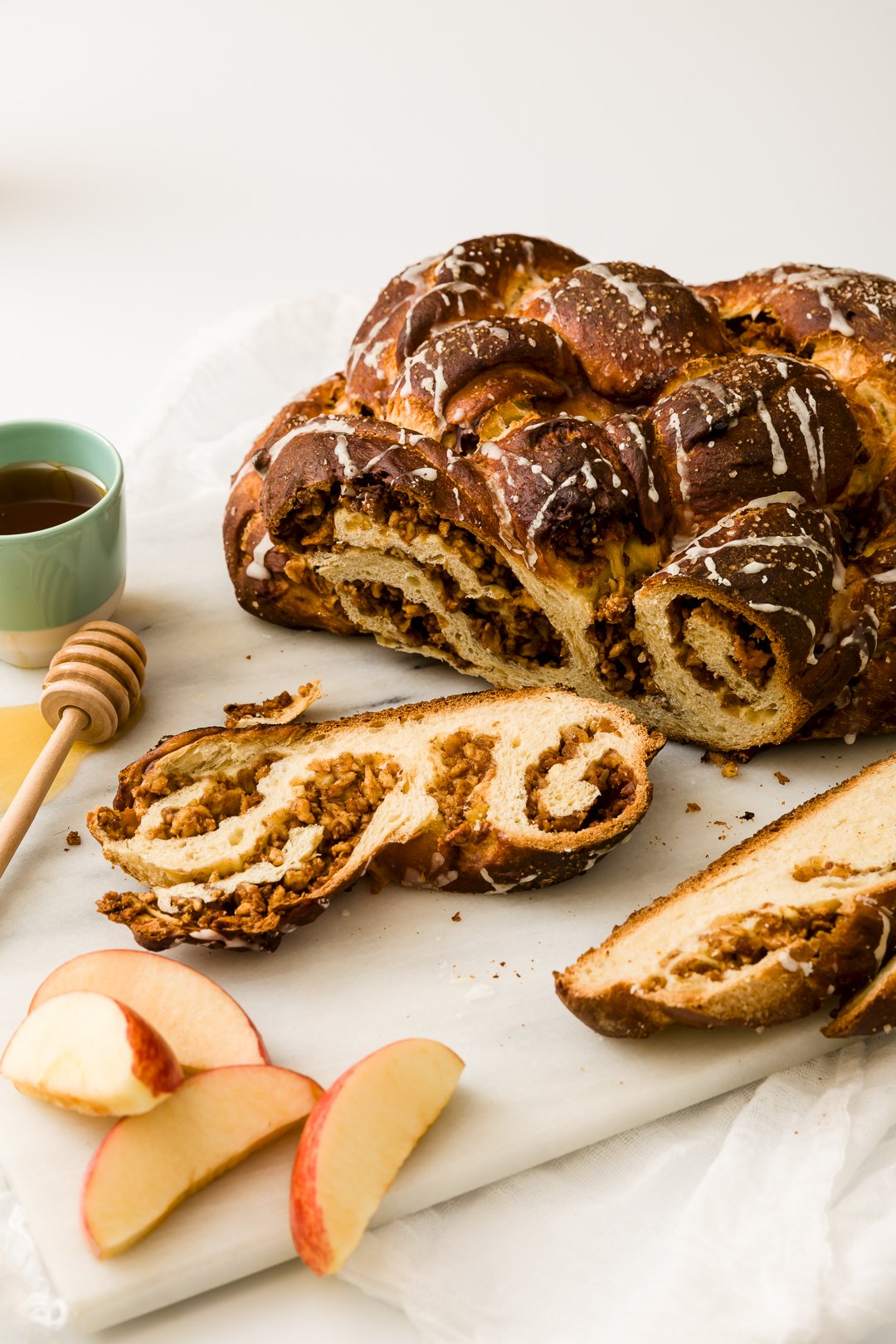 This post was sponsored by Red Star Yeast. They make baking with yeast easy!
Challah is my favorite bread. It's the bread that my dad would bring home from bakeries when I was a kid and I would devour (adding no toppings whatsoever – not even some butter).
Now, I make my own challah.
While I love plain challah any day of the week, this spiced apple challah with a pretzel crust is an extra-special treat.
What is Challah?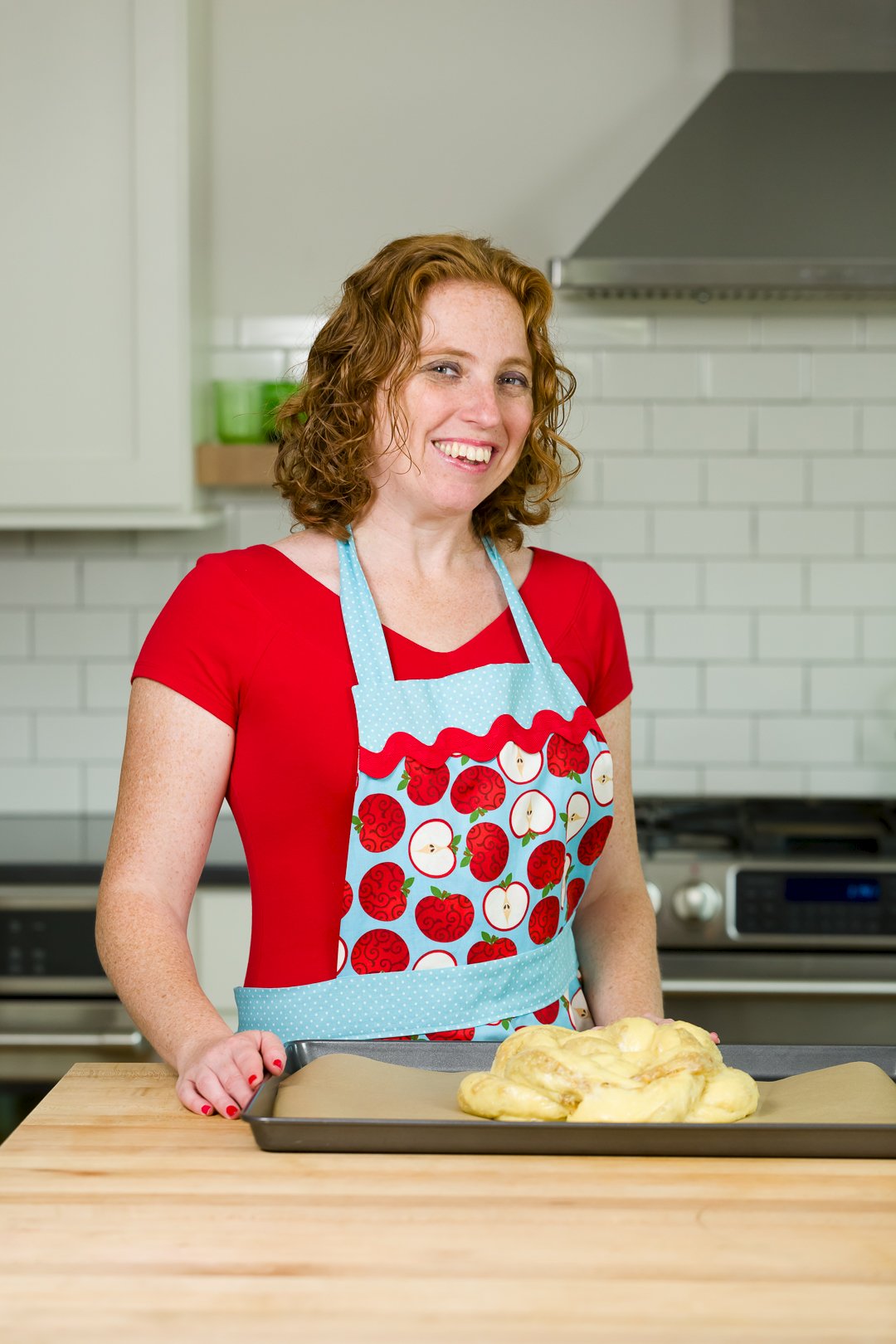 Challah is eaten by Ashkenazi Jews during lots of religious ceremonies, including the weekly sabbath, and it is an enriched eggy bread that is typically braided. You'll find some challah recipes that don't have many eggs in them, but it isn't a challah to me if the challah recipe doesn't use a lot of eggs!
You'll also find that most challah recipes use oil rather than butter. By keeping them non-dairy, they can be served with any part of a holiday meal (milk and meat can't be eaten together in Kosher homes).
How To Make an Apple Challah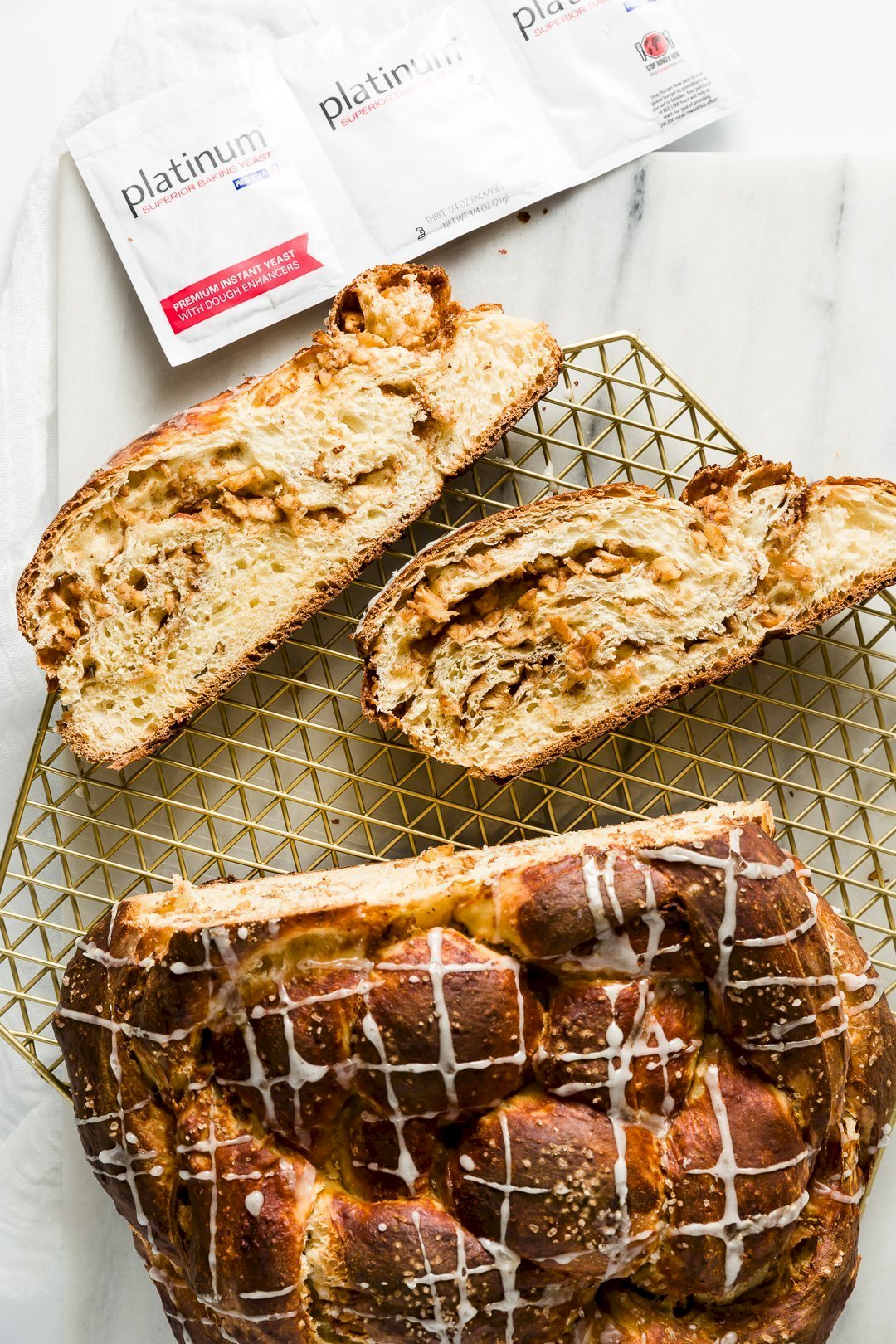 There are many ways to make an apple challah and I tried them all when developing this recipe – fresh apples, apple juice, apple butter, and finally dried apples. I made seventeen versions of this challah in all before being satisfied with the end result.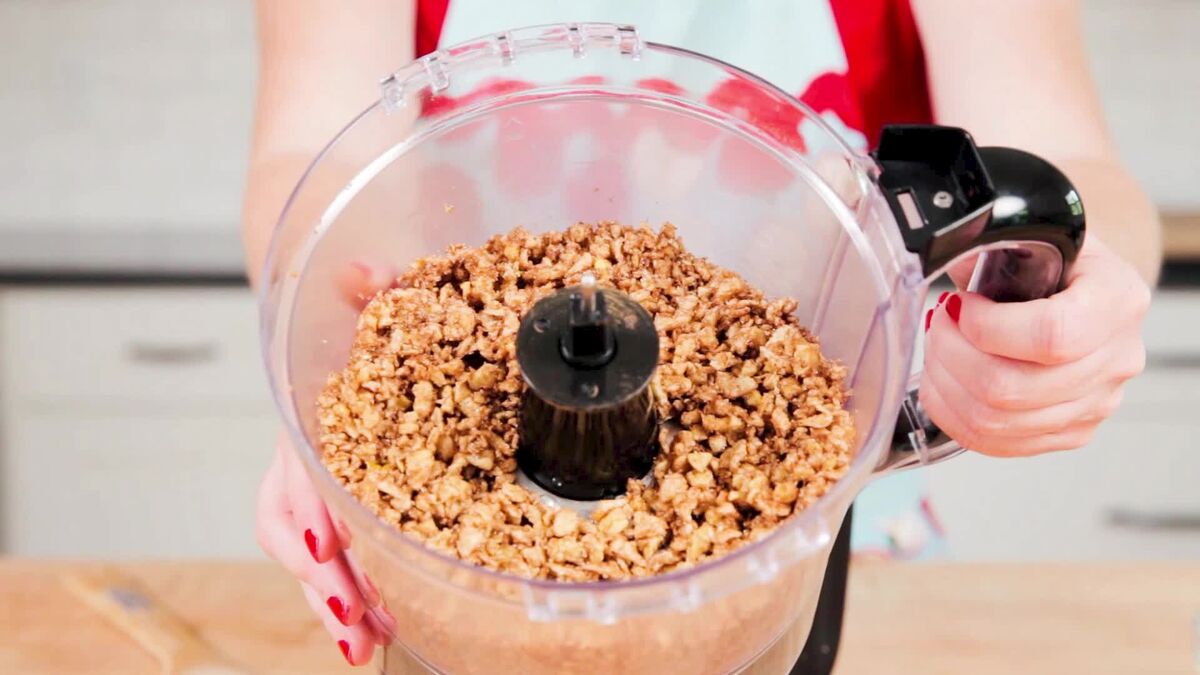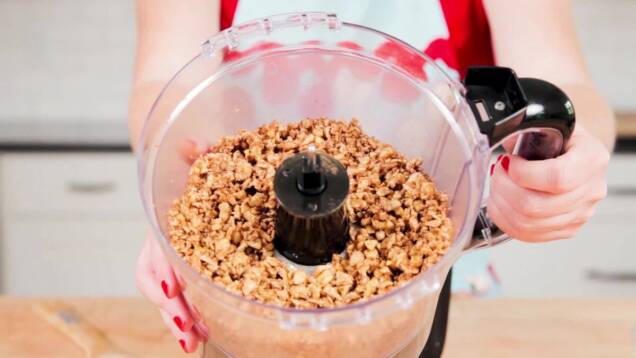 Dried apples food processed with sugar and spices and then rolled into each strand of challah dough was the best option that I found for giving the challah a lovely apple flavor without compromising the consistency of the bread dough.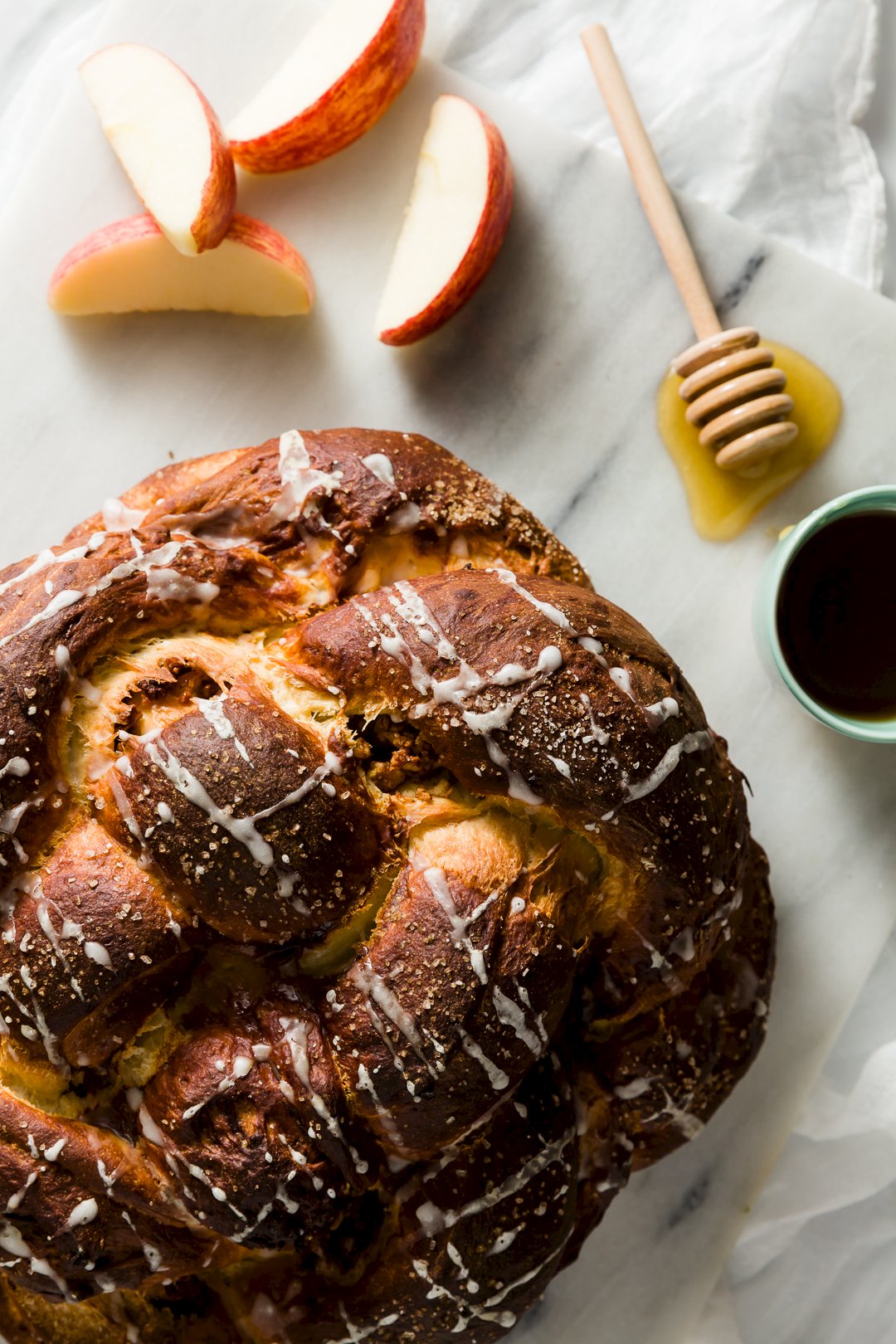 To kick up the apple flavor a little more, I top the apple challah with a glaze made from apple juice and powdered sugar.
How to Make Challah Fluffy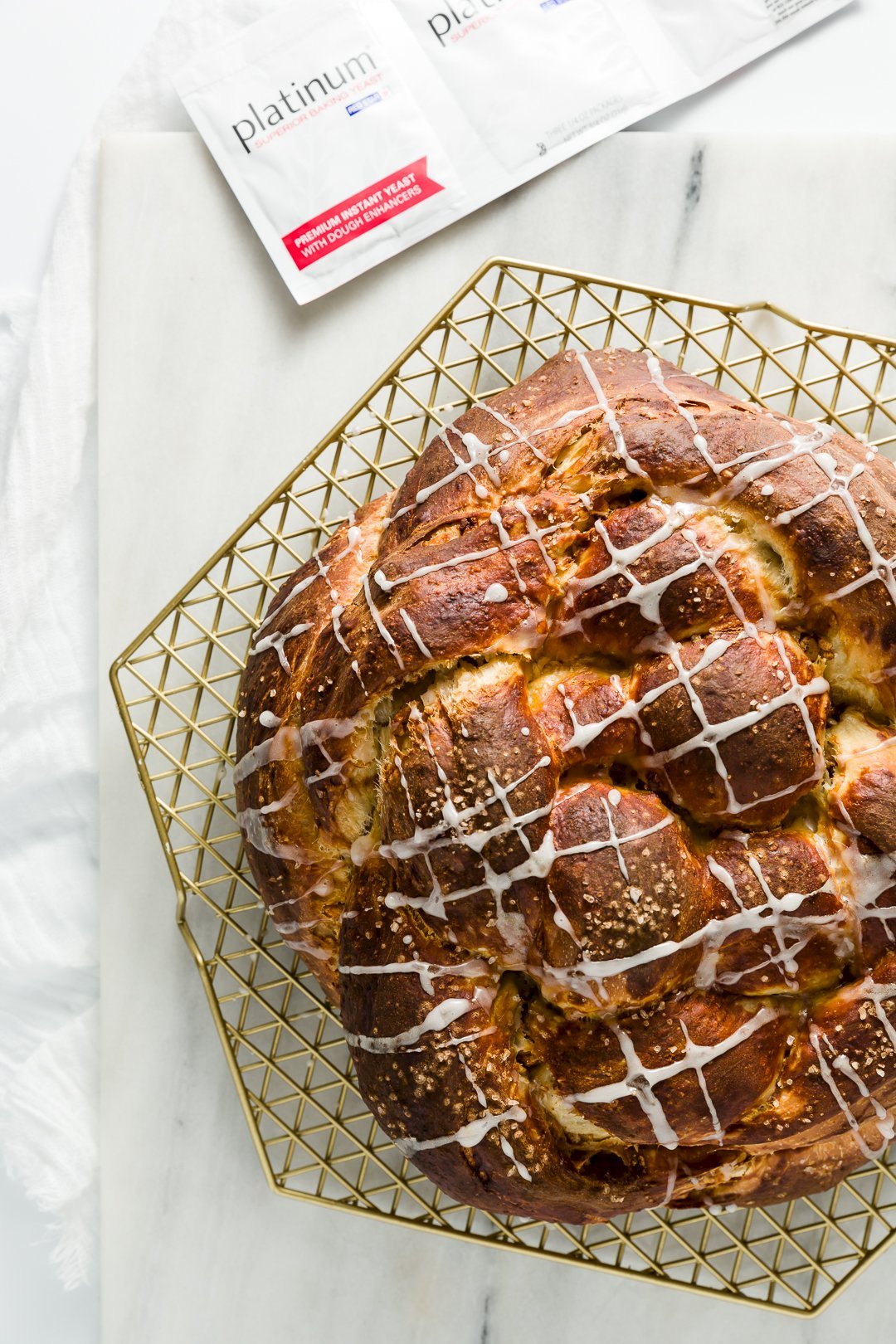 One thing that didn't require testing was getting the bread to rise and bake up perfectly. I use Red Star Platinum yeast which contains natural dough improvers which make the bread extra fluffy and adds tolerance to variations in kneading, rising, and flour quality. If you are at all nervous about baking with yeast, Red Star Platinum yeast should help take some of the fear away. It simply works!
You can make this recipe with Red Star's Quick-Rise Yeast as well and it will still be great, but try Platinum for the maximum in fluffiness.
How to Give Challah a Pretzel Crust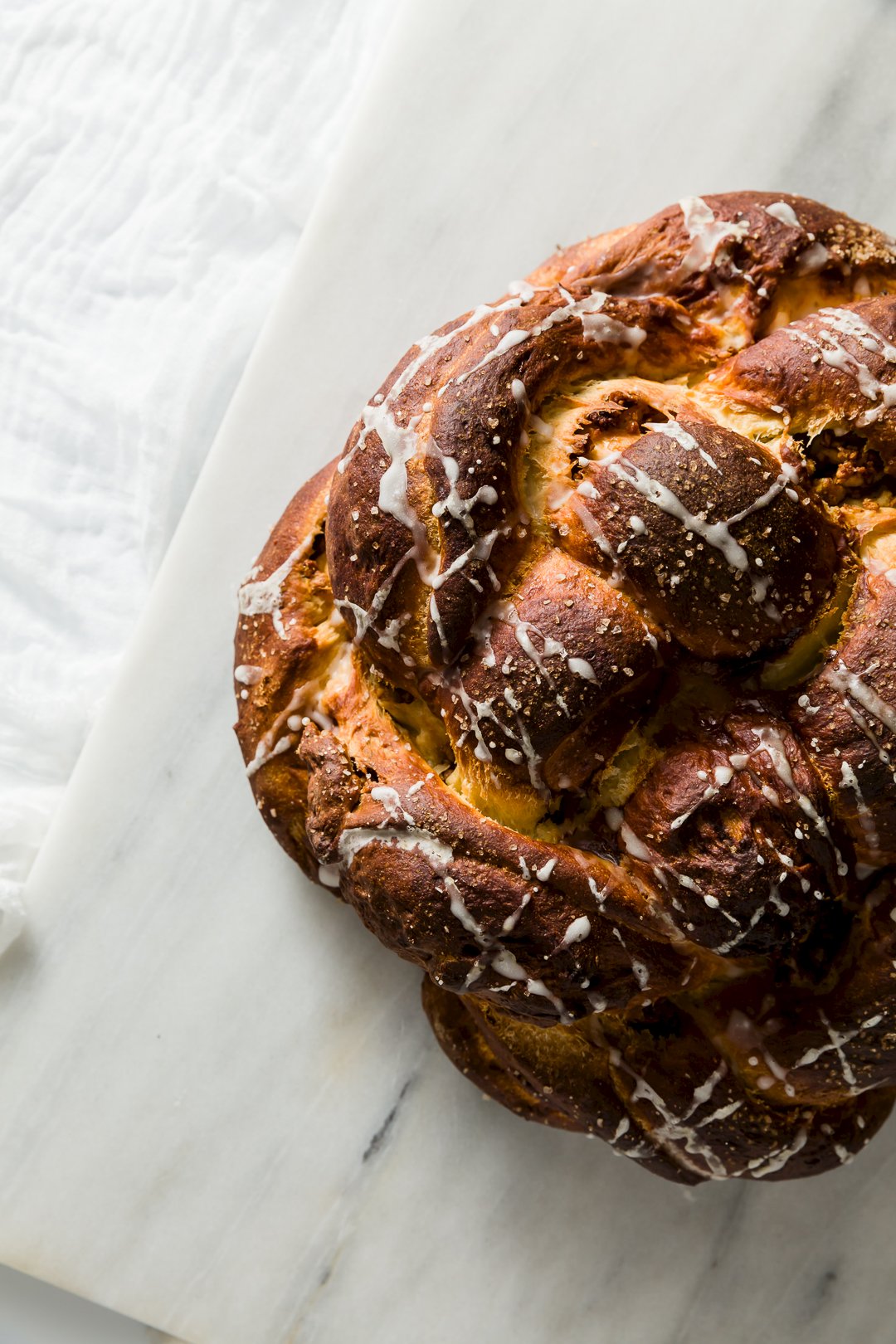 Most challah is brushed with an egg wash just before baking. I brushed mine with mixture of baking soda and water and sprinkled the top with sea salt to give the crust the taste of a baked pretzel!
How to Braid a Round Challah
I like to make this challah for Rosh Hashana (the Jewish new year). The apples and honey symbolize a sweet new year!
During Rosh Hashana, we eat braided round challah to represent the cycle of the year. But, whether or not you celebrate Rosh Hashana, a braided round challah is a beautiful presentation.
Follow the steps below to braid a round challah.
Weave four strands of dough over and under each other to form a sort of tic-tac-toe board shape.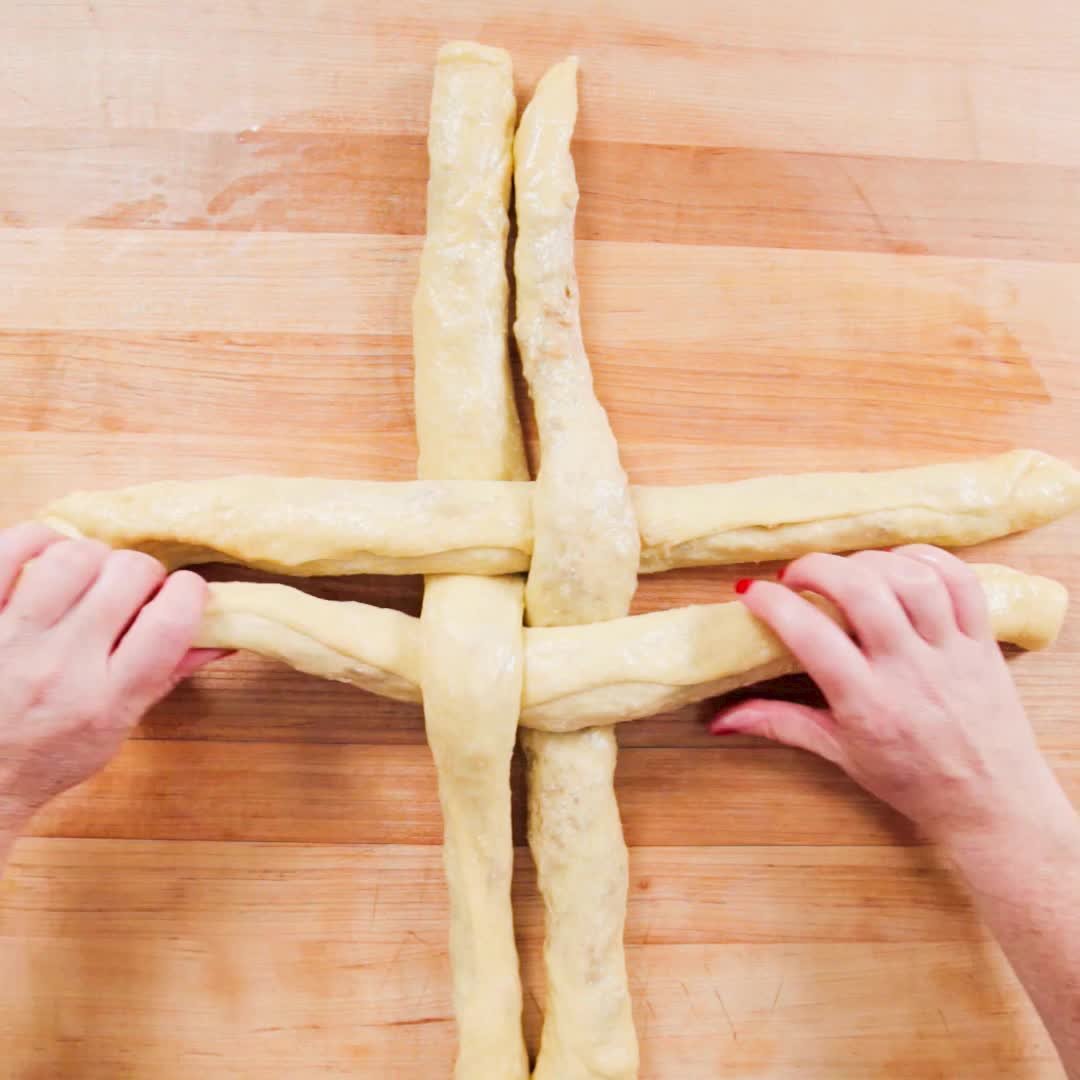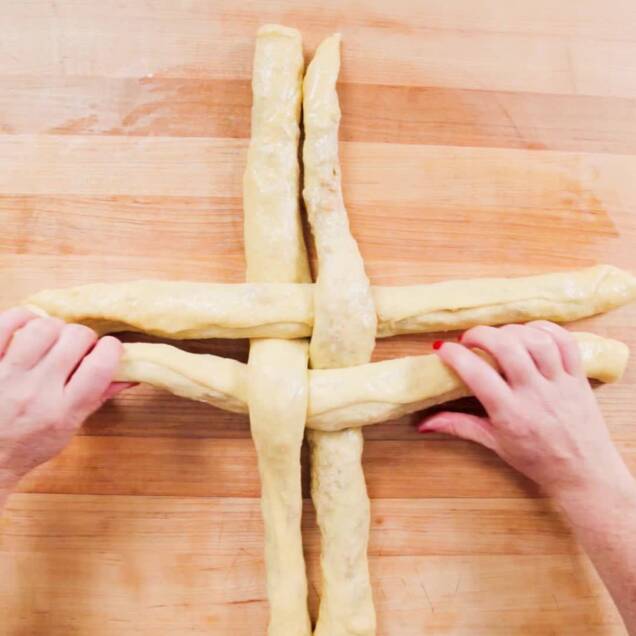 In each section of two strands, place the bottom strand over the top strand.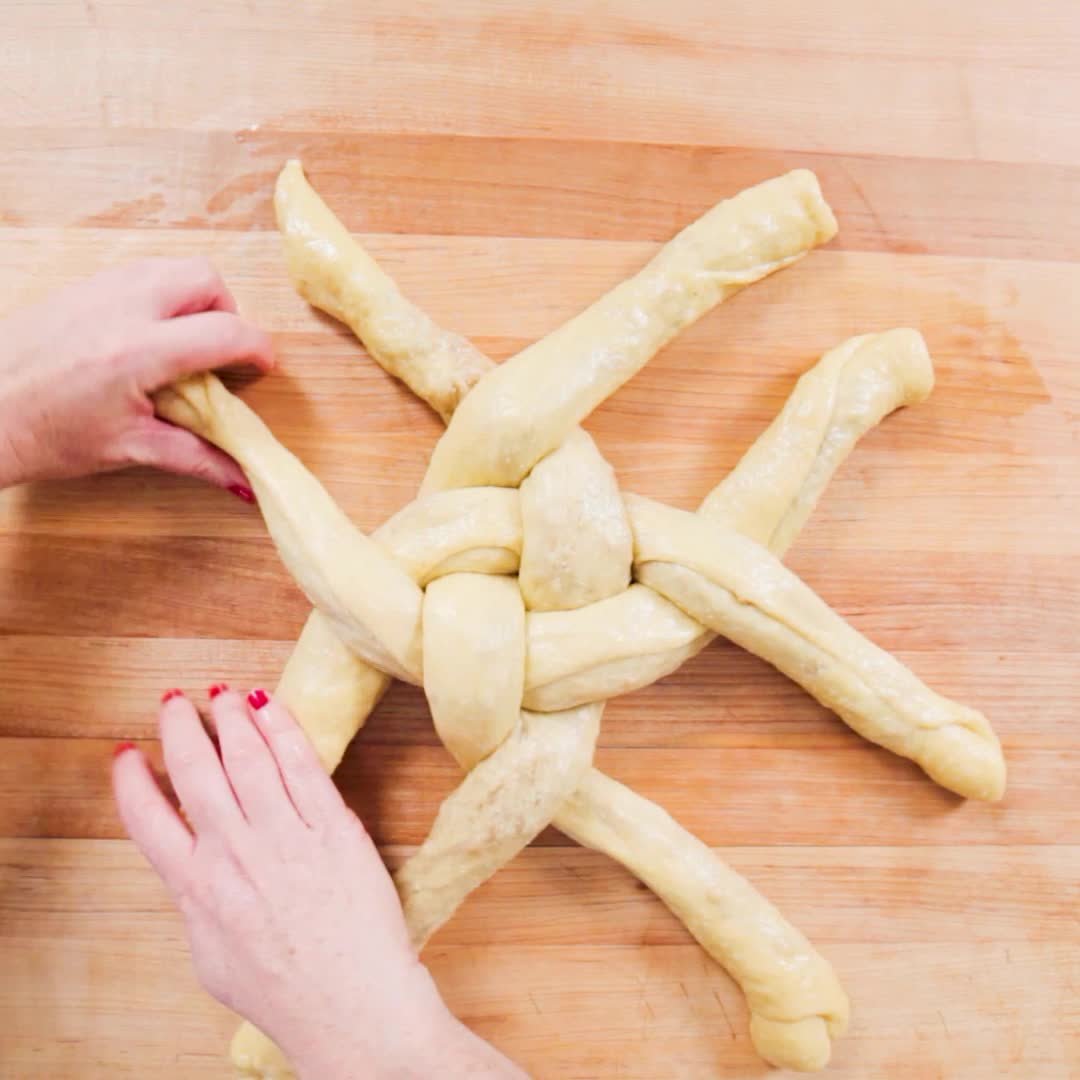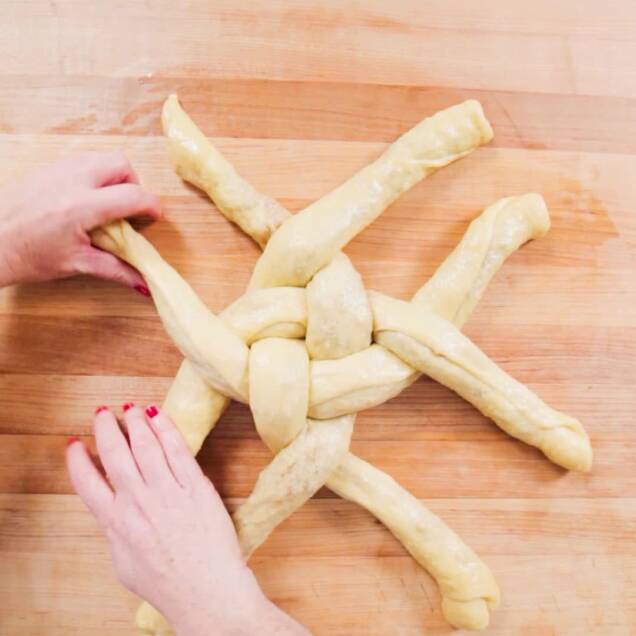 Moving the opposite direction, take the strands that are now on the bottom and put them over the new top strands.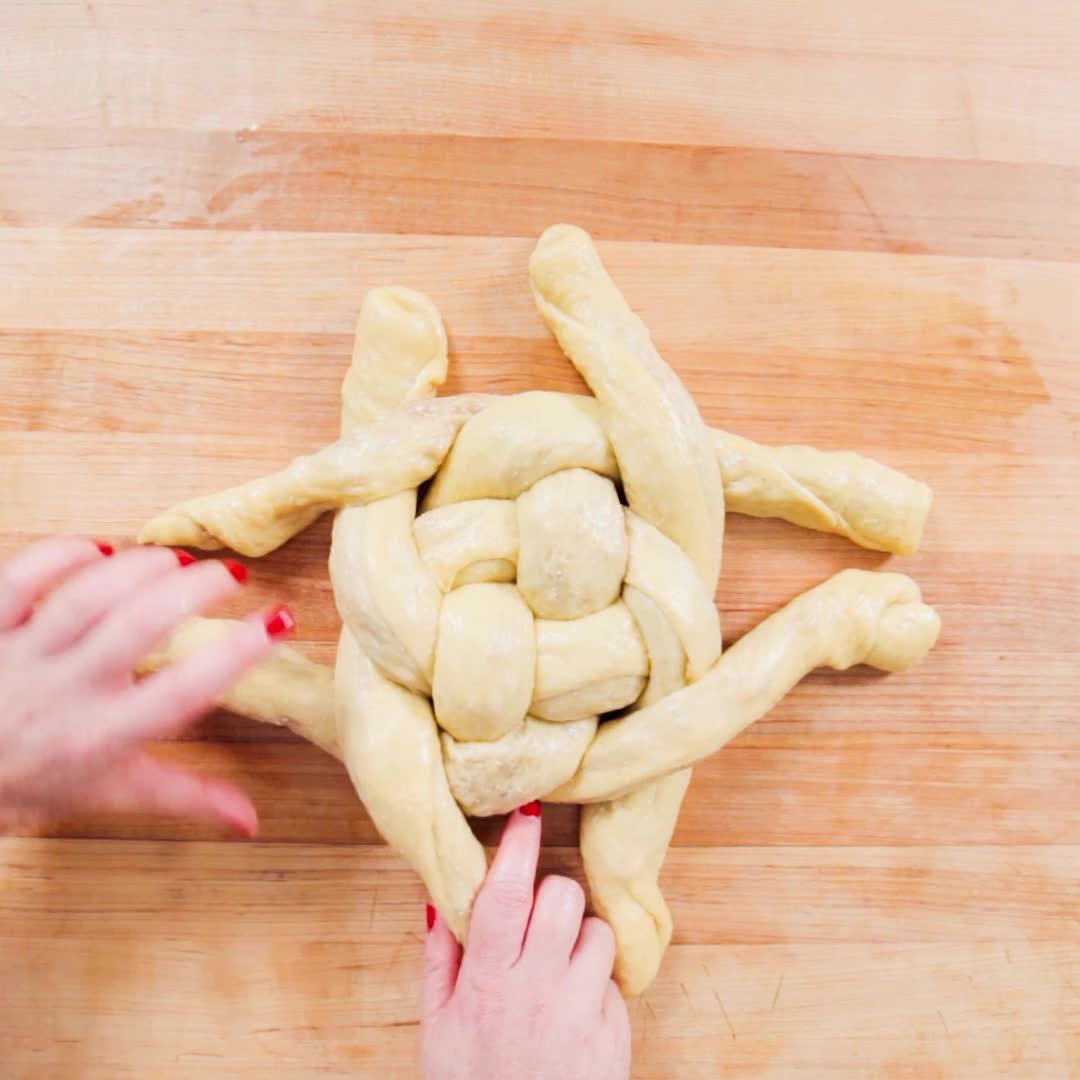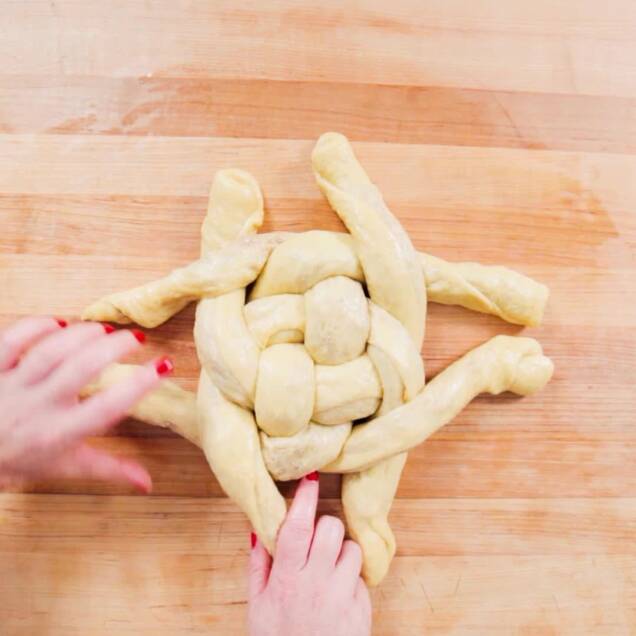 If you have enough remaining dough, repeat this process one more time in the original direction.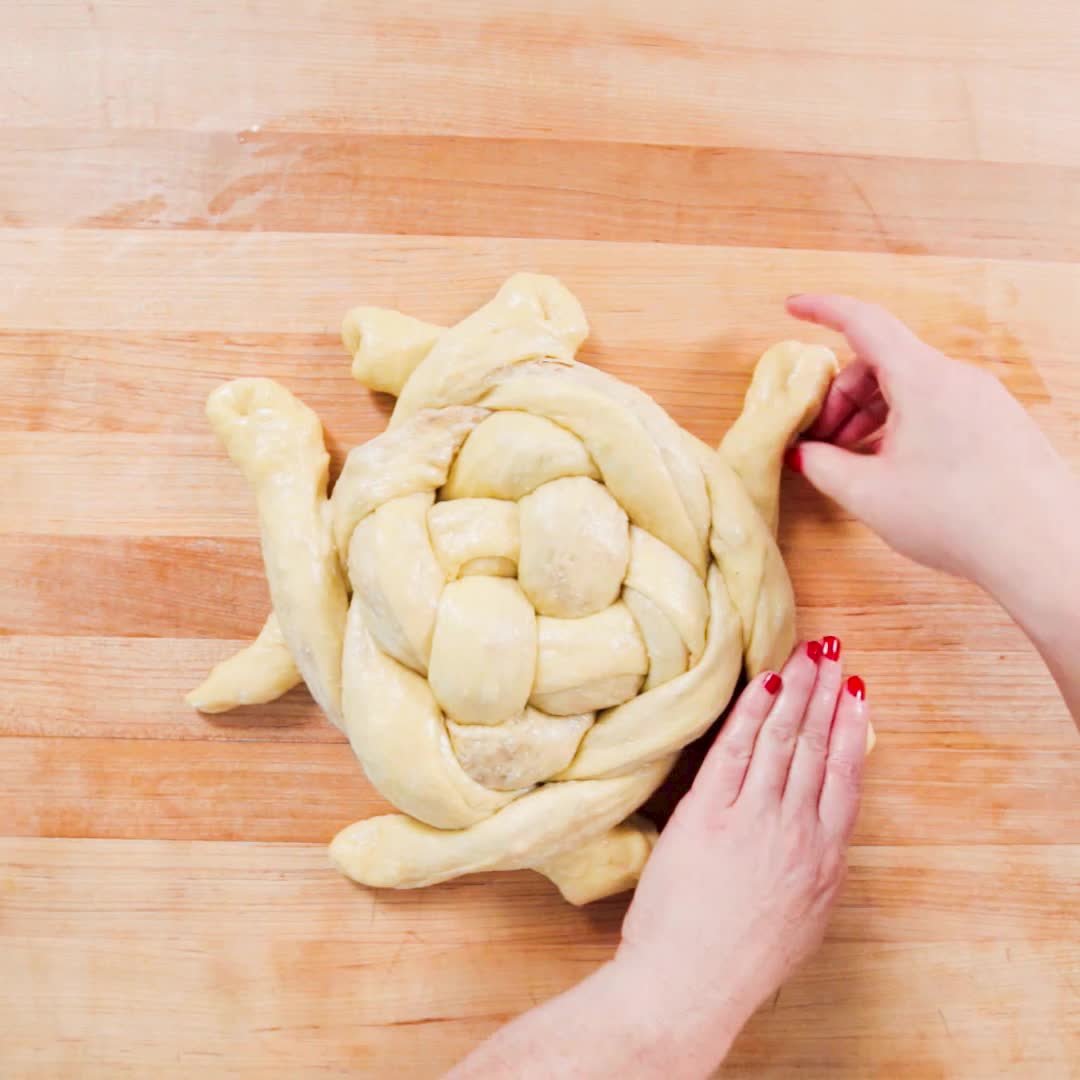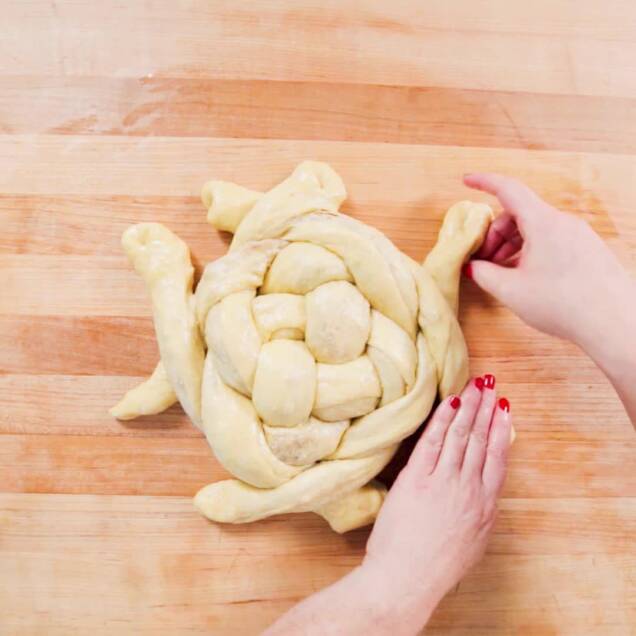 Pinch what is left of the dough strands together and tuck them under the loaf.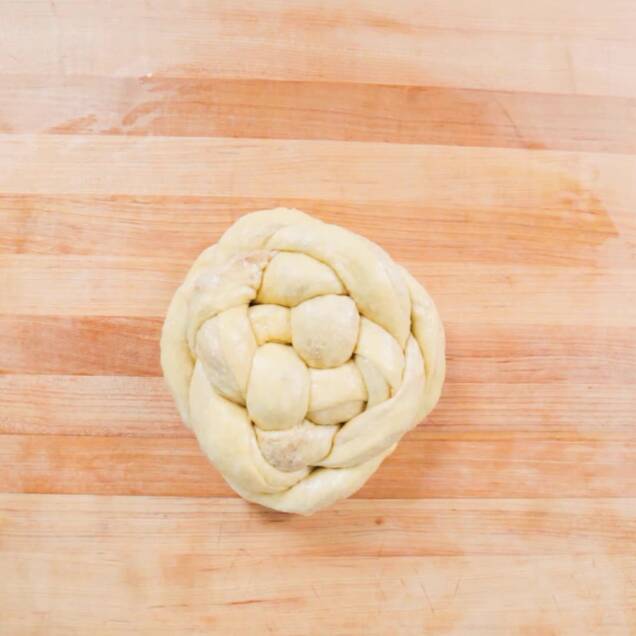 For a more detailed video on braiding round challah, check out my post on round challah for Rosh Hashana.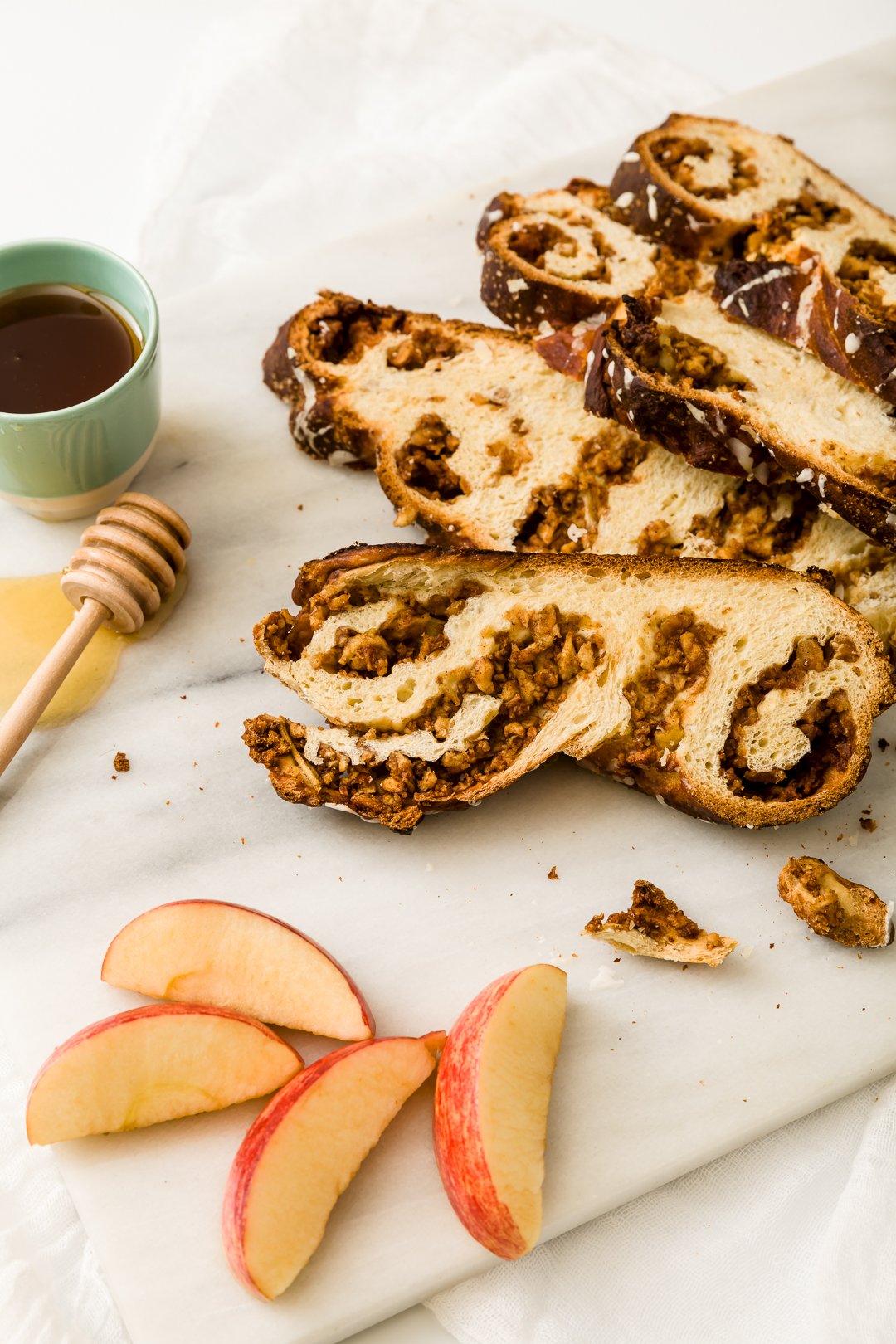 Apple Cinnamon Pretzel Challah
Learn to make an extra special challah for Rosh Hashana or any time you want a treat.
Ingredients
Challah Ingredients
4

cups

all-purpose flour

1

teaspoon

salt

1

package

yeast

I prefer Red Star Platinum yeast

1/3

cup

honey

1/2

tablespoon

vanilla extract

3

large

large eggs

2

large

large egg yolks

3

tablespoons

vegetable oil

1/2

cup

warm water
Spiced Apple Filling Ingredients
8

ounces

dried apples

2

teaspoons

ground cinnamon

1/2

teaspoon

ground nutmeg

1/2

teaspoon

allspice

1/4

teaspoon

ground cloves

1/3

cup

brown sugar
Pretzel Topping Ingredients
1/2

cup

water

2

tablespoons

baking soda

1/4

teaspoon

sea salt

Any salt that isn't finely ground will work for this.
Glaze Ingredients
3

tablespoons

powdered sugar

1

teaspoon

apple juice
Instructions
Challah Instructions
Whisk together flour, salt, and yeast in the bowl of a stand mixer.

Add honey, vanilla extract, eggs, egg yolks, vegetable oil, and water.

Place the bowl on the stand mixer fitted with dough hook. Mix on low for 30 seconds and gradually increase to high speed. Continue to mix for about 2 minutes or until the dough starts to come together.

Remove from the mixing bowl and turn out to a surface covered with a little oil. Form the dough into a ball.

Place in a loosely covered bowl (I suggest covering with lightly oiled plastic wrap) and set out to rise for about two hours or until roughly doubled in size.
Spiced Apple Filling and Shaping Instructions
Place all ingredients into a food processor and process until the apples are in approximately 1/4 inch pieces.

Divide the dough into four even pieces. Roll a piece of dough out to approximately 12 inches by 4 1/2 inches. Spread 1/4 of the apple filling onto the dough, leaving a small border around the edge.

Roll the dough tightly around the filling, forming a log.

Repeat with the other three dough pieces.

Follow the step-by-step photos in this post to braid the dough into a round loaf.

Set in a warm place to rise for 90 minutes.
Pretzel Topping Instructions
Preheat oven to 350 F.

In a small pot, bring water and baking soda to a boil.

Remove from heat and set on the counter until it's cool enough to touch. Generously brush the liquid over the top of the challah, making sure to get into the crevices.

Sprinkle sea salt over the dough.

Bake for 40 minutes or until the top is golden and you can see some light browning in the folds of the bread.

Set on a cooling rack to cool.
Glaze Instructions
Mix ingredients in a small bowl. Add more powdered sugar or juice as needed to create a glaze that will drip slowly off of a spoon.

Drizzle over cooled challah.
Nutrition
Calories:
316
kcal
|
Carbohydrates:
60
g
|
Protein:
6
g
|
Fat:
5
g
|
Saturated Fat:
3
g
|
Cholesterol:
73
mg
|
Sodium:
826
mg
|
Potassium:
161
mg
|
Fiber:
2
g
|
Sugar:
26
g
|
Vitamin A:
105
IU
|
Vitamin C:
0.7
mg
|
Calcium:
27
mg
|
Iron:
2.6
mg
If you like this apple challah recipe, you'll also like…
Star bread (If you've never seen star bread, take a look. It's a beautiful way to shape bread.)
Nutella babka from Sally's Baking Addiction (How could this possibly be bad?!)