Star Bread (Christmas Bread)
Published , Last updated by
Stef
Disclosure: As an Amazon Associate, I earn from qualifying purchases.
Star Bread is a stunning alternative to pull-apart bread or monkey bread. While the shape is so impressive, it's actually quite simple to put together and you can make it in a variety of sweet and savory flavors.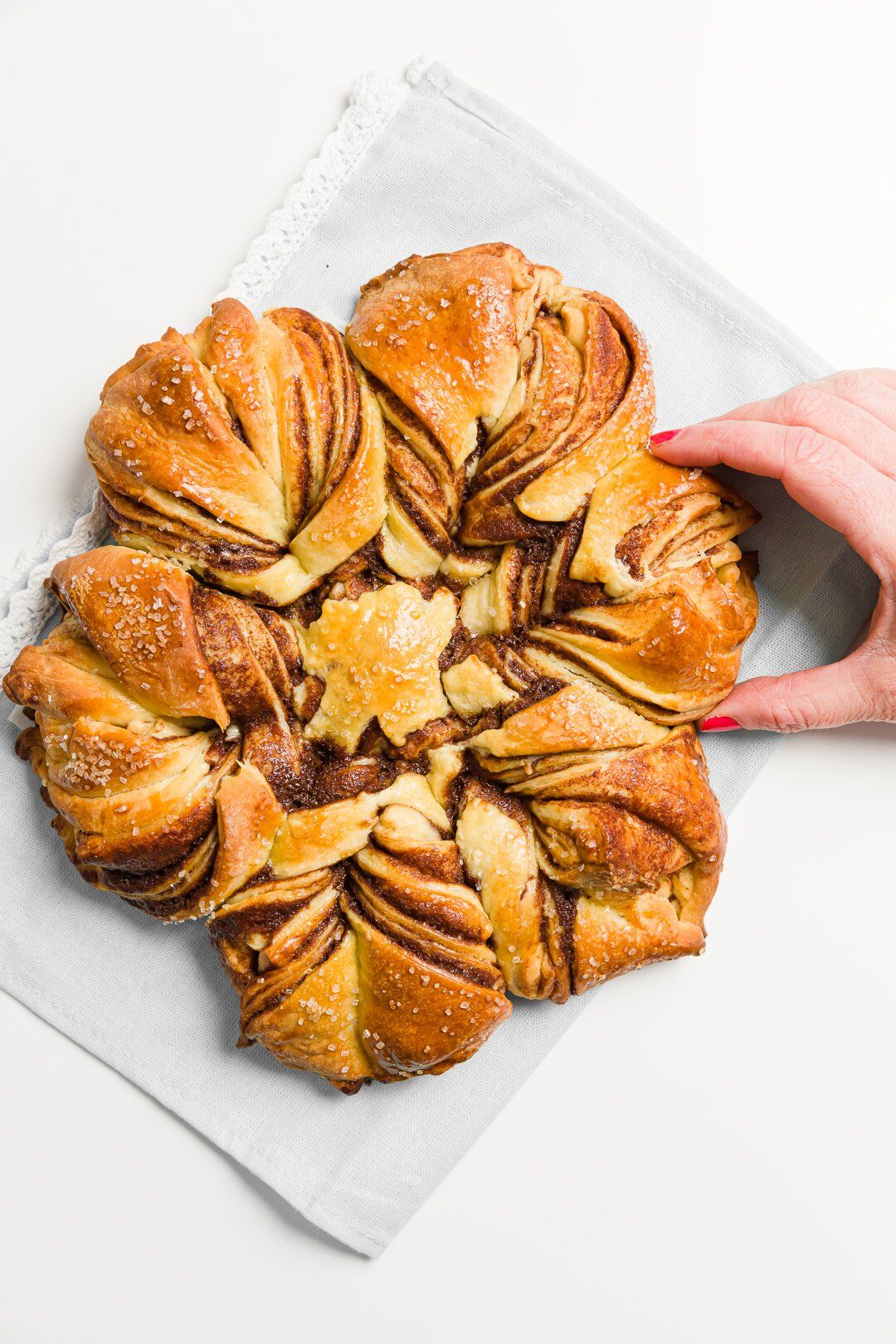 Star bread is often made at Christmas time because it looks a bit like a snowflake. However, I've made it for all manner of occasions. This red, white, and blue one is perfect for a July 4th dessert!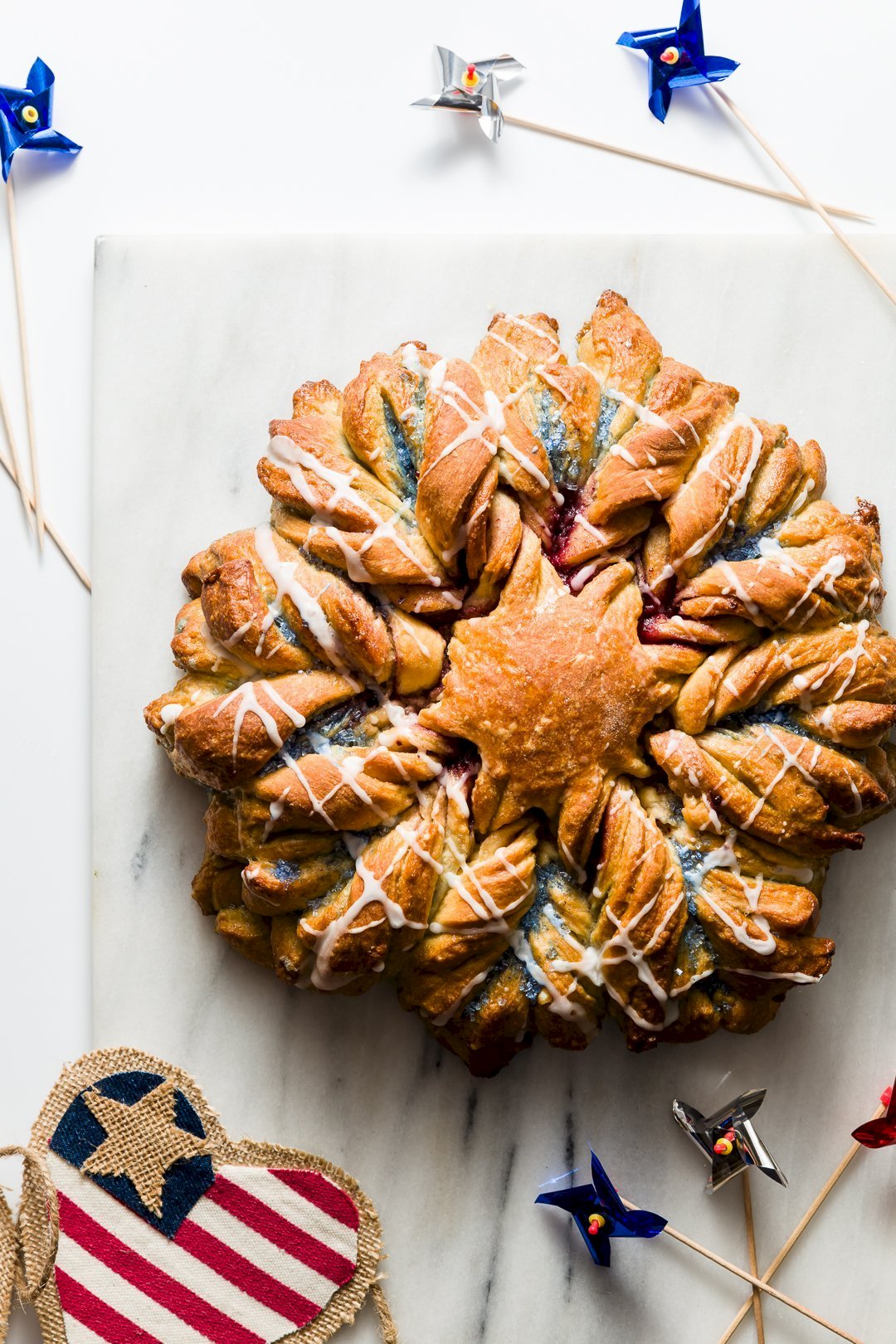 How to Make Star Bread
The Dough
Star bread starts with an enriched bread dough. That's dough that may contain eggs, butter, milk, and sugar (a.k.a. the good stuff) rather than lean dough which is made with just the basics like all-purpose or bread flour, water, and salt. Enriched dough is the same type of dough typically used to make challah and honey buns.
If you already have a enriched bread dough recipe that you love, use that. You can even use a store-bought crescent roll dough.
If you are looking for a recipe, I suggest Zoë François's enriched dough from Artisan Bread in Five Minutes a Day [paid link]. It's nearly foolproof! You combine your ingredients in a large bowl or bucket, mix them, let the dough rise for two hours, refrigerate until cool (storing for up to 5 days in the fridge), shape, and bake. You don't even have to knead the dough. The method is sort of mind-blowing!
The Shaping
After the first rise, divide the dough into four evenly-sized balls and roll out to thin circles. Spread a thin layer of your favorite fillings between each circle. I used Nutella in the one shown below. Doing this on a baking sheet will make it easier to get into the oven.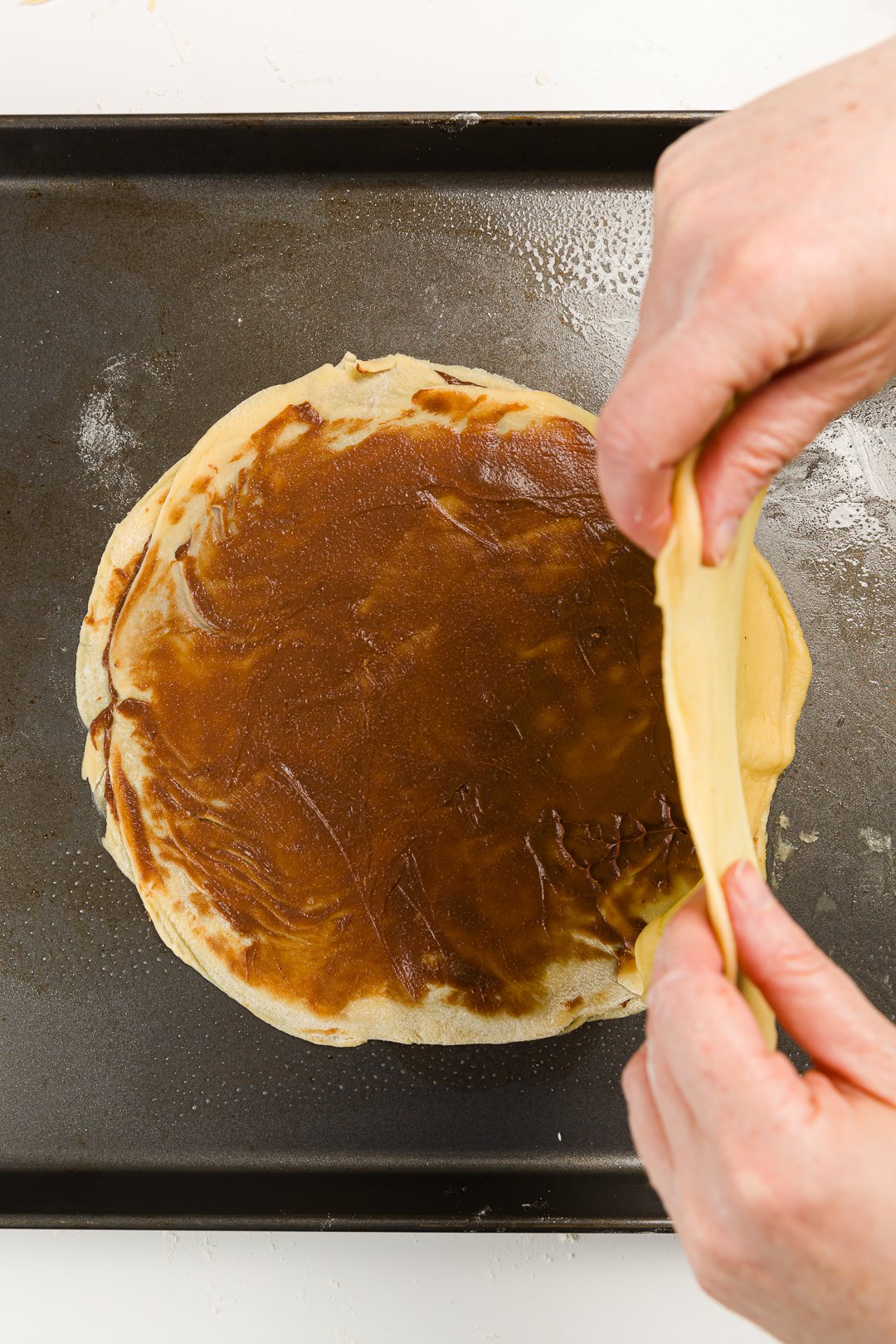 Then, place a small circle (such as one from a cookie cutter set [paid link]) in the center of of the stacked circles and use a knife or a bench scraper to cut the dough from the cutter to the edge of the circle into 12 or 16 wedges.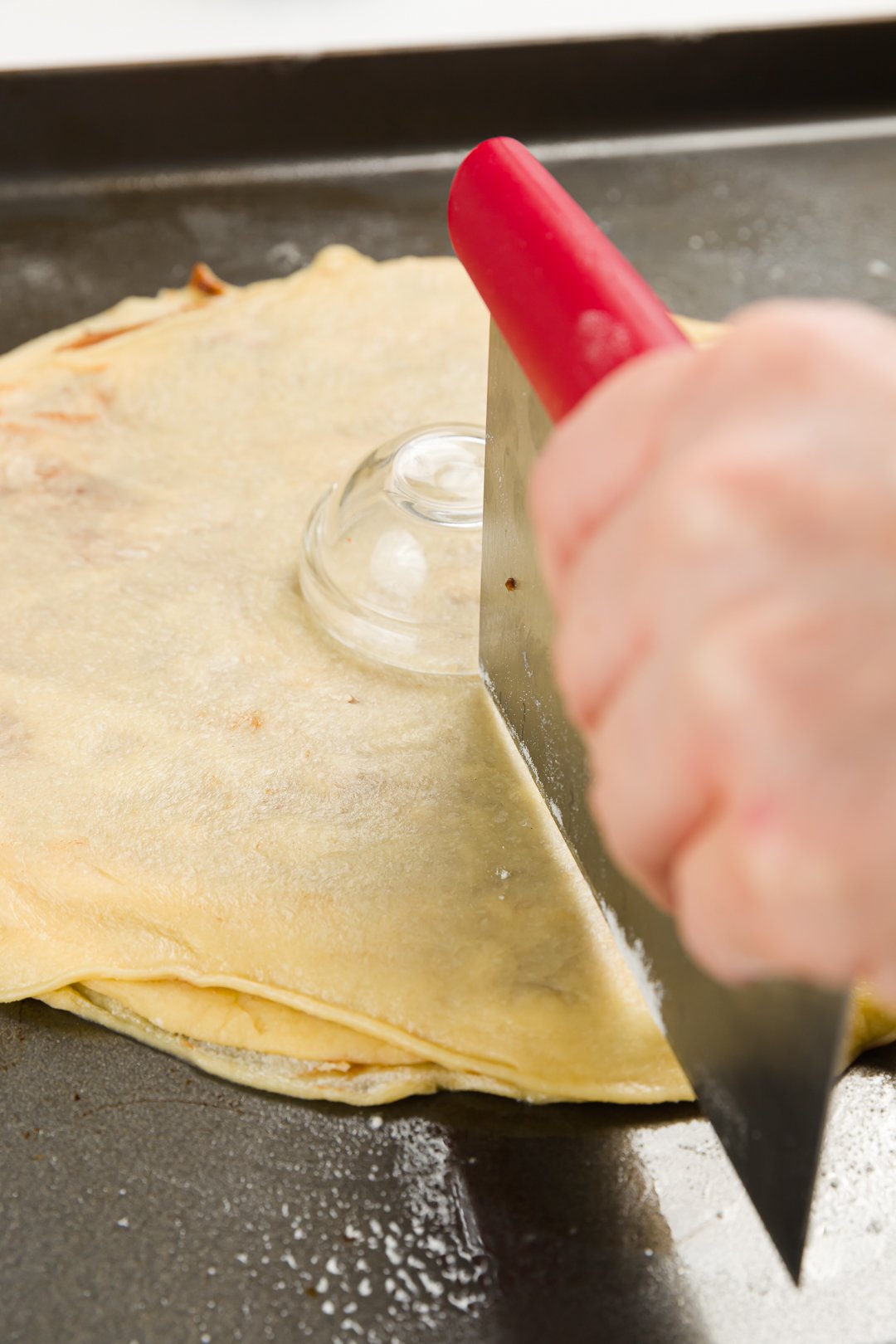 Twist pairs of wedges together, twisting away from the center.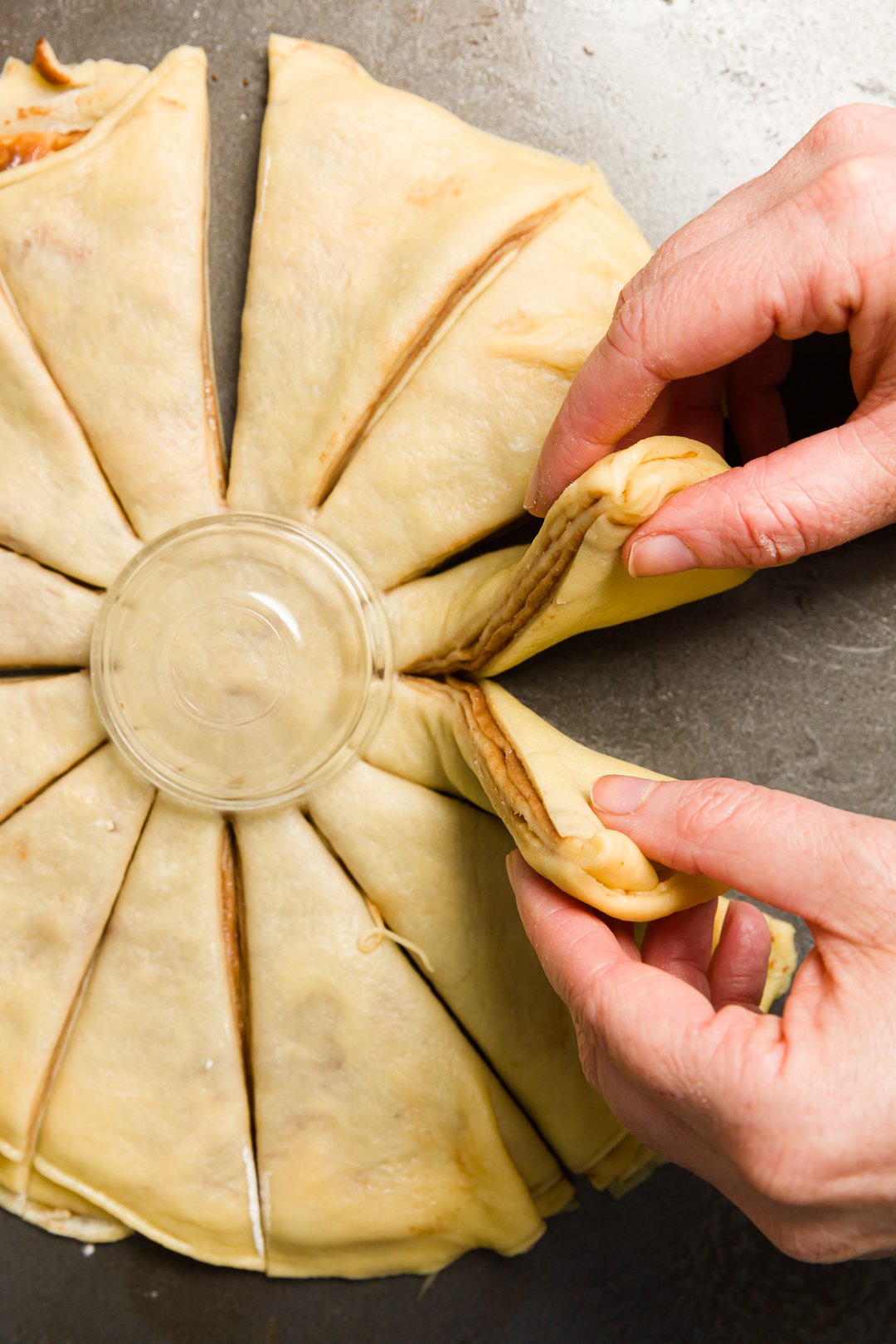 To form the star shape, pinch the pairs tightly closed at the ends!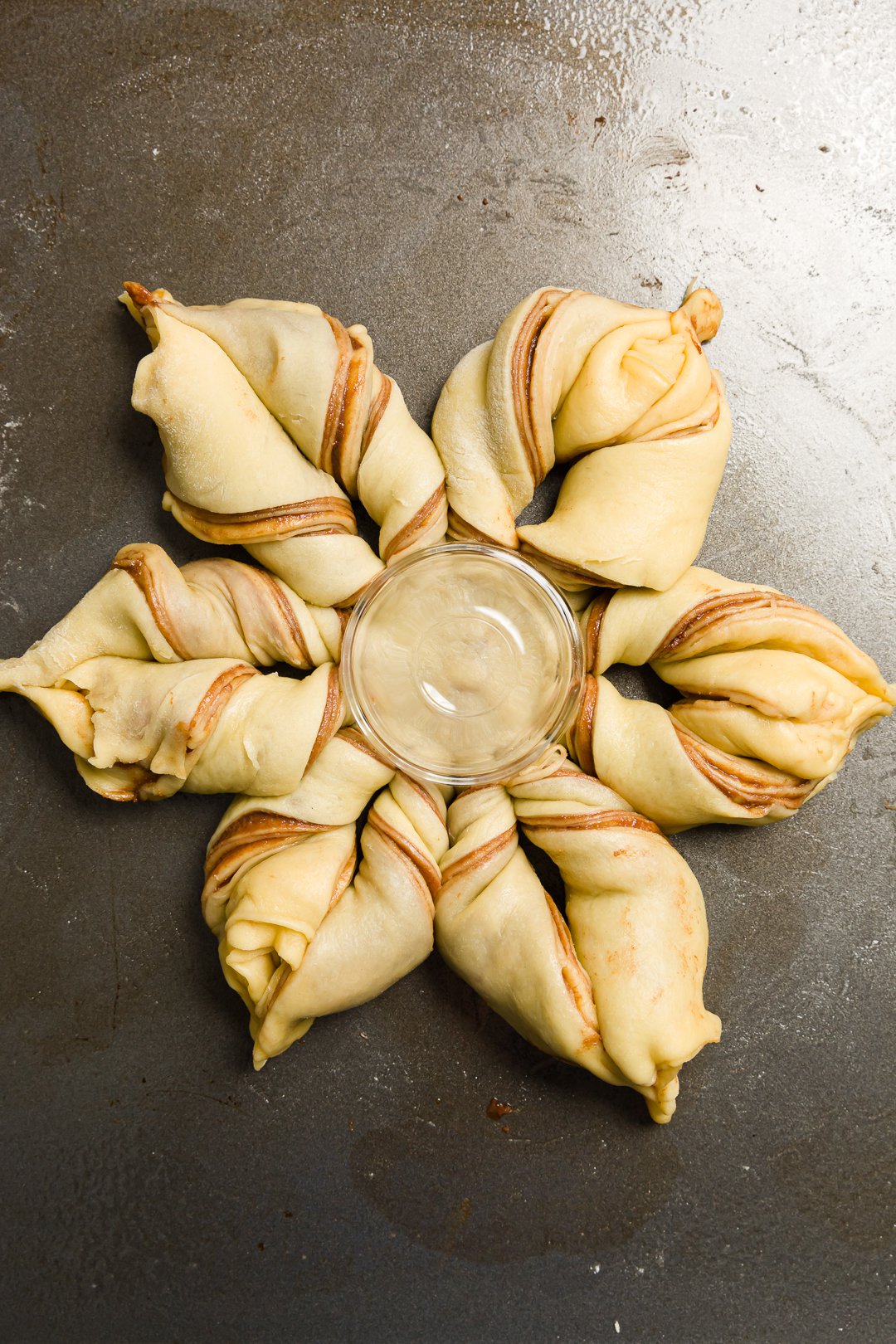 Let the dough rise for a second time. Then, brush with a beaten egg (the egg wash is to give it a shine) and sprinkle with sugar or cheese or salt (if you are going savory) just before baking.
Filling Options
Get creative with your fillings! There are so many possibilities.
Sweet options include:
brown sugar, candied orange, and cinnamon
cinnamon sugar
Nutella
peanut butter
finely chopped dried fruits and nuts
chocolate chips
jam
apple butter
orange curd (or any type of curd)
sprinkles or colored sanding sugar
Savory options include:
fresh herbs and cheese
pasta sauce and cheese
pesto sauce
bacon bits and cheese
mustard and finely chopped pickles
Important: Be sure not to make the filling too wet or too thick as this could make the bread lose its shape.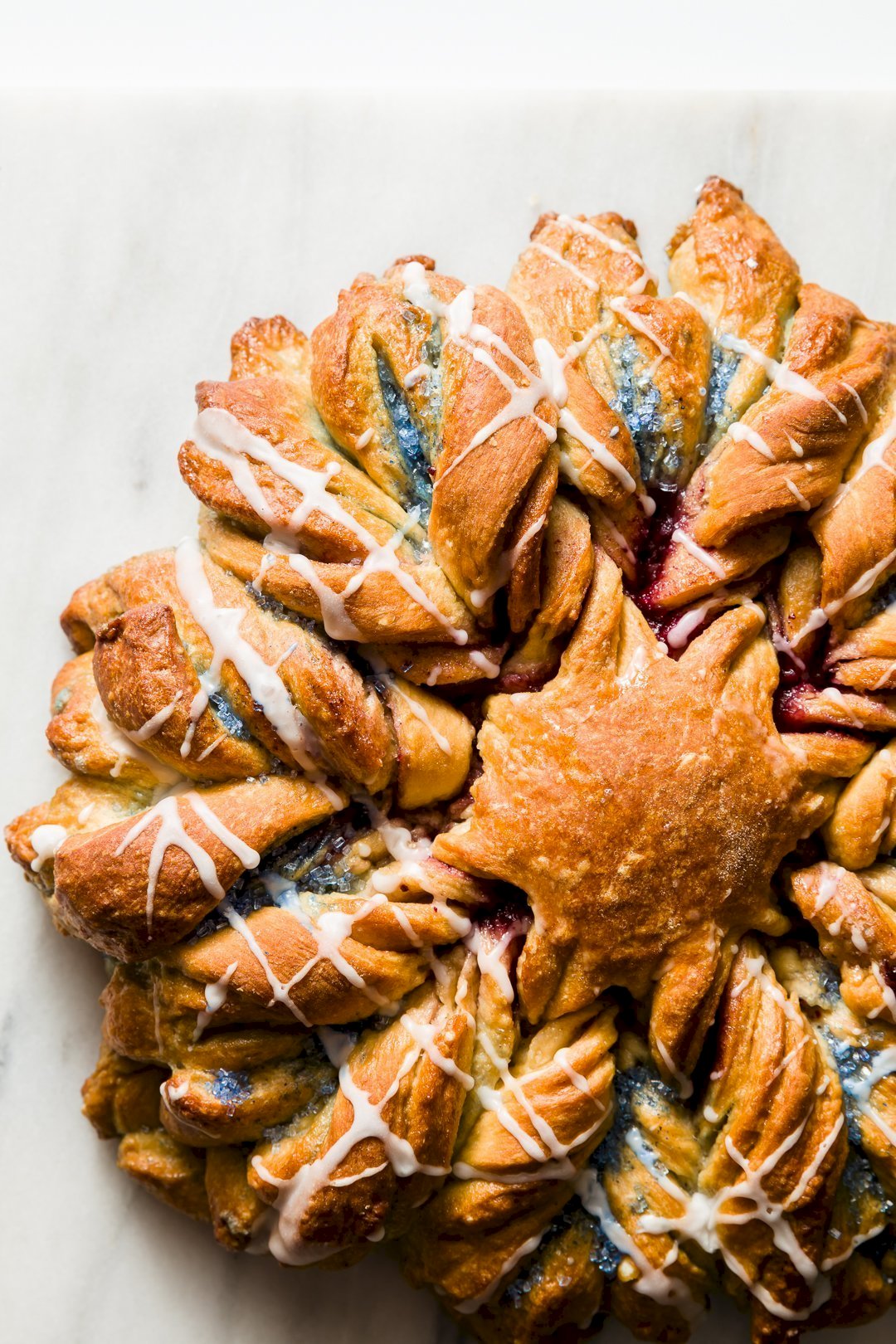 Is star bread only for Christmas?
Definitely not! While its shape does make it an excellent holiday treat, this yummy dessert can be made any time of year, especially if you switch up the filling options to match the season or occasion.
Why is my bread dense?
There are a few reasons this could be. One is that you've added too much flour. Another is that you haven't kneaded the bread dough long enough to let the gluten develop.
Do I have to make my own dough?
No, you could use a storebought dough! Crescent rolls work great as a substitute.
Star Bread Recipe
Star bread is a stunning bread that is surprisingly simple to make. This Christmas bread can be made with a wide variety of your favorite fillings, both sweet and savory!
Ingredients
1 1/2

pounds

enriched bread dough

the dough should have risen one time

1/2

cup

Nutella

1

large egg

whisked

sanding sugar

to taste

3

tablespoons

powdered sugar

optional

2

tablespoons

milk

optional
Instructions
Divide the dough into four even pieces.

Roll each piece out to a 9" circle.

Place the first circle on a silcone mat or parchment paper.

Spread with a thin layer of Nutella.

Top with the next circle.

Repeat the process of adding Nutella and topping with dough circles until you get to the final circle. Do not spread Nutella on the top circle.

Gently place a 2 inch cookie cutter (or a small bowl) in the center of the top circle to act as a guide. Do not press down as you don't want to make an indentation.

Use a knife or bench scraper to cut 12 or 16 even strips in the dough circle that radiate out from the cutter to the outside of the circle.

Grab pairs of strips that are next to each other, twist them in opposite directions, and pinch together at the end.

Repeat until all strips are twisted.

Remove the cookie cutter or small bowl that you used as a guide.

Transfer the silicone mat or parchment paper to a cookie sheet and cover loosely with plastic wrap.

Let sit for 60-90 minutes until the bread has slightly risen and appears a little puffed up.

Brush with egg and sprinkle with sanding sugar.

Bake for 25 minutes or until golden brown on top.

Carefully remove from the silicone mat or parchment paper and cool on a cooling rack.

If you would like to top with a glaze, mix powered sugar and milk and drizzle over the bread.
Notes
If you don't want to make your own bread dough, you can make star bread using store-bought crescent roll dough.
You can replace the Nutella with any sweet or savory filling of your choosing. If you use a sanding sugar, brush the dough with melted butter first to make it stick.
For a savory star bread, consider topping the bread with Parmesan cheese, sesame seeds, or kosher salt instead of sanding sugar.
Nutrition
Calories:
272
kcal
|
Carbohydrates:
44
g
|
Protein:
5
g
|
Fat:
7
g
|
Saturated Fat:
4
g
|
Cholesterol:
17
mg
|
Sodium:
334
mg
|
Potassium:
71
mg
|
Fiber:
2
g
|
Sugar:
11
g
|
Vitamin A:
24
IU
|
Calcium:
22
mg
|
Iron:
1
mg
Stay Connected!
Join my mailing list - and receive a free eBook!