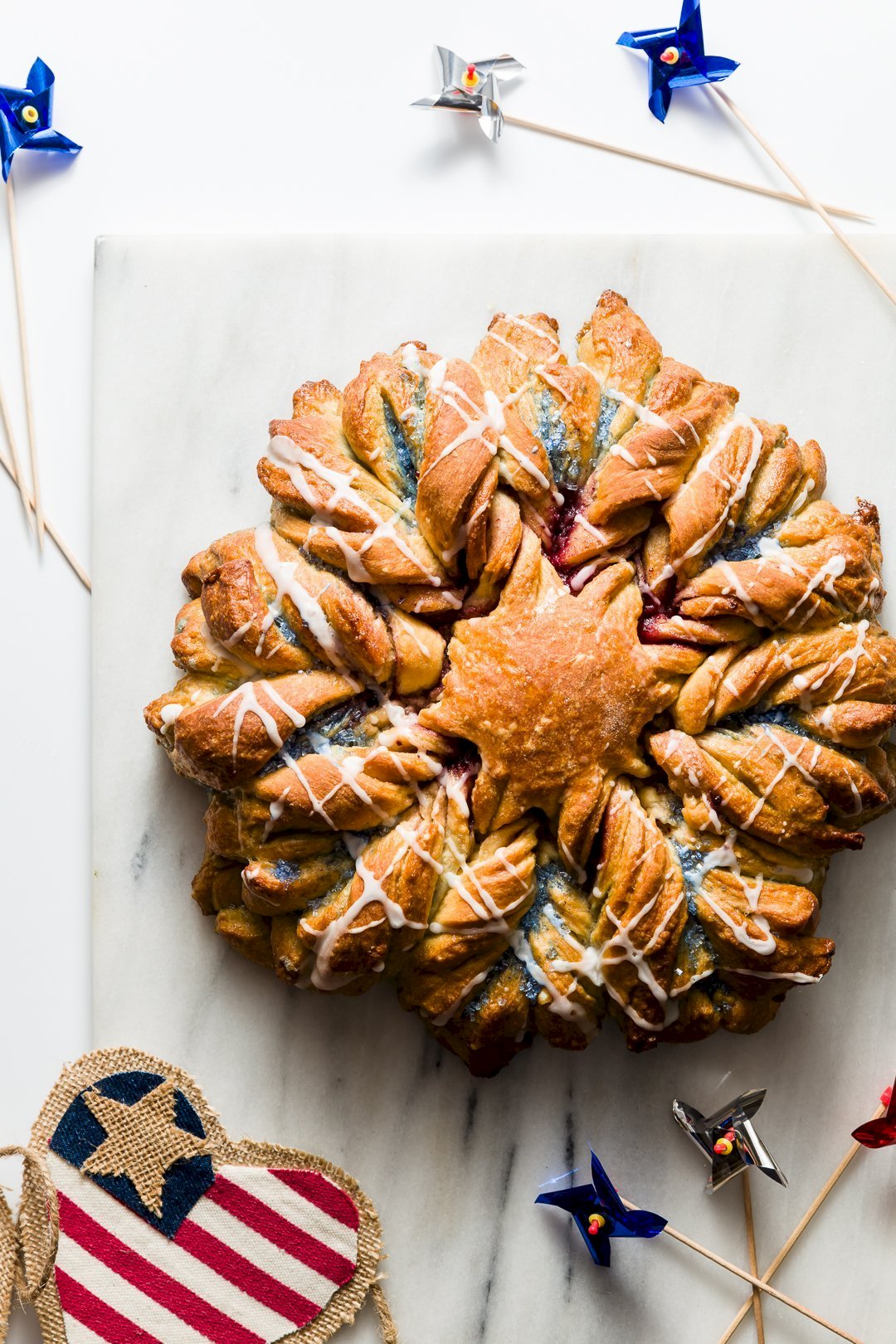 Star bread is a stunning alternative to pull-apart bread or monkey bread. While the shape is so impressive, it's actually quite simple to put together. Star bread is often made at Christmas time because it looks a bit like a snowflake. However, I made mine here in red, white, and blue to make a perfect July 4th dessert!
I learned this star bread technique from Zoë François, the author of Artisan Bread in Five Minutes a Day, on the #Wheat2Bread tour with Kansas Wheat and Red Star Yeast. #Wheat2Bread was a blogger tour through Kansas learning how wheat is researched, grown, turned into flour, and ultimately used in bread making.
How to Make Star Bread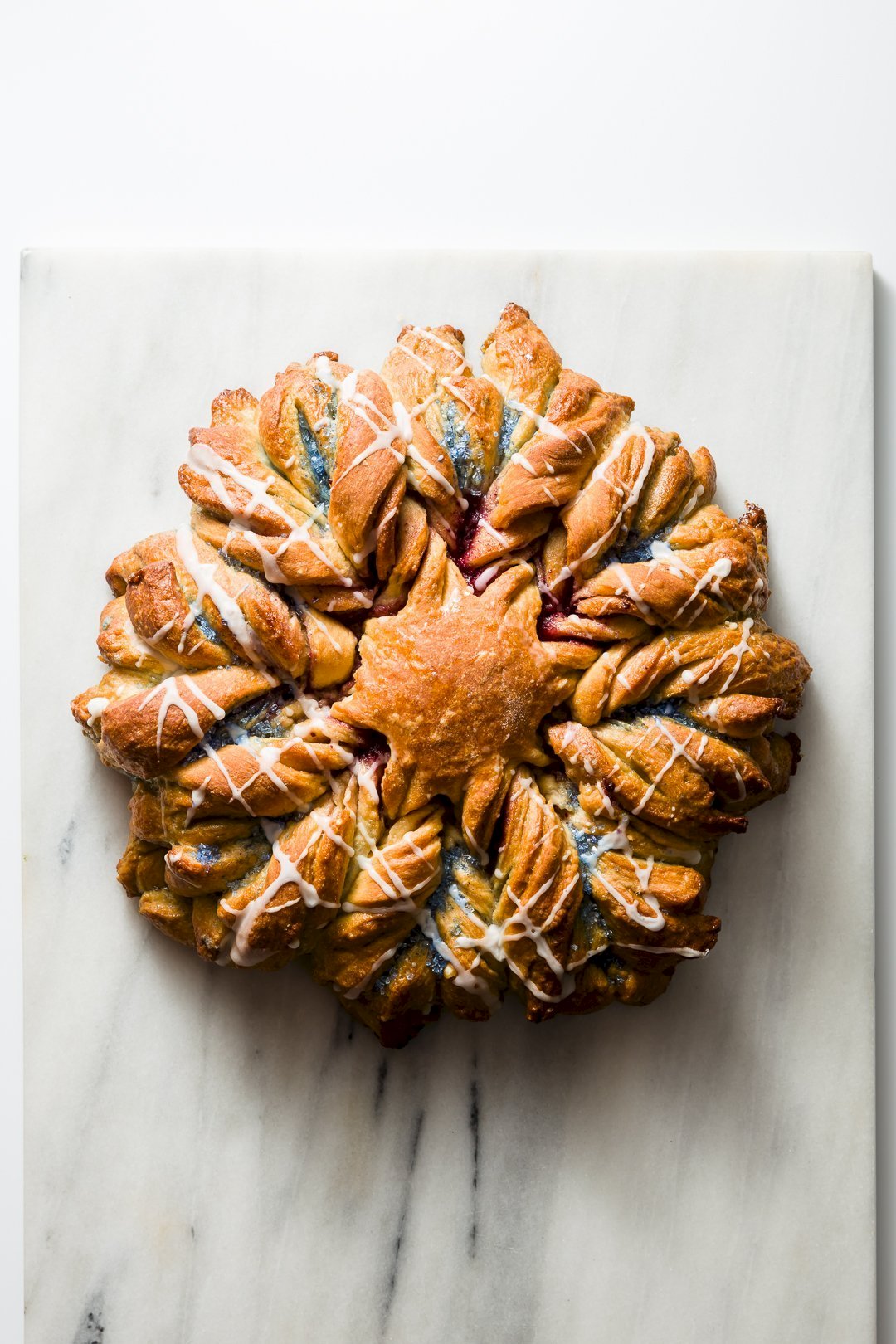 Star bread starts with an enriched bread dough (see below if you have no clue what an enriched dough is).
I have never seen a more simple way to make bread dough than the technique in Artisan Bread in Five Minutes a Day. It's nearly foolproof! You combine your ingredients in a large bowl or bucket, mix them, let the dough rise for two hours, refrigerate until cool (storing for up to 5 days in the fridge), shape, and bake. You don't even have to knead the dough. The method is sort of mind-blowing! Read the post on Zoë's enriched dough for more details on the dough recipe, or use a dough recipe that you already know and love.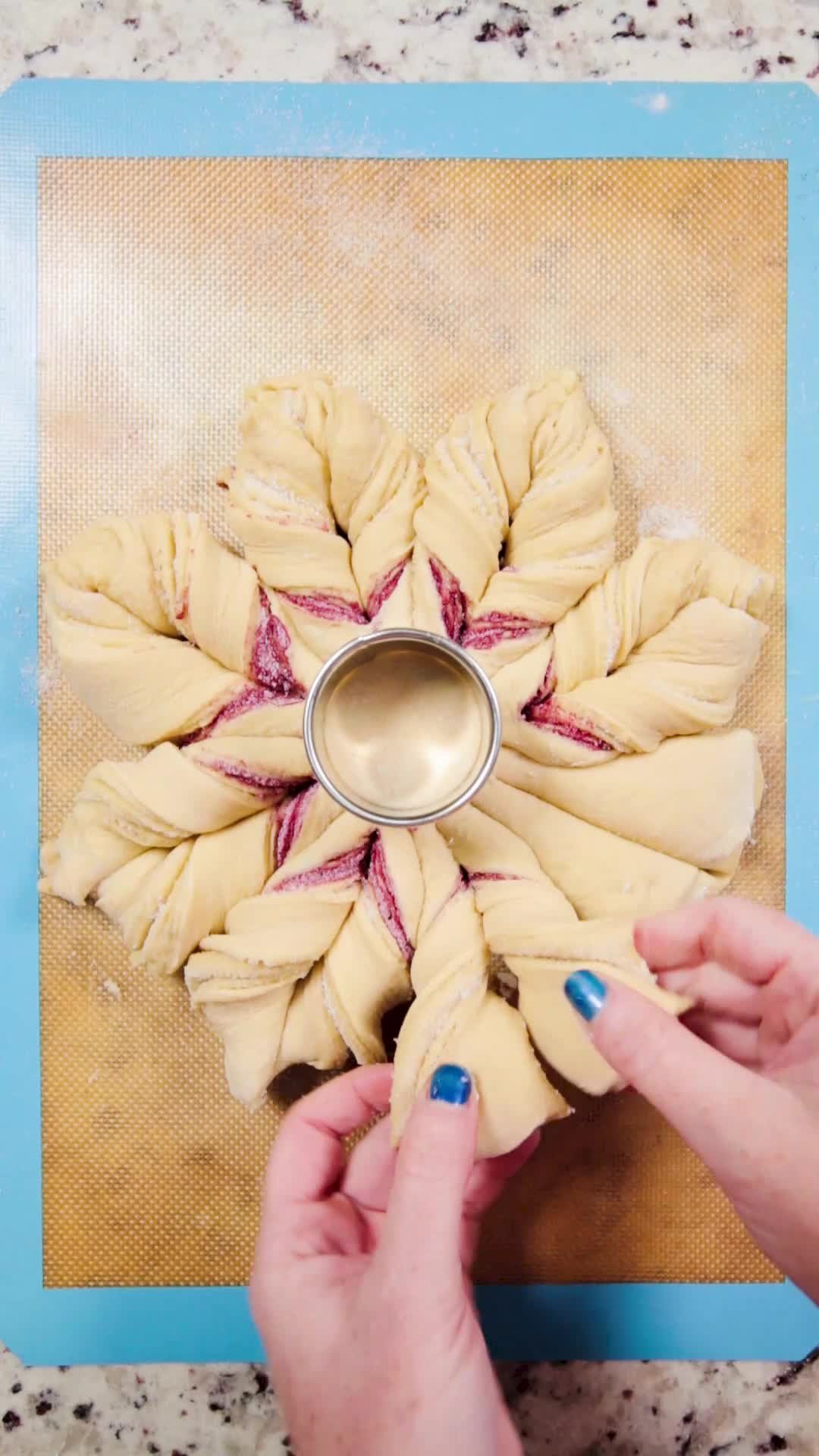 The dough is divided and rolled out into four evenly-sized circles. Spread your favorite fillings between each circle. Then, place a small circle (such as one from a cookie cutter set) in the center of of the stacked circles and use a bench scraper to cut the dough from the cutter to the edge of the circle into 16 wedges. Twist the wedges together to form the star shape!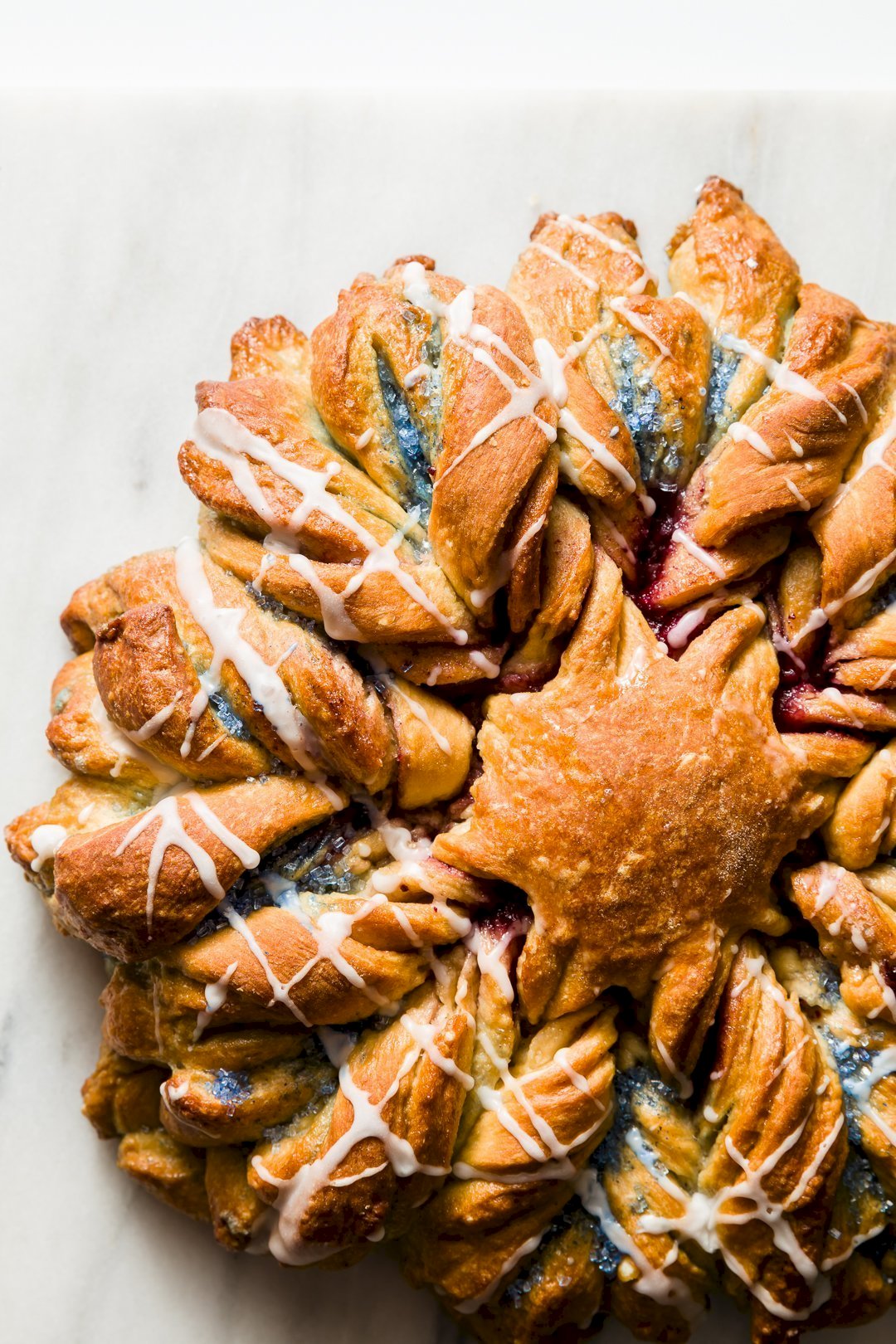 What Are the Best Fillings for a Star Bread?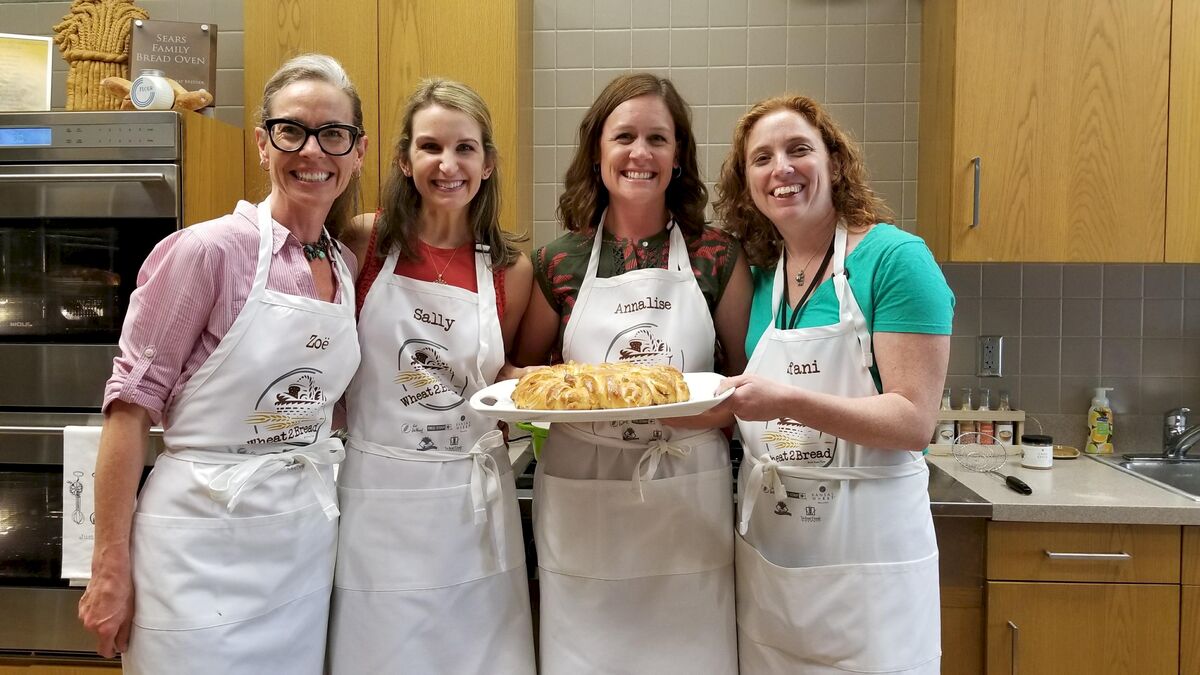 On the trip, Sally from Sally's Baking Addiction, Annalise from Completely Delicious, and I worked together to made our star bread. We filled our star bread with brown sugar, candied orange, and cinnamon. It was just as good as it sounds. You can fill star breads with anything that you can dream up – Nutella, peanut butter, finely chopped dried fruits and nuts, chocolate chips, etc. The only caveat is to be sure not to make the filling too wet or too thick as this could make the bread lose its shape.
You can also make savory star breads with cheese and herbs!
How to Make a Two-Tone Star Bread
To make a two-tone star bread, top the center of each layer with one color of a filling and top the edge with another color filling. I used berry powder mixed with sugar for the center of the circle (you can buy berry powder or make your own homemade berry powder from dehydrated fruit) and plain sugar on the outside of the circle. Using something with color in the center of the circle creates a two-tone look when the star is twisted!
What is Enriched Bread Dough?
I learned from Zoë that enriched dough is dough that may contain eggs, butter, milk, and sugar (a.k.a. the good stuff) rather than lean dough which is made with just the basics like flour, water, and salt. Star bread, like cinnamon rolls, and honey buns is typically made with enriched dough as it is a sweeter bread.
What is the Right Temperature for the Liquid in Yeast Recipes?
Remember when I said that making star bread was nearly foolproof? One way that people mess it up is getting the temperature of the liquid wrong. An important lesson that I learned on the #Wheat2Bread trip was about the temperature of the liquid in yeast recipes. If the water is over 140 F, it will kill the yeast! Ideally, you want the liquid to be between 110 and 115 F. But, you don't have to use a thermometer. The water should feel warm yet still totally comfortable to touch – like the bath water you'd use for your little kid.
Did you know that you can bake bread with cold water? It will take much longer for the bread to rise, but it will still rise. So, it's better to err on the side of having your liquids too cold rather than too hot.
What Type of Yeast Should You Use for Star Bread?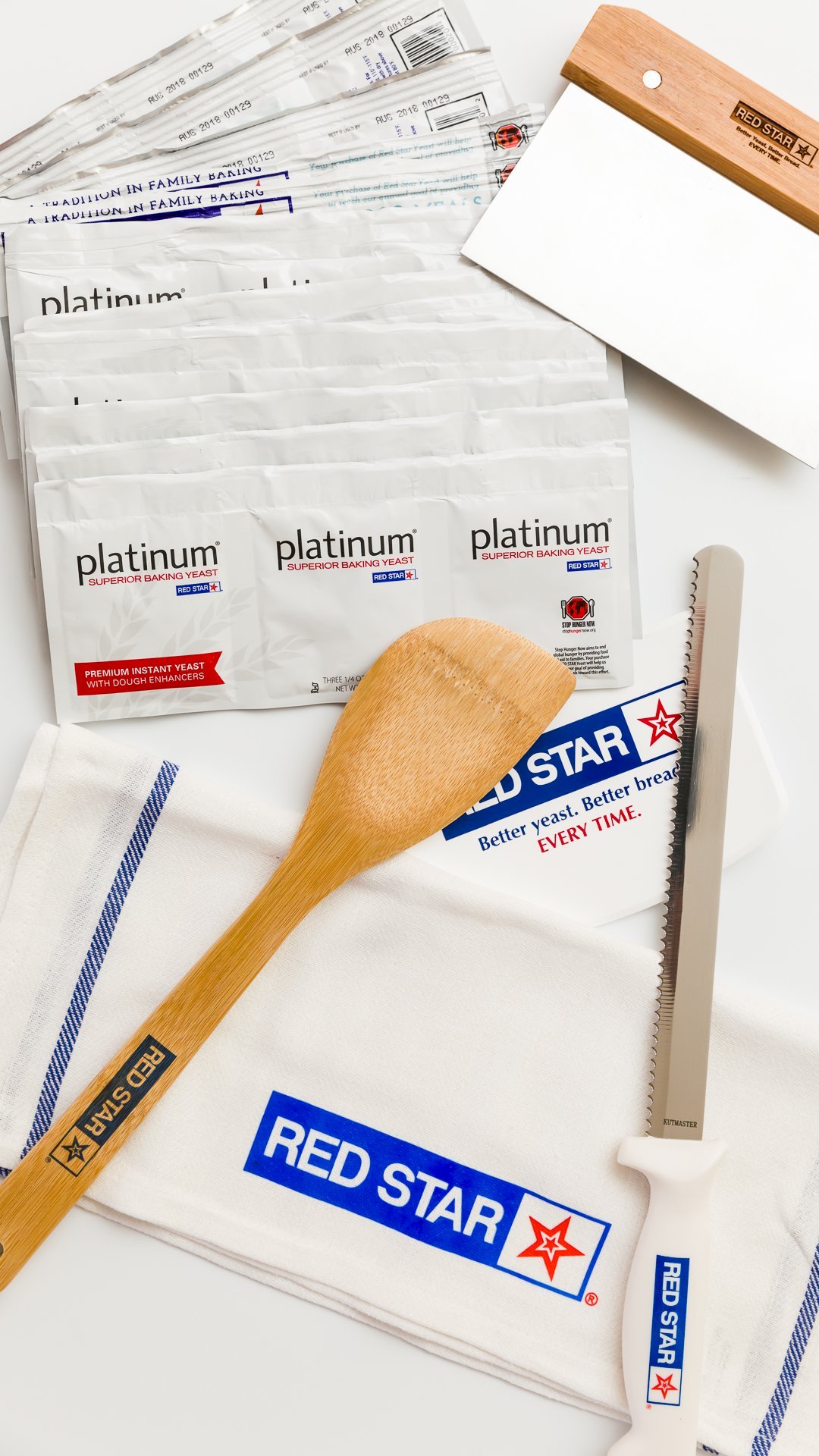 Being able to sit next to the folks from Red Star Yeast as our bus rode through the Kansas wheat fields was amazing! I had so many questions for them about yeast! One of the things that we talked about at length was the types of yeast and their differences. I learned that you can use active dry yeast and instant yeast interchangeably. Active dry yeast will just make for a longer rise. Since there is an extended resting time in the refrigerator for this dough recipe, it will work the same with either type of yeast.
That being said, my favorite yeast to work with is Red Star's Platinum yeast. Platinum yeast has dough enhancers that increase the spring on the finished product and improve dough tolerance to variations in kneading, rising, and flour quality. In short, it makes your bread rise and bake like a pro made it.
Is it Better to Bake with Ancient Grains?
As someone whose livelihood is so closely tied to wheat, it was an honor to get to stand in wheat fields and meet the folks who bring the wheat to us.
We hear a lot about ancient varieties of fruits and vegetables being more nutritious than modern versions. According to the Kansas Wheat Commission, studies have shown that the ancient wheat grains have the exact same nutritional content as modern versions. One of the main differences in ancient wheat versus modern wheat is its height. I expected the wheat that I saw to come over my head. It was shorter than usual due to a drought, but even in rainier years, modern wheat is significantly shorter than ancient varieties.
Modern wheat has been bred (not through GMOs) to be shorter because the older varieties fall over in the fields from their own weight, making them really hard to harvest. We talked to some farmers who are growing older wheat varieties due to public demand for them and heard how difficult it was for them at harvest time. I had no idea!
You Could Go on A Trip Like Mine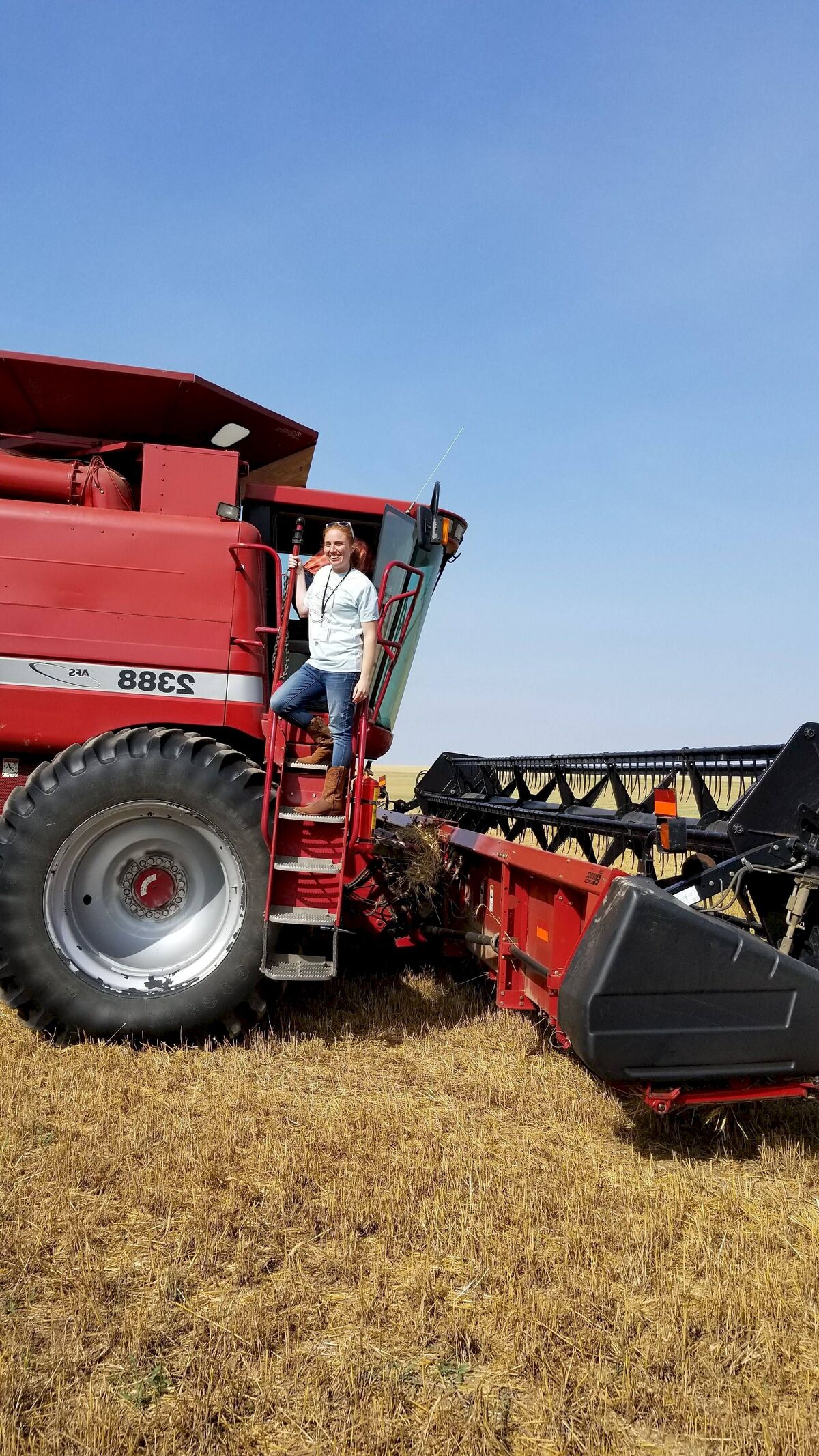 Did you know that Kansas Wheat puts on a National Festival of Breads every other year? It's time to start thinking of your recipe to enter! In addition to other prizes, the winners get to go on a wheat tour like I did! It is an unforgettable experience!
Star Bread
Star bread is a stunning bread that surprisingly simple to make. This version is great for July 4th!
Resting Time
1
hour
30
minutes
Ingredients
1 1/2

pounds

enriched bread dough

risen and chilled - I recommend the recipe from Artisan Bread in Five Minutes a Day, which can be found online. It is labeled as a brioche recipe - don't let that throw you off.

1/4

cup

unsalted butter

melted

5

teaspoons

berry powder

3/4

cup

sugar

2

tablespoons

blue sanding sugar

3

tablespoons

powdered sugar

2

tablespoons

milk
Instructions
Divide the dough into four even pieces.

Roll each piece out to a 9" circle.

Place the first circle on a silcone mat or parchment paper and brush with butter.

Mix berry powder with 1/4 cup of the sugar.

Place a 4 1/4" cookie cutter at the center of the circle, but don't press down.

Spread 1/3 of the berry/sugar mixture into the inside of the circle.

Spread 1/3 of the remaining sugar around the outside of the circle. Lift the cutter and place the second circle on top of the first one.

Repeat the adding of butter and berry and plain sugar.

Add the third circle and repeat again.

Top with the fourth circle.

Place a 2 inch cookie cutter in the center of the top circle and don't press down.

Use a knife or bench scraper to cut 16 even strips in the dough circle that radiate out from the cutter to the outside of the circle.

Grab pairs of strips that are next to each other, twist them in opposite directions, and pinch at the end.

Repeat until everything is twisted.

Transfer the silicone mat or parchment paper to a cookie sheet and cover loosely with plastic wrap.

Preheat oven to 400 F.

Let sit for 60-90 minutes until the bread is a little poofy. Brush with melted butter.

Bake for 25 minutes or until golden brown on top.

Cool on a cooling rack.

Sprinkle the outside edge with blue sanding sugar.

Mix powered sugar and milk to make a glaze.

Drizzle over bread.

Serve warm!
Nutrition
Nutrition Facts
Star Bread
Amount Per Serving
Calories 304
Calories from Fat 63
% Daily Value*
Fat 7g11%
Cholesterol 12mg4%
Sodium 322mg13%
Potassium 3mg0%
Carbohydrates 52g17%
Protein 4g8%
Vitamin A 140IU3%
Calcium 5mg1%
* Percent Daily Values are based on a 2000 calorie diet.
If You Like Star Bread, You'll Also Like:
Thanks!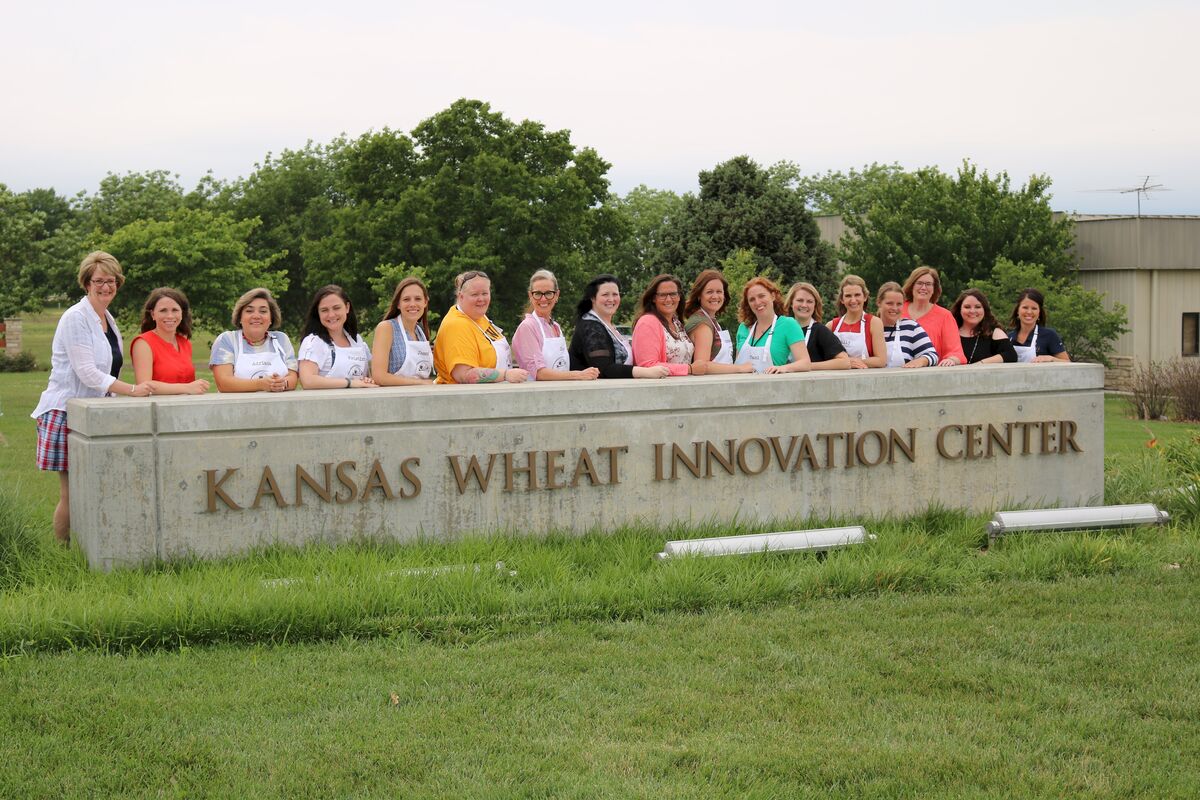 Thanks to Kansas Wheat and Red Star Yeast for sponsoring such an inspirational trip and assembling such a great group of bloggers: Sally from Sally's Baking Addiction, Annalise from Completely Delicious, Lori from The Kitchen Whisperer, Kristin from Baker Bettie, Abby from Heart of a Baker, Adriana from Adriana's Best Recipes, Jamie from Love Bakes Good Cakes, and Jessica from A Kitchen Addiction.