Easy Sesame Seed Candy (Pasteli) Recipe
Disclosure: As an Amazon Associate, I earn from qualifying purchases.
Sesame seed candy, also called pasteli, is so easy to make! It's a candy sweetened with honey or maple syrup, and it's loaded with crunchy, earthy sesame seeds. You can add nuts for extra flavor and texture, too.
It's a brittle-like candy made by heating sesame seeds and a sweetener together, pouring the mixture onto a baking sheet, and baking. Once it's cool, you break it up into chunks.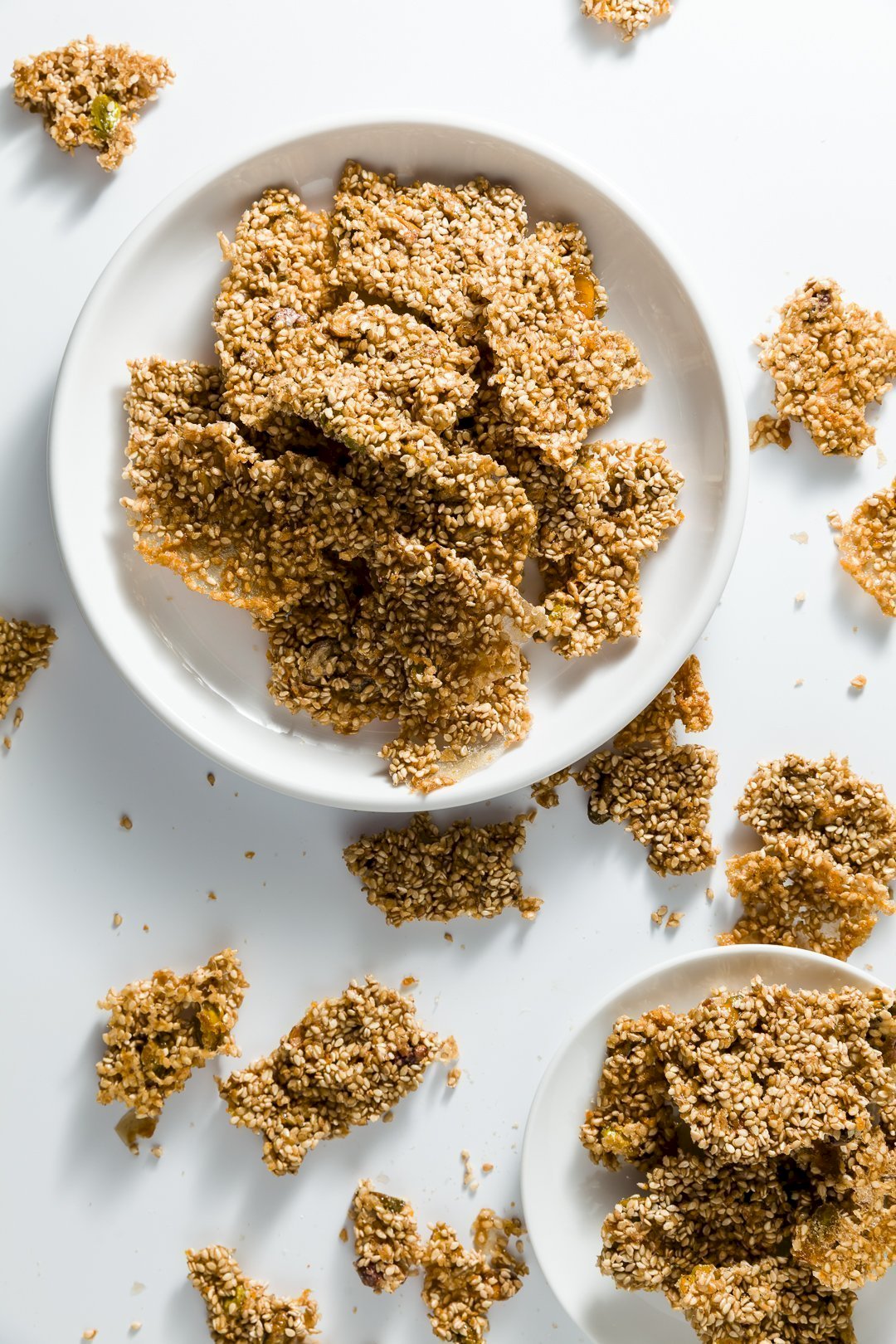 I have always thought of sesame seed candy as a Jewish/Israeli sweet, but I learned that it is popular throughout the world. There are records of what's now called pasteli from Greece in the 5th century BC; it is still served in that region today, made with honey and the addition of pistachios.
This candy is also traditional to northern Iran (Mazandaran province) and is called peshtezik. It often includes walnuts and other nuts.
Ingredients
To make this candy, you'll need sesame seeds, sugar, and honey or maple syrup. Making sesame seed candy with honey is very popular, but I love making it with maple syrup. It works the same way and tastes so delicious!
Note: You can save some time by buying toasted sesame seeds instead of toasting them yourself, but the process is explained in the recipe and is fairly quick. (I do the same thing when I make homemade tahini.)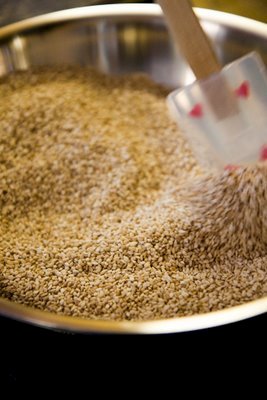 You may also choose to add in some other flavors. I like to put a touch of orange juice, some orange zest, and pistachios. You could also use lemon juice and lemon zest and mix in other nuts or spices.
How to Make Sesame Seed Candy
This recipe is easy!
Start by toasting sesame seeds. Put the seeds in a hot skillet over medium heat and cook until golden brown and fragrant, stirring vigorously. This should take about two minutes. Remove from heat immediately.
Simmer all of the ingredients except the seeds and any nuts you'll be using in a saucepan for about five minutes.
Then, mix in the rest of the ingredients and pour over a baking sheet lined with a silicone mat or parchment paper. If you don't line your baking sheet, the candy will be VERY hard to remove.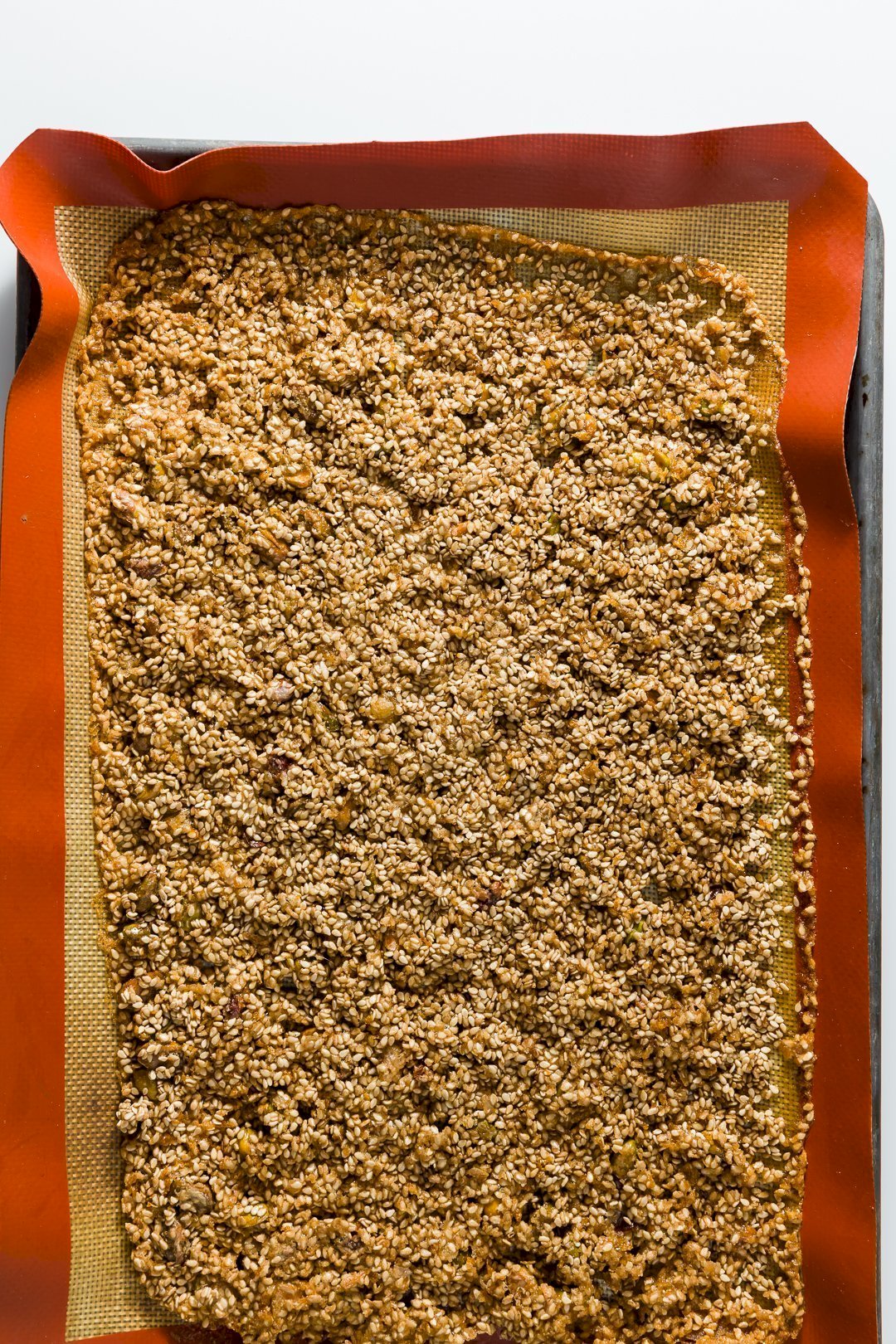 Bake for 20 minutes at 350 F.
When it is completely cool, break into pieces and enjoy!
Other Homemade Candy Ideas
All of these candies are gluten-free, just like this one:
Sesame Seed Candy
This crunchy sesame seed candy is so easy to make! It's a candy sweetened with honey or maple syrup and you can add nuts for extra flavor.
Ingredients
1

cup

sesame seeds

1/2

cup

pure maple syrup

you may also use honey

1

teaspoon

orange zest

optional, you may also use any other citrus zest

1

teaspoon

orange juice

optional, you may also use any other citrus juice

1/4

cup

granulated sugar

1/2

cup

pistachios

optional, shelled and roughly chopped
Instructions
Heat a heavy, wide-bottomed sauté pan over medium-high heat.

Add the sesame seeds and toast lightly, about 2 minutes, stirring vigorously so they toast evenly. Keep a careful eye on the sesame seeds as they go from toasted to burnt really quickly. As soon as they start to brown, remove from heat.

In a medium saucepan on medium heat, add maple syrup, orange zest, orange juice, and sugar and bring to a simmer.

Lower to medium-low and continue to simmer for another five minutes, stirring regularly.

Remove from heat and stir in sesame seeds and pistachios.

Pour over a small baking sheet lined with parchment paper or a silicone mat. Use a spatula to distribute the candy evenly. It should be a little shy of 1/2 inch thick.

Bake for 20 minutes. As ovens vary, be sure to check close to the end of the bake; if the sesame seeds look like they are about to burn, remove the candy from the oven early.

Cool to room temperature. Then, snap into pieces and enjoy!
Notes
If you use honey instead of maple syrup, you can skip the baking step. Pour the mixture onto the lined baking sheet, leave it out for a few hours, and it will harden.
The candy will last for many weeks at room temperature in an airtight container. Separate layers with parchment paper.
Nutrition
Calories:
230
kcal
|
Carbohydrates:
26
g
|
Protein:
5
g
|
Fat:
13
g
|
Saturated Fat:
2
g
|
Sodium:
4
mg
|
Potassium:
212
mg
|
Fiber:
3
g
|
Sugar:
19
g
|
Vitamin A:
32
IU
|
Vitamin C:
1
mg
|
Calcium:
213
mg
|
Iron:
3
mg