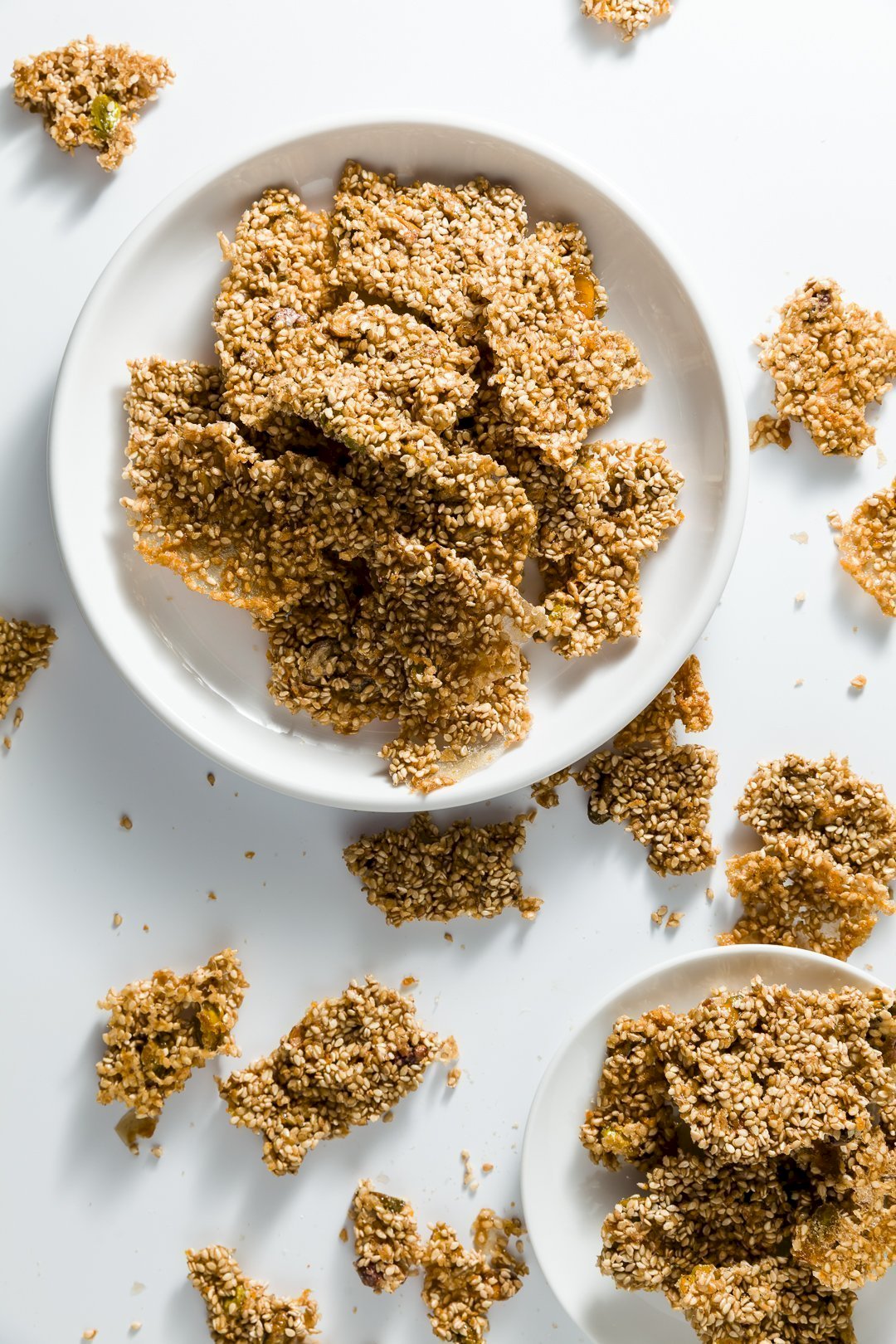 Growing up, we ate a lot of sesame candy – especially during Passover. It came in little sticks (see below).
Sesame candy has a fabulous crunch from all of the sesame seeds, but if you choose, you can also let it sit in your mouth and soften while you suck out all of the sweet honey (or maple). It's so fun to eat!
Jonathan also enjoyed more than his fair share of sesame candies as a kid and, for some reason completely inexplicable to me, he called them chicken bones.
I have always thought of sesame candy as a Jewish/Israeli thing, but in researching recipes for this post, I learned that it is popular throughout the world. For example, in ancient Greece, it was called Pasteli and it is still served in that region today with the addition of pistachios.  Sesame candy is also traditional to northern Iran (Mazandaran province) and is called Peshtezik in Mazandarani and Persian.
In my ongoing quest to try to make everything from scratch at least once, I decided to make my own candy this year. I switched it up (like I always do) and used maple syrup instead of honey. I wondered if it would work the same way – it did!!
I always tell it to you straight whether it's worth making something from scratch. In the case of sesame candy, it totally is! It is really easy to make the candy, you can control exactly what goes into it, and it is even better than the store-bought kind.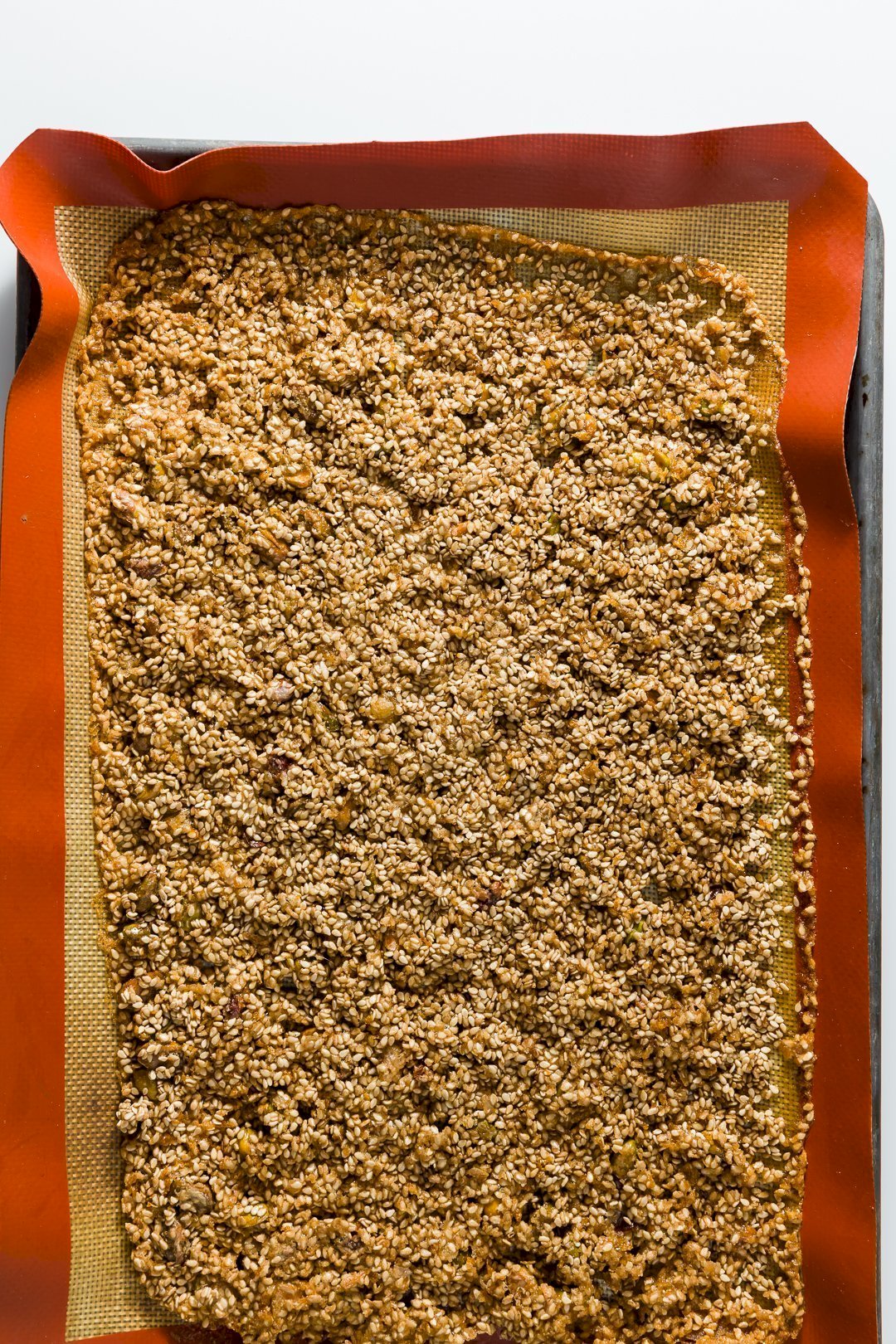 I based my sesame candy recipe on the Pasteli recipe from Lemon and Olives, but switched it up to account for the maple syrup which doesn't harden exactly the same way that honey does.
Maple Sesame Candy
A crunchy candy made with maple, sesame seeds, and pistachio.
Ingredients
1/2

cup

pure maple syrup

1

teaspoon

orange zest

1

teaspoon

orange juice

1/4

cup

sugar

1

cup

toasted sesame seeds

1/2

cup

pistachios

shelled and roughly chopped
Instructions
In a small saucepan on medium heat, add maple syrup, orange zest, orange juice, and sugar and bring to a simmer.

Lower to medium-low and continue to simmer for another five minutes, stirring regularly.

Remove from heat and stir in sesame seeds and pistachios.

Pour over a small baking sheet lined with parchment paper or a silicone mat. Use a spatula to distribute the candy evenly. It should be a little shy of 1/2 inch thick.

Bake for 20 minutes. As ovens vary, be sure to check close to the end of the bake and if the sesame seeds look like they are about to burn, remove the candy from the oven early.

Cool to room temperature. Then, snap into pieces and enjoy!
Nutrition
Nutrition Facts
Maple Sesame Candy
Amount Per Serving
Calories 229
Calories from Fat 108
% Daily Value*
Fat 12g18%
Sodium 4mg0%
Potassium 211mg6%
Carbohydrates 26g9%
Protein 4g8%
Vitamin A 30IU1%
Vitamin C 1.2mg1%
Calcium 213mg21%
Iron 3mg17%
* Percent Daily Values are based on a 2000 calorie diet.