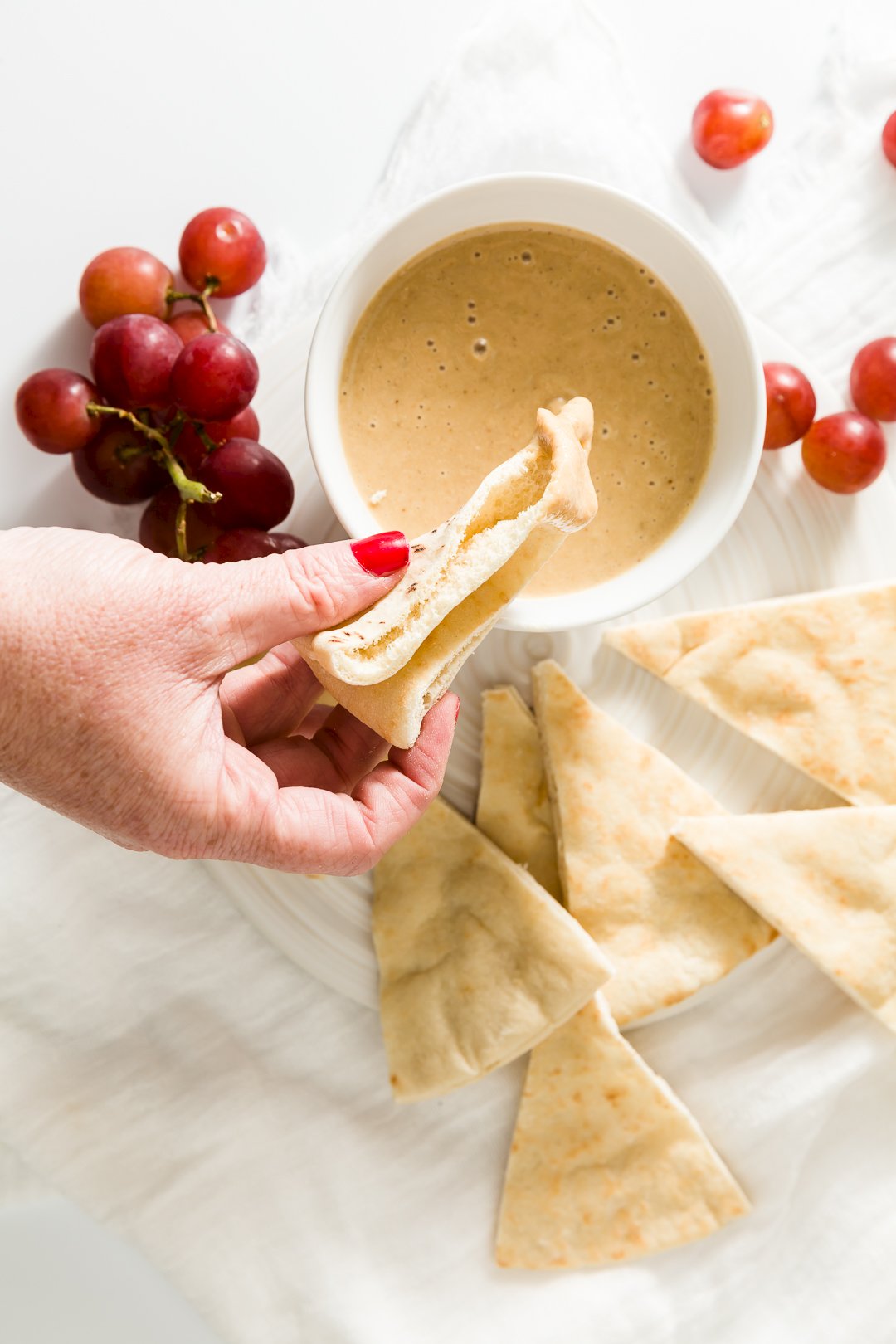 This tahini recipe is simple to make. You just need sesame seeds and olive oil.
Tahini, like desiccated coconut and dulce de leche, is one of those items that people often buy pre-made without even thinking about the option of making it at home. It turns out that the homemade tahini recipe is really easy to make and tastes just as good as the store-bought kind – if not better. However, as I'll explain later, the texture of a homemade tahini is not quite the same. This didn't bother me (as tahini is typically mixed into something), but it may bother you.
Before I get to the tahini recipe, though, let's start with what tahini is and what it is used for.
What is Tahini?
Tahini is a paste of sesame seeds and olive oil used in all kinds of Mediterranean cooking. It's often found in the ever-popular hummus and the incredibly fun to say baba ghanoush.
You can also use tahini in baking. Some of my favorite uses are in carob cupcakes with tahini buttercream, or really just about anything with tahini buttercream.
What's the Difference Between Hulled and Unhulled Tahini
Unhulled sesame seeds are also called natural sesame seeds. They are seeds sold with the seed coat, or hull, still on them. Most sesame seeds in this United States are sold with the seed coat removed. These are called hulled, or conventional sesame seeds.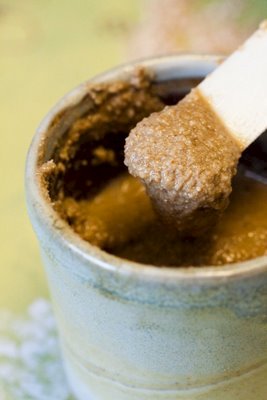 If you make homemade tahini using unhulled sesame seeds, it comes out thick like peanut butter. This type of tahini is considered to be healthier and because of its thickness is often called sesame paste.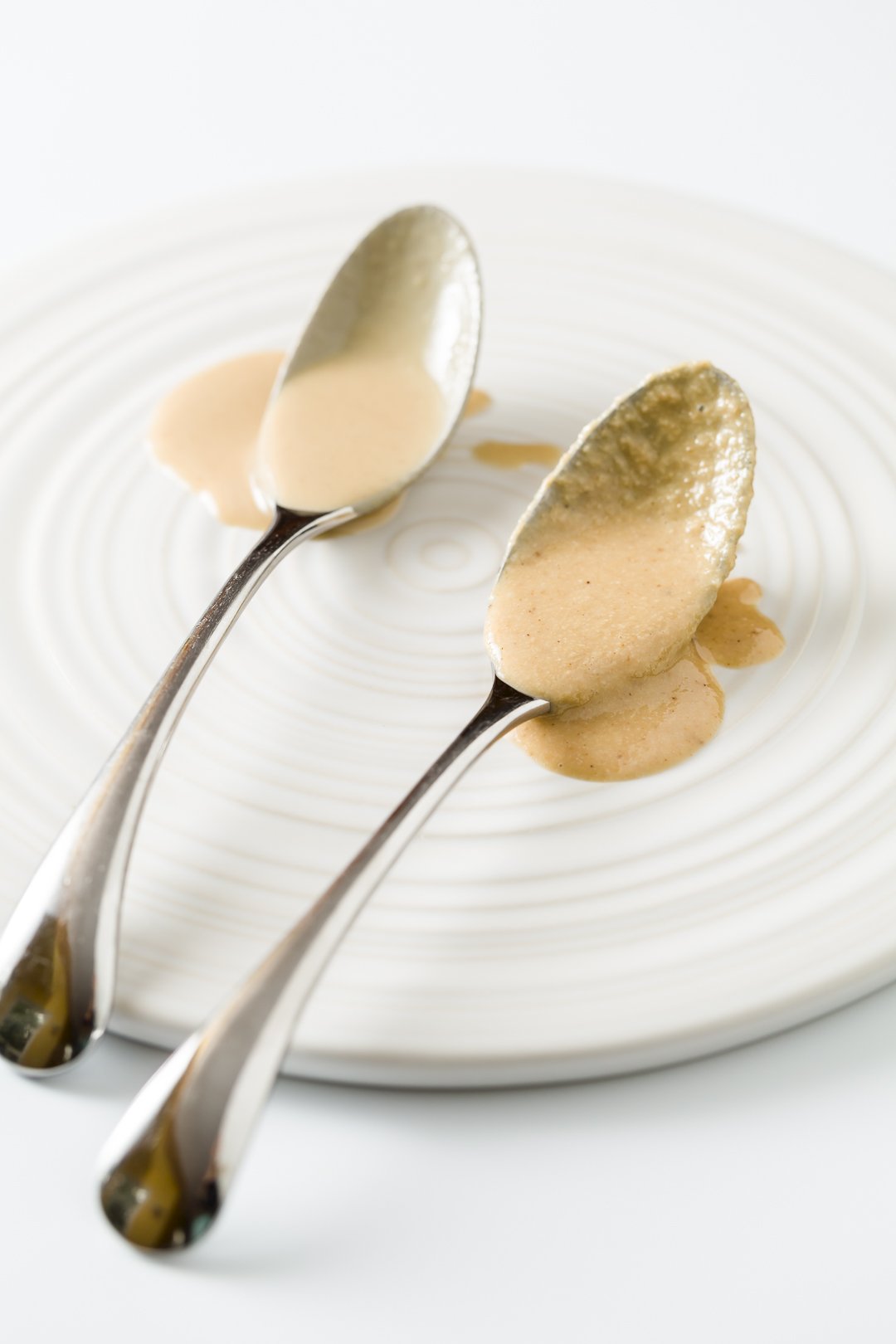 Hulled tahini comes out smother and more like dipping sauce. My homemade tahini using hulled sesame seeds is on the right in the photo above.
Store-bought tahini is typically even smoother than homemade hulled tahini and is shown on the left. If you want to make your hulled tahini extra smooth, use coffee grinder to grind the toasted sesame seeds to a powder before adding the oil.
Why Does Tahini Sometimes Taste Bitter?
Unhulled tahini can sometimes taste bitter as the hulls have a bit of a bitter taste. Most people don't mind this flavor, but it can be off-putting to some. It is also possible that tahini could taste bitter if the sesame seeds are over toasted.
What is The Best Way to Store Tahini?
If you are going to eat your tahini within a few days, it's fine to keep it out on the counter. However, if you plan to keep it around for a few weeks or longer, it is best to store it in the refrigerator.
Can You Make Tahini with Black Sesame Seeds?
Yes! You can follow the same tahini recipe instructions below using black sesame seeds to make a tahini that is black in appearance.
Tahini
This tahini recipe is simple to make. You just need sesame seeds and olive oil.
Ingredients
2

cups

sesame seeds

1/3

cup

olive oil
Instructions
First, you'll need to toast the sesame seeds.
Heat a heavy, wide-bottomed sauté pan over medium-high heat.

Add the sesame seeds and toast lightly - about 2 minutes, shaking the pan so they toast evenly. Two tips here: a) I am a messy cook with limited arm strength. I have a great fear that if I toss a pan, food will end up everywhere, therefore, I tend to just vigorously stir rather than toss. b) Keep a careful eye on the sesame seeds as they go from toasted to burnt really quickly. As soon as they start to brown, they are done.

Transfer to a bowl and let cool completely.
Next, you'll process the toasted seeds with the olive oil.
Put the toasted sesame seeds in a food processor and drizzle in the olive oil. As you can see, I poured rather than drizzled. It worked just fine!

Pulse for 3-5 minutes, or until it's as smooth as you can get it.

Add a little more olive oil if necessary.

Remove from food processor and store in the refrigerator.
Nutrition
Nutrition Facts
Tahini
Amount Per Serving
Calories 98
Calories from Fat 81
% Daily Value*
Fat 9g14%
Sodium 1mg0%
Potassium 58mg2%
Carbohydrates 2g1%
Protein 2g4%
Calcium 122mg12%
Iron 1.8mg10%
* Percent Daily Values are based on a 2000 calorie diet.