Carob Cupcakes
Disclosure: As an Amazon Associate, I earn from qualifying purchases.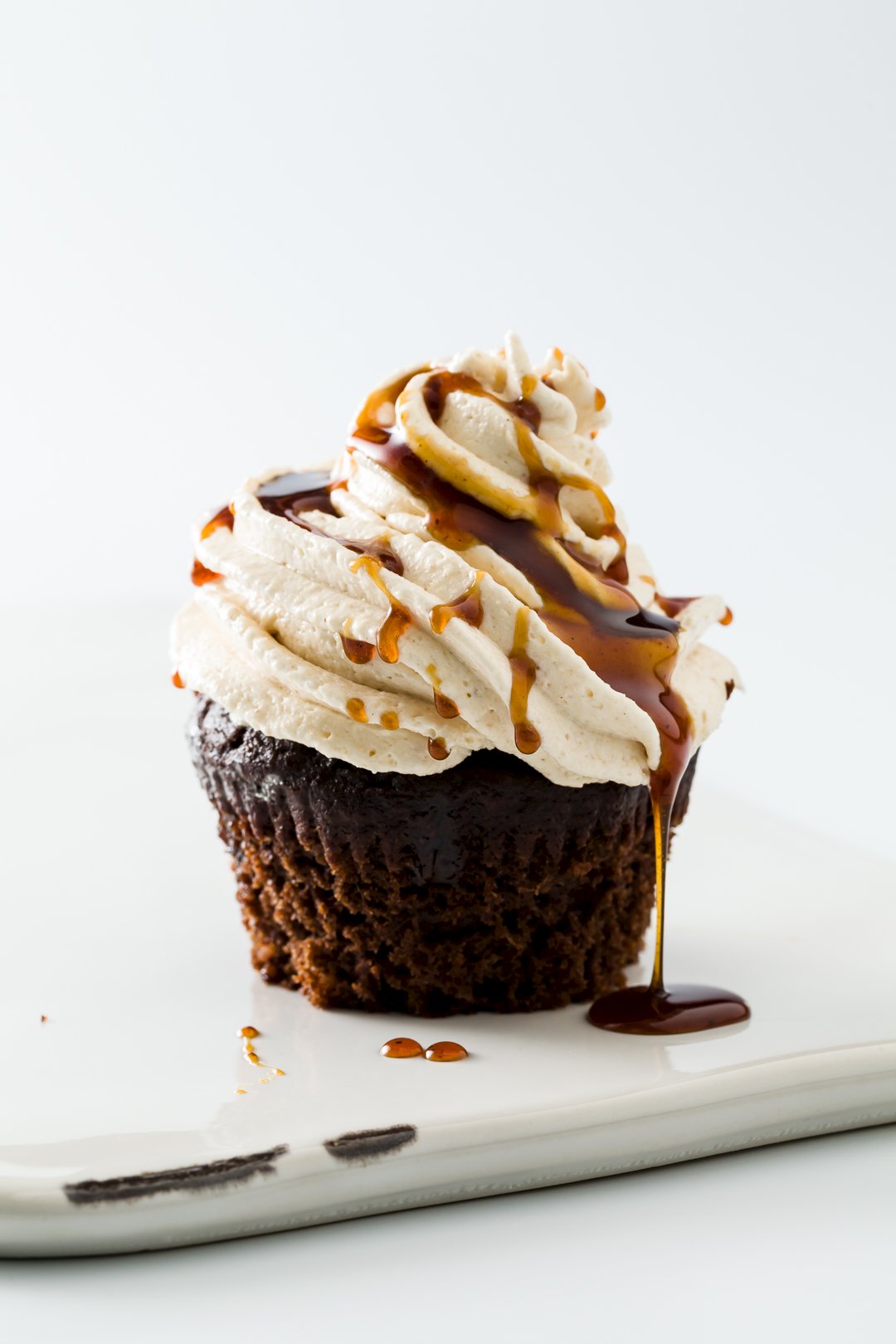 In this post, contributor Jessica Touchette shares her fabulous carob cupcake recipe with us. I had the pleasure of trying the cupcakes and I immediately fell in love with their sweet, earthy flavor. Plus, the tahini buttercream paired so perfectly with them. Enjoy!
---
Carob Cupcakes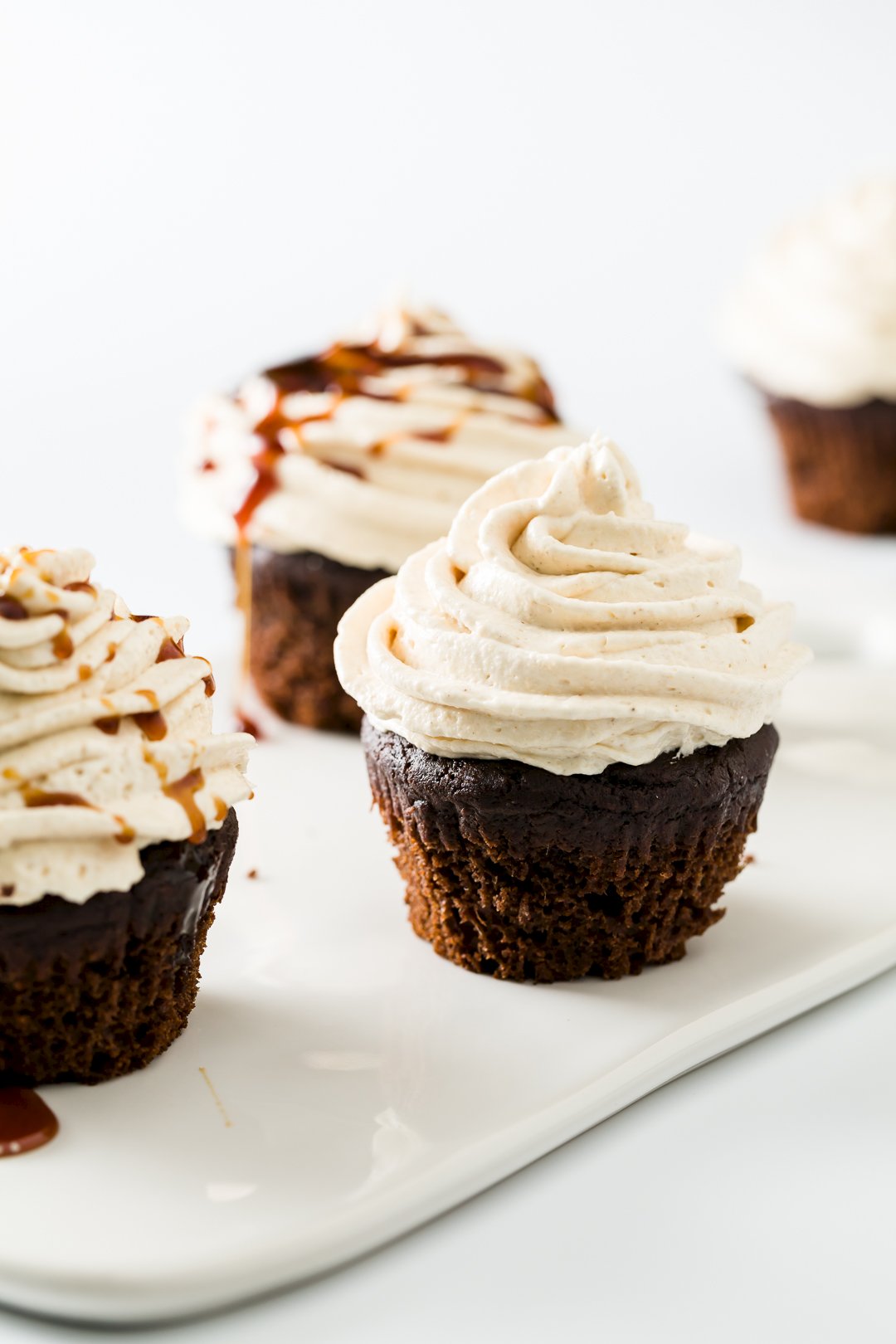 Years ago, carob and I got off to a rocky start. One day, I was greeted home from elementary school by the aroma of warm oatmeal, sugar, and toasted walnuts. Plunking down my backpack and kicking off my shoes, I followed my nose to the rack of cookies cooling on the kitchen island. I inspected the dark add-ins suspiciously.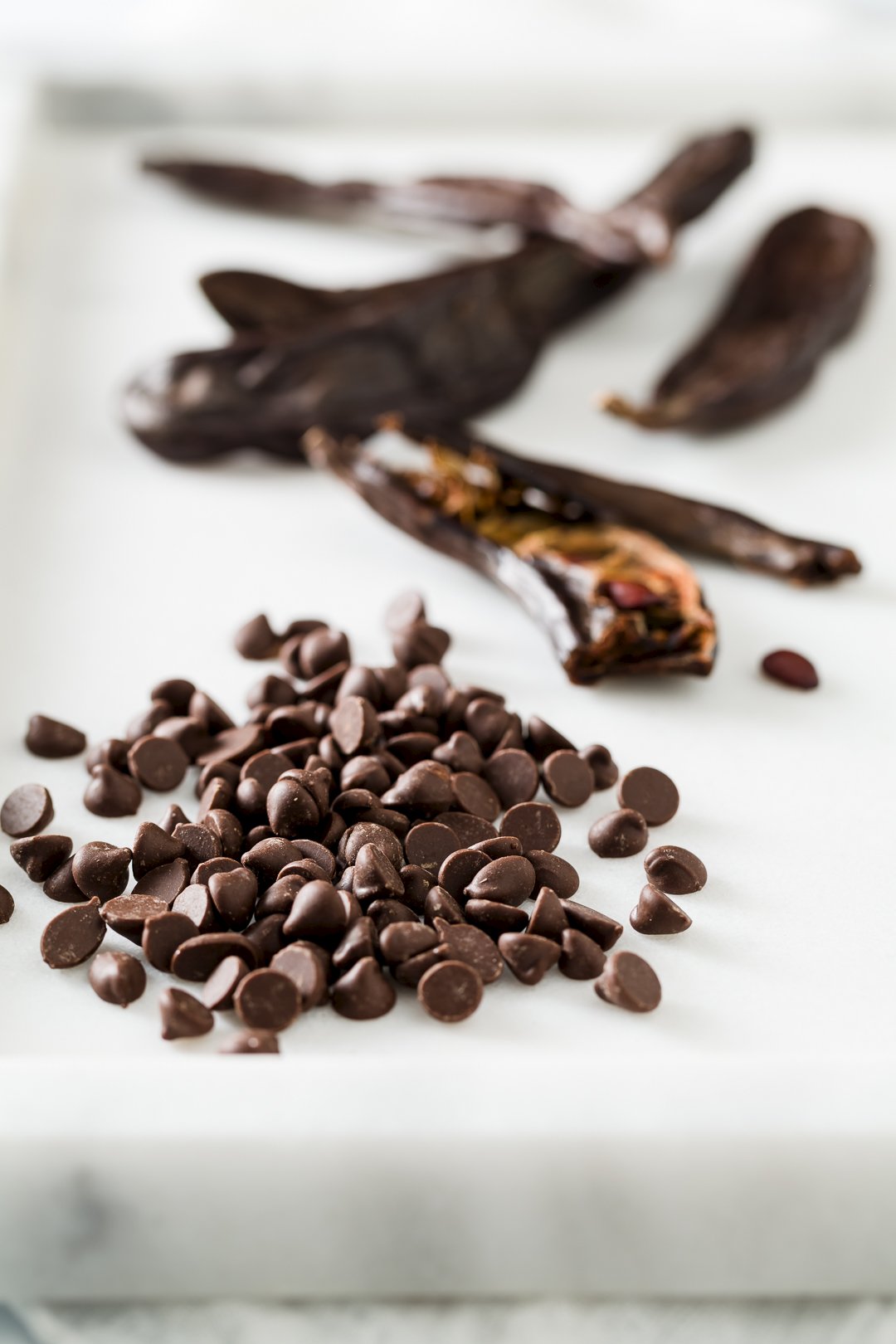 Were those raisins? No – chocolate chips! Hallelujah. My mom gave me the okay to have one, cautioning me that they might still be a bit warm, and I wasted no time in choosing the biggest cookie I could find. I bit into it, eagerly anticipating the warm, gooey chocolate soon to be melting on my tongue.
But then: crunch. Something was terribly wrong! The chips were rock hard and tasted of some foreign substance, chalky, slightly bitter, and cloyingly sweet. These were no chocolate chips, but some foul imposter! Mum explained that what I tasted was something called "carob," and that it was "good for me." I finished my cookie in disappointment, and (sorry, Mum) gave away my lunchbox cookies for the rest of the week.
Thereafter, carob chips entered my mom's regular cookie rotation. For her, they represented yet another way in which she could sneak extra nutrition into our food. For my brothers and me, they were nothing short of a detestable lie invented to taunt our tender palates.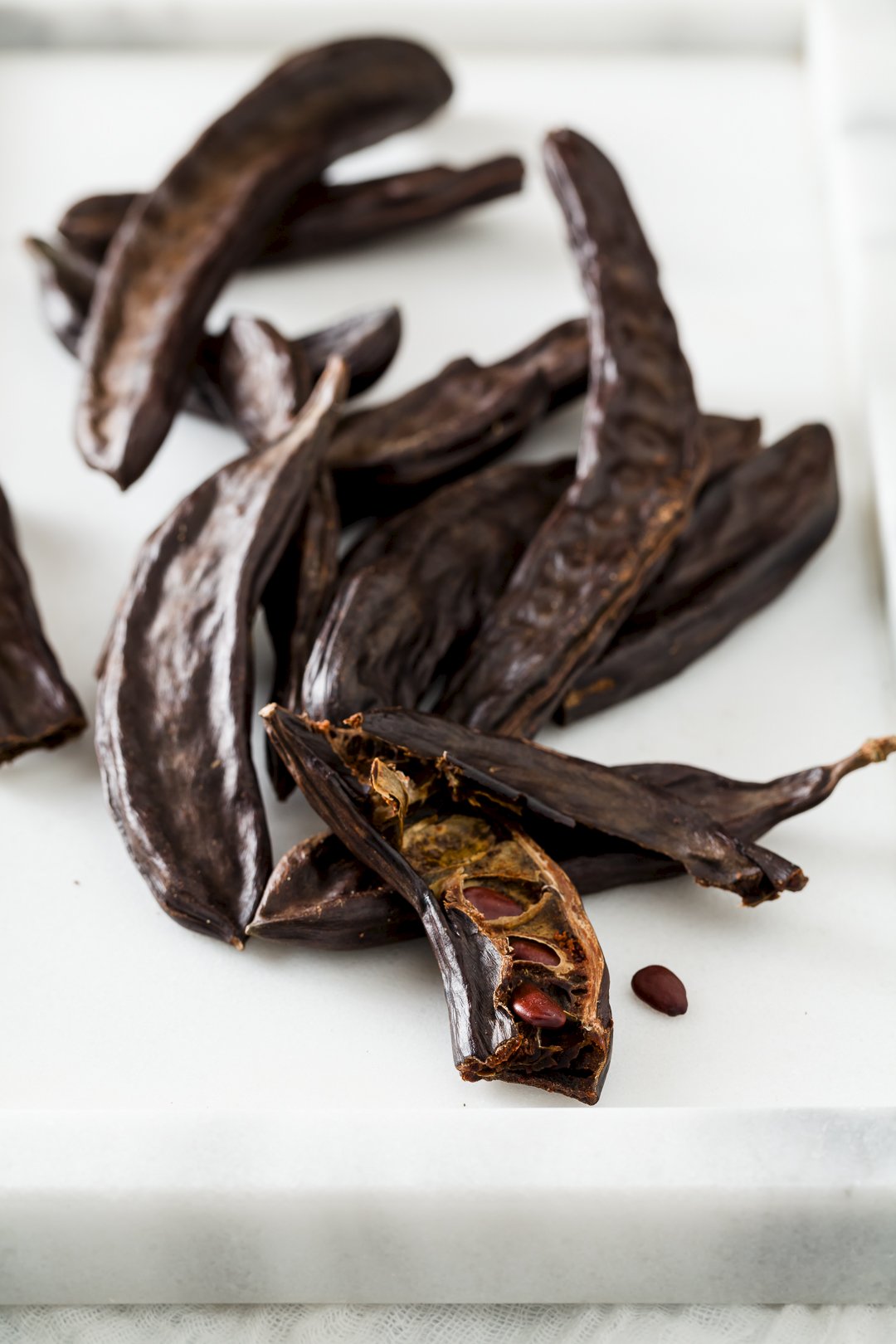 I'm not alone in this fraught early introduction to carob. According to New York Times reporter Jonathan Kauffman, ours was a generation "traumatized by carob," the virtuously low-fat, stimulant-free chocolate substitute that took the seventies health food scene by storm. Carob had been enjoyed by Mediterranean cultures for thousands of years, served in its own right (with no reference to chocolate) in sweetened drinks, syrups, molasses, candies, and snacks. In America, it was shunted into the narrow role of substitute for a food for which there is no substitute. Is it any wonder that so many of us learned to view carob with suspicion?
When Stef asked me to come up with a carob recipe, I was forced to give the long-loathed food another chance. To my surprise, I fell in love with its deep, rich flavor. I've been throwing carob into smoothies, hummus, zucchini breads, and oatmeal, and enjoy sipping a carob "latte" in the evening. It still tastes nothing like chocolate – but honestly, why did we ever expect it to in the first place? Carob has its own unique flavor, and you can love it or hate it. First, though, let's lift it out of chocolate's shadow and try to understand it for what it is rather than what it's not.
What is Carob?
Carob comes from the carob tree (Ceratonia siliqua), a flowering evergreen native to the Mediterranean. We eat the tree's fruit, a large legume that is generally dried and processed before it is eaten. Carob powder and chips are made from the bean's dried outer pod, and a variety of thickening and filling agents are made from gum in the seeds.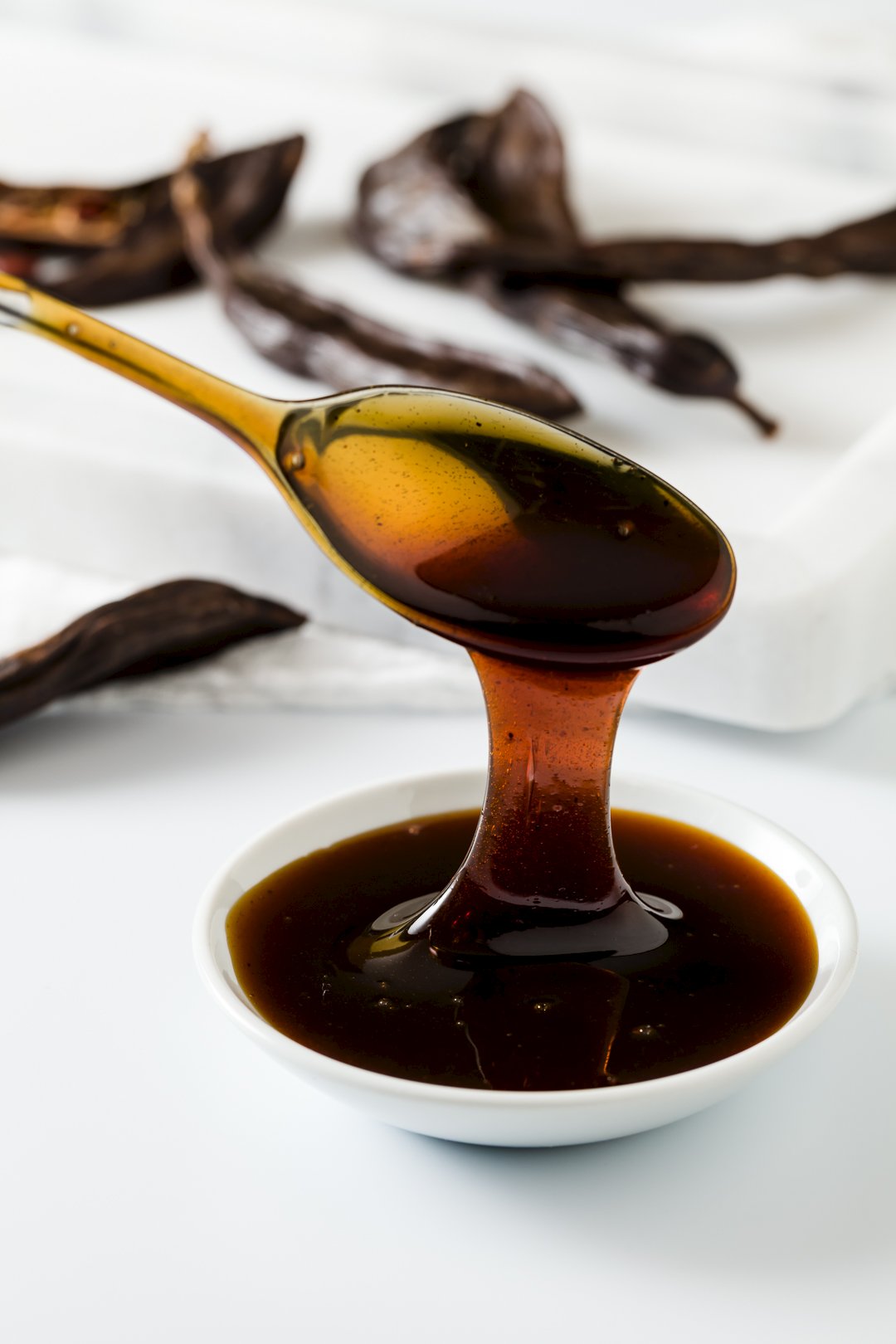 Carob molasses is made by crushing and boiling whole carob pods, straining them out, and reducing the resulting liquid. Carob syrup is made in much the same way, but the decoction is sweetened with sugar or honey. The bean can also be eaten straight, though this is definitely not the tastiest option. The dried pod is hard, fibrous, and is often compared to cardboard.
Is Carob Good For You?
In the U.S., carob is marketed as (a.) an alternative to chocolate and (b.) a health food.
The first label is a bit suspect. Carob and cacao both grow on trees and are brown in color, but they have little else in common. Carob can be made to look just like cacao, but it will never taste the same. (To read more about how the two compare, check out the post How is Carob Different from Chocolate?.)
Carob is, however, a fairly nutritious food. Unsweetened carob powder is a source of:
Fiber
Natural sugar
B vitamins (thiamin, riboflavin, niacin, B6, and folate)
Minerals (potassium, calcium, iron, sodium, magnesium, phosphorus, zinc, copper, manganese, and selenium)
Antioxidants
Carob contains no:
Adding carob to your diet or (grumble, grumble) subbing it in for a naturally fatty stimulant like chocolate can help to lower cholesterol and stabilize blood pressure. Carob's fiber and tannins help to cleanse and assist the digestive system, making it a good choice for those with chronic malabsorption disorders or with temporarily upset stomachs. These compounds, along with natural sugars that act as a binder to help thicken stool, have also been found to make carob an effective remedy for diarrhea.
In short: carob is a safe, tasty, and fairly beneficial addition to your diet. While its carbohydrate content should be noted by those monitoring their blood sugar levels, carob contains far less natural sugar than more popular fruits such as apples, figs, or berries.
How to Eat Carob
So carob is good for you, just as my mom told me all those years ago, and it can be a tasty addition to your diet. But how should you use the stuff?
You can use carob syrup and molasses as you would other liquid sweeteners in baked goods, drinks, or as a drizzle on oatmeal, yogurt, or pancakes. Carob powder and chips can also be used to pack extra flavor into baked goods and breakfast foods. You can, indeed, use them either in place of or alongside chocolate, but keep in mind that carob is naturally sweeter than cacao, and that carob chips cannot be melted without some effort on the part of the baker.
Another option is to look to Mediterranean cuisines for inspiration. Cultures in southern Europe, Northern Africa, the Mediterranean islands, and the Middle East have been using carob for thousands of years, so you can bet that they've found some pretty good preparations. One traditional use is kharroub, a sweet, hydrating drink often consumed during Ramadan in the Arabic world. Kharroub is made by preparing a carob simple syrup, diluting it with water, and chilling it. Carob sweet tea, anyone?
Another common use is karamelli tal-harrub, a hard candy made from sweetened carob syrup and traditionally served during Lent in Malta.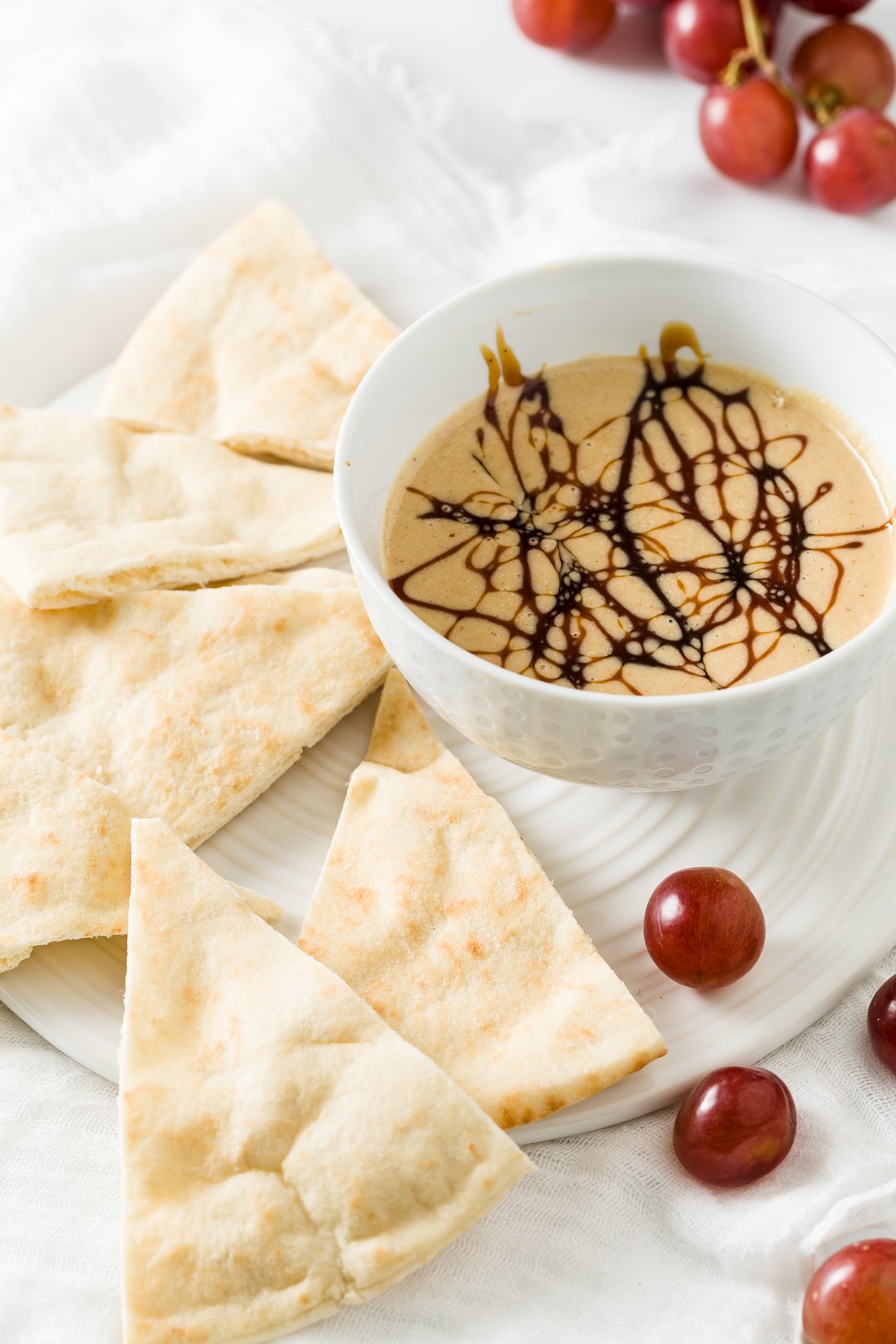 Most exciting to me is "Arabic PB&J." In this beautifully simple Middle Eastern dish, carob molasses (dibs el kharrub) is drizzled over tahini to make a spread at once nutty and bitter, syrupy and sweet. The mixture is eaten with flatbread dipped directly into the bowl.
A classic combo with a twist, tahini/carob spread is the inspiration for this recipe. I pair a sweet, dark carob cupcake with a smooth, mildly savory tahini frosting. The cupcake is naturally sweetened with dates, which I pulled into the equation after reading about a Kuwaiti version of "Arabic PB&J" that uses date syrup rather than carob molasses. Dates not only go well with tahini (ever tried tahini-stuffed dates?), but also with carob. This flavor combination comes commercially in Teeccino coffee substitutes.
Though I chose a tahini buttercream frosting to complement these carob cupcakes, they would also pair well with Stef's cream cheese frosting.
Carob Cupcakes
Sweet and earthy carob cupcakes with tahini buttercream.
Ingredients
Cabob Cupcake Ingredients
1

cup

pitted dates

packed

1

cup

milk

1

cup

all-purpose flour

1/3

cup

carob powder [paid link]

1/2

teaspoon

baking powder

1

teaspoon

baking soda

1/4

cup

avocado oil

you can substitute with any other neutral oil

1/4

cup

yogurt

2

tablespoons

carob molasses [paid link]

you can also use honey

2

large

large eggs

room temperature
Tahini Buttercream Ingredients
1

cup

unsalted butter

room temperature

3/4

cup

tahini

1 1/2

cups

powdered sugar

1/4

teaspoon

salt

1/2

teaspoon

cinnamon

Carob molasses [paid link]

to taste, optional decoration

Carob chips [paid link]

chopped, optional decoration

Toasted sesame seeds

optional decoration
Instructions
Carob Cupcake Instructions
Preheat oven to 350 F and grease or line cupcake pan.

Add dates and milk to a small saucepan over medium-low heat. Simmer for about five minutes, or until dates have softened.

Pour the milk and dates into a blender and blend until a smooth, fairly uniform mixture forms.

Combine the flour, carob powder, baking powder, and baking soda in a medium-sized bowl.

In a large bowl, whisk together the date mixture, oil, yogurt, carob molasses, and eggs.

Add the dry ingredients to the wet, stirring until fully incorporated. The resulting mixture should be smooth and fairly thick.

Spoon the batter into your cupcake tin, filling each liner about 3/4 of the way.

Bake for 15 minutes or until a toothpick inserted into one of your cupcakes comes out clean.
Tahini Frosting Instructions
Whip butter until fluffy.

Mix in tahini.

Sift in powdered sugar, salt, and cinnamon a little at a time, mixing until frosting is light, fluffy, and holds its shape.

Cover and chill in the refrigerator for 15 minutes if you plan to pipe the frosting. This will help it to maintain its shape.

Pipe or spread frosting on cooled cupcakes.

Drizzle with carob molasses or top with a sprinkle of chopped up carob chips and toasted sesame seeds.
Nutrition
Calories:
404
kcal
|
Carbohydrates:
38
g
|
Protein:
5
g
|
Fat:
27
g
|
Saturated Fat:
11
g
|
Cholesterol:
65
mg
|
Sodium:
158
mg
|
Potassium:
276
mg
|
Fiber:
2
g
|
Sugar:
25
g
|
Vitamin A:
515
IU
|
Vitamin C:
0.6
mg
|
Calcium:
82
mg
|
Iron:
1.5
mg