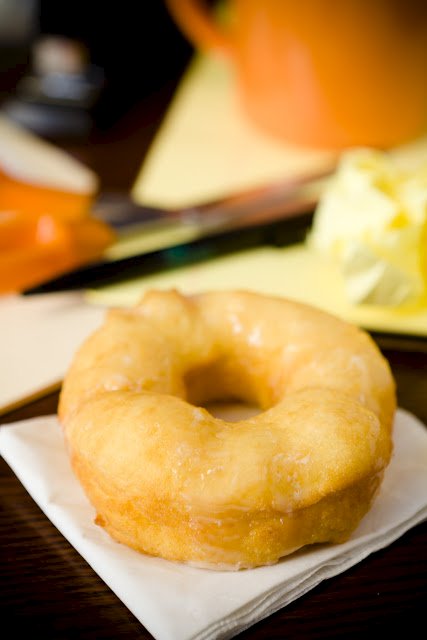 I never understood the allure of the Krispy Kreme doughnut until I tried one piping hot.  I then saw why my coworkers deposited them in our break room almost daily (it wasn't just a plot to make themselves look better by making the rest of us fat).  The doughnut pusher got to enjoy a hot Krispy Kreme during their morning commute.  Still sticky glaze and a plush doughnut does wonders to ease the pain of that Hummer in front of you that won't let you pass.
I work at home now.  No one stops by the office with hot Krispy Kreme doughnuts.  So, I figured that I should make my own.  I learned how to make Krispy Kreme doughnuts from I Made That!  My homemade Krispy Kreme doughnuts are not quite as sweet as the real ones and not quite as greasy (read that as good or bad, depending on your personal taste).  My friend Carter said that my homemade Krispy Kreme doughnuts were the first doughnuts he's ever had that didn't have a weird artificial aftertaste.  I've never noticed any odd aftertaste with Krispy Kremes, but I took Carter's comment as a nice compliment.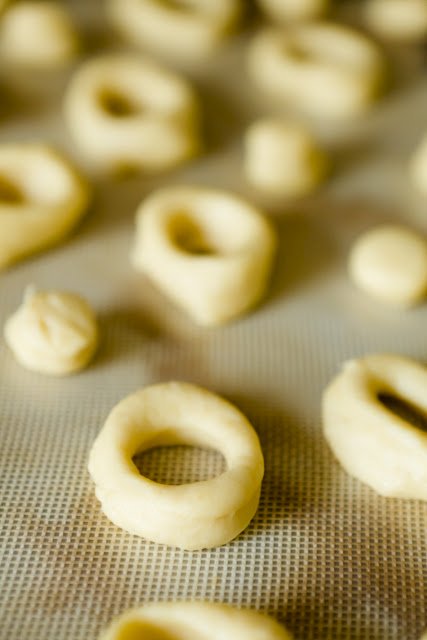 Mini doughnuts ready to be fried – plus the doughnut holes.
There are four main benefits that I see to making homemade Krispy Kremes (feel free to add your own in the comments):
You can serve every single doughnut fresh and piping hot.
You can make the doughnuts any size you want.  I made some mini ones that I used in cupcakes (stay tuned).
You get to eat the doughnut holes.
You know exactly what goes into them. (This one applies to anything homemade.)
Products Related to Homemade Kreme Doughnuts
How to Make Krispy Kreme Doughnuts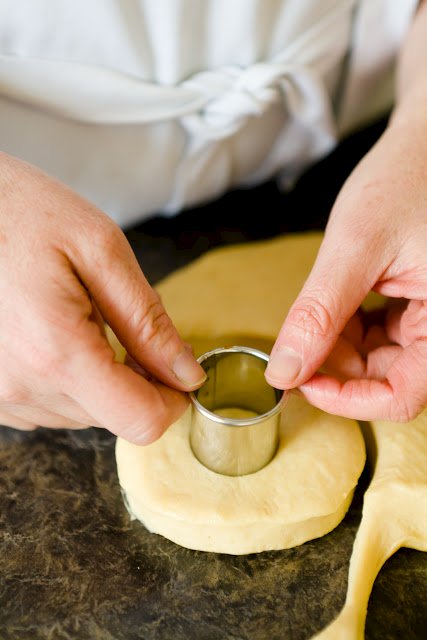 As I noted above, I got the recipe for Krispy Kreme doughnuts from I Made That!  I am reprinting it below with my notes and very minor changes.  The recipe requires three different rising stages (each about an hour long) so be sure to make them on a day when you've got some time.
If you've tried this recipe, please RATE THE RECIPE and leave a comment below!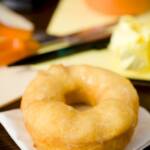 How To Make Krispy Kreme Doughnuts
Servings
10
-12 regular-sized doughnuts or a lot more little ones
Ingredients
Doughnut Ingredients
1

cup

whole milk

2

teaspoons

active dry yeast

2 1/4

cups

bread flour

divided

3

egg yolks

2

tablespoons

superfine sugar

1/2

teaspoon

salt

1/2

teaspoon

vanilla extract

1/4

cup

unsalted butter

melted

vegetable oil for frying
Glaze Ingredients
1

cup

powdered sugar

1/2

teaspoon

vanilla extract

2

tablespoons

milk
Instructions
Doughnut Directions
Heat the milk to 100 degrees. You can do this in the microwave or on the stove top.

Stir in the yeast until it is dissolved or close to dissolved.

Transfer to a medium-sized bowl and mix in 3/4 cup plus 2 tablespoons of the bread flour. Stir until smooth.

Cover the bowl (I like to use my

cloth bowl covers

for this) to prevent drying out and place in a warm spot to rise.

When the batter has doubled in size (about an hour, depending on the temperature of your house), add it to a mixer fitted with a paddle attachment.

Add the egg yolks, superfine sugar, and salt. Mix on low speed until smooth.

Mix in vanilla extract and butter until smooth.

With the mixer running, slowly add the rest of the flour (1 1/4 cups + 2 tablespoons). Keep mixing until the batter just comes together into a smooth dough. It will be quite wet and sticky, but should be able to hold together as one "lump" of dough. If not, add a bit more flour, one tablespoon at a time.

Lift the ball of dough up and brush the bottom of the bowl lightly with vegetable oil.

Cover the bowl again and place in a warm spot to rise.

Once the dough has doubled in size (another hour or so), refrigerate it for 15 minutes. This will make it easier to roll out.

On a well-floured surface, gently roll out the dough to about 3/8" to 1/2" thickness.

Use cookie cutters to stamp out whatever shapes you like. I used a 3 1/2" circle for the large doughnuts with a 1 1/4" hole. For the minis, I used a 1 1/2" circle with a 15/16" hole (all of these cutters come in the

same set

). Save the holes to fry up as well, or roll the batter out again to make more doughnuts.

Place the stamped dough on a parchment- or Silpat-lined cookie sheet, cover with plastic, and allow to rise again in a warm spot.

Once the doughnuts are almost doubled in size (another hour or so), heat oil in a large pot or deep fryer until it reaches 360 F. I strongly prefer to fry in a

deep fryer

. It keeps everything so much cleaner and perfectly regulates the temperature.

Fry the doughnuts in batches until golden brown on each side (you'll need to flip them mid-fry). The total frying time will be under 2 minutes. Use tongs to flip and retrieve them.

Set hot doughnuts on paper towels to absorb extra oil.
Glaze Directions
Mix all ingredients in a small bowl until smooth.

Drizzle over piping hot doughnuts.
Recipe Notes
If necessary, reheat doughnuts in the microwave for about twenty seconds.