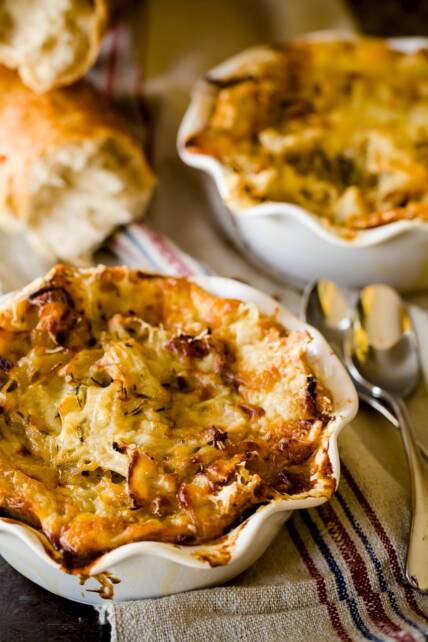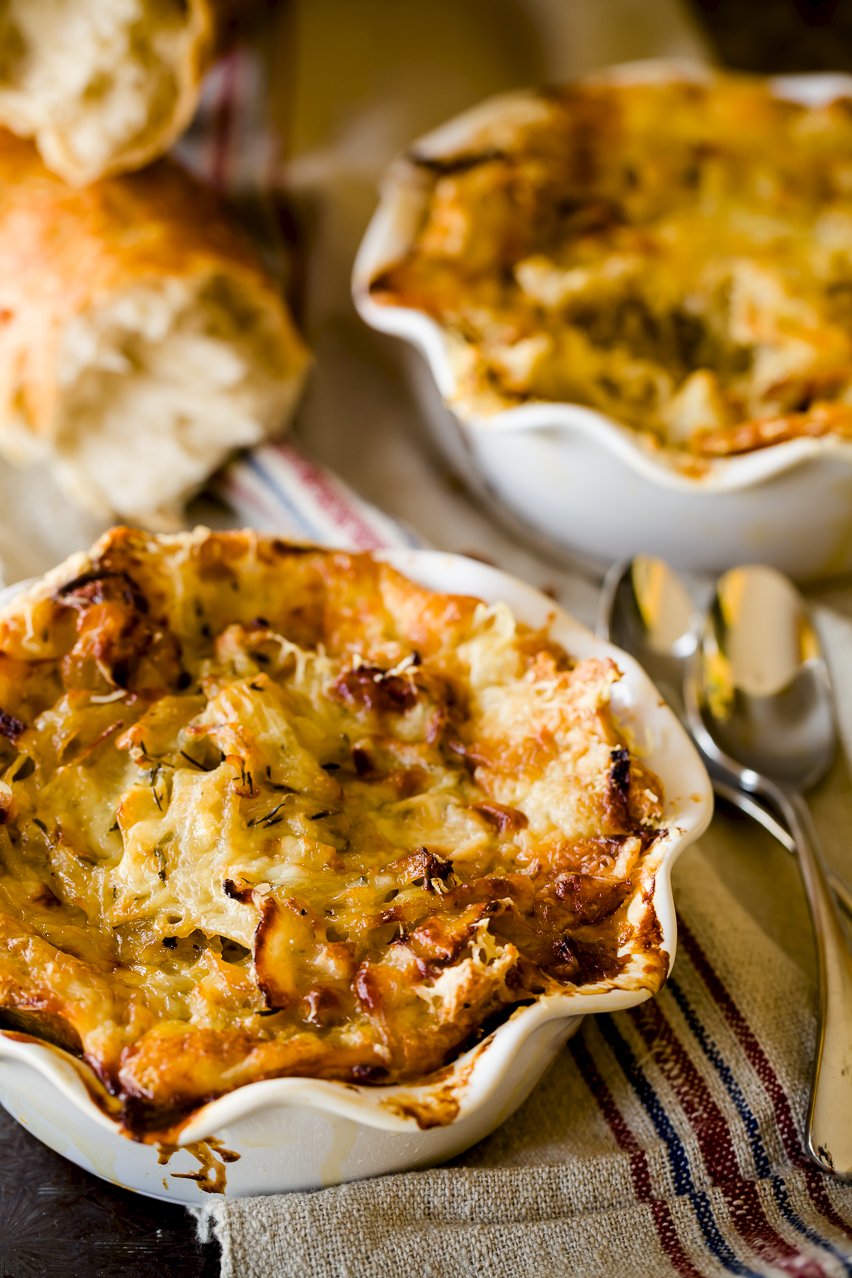 My French onion soup pie skips the unimportant part of French onion soup (the soup) and focuses entirely on the good stuff (the French bread that takes on the soup's flavor and the gobs of gruyère cheese).  It tastes just like French onion soup but it's sliceable and has the texture of a bread pudding.
French onion soup pie starts with a pie crust made of French bread soaked in egg, cream, beef stock, and spices.  The crust is covered in sauteed sweet onions which are topped with even more egg mixture and a thick layer of cheese.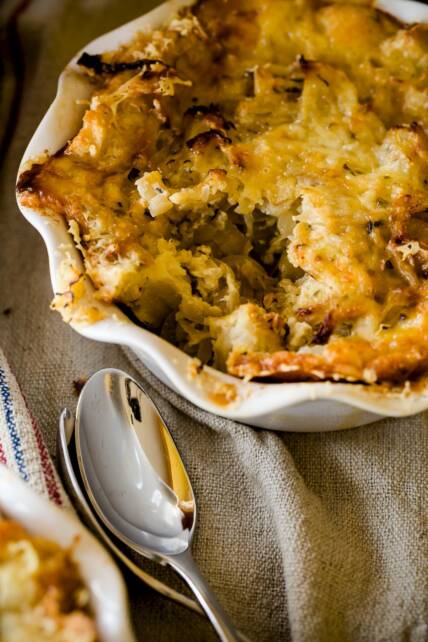 French Onion Soup Pie Recipe
If you've tried this recipe, please RATE THE RECIPE and leave a comment below!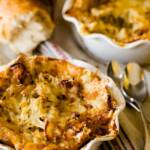 French Onion Soup Pie
Servings
2
6" deep dish pies
Ingredients
Crust Ingredients
5

large eggs

1/4

cup

+ 3 tablespoons heavy whipping cream

1/2

cup

beef stock

you can substitute a hearty vegetable stock to make this dish vegetarian

2

cloves

minced garlic

1/2

teaspoon

dried thyme

1/4

teaspoon

salt

1/4

teaspoon

cracked black pepper

8

ounces

French bread with the crust removed

I suggest using a French round rather than a baguette as there is a much higher ratio of bread to crust in the round.
Onion Filling Ingredients
2

tablespoons

unsalted butter

2

large yellow onions

sliced into 1/8 inch thick slices

1/4

teaspoon

dried thyme

1/4

teaspoon

paprika

1/4

teaspoon

cracked black pepper

splash of sherry

3

cups

shredded gruyère
Instructions
Crust Instructions
Preheat oven to 350 F.

Whisk together all ingredients except the bread.

Slice bread in half and slice each half into six pieces.

Soak the first six pieces in the egg mixture.

Remove and let extra liquid drip back into the bowl.

Lay bread pieces across the bottom and up the sides of a small greased deep dish 6" pie pan.

Repeat with the second half of the bread and the second pie pan.

There should be quite a bit of egg mixture left - reserve it for later.

Place both pie pans on a baking sheet and bake for 15 minutes. The bread should no longer be wet, but it shouldn't have browned.
Onion Filling instructions
Heat a large skillet on medium heat.

Melt butter in the skillet.

Add the onions and saute, stirring regularly until translucent (about ten minutes).

Add the spices and sherry and cook for another five minutes.

Divide onions evenly between the two prepared crusts.

Pour the remaining egg mixture over the onions, evenly distributing it between the two pies.

Top each pie with half of the shredded gruyère. Be sure that the cheese goes all the way to the edge of each pan as it looks really nice if it drips a little off the side.

Cover the pie pans loosely in foil and bake for 50 minutes (still at 350 F).

Uncover and bake for another 10 minutes or until the cheese is nicely browned but not burnt.
Recipe Notes
This recipe can be scaled to make larger pies instead of personal pies.
Thanks
Thanks to my incredible intern Faye, author of Live Bake Love, for realizing how pie obsessed I've become and gifting me the book Me, Myself, and Pie.