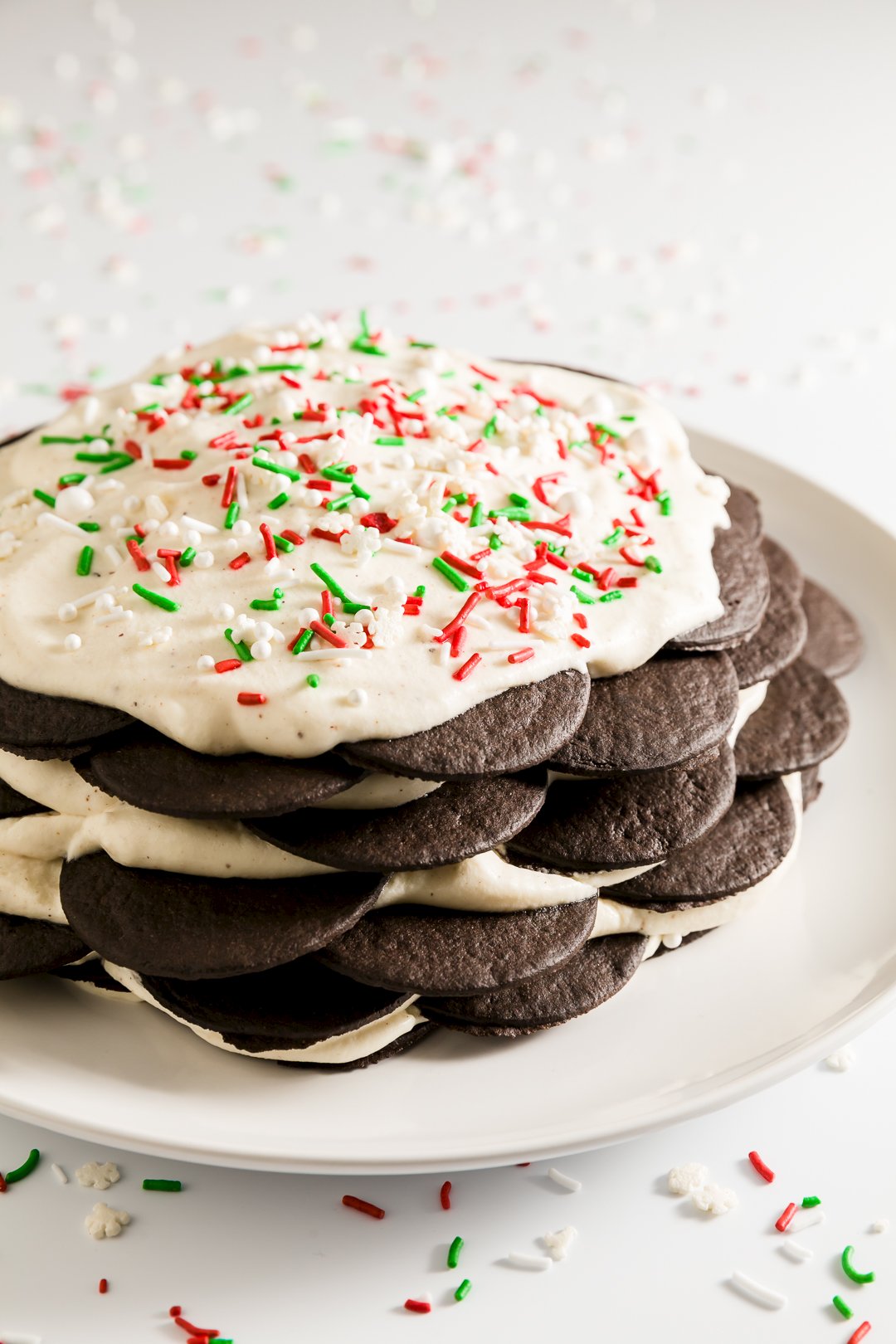 I don't always get a chance to make the recipes from my contributors, but I really wanted to make Jessie Sheehan's eggnog icebox cake. I had never made an icebox cake before (if you haven't either, you should read her introductory post on icebox cakes) and Jessie's seemed like a great cake to start with. It came together so easily, it was fun to see the cookies magically transform into cake, and the taste was phenomenal. I could go on, but I'll let Jessie tell you more about it.
Eggnog and chocolate are a match made in icebox cake heaven.
For the uninitiated, an icebox cake is a no-bake cake that never sees the inside of an oven. Cookies (or ladyfingers or graham crackers) are layered with whipped cream or pudding and placed in the refrigerator to "set-up."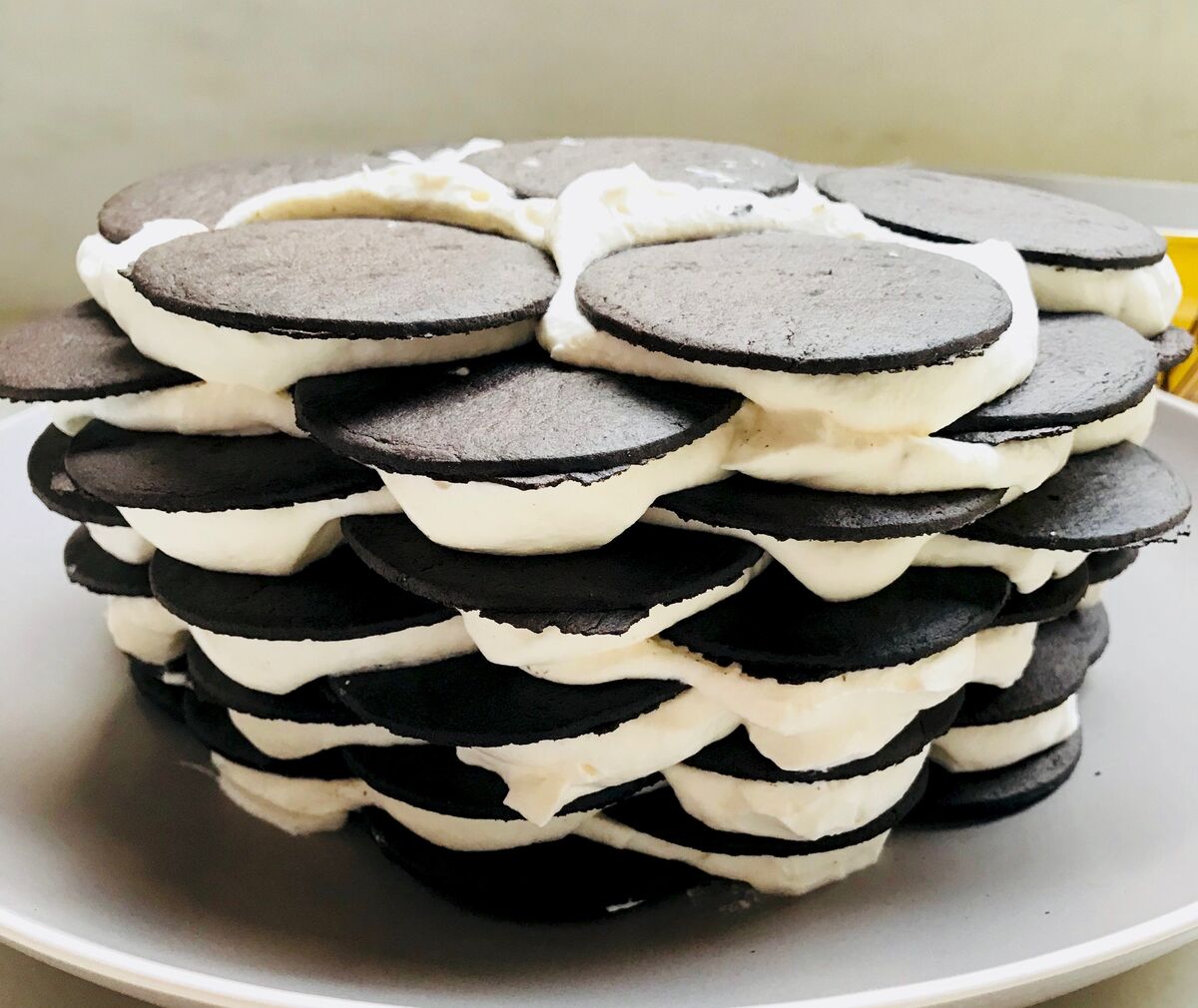 The rest in the "icebox" encourages the cookies to soften and absorb the cream, and what you remove from the fridge several hours later is nothing short of cake perfection.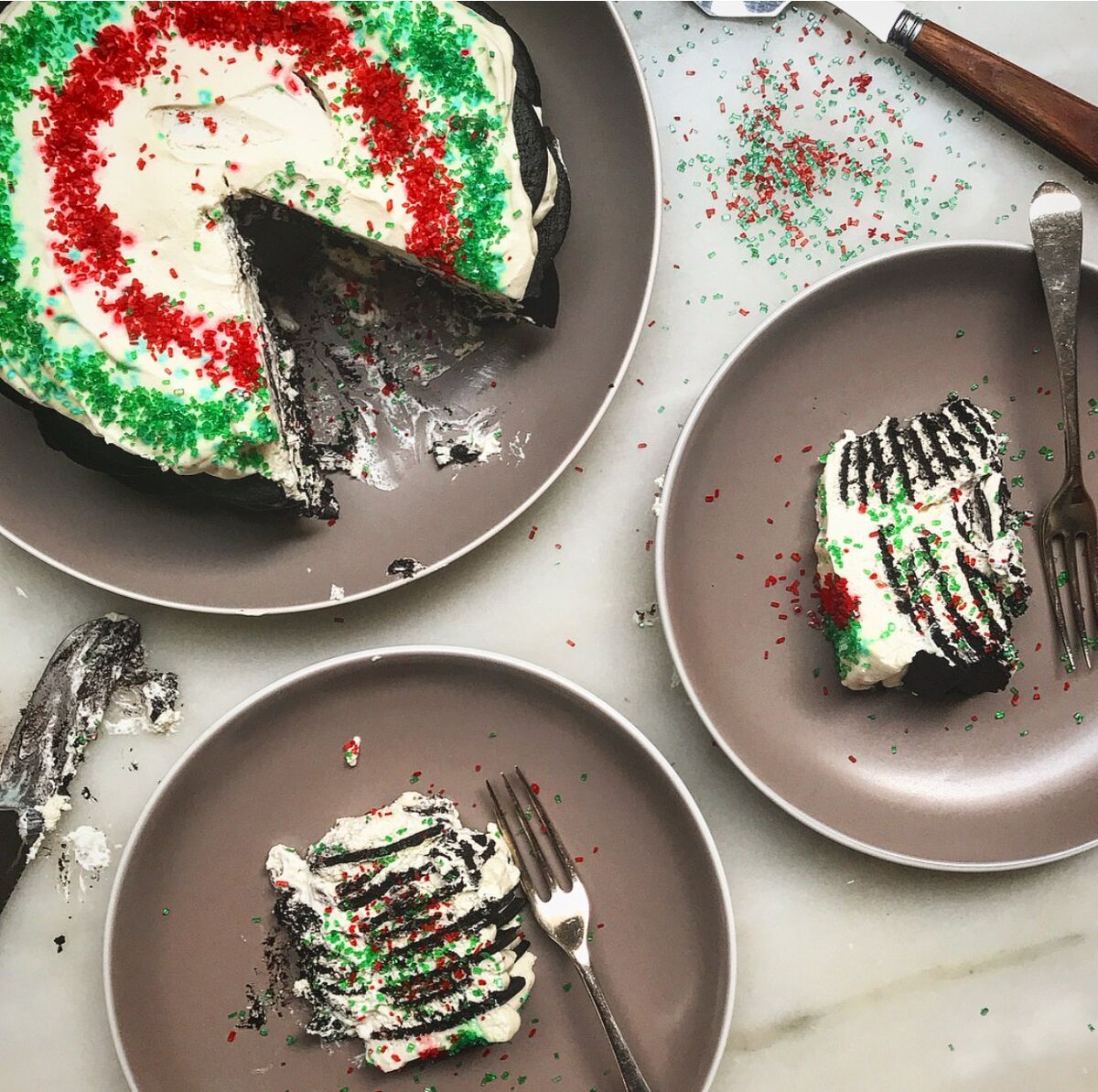 Here, thin, deeply chocolate-y wafer cookies are combined with a whipped cream made from eggnog. Freshly ground nutmeg is added to the cream for an extra warm and spicy pop.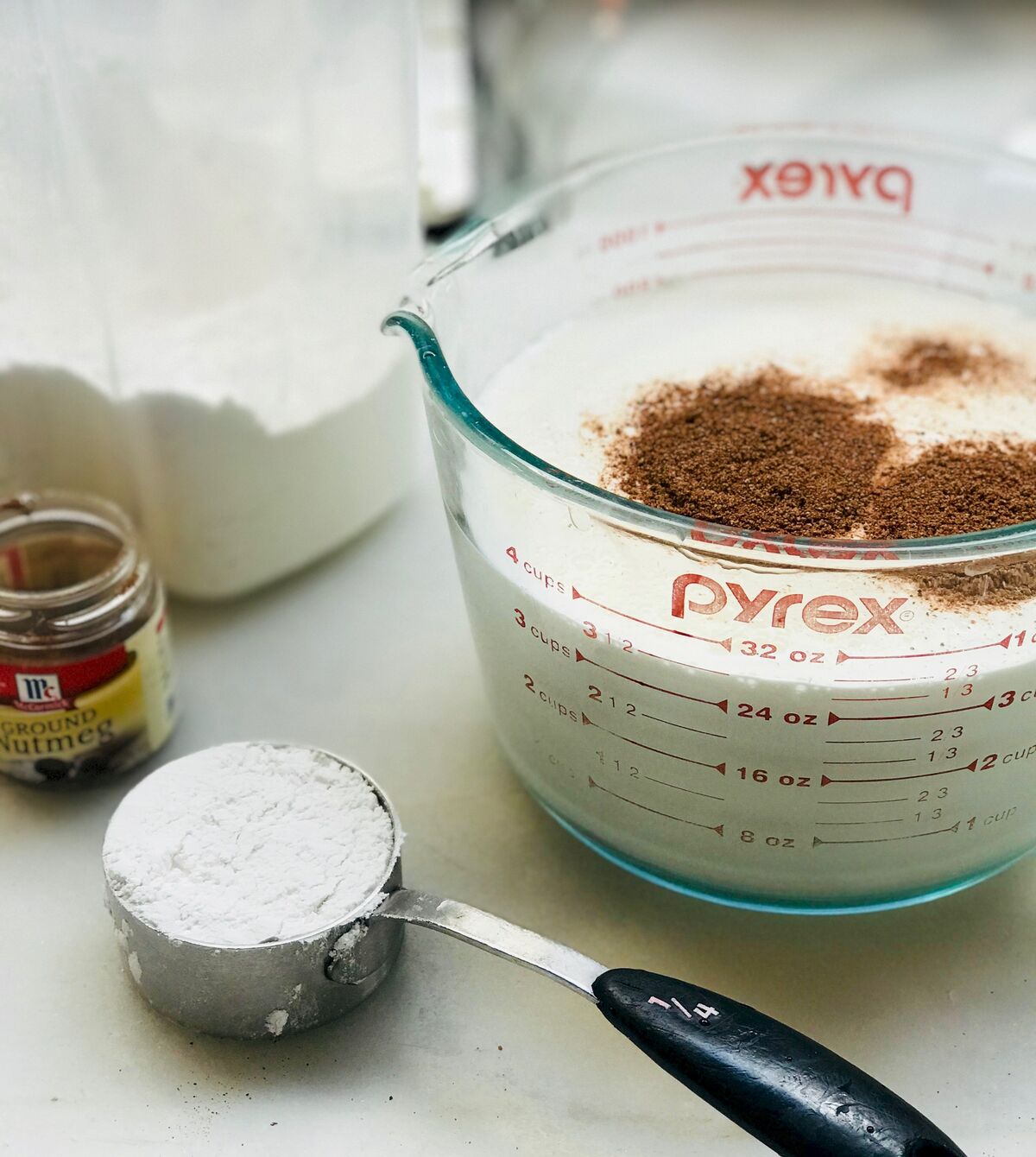 This cake is perfect for the holidays as a treat to serve guests during a tree-trimming party, or even for dessert after Christmas Eve dinner. The recipe calls for store-bought wafer cookies, but includes a link to a recipe for homemade ones if you are feeling particularly DIY this season.
Finally, the instructions include directions for assembling the cake as a free-form "layer cake." But if you'd rather assemble it in an 8x8x2-inch square pan, by all means do so. Or, be creative and assemble it in the shape of a candy cane or Christmas tree. Decorate the final product with sprinkles or a sprinkling of red and green sparkling sugar – and, please, save me a piece.
Other Christmas Dessert Ideas
Eggnog Icebox Cake
This eggnog icebox cake is a super easy no-bake treat for the holidays!
Ingredients
2

cups

heavy whipping cream

1 1/4

cups

eggnog

6

tablespoons

confectioners' sugar

1 1/2

teaspoons

nutmeg

70

chocolate wafer cookies

Jessie prefers the 2 inch Nabisco wafers or you can make your own using the linked recipe.

Sparkling sugar or sprinkles

for decorating
Instructions
Place the heavy whipping cream, eggnog, sugar, and nutmeg in a stand mixer fitted with the whisk attachment and whisk on medium to medium-high until peaks form. You want to whisk the cream just a bit longer than you might think necessary, as the stiffer the cream, the sturdier your cake will be once it has finished setting up. Sturdiness is particularly important when your cake is freeform and is not being assembled in a vessel.

Place 6 cookies on a serving plate in a circle and add a seventh to the center. Keep in mind that it is nearly impossible to transfer the cake to a different plate, so pick the plate you'd like the cake to ultimately be on. Using a small offset spatula or butter knife, dab a bit of the whipped cream mixture beneath each cookie to anchor it to the plate. Place a scant 1/2 cup of cream on top of the cookies and spread the cream not quite to the edges of the cookies.

Place another layer of cookies atop the whipped cream, staggering them (i.e. placing each cookie on this layer atop the space between two cookies on the prior layer). I like to use a tablespoon cookie scoop, or measuring spoon, and place a generous tablespoon of cream on top of the center cookie and on top of the space between each of the remaining cookies (rather than dolloping on a 1/2 cup portion), but that's just me.

Apply another 1/2 cup of cream, and another seven staggered cookies, and continue doing so until you have a ten-layer cake. Place a final layer of whipped cream on top of the cake, and sprinkle with sparkling sugar or sprinkles.

Lightly cover with plastic wrap and let set-up in the refrigerator for at least 6 to 8 hours.

Slice as you would a layer cake, and serve with an extra sprinkle of sparkling sugar.
Notes
You can use more or less of the whipped cream filling between layers to make a shorter or taller cake.
Nutrition
Nutrition Facts
Eggnog Icebox Cake
Amount Per Serving
Calories 354
Calories from Fat 279
% Daily Value*
Fat 31g48%
Cholesterol 139mg46%
Sodium 58mg2%
Potassium 146mg4%
Carbohydrates 14g5%
Protein 4g8%
Vitamin A 1275IU26%
Vitamin C 1.2mg1%
Calcium 120mg12%
Iron 0.1mg1%
* Percent Daily Values are based on a 2000 calorie diet.
---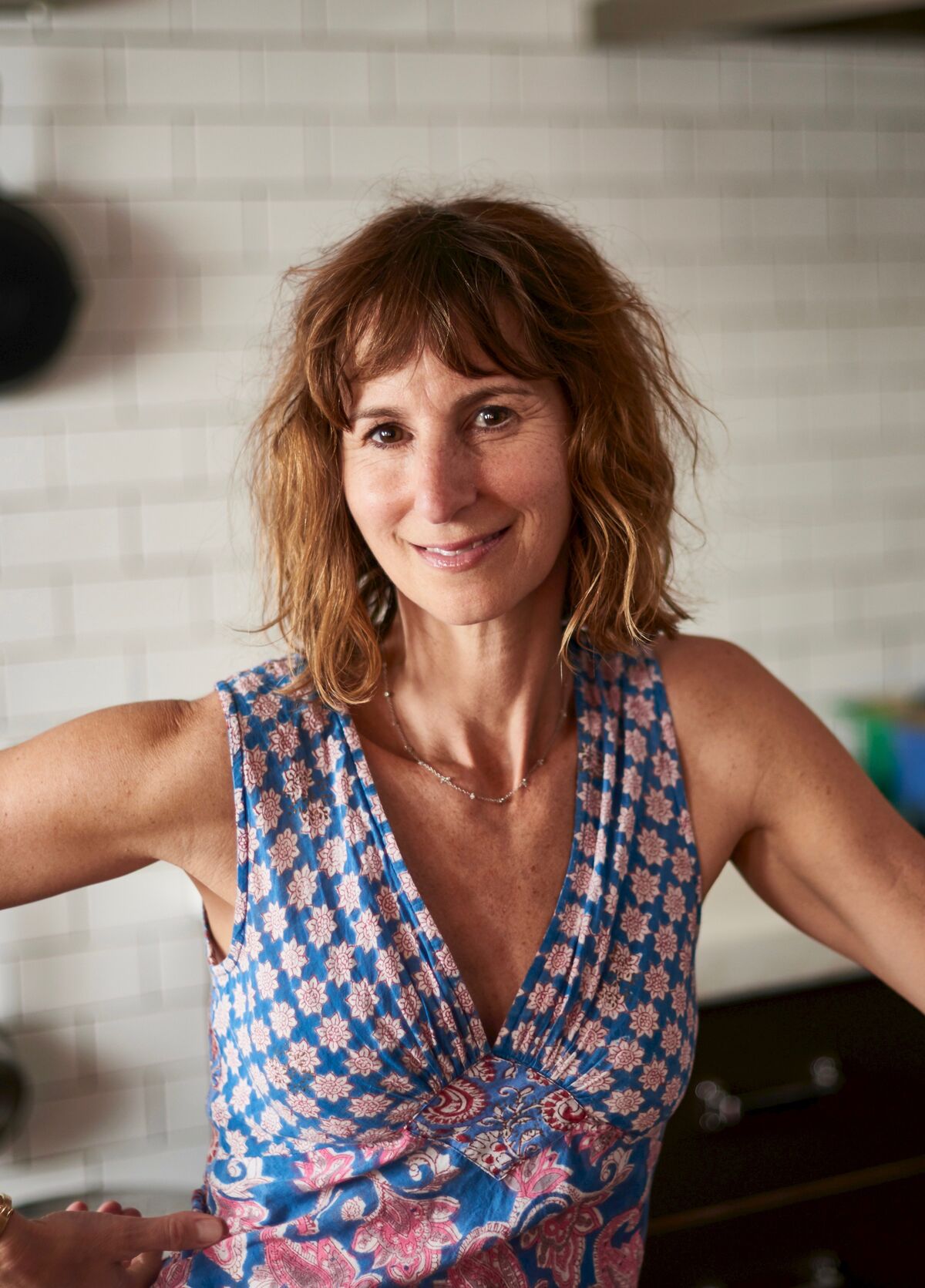 Jessie Sheehan is a cookbook author, baker, and recipe developer. She is the co-author of Icebox Cakes (Chronicle Books, 2015), the author of the upcoming The Vintage Baker (Chronicle Books, April 2018), and has contributed to many other cookbooks. She blogs at jessiesheehanbakes.com, writes and edits for various blogs and publications, and can be found on Instagram at @jessiesheehanbakes.