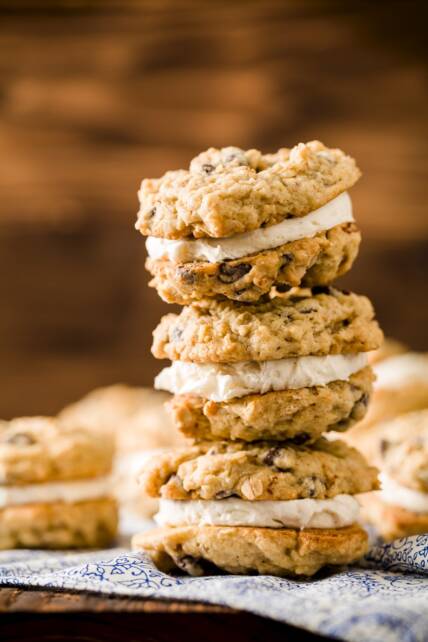 Today's post about oatmeal cream pies is a choose your own adventure.
If you dream about soft and chewy oatmeal cookies that aren't cloyingly sweet and have chocolate chips sprinkled throughout, bake the cookies used in these oatmeal cream pies and just stop there.  You'll love them straight-up and unadulterated.
If you want to get decadent, definitely sandwich some of my fluffy vanilla bean filling between two of my oatmeal cookies and make the best oatmeal cream pies you've ever had.
If you don't have time to make filling, you can just shove some marshmallow fluff between two of my oatmeal cookies and call it a day.  Just please don't tell me about it, because it will make me sad.
If you can resist eating all of the oatmeal cream pie cookies, save some for use in ice cream bars.  (More on this soon, thanks to Julianne's Bayer's fabulous new book, No-Bake Treats)
No matter which oatmeal cream pie adventure you choose, you can't go wrong.  But watch out, you may be asked to bring oatmeal cream pies to every potluck from now on.
Chocolate Chip Oatmeal Cream Pies With Vanilla Bean Filling Recipe and Notes
The oatmeal cookie recipe is loosely adapted from Vonieta Stonger's recipe on AllRecipes.
Chocolate Chip Oatmeal Cream Pies With Vanilla Bean Filling
Ingredients
Oatmeal Cookie Ingredients

3/4 cup brown sugar
1/2 cup white sugar
3/4 cup unsalted butter, room temperature
2 large eggs
1/2 teaspoon salt
1/2 teaspoon ground cinnamon
1 teaspoon baking powder
1/4 cup heavy whipping cream
1 teaspoon baking soda
2 1/2 cups all-purpose flour
2 cups rolled oats
1 cup semi-sweet chocolate chips

Filling Ingredients

1 cup unsalted butter, room temperature
2 cups powdered sugar
2 tablespoons heavy whipping cream
1 tablespoon vanilla bean paste
1/4 teaspoon salt
Instructions
Preheat the oven to 350 F.
In a medium-sized mixing bowl, beat brown sugar, white sugar, and butter until light and fluffy.
Mix in eggs one at a time until fully combined.
Mix in salt, cinnamon, baking powder, heavy whipping cream, baking soda, and flour until just combined.
Fold in oats and chocolate chips.
Scoop out golf ball-sized balls of dough and set them on parchment- or Silpat-lined cookie sheets spaced about 2" apart from each other.
Bake for 10 minutes or until they are lightly browned around the edges.
Cool on a cooling rack.

Filling Instructions

Beat butter for two minutes on high speed in the bowl of an electric mixer.
Add powdered sugar and beat for another two minutes. It's important to beat for a long time in order to incorporate a lot of air and to end up with the fluffy texture that we are looking for.
Mix in heavy whipping cream, vanilla bean paste, and salt and beat for another minute.
Sandwich spoonfuls of filling between pairs of cooled cookies.
http://www.cupcakeproject.com/2016/07/oatmeal-cream-pies.html