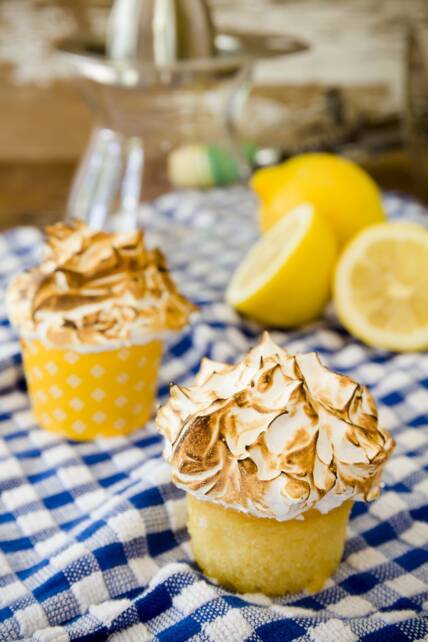 Road tripping across mid-America inevitably leads to spotting signs for world-famous mile-high pies.  If you subscribe the the belief that bigger is better, the promise of pies rising into the sky (just how tall will they really be?) calls you off the highway, past corn fields, corner stores, and timeless homes to pie shops with rocking chairs out front.  I researched these bites of Americana and crafted them into cupcakes – specifically, mile-high lemon meringue cupcakes.
To make mile-high lemon meringue cupcakes, start with Ultimate Vanilla Cupcake batter and bake a big dollop of lemon filling inside.  In the oven, the two combine to create a dense, custard-like cupcake.  Top the cupcake with as huge a pile of toasted meringue as possible.  Check out my Instagram feed to see what happened when I got a bit carried away.
Mile-High Lemon Meringue Cupcake Recipe Tips and Shoutouts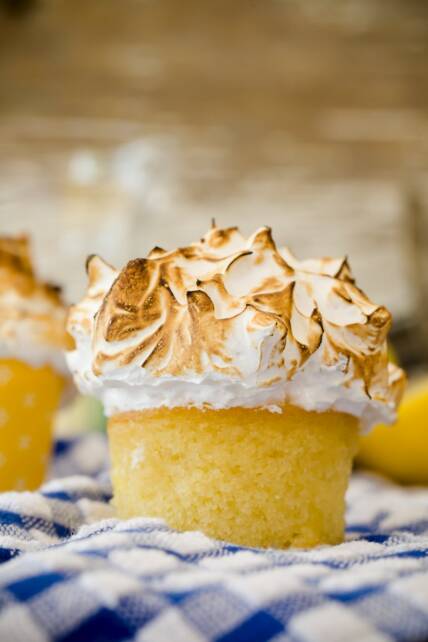 For the lemon filling in these cupcakes, I used Noble Pig's mom's mile-high lemon meringue pie filling recipe.  It's reprinted in the recipe below in my own words.