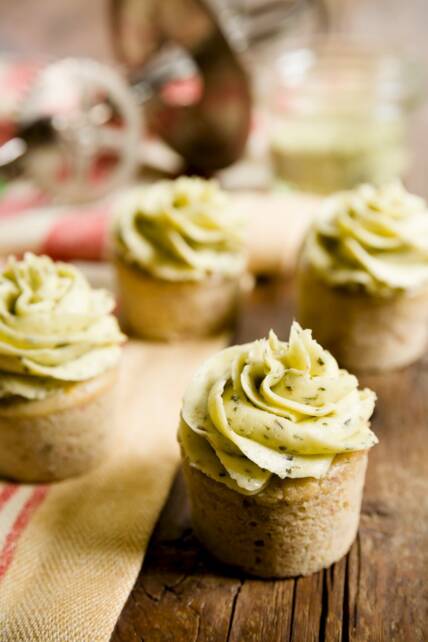 Strawberry desserts fall into two categories: those that taste like freshly picked strawberries, like local hand-churned strawberry ice cream, and those that have an intensely sweet strawberry flavor, like strawberry lollipops or the strawberry syrup drizzled over diner strawberry cheesecake.  I'm a huge fan of the former.  Pile too much sugar into strawberry desserts and you lose that berry patch simplicity.
These strawberry basil cupcakes fit comfortably into the first category.  They are made with food-processed fresh strawberries, and basil sugar is used instead of plain sugar to give the cupcakes a more vibrant taste.   Instead of hiding the cake's flavor behind a sweeter strawberry frosting, the basil buttercream complements the strawberry and brings out its flavor even more.  These are the cupcakes I'll reach for again and again in the dog days of summer when no fake flavor will do and the earth is ripe for picking.
What You'll Need to Make Strawberry Basil Cupcakes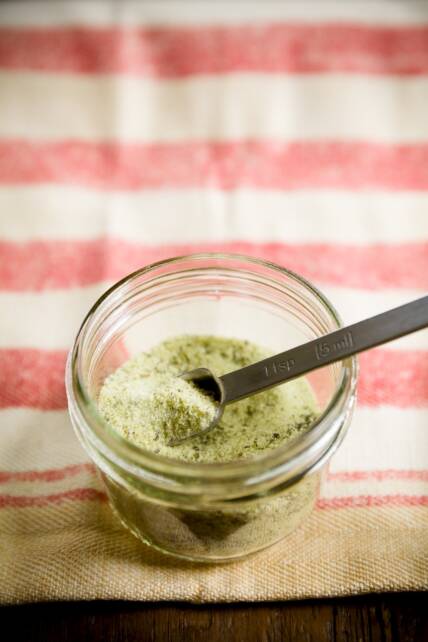 To make strawberry basil cupcakes, you'll need basil sugar and basil powdered sugar.  To learn how to make both, see my post on basil sugar.
Strawberry Basil Cupcakes with Basil Buttercream
Ingredients
Cupcake Ingredients

1 cup basil sugar
1 3/4 cups cake flour, not self-rising
1 1/2 teaspoons baking powder
1/2 teaspoon baking soda
1/2 teaspoon salt
1/4 cup unsalted butter, room temperature
2 large eggs, room temperature
1/3 cup greek yogurt
1/4 cup canola oil or vegetable oil
1/2 teaspoon vanilla extract
2/3 cup pureed fresh strawberries
1/4 cup whole milk

Basil Buttercream Ingredients

1 cup unsalted butter, room temperature
2 cups basil powdered sugar
2 cups powdered sugar
1/2 teaspoon salt
Instructions
Preheat oven to 350 F.
In a medium-sized mixing bowl, mix basil sugar, cake flour, baking powder, baking soda, and salt.
Add butter and mix until fully combined.
In a small mixing bowl, whisk together eggs, yogurt, oil, and vanilla until smooth.
Add egg mixture to flour mixture and mix until just combined.
Mix in strawberries until just combined.
Mix in milk until just combined.
Fill cupcake liners 3/4 full.
Bake for 20 minutes or until cupcakes bounce back when lightly touched.

Basil Buttercream Instructions

In a medium-sized mixing bowl, beat butter until light and fluffy, about 3 minutes on high speed.
Mix in basil powdered sugar a little bit at a time.
Mix in powdered sugar a little bit at a time.
Mix in salt.
Pipe or spread onto cooled cupcakes.
http://www.cupcakeproject.com/2013/08/strawberry-basil-cupcakes.html