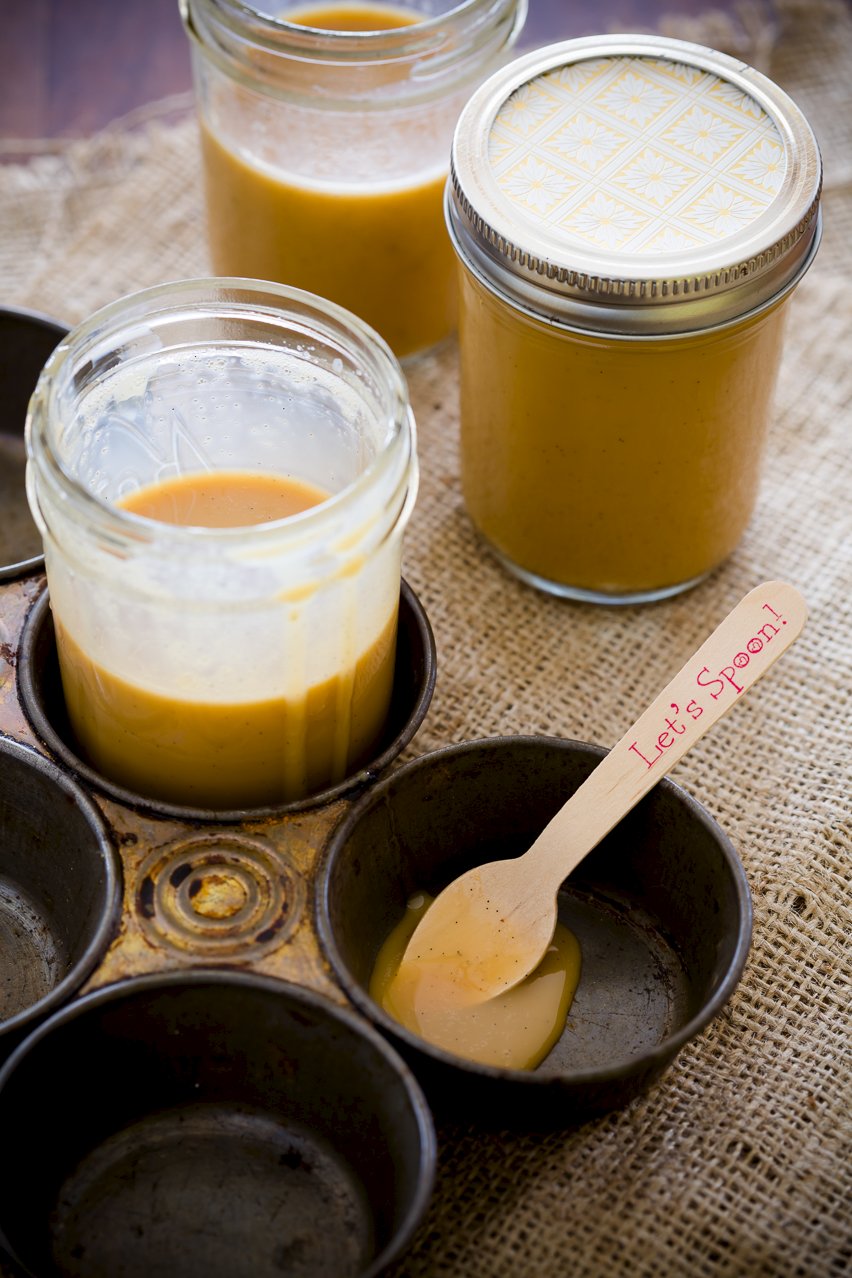 Today, my three year old told me that he had one hundred hugs for me.  Cajeta, Mexican goat milk dulce de leche, is like that.  It's not the kind of sweet that makes you want to gag (like a really bad pick-up line).  Rather, it's an innocent sweet – so heartwarming that you get chills as it sinks into your soul.
Make your cajeta on a grey day, one where even getting out of your pajamas seems like a burden. Wafts of milky sugar will be your sunbeams and the rhythmic motion of your wooden spoon circling the pot will be the light breeze swaying your hammock.
Why Cajeta?

I've been serving up dulce de leche since I made dulce de leche for the first time back in 2008 (that first one looks a little sad and chunky, but the taste was good enough to get me hooked). I can't turn down any variety of dulce de leche, and I often employ the cheater method (a can of sweetened condensed milk in the crock pot).  Cajeta is my new favorite.
The goat milk needed for cajeta is a little harder to find than cow's milk but it's worth the hunt (the Whole Foods near my house carries both quart and half gallon cartons of it). It tastes like whole cow's milk, but can be a bit more tangy and slightly richer.  Like cow's milk, the taste varies depending on the goats' diets, so different brands can have different subtleties.  The flavor of the goat milk enhances dulce de leche in a way that I didn't think was possible.  I had no idea dulce de leche could get any better.
I also added a splash of rum to my cajeta – totally optional, but wonderful if you love rum.
What To Do With Cajeta
If you don't eat all of the cajeta off of your spoon (I got my "Let's Spoon" spoons from my friend Brooke, owner of Sucre Shop), then I have some other ideas for you.  I've used dulce de leche in chocolate cupcakes, as frosting on banana cupcakes and mango cupcakes, and in a very special breakfast souffle.  I'll also share a couple of new ideas later this week.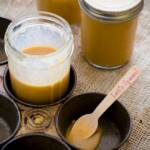 Cajeta – Mexican Goat Milk Dulce De Leche
Servings
4
half pint jars of cajeta
Ingredients
2

quarts

goat milk

1

tablespoon

vanilla bean paste

2

cups

sugar

1/2

teaspoon

baking soda

1

tablespoon

water

1/4

cup

dark rum

optional
Instructions
In a heavy-bottomed pot on medium-low heat, combine goat milk, vanilla bean paste, and sugar. Simmer and stir periodically with a wooden spoon until sugar is dissolved - about ten minutes. Be sure to scrape the bottom of the pot well so that no sugar sticks. Tip: Choose a pot that is larger than you think you'll need just in case the mixture starts to bubble up. You don't want to clean burnt sugar off of the stove top.

Dissolve baking soda in water and add to milk/sugar mixture. This helps prevent lumps and aids in caramelizing.

Simmer for an hour, stirring periodically.

Add the rum and continue to simmer until the cajeta is thick enough that it sticks to the back of a spoon (another couple of hours), keeping in mind that after the mixture cools it will be slightly thicker. At some point in the process, you might be tempted to speed things up by turning up the heat. Resist the urge. You've already invested a lot of time and turning up the heat will most likely cause you to have a burnt mess rather than cajeta. As you have less and less liquid, the mixture will come to more of a boil and you'll need to stir more often. For the last half hour, I'd suggest constant stirring.

Remove from heat. Cool and transfer to jars, Tupperware, your mouth, or whatever seems appropriate.
Recipe Notes
I got the recipe for this cajeta from Coco Cooks. I have reprinted it with my own descriptions and notes.