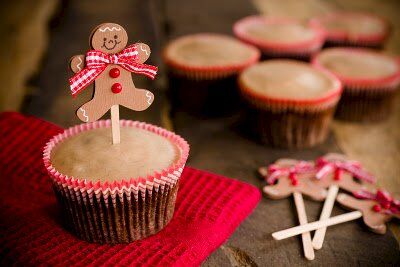 I've made gingerbread cupcakes before, but this month for my guest contributor post on Paula Deen, I wanted to take gingerbread cupcakes to the next level.  I added chocolate, a splash of coffee, and a bold, ginger orange glaze – and ended up with an unforgettable, sophisticated holiday cupcake.
I totally fell in love with the handmade paper gingerbread toppers from Etsy seller LOVE2STAMP4U.  If you'd rather use edible toppers, these chocolate gingerbread cupcakes would be adorable topped with real gingerbread men or homemade gingersnap cookies.
Ready to bake? Head over to Paula Deen's website for the chocolate gingerbread cupcake recipe!