Pomegranate Tartlets
Published , Last updated by
Stef
Disclosure: As an Amazon Associate, I earn from qualifying purchases.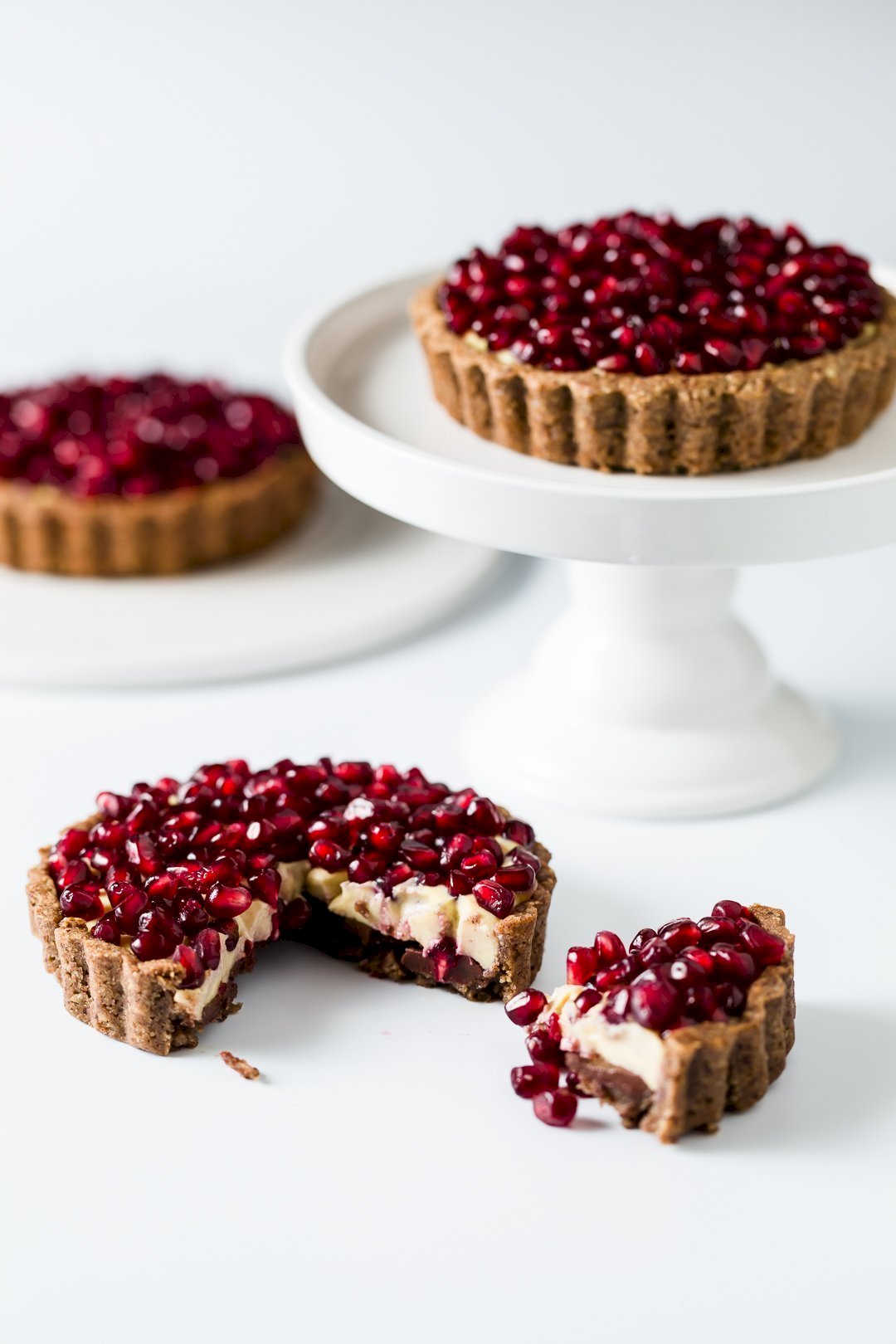 Virginie Wiggins is back to share her pomegranate tartlets recipe. Not only did she write this post and let me try her delicious tartlets, but she let Myles play at her house with her boys while Jonathan took photos of the tartlets. She's the best! I hope you love her tartlets as much as I do.
---
I am a bit of a health freak. And, here I am posting on Cupcake Project, baking blog, epicurean heaven. I don't think the two are incompatible. To me, chocolate = magnesium. Custard = proteins. Fruit tarts = vitamin C. Yes, eating dessert can make you healthier!
Take pomegranate, for example. This Middle Eastern fruit has many virtues! It is an antioxidant, fights heart disease, lowers high blood pressure, and decreases inflammation. It is rich in vitamin C, potassium, and fiber, although you will miss out if you just suck the juice out of the seeds and spit out the white middle.
Too many people do not eat pomegranate because it is too hard to extract the seeds! If you are one of them, I exhort you to consult this YouTube tutorial by Mama Natural and bypass your fears.
All you need is a paring knife to cut the skin "from flower to stem" in several sections, and tear up these portions of skin inside a bowl full of cold water. You don't want your kitchen to look like a crime scene!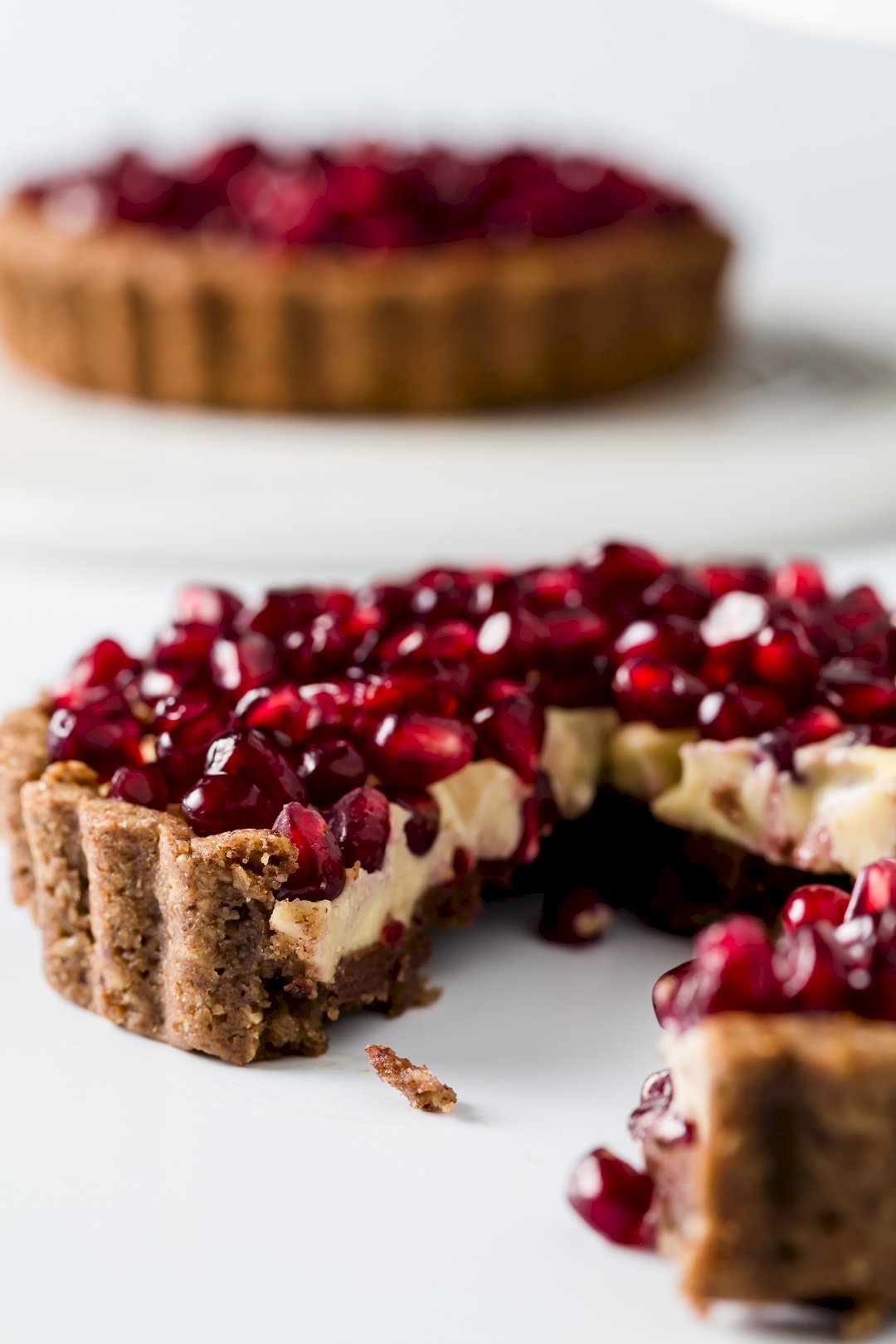 Pomegranate season runs from October to February, on schedule for Valentine's Day and a romantic dinner with a special someone. Pomegranate seeds are bright red – the color of passion! Your Valentine will be so impressed: You baked seemingly elaborate pomegranate tartlets AND made healthy choices to show your love. (In the meantime, you did not even dirty your kitchen walls!) Happy Valentine's Day!
Pomegranate Tartlets
These pomegranate tartlets are healthy and delicious treats!
Ingredients
Crust Ingredients
1

cup

unsalted chopped pecans

1

tablespoon

shredded coconut

1

tablespoon

sugar

I use coconut sugar or honey

pinch

salt

1

tablespoon

cocoa powder

optional

1

large

large egg
Ganache Ingredients
3

ounces

bittersweet chocolate chips

1/2 cup

4

tablespoons

full-fat coconut milk

the rest of the can is used the pastry cream

pinch

salt
Pastry Cream Ingredients
2

teaspoons

gelatin

I use Great Lakes unflavored beef gelatin; you can substitute with 1/2 package of Knox gelatin.

2

tablespoons

water

400

milliliters

full-fat coconut milk

(MINUS the 4 tablespoons used in the ganache)

4

large

large egg yolks

1/3

cup

sugar or honey

1

teaspoon

vanilla extract

2

cups

pomegranate seeds

from 2 pomegranates
Instructions
Crust Instructions
In a small food processor, blend together the pecans, shredded coconut, sugar, salt, and optionally cocoa powder until you are left with a coarse powder.

Add in the egg and process until a paste forms. (Do not over-process or it will get too oily).

With your fingers, spread into four small, lightly greased tart molds (5'' diameter). It should be done easily, although if the dough is too sticky, you can first wet your fingers with water.

Bake the crusts for 15 to 18 minutes, until they feel dry and cooked (don't burn yourself!) and look golden but not dark brown.

Let them cool completely. You can also prepare them a day ahead and keep them in the fridge before adding ganache.
Ganache Instructions
Place chocolate chips, milk, and salt in a small pan on medium heat and gently stir until the chips begin to melt (about 3 minutes).

Remove from heat and stir vigorously until the chocolate is melted completely.

Let the ganache cool about 10 or 15 minutes.

Once cooled, divide the ganache into the bottoms of the empty tart crusts.
Pastry Cream Instructions
Stir the gelatin in water in a small bowl and let it rest and swell (bloom) for about five minutes while you continue with the recipe.

Bring the milk to a simmer in a small saucepan.

While the milk warms up, stir together the egg yolks, sugar and vanilla in a medium bowl.

Temper the egg mixture by pouring some hot milk in, stirring constantly. Then, pour in the rest of the milk.

Return this mixture to the saucepan and thicken on medium-low heat. It should take about 5 minutes.

Remove the custard from the stove and stir in the bloomed gelatin until it is fully dissolved.

Let the custard cool. It should have the consistency of heavy cream.

Once the custard has cooled (but not set!) for about 15-20 minutes, divide between the 4 crusts.

Place in the fridge to rest.

After 10-15 minutes, drop about 1/2 cup of pomegranate seeds on top of each tartlet, pressing LIGHTLY on top of the custard. Place the seeds on top of the custard one pinch at a time in order to not disturb the custard or cause the seeds to bleed!

Let the tartlet set completely in the fridge for a minimum of 2 hours.

Serve at room temperature.
Nutrition
Calories:
384
kcal
|
Carbohydrates:
28
g
|
Protein:
7
g
|
Fat:
29
g
|
Saturated Fat:
16
g
|
Cholesterol:
118
mg
|
Sodium:
37
mg
|
Potassium:
373
mg
|
Fiber:
3
g
|
Sugar:
20
g
|
Vitamin A:
165
IU
|
Vitamin C:
4.9
mg
|
Calcium:
71
mg
|
Iron:
2.9
mg
---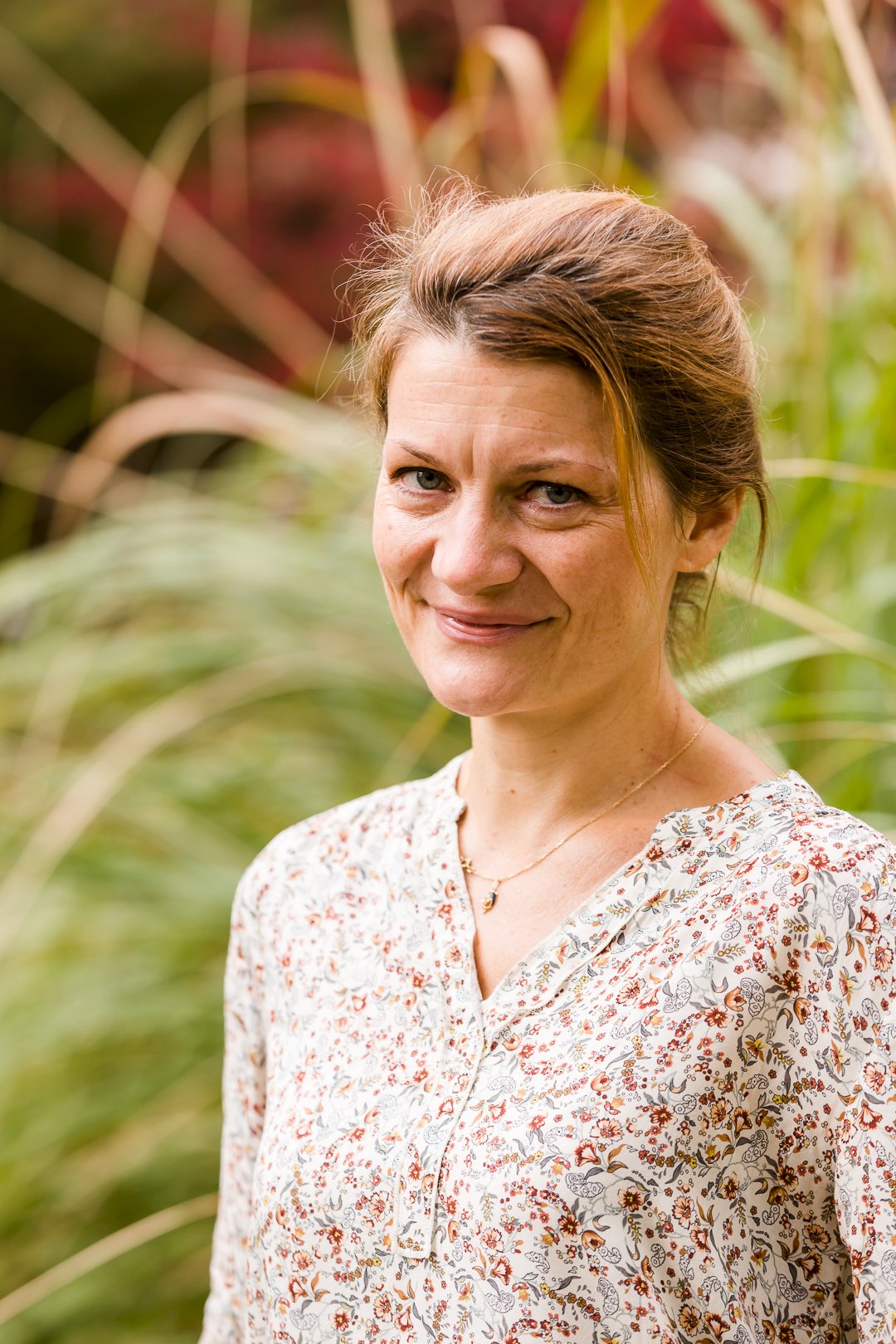 Virginie Wiggins is a mother of two boys, French teacher, baker, and blogger. She sticks to her French roots by making classic recipes "paleo", and occasionally revisits American classics by giving them a French flair.
Stay Connected!
Join my mailing list - and receive a free eBook!