Nougat With Chocolate Malt – Like in Milky Way Bars
Published , Last updated by
Stef
Disclosure: As an Amazon Associate, I earn from qualifying purchases.
Until I made homemade nougat, it was a mystery to me. Nougat was the alien chewy substance found in my least favorite candy bars. A request to make Milky Way cupcakes prompted me to do research and ultimately to make some myself.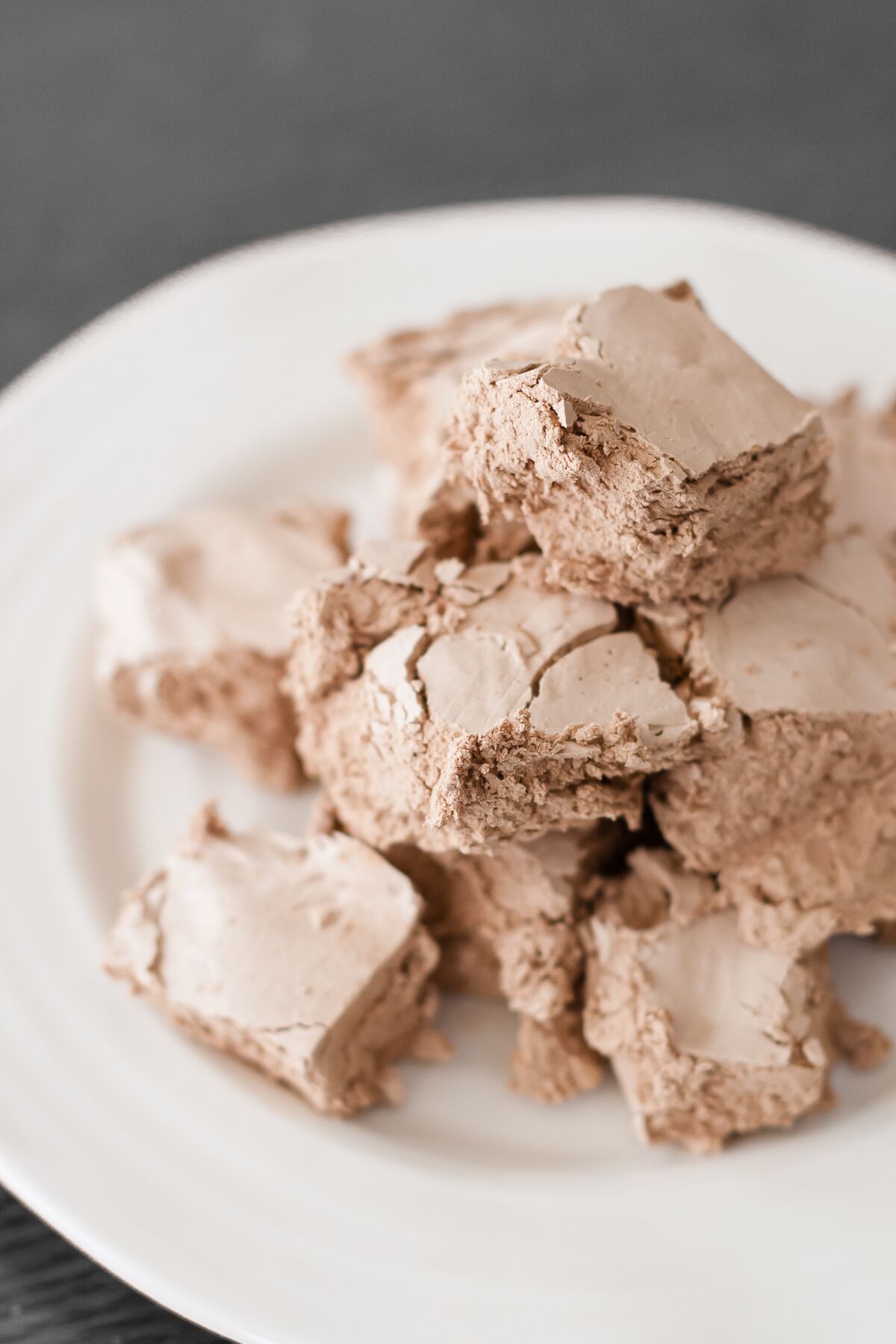 My homemade nougat was a spot-on match for Milky Way's nougat – sticky and sickeningly sweet. If you like Milky Way bars, you'll love this stuff!
While nougat is traditionally a candy prepared with nuts – per Wikipedia: "The word nougat comes from Occitan pan nogat (Occitan pronunciation: [panuˈɣat]), which means nutbread.") – the nougat in Milky Way [paid link] contains no nuts. It's a chocolate malt-based nougat. It's made with egg whites (like a meringue), sugar, corn syrup, malted milk powder, and chocolate.
I got the original malted milk nougat recipe from Elizabeth LaBau, who wrote it for About.com. I am reprinting it below with changes and my notes.
Nougat With Chocolate Malt – Like in Milky Way Bars
I wasn't ever a fan of nougat in candy bars, but then I looked into how to make it and was pleasantly surprised.
Ingredients
2

cups

granulated sugar

2/3

cup

light corn syrup

2/3

cup

water

2

large egg whites

2

ounces

unsweetened chocolate

1/3

cup

malted milk powder

1/8

teaspoon

salt
Instructions
Line an 8"x8" pan with parchment.

Place the sugar, corn syrup, and water in a medium saucepan over medium-high heat and stir until the sugar dissolves.

Brush down the sides of the saucepan with a wet pastry brush to prevent sugar crystals from forming. (While I skipped this step and didn't have any problems, it doesn't hurt to take an extra second to do.)

Cook without stirring until the temperature on a candy thermometer reaches 260 F. While you wait for the correct temperature, proceed to prepare the rest of the recipe.

Chop the chocolate into small pieces and place it in a microwave-safe bowl. Microwave until melted, stirring after every 30 seconds to prevent overheating. Stir until completely smooth, then set aside to cool slightly.

Place the egg whites in the clean bowl of a large stand mixer fitted with the whisk attachment.

When the syrup reaches 250 F, begin to beat the egg whites on medium speed.

Once the sugar syrup reaches 260 F, remove the pan from the heat.

Turn the mixer to high speed and slowly stream in the sugar syrup down the side of the bowl.

Continue beating on high speed for about 5 minutes, until the egg whites are shiny, white, and stiff.

Turn the mixer down and add the melted chocolate, salt, and malted milk powder. Mix until well-combined and smooth.

Turn the mixer off and scrape down the sides of the bowl very well. (The nougat will have the consistency of mounting putty [paid link].)

Scrape the nougat into the prepared pan and smooth it into an even layer. Allow it to cool at room temperature until completely set, then cut into small squares to serve (or set aside to use in cupcakes).

The nougat can be stored in an airtight container at room temperature for up to a week.
Nutrition
Calories:
112
kcal
|
Carbohydrates:
26
g
|
Protein:
1
g
|
Fat:
1
g
|
Saturated Fat:
1
g
|
Cholesterol:
1
mg
|
Sodium:
30
mg
|
Potassium:
37
mg
|
Fiber:
1
g
|
Sugar:
25
g
|
Vitamin A:
4
IU
|
Vitamin C:
1
mg
|
Calcium:
9
mg
|
Iron:
1
mg
Stay Connected!
Join my mailing list - and receive a free eBook!