Homemade Pan-Fried Gefilte Fish for a Haute Passover Seder
Published , Last updated by
Stef
Disclosure: As an Amazon Associate, I earn from qualifying purchases.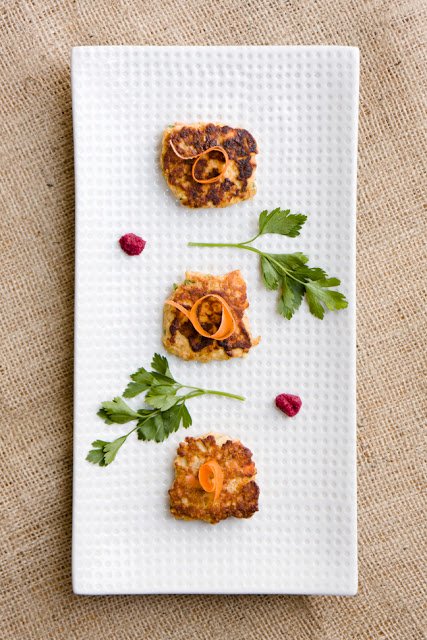 Pan fried gefilte fish are the gefilte fish for gefilte haters. Think of them as Kosher crab cakes (is it sacrilegious to even imagine Kosher crab cakes?) or Seder salmon croquettes. There is no jar jelly to contend with (anyone who's been tasked with plating gefilte fish for their family's Seder knows about this gross gefilte byproduct); and you can make homemade gefilte fish using high quality, socially responsible fish (check Seafood Watch before shopping for the best choices). Bubbie might miss the traditional cold gefilte (a Jewish staple that, like the jello mold, should have gone out of style in the 70's) but everyone else, Elijah included, will appreciate the change.
Pan Fried Gefilte Fish Recipe
When I mentioned the concept of making homemade gefilte fish, my mother, mother-in-law, and husband all had the same reaction. "Stinky!" They warned me that gefilte fish would smell up the house for days. The traditional way of making gefilte fish involves boiling fish, which sends the fish odor bubbling into the air, permeating the far corners of one's abode. This gefilte fish recipe, however, calls for pan-frying. While your house will smell a bit fishy, it's no worse than a typical fish dinner.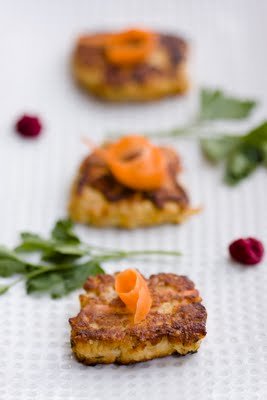 I got the idea for the pan fried gefilte fish from Jill at Hey, That Tastes Good! Jill modified a recipe from the Jewish cookbook Love and Knishes [paid link] to make hers. Here is my modified version of Jill's modified version:
Homemade Pan-Fried Gefilte Fish
You can make homemade gefilte fish using high quality, socially responsible fish.
Ingredients
1/2

lb

salmon

de-boned and skinned

1/2

lb

whitefish

deboned and skinned (you can substitute with any light fish of your choice)

1/2

large onion

minced

1

large carrot

minced

1

tsp

fresh parsley

minced

1/2

tsp

ground dill

1

tbsp

sugar

2

large eggs

3

tbsp

matzoh meal

1/2

tsp

salt

canola oil for frying
Instructions
Cut the salmon and whitefish into inch-sized cubes. Pulse in a food processor until the fish turns into a big glob of fishy mush.

In a medium-sized bowl, mix the fish with all of the other ingredients until well combined. I followed Jill's advice and used my hands. It doesn't smell good, but it's a good de-stressor.

Form the fish into patties about the size of a flattened golf ball.

Heat a few tablespoons of oil in a large pan over medium-high heat.

Add as many fish patties as you can fit at a time.

Cook until well browned on one side (a few minutes).

Flip and cook the other side (another few minutes).

Repeat until all of the gefilte fish are cooked.

Serve hot with horseradish.
Nutrition
Calories:
43
kcal
|
Carbohydrates:
2
g
|
Protein:
5
g
|
Fat:
1
g
|
Cholesterol:
28
mg
|
Sodium:
77
mg
|
Potassium:
109
mg
|
Vitamin A:
540
IU
|
Vitamin C:
0.4
mg
|
Calcium:
7
mg
|
Iron:
0.3
mg
Yes, I'm Going to Go There
Coming up next: gefilte fish cupcakes.
Stay Connected!
Join my mailing list - and receive a free eBook!