Gulab Jamun – Indian Syrup-Soaked Donut Holes
Disclosure: As an Amazon Associate, I earn from qualifying purchases.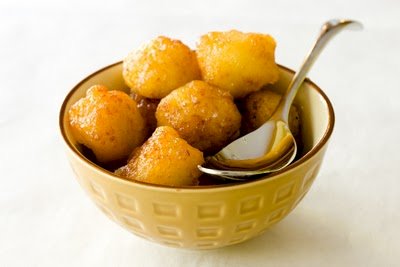 Gulab jamun is the Indian version of donut holes. But, unlike the donut holes that I would mooch off of my brother's soccer team while they were having halftime meetings, gulab jamun is not a finger food. Imagine, if you will, hot Krispy Kremes [paid link] fresh out of the fryer, soaked in sugar syrup, and then served on top of some extra syrup. That, my friends, is gulab jamun. Gulab jamun is a dish of little syrup sponges (in this case a cardamom syrup) that your arteries will hate you for but that you won't be able to resist (if you feel guilty, you can remind yourself that they aren't as fattening as deep-fried cupcakes).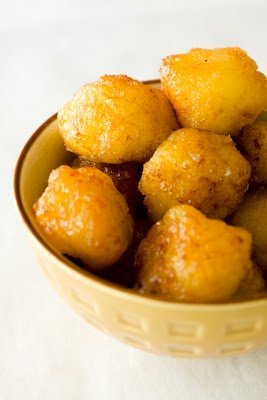 Many recipes for gulab jamun use mixes [paid link], but as regular readers know, I am a 100% from-scratch kind of gal. I got my gulab jamun recipe from My Feasts. It worked perfectly, with one exception: the balls were supposed to be able to soak in the syrup for hours, but after two minutes, my balls were fully saturated. By the five-minute mark, they had completely fallen apart in the syrup. I have two theories as to why this happened: the syrup could have been too hot, or the balls might not have been fried long enough. If you have any thoughts on this, please leave a comment.
To work around that minor hiccup, I found that the best technique was to let the gulab jamun soak for two minutes and then remove them from the syrup with a slotted spoon. When I was ready to serve them (if I didn't eat them immediately), I microwaved them for ten seconds at a time (until hot) and served them over a small amount of hot syrup.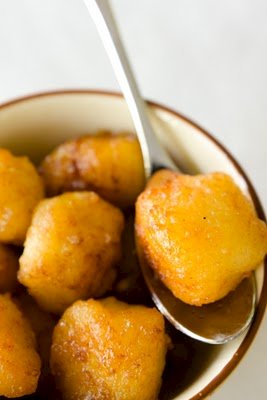 Other Indian Sweets
Make sure you check out this absolutely delicious carrot halwa!
Gulab Jamun - Indian Syrup-Soaked Donut Holes
Gulab Jamun are syrup-soaked donut holes straight from India. Perfect for your Diwali celebration.
Ingredients
Dough ingredients
2

C

powdered milk

1/2

C

all-purpose flour

1/4

C

+ 2 tbsp ghee

clarified butter

1/2

C

milk

room temperature

1/2

tsp

baking soda

vegetable oil for frying
Syrup ingredients
3

C

water

1 1/2

C

sugar

1/2

tsp

ground cardamom
Instructions
Mix powdered milk, flour and baking soda in a bowl.

Add ghee to flour and milk powder mixture. Mix well.

Slowly add milk. The dough will be very soft.

Let it rest for 20 minutes.

Bring all syrup ingredients to a boil in a heavy-bottomed sauce pan.

Reduce to low heat. Keep the syrup warm and ready for the addition of the fried gulab jamun.

After 20 minutes, pinch off small pieces of dough and roll them into little balls.

Fry the balls in vegetable oil. I used my

mini deep fryer [paid link]

. I very lightly fried mine (maybe that's why they didn't hold up as well). I liked them that way, but you could also keep them in the fryer for a few minutes to make them a darker brown.

Add the fried balls to the warm syrup. See my notes above about how long to soak them.

Serve warm over syrup.
Nutrition
Calories:
156
kcal
|
Carbohydrates:
22
g
|
Protein:
3
g
|
Fat:
5
g
|
Saturated Fat:
3
g
|
Cholesterol:
18
mg
|
Sodium:
83
mg
|
Potassium:
181
mg
|
Sugar:
20
g
|
Vitamin A:
130
IU
|
Vitamin C:
1.1
mg
|
Calcium:
125
mg
|
Iron:
0.2
mg