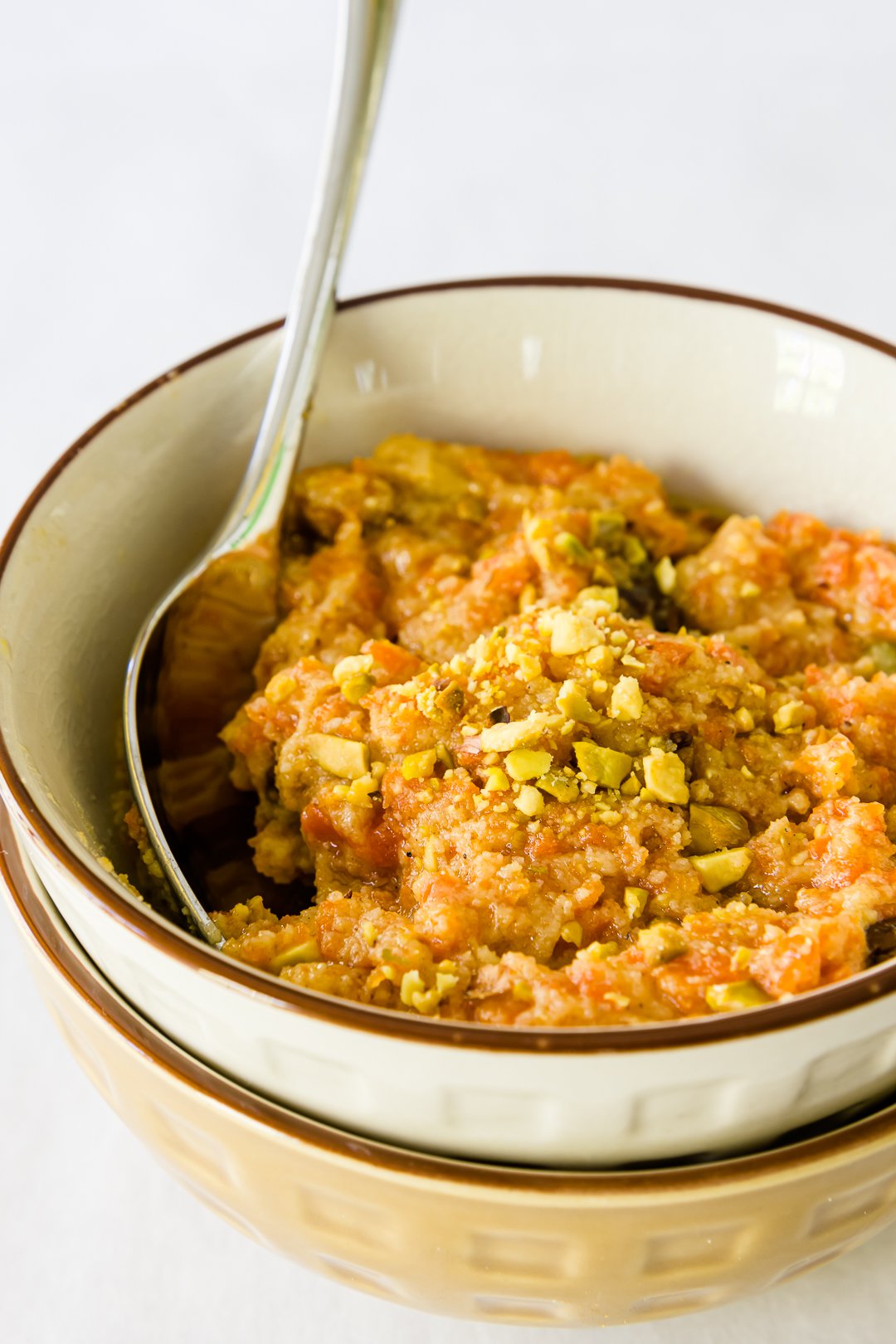 There's an Indian restaurant that I used to go to weekly where everything on the lunch buffet was orange;  there was the bright orange tikka masala, assorted curries in pale orange, and even the biryani had an orange tint to it.  While most other Indian places in town served kheer (rice pudding) for dessert, this one served warm orange mush.  It was this soothing porridge eaten in the company of good friends that somehow made returning to my cube of terror (this was before my life as a cupcake blogger) tolerable.  I had no idea what made the mush orange or gave it its exotic flavor. I hoped (but never asked) that it wasn't just lots of artificial color.
The orange mush was carrot halwa (gajar halwa) and I now know how to make it myself!  The exotic smell turned out to be cardamom and ghee simmering on the stove, and when I smelled it in my own house, I breathed it in deeply and lamented that I didn't have a whole orange buffet to go with it.
Carrort Halwa Recipe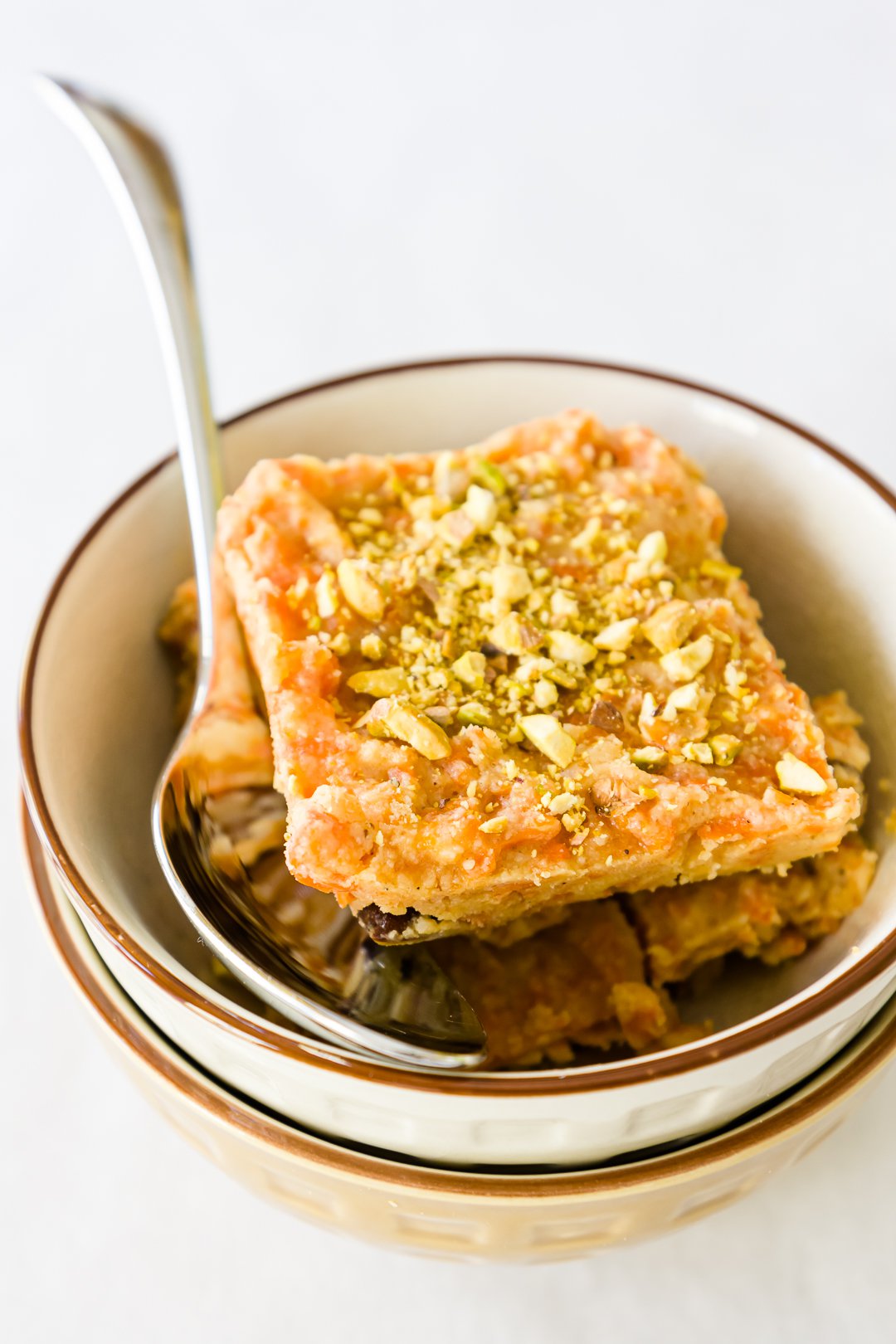 If you choose to serve the carrot halwa cold,
it can be served as squares (shown here) rather than mush.
I always prefer it warm!
I got the recipe for carrot halwa from IndiaCurry.com.  I modified it slightly and added my own tips and notes in the version below.
Carrot Halwa (Gajar Halwa)
Cardamom simmering in ghee will make you smile - and then you'll devour this orange bowl!
Ingredients
3

C

finely chopped carrots

tightly packed

1/2

C

ghee

If you can't find this near you, you can make your own ghee

1/4

C

cashews

split in half

1/4

C

sliced almonds

1

C

whole ricotta cheese

1

C

dried milk

I used skim and it worked fine, but if you can find whole milk, use that

1/4

C

milk

I used 2%, but whatever you have around will work

1

C

sugar

1/2

tsp

ground cardamom

1/4

C

shelled pistachios

crushed
Instructions
Put carrots in a covered/airtight microwave-safe dish.

Microwave for 10 minutes on high. Set aside.

Heat ghee in a heavy-bottomed pan on medium-low.

Fry cashews and almonds in the ghee until golden. Keep a close eye on them to ensure that they don't burn.

Remove the nuts with a slotted spoon and set them aside.

Add ricotta cheese and dried milk to the ghee and stir to combine.

Fry till almost all the moisture is gone and the cheese just starts to turn brown.

Add cooked carrots, stir to combine, and cook for two minutes.

Add milk, sugar and cardamom. Stir. Cook on low heat until almost all the moisture is gone again. (The original instructions said that this should take about ten minutes, but it took me about twenty.) Stir periodically to keep from scorching the bottom.

Remove from heat and mix in cashews and almonds.

Serve the carrot halwa immediately, garnished with the pistachios; or, transfer the mixture into an 8" square baking pan, let it cool to room temperature, and then refrigerate it. After two hours, cut it as squares and serve.
Nutrition
Nutrition Facts
Carrot Halwa (Gajar Halwa)
Amount Per Serving
Calories 832
Calories from Fat 450
% Daily Value*
Fat 50g77%
Cholesterol 121mg40%
Sodium 245mg10%
Potassium 997mg28%
Carbohydrates 80g27%
Protein 21g42%
Vitamin A 16665IU333%
Vitamin C 8.8mg11%
Calcium 497mg50%
Iron 1.8mg10%
* Percent Daily Values are based on a 2000 calorie diet.
Why Halwa?
While most of us in the United States are getting excited about Halloween, people in India are starting to think about Diwali (the festival of lights), which is on November 5.  This week, I'll be featuring desserts for Diwali.  Coming up, I've got gulab jamun and, of course, Diwali cupcakes!