Wondering what to get the cupcake lover on your holiday list?  I've got you covered.
---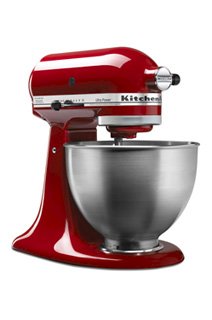 Must Have Cupcake Tools
Can you imagine Santa pulling the sleigh with rabbits instead of reindeer?  That's what it is like for bakers who do not have the proper baking tools.  Make sure the cupcake lover on your list has all of these essentials.
My Kitchen Aid mixer
is my most used kitchen tool.  At this point, I can't imagine having to regularly bake without it.  If you want to impress, this is the gift to buy.  Choose a color that matches the recipient's kitchen, or go with a neutral black or white.
For a cheaper gift for someone who already has a Kitchen Aid, get a a SideSwipe blade
.  It saves them from having to scrape the sides of the bowl as they mix.  Make sure you know what kind of mixer that they own to ensure that you buy the correct blade.
My mini food processor
is one of the few kitchen gadgets that stays out on my counter.  It is the fastest way to chop up a handful of nuts or fruit to throw into a recipe.  Love it!
While Ziploc bags can work for piping frosting, every cupcake enthusiast should have a set of decorating tips
and piping bags
.
It goes without saying (I think) that you need cupcake tins
to make cupcakes.  The cupcake lover on your list might appreciate some new ones, or get them a pan for making mini cupcakes
.
Finally, check out my reader generated list of cupcake decorating supplies for some more ideas.