Better Than Sex Cupcakes: Chocolate Times Five
Published , Last updated by
Stef
Disclosure: As an Amazon Associate, I earn from qualifying purchases.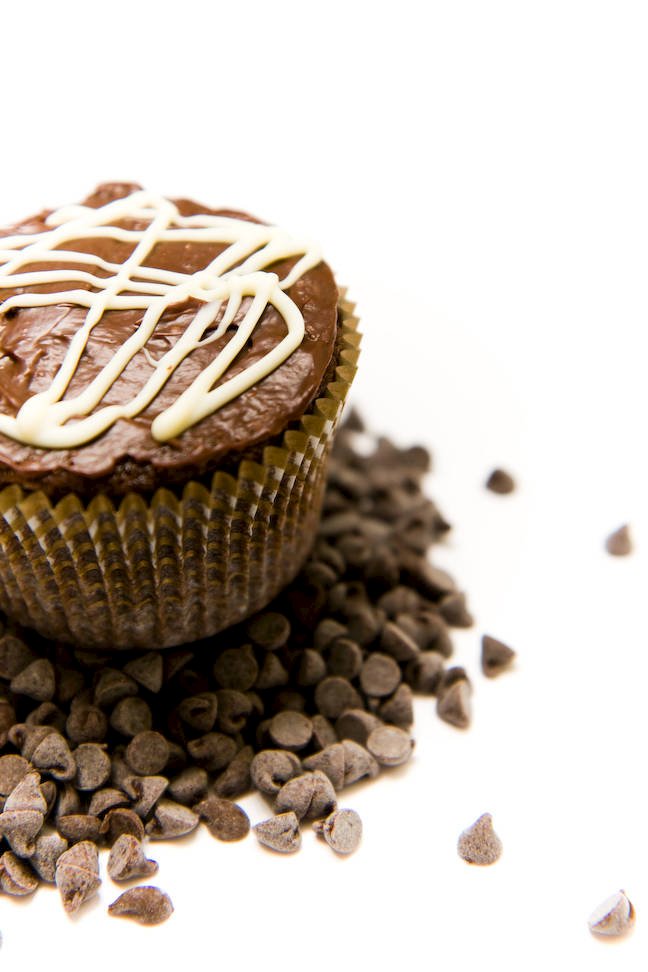 I don't want a 'plain chocolate cupcake'. I want a phenomenal, rich, delectable, 'better than sex' chocolate cupcake. Milk chocolate? White chocolate? Dark chocolate? All of the the above. Not EVERY cupcake needs to have an unusual flavor or a quirky ingredient. There's no reason that traditional has to mean boring. If I wanted a boring chocolate cupcake, I'd got to the store and buy a box mix and do it myself. I want the Cupcake
Project version.
This was my friend's demand and I couldn't let him down. I had to create a Better than Sex Cupcake that lived up to his hopes.
The Five Chocolate Parts of the Better Than Sex Cupcakes
I created cupcakes that have five different chocolate components:
Chocolate cupcake recipe by Chockylit. On their own, these may be the best chocolate cupcakes you've ever had.(Update 6/213: I'd now suggest using my Ultimate Chocolate Cupcakes as the cupcake recipe. They are even better!)
Mini semi-sweet chocolate chips mixed into the recipe.
Rich, decedent chocolate mousse filling.
Dark chocolate ganache made with 67 percent Patric chocolate.
White chocolate drizzle.
Were the Better Than Sex Cupcakes Better than Sex?
I offer you selected quotes from three tasters:
"Sex, what's that?"
"Mmmmmmm… chocolate"
"It could be better that sex. I'll have to go home and compare." (I never got a report from this taster on which was better. I can only assume the cupcakes were better and the taster didn't want to embarrass his lover.)
What Cocoa Powder and Chocolate Should I Use?
Although the text below is from my post on Ultimate Chocolate Cupcakes, the same information applies. And, as noted above, I recommend using the Ultimate Chocolate Cupcake as the cupcake recipe for the Better Than Sex Cupcakes.
Cocoa Powder

This chocolate cupcake recipe has been tested with many different kinds of cocoa powder, both Dutch-processed and natural. All varieties work well! I asked my Explorers to tell me what cocoa powder they used when they baked. Those who voted these cupcakes the Ultimate used Hershey's Cocoa, Natural Unsweetened [paid link], Hershey's Cocoa, Special Dark [paid link], Nestle Toll House Cocoa [paid link], Bensdorp Dutch-process cocoa, Ghirardelli Chocolate Baking Cocoa, Unsweetened [paid link], Fry's Premium Cocoa [paid link], Penzeys Dutch Process Cocoa Powder, Scharffen Berger Unsweetened Natural Cocoa Powder [paid link], Pernigotti Cocoa [paid link], Penzeys Natural Cocoa Powder, Trader Joe's Cocoa Powder, Unsweetened [paid link], and Valrhona Chocolate Cocoa Powder [paid link].
Yes, using different cocoa powders will alter the taste of the cupcakes, but you really can't go wrong – it's all chocolate! If you've only ever tried one brand of cocoa powder, I suggest experimenting with some new ones to see which flavor profile you prefer.
I have about ten different cocoa powders in my pantry right now – including many of the ones on the list above – and I happily switch between them. The only one I would also mention is Cacao Barry [paid link] for fans of really dark chocolate.

Chocolate.

The Ultimate Chocolate Cupcake recipe uses both cocoa powder and melted chocolate. You can use any plain chocolate that you like except white chocolate or candy melts. The chocolate doesn't have to be one typically earmarked for baking – any chocolate bar that isn't flavored and doesn't contain mix-ins like nuts, Rice Krispies, nougat, etc. will work. This way, you can choose whatever type of chocolate you prefer to eat: milk, dark, or even flavored chocolate bars. I asked my Explorers to tell me which chocolate they used when they baked. Those who voted these cupcakes the Ultimate used Ghirardelli Chocolate Baking Chips, 60% Cacao Bittersweet Chocolate [paid link], Callebaut Chocolate Callets Semisweet (small discs) [paid link], Lindt Classic Recipes Milk Chocolate [paid link], Hershey's Unsweetened Chocolate Baking Bar [paid link], Guittard French Vanilla Semisweet Chocolate, E. Guittard Bittersweet Chocolate 72% Cacao Disc Wafers [paid link], Baker's Semi-Sweet Baking Chocolate Squares [paid link], Hershey's Milk Chocolate Bar [paid link], Whole Foods 365 Dark Chocolate, 56%, Ghirardelli Chocolate Baking Chips, Milk Chocolate [paid link], Olive & Sinclair Cacao, Toll House Semi Sweet Morsels [paid link], Trader Joe's Fair Trade Organic Belgian Milk Chocolate Bar [paid link], Green & Black's Organic Milk Chocolate Bar [paid link], and Mast Brothers.
I've personally baked this recipe with a huge variety of chocolate and it's all been great. So, if the only chocolate you have in your house is leftover chocolate chips from a batch of cookies, that's fine. But, when I want something extra special and I'm willing to spend a little more money, I reach for chocolate with less sugar and a more complex flavor. A melted Patric Chocolate bar yielded my favorite version of these cupcakes to date. I also enjoy TCHO, Scharffen Berger [paid link], and often buy Callebaut discs [paid link] since they are sold at the Whole Foods near my house.
Better Than Sex Cupcake Recipe

The chocolate cake recipe came from Chockylit's now-defunct cupcake blog. I am reprinting it below with my added step of mixing in chocolate chips. Chockylit points out that this recipe will make flat cupcakes, not domed ones. Do not try to overfill your cupcake liner. She recommend filling it 2/3 full. I changed the recipe to reflect the fact that I only filled mine about 1/2 way.
Update 6/2/13: I am leaving this recipe here because many of you love it. But, you'll see in the comments that people have had problems with this recipe. If you are making this for the first time, I now suggest using my Ultimate Chocolate Cupcakes with 2/3 cups chocolate chips mixed in instead of the cupcake recipe below. You can still follow the instructions for the mousse, ganache, and white chocolate drizzle found below.
Better Than Sex Cupcakes: Chocolate Times Five
These cupcakes have five different forms of chocolate in them.
Ingredients
Cupcake Ingredients
1/2

cup

unsalted butter

room temperature

1-1/4

cups

sugar

2

large eggs

room temperature

3/4

cup

flour

1/2

teaspoon

baking powder

1/4

teaspoon

baking soda

1/4

teaspoon

salt

1/2

cup

unsweetened cocoa powder

1/2

cup

milk

1

teaspoons

vanilla

2/3

cup

mini semi-sweet chocolate chips
Filling Ingredients
You can fill these cupcakes with any chocolate mousse recipe you like. I strongly recommend trying my homemade chocolate mousse.
Dark Chocolate Ganache Ingredients
3.5

oz

of dark chocolate broken into small pieces

I used Patric chocolate

1/3

C

heavy cream
White Chocolate Drizzle Ingredients
2

ounces

white chocolate.
Instructions
Cupcake Instructions
Preheat oven to 350 F.

Beat butter until softened.

Add sugar and beat until light and fluffy, about 3 minutes.

Add eggs, one at a time, beating until well combined.

Measure the flour, baking powder, baking soda, salt, and cocoa powder into a small sized bowl and whisk to combine.

Measure out the milk and vanilla and stir to combine.

Add about a third of the dry ingredients to the butter/sugar and beat to combine. Add about a half of the milk/vanilla and beat to combine.

Continue adding, alternating between dry and wet and finishing with the dry.

Stir in chocolate chips.

Scoop batter into cupcake cups about 1/2 full.

Bake for 22-25 minutes or until a cake tester comes out clean.
Filling Instructions
To fill the cupcakes, use a small paring knife to cut a cone into the cupcake. Spoon or pipe (I found piping to be easier) chocolate mousse into the hole. Replace the top. Don't worry if the top of the cupcake doesn't look pretty any more, you are going to frost over it so no one will know the difference.
Dark Chocolate Ganache Instructions
Place the chocolate in a small glass bowl.

Heat the cream in a small saucepan until it just starts to boil.

Pour the cream over the chocolate and stir until all the chocolate is melted and integrated with the cream.

While it is still warm, spread a thin layer of it over the cupcakes. It will harden when it cools.
White Chocolate Drizzle Instructions
Melt white chocolate. You can do this on the stove, but I find it easier to do in the microwave. I do it for 20 seconds at a time. Stir after each round. When it is all melted, you are done. It should take about a minute.

Pour the melted chocolate into a plastic sandwich bag or a disposable pastry bag. Cut a very small hole at the tip of the bag and draw whatever kind of funky pattern you want onto your cupcakes!
Nutrition
Calories:
234
kcal
|
Carbohydrates:
19
g
|
Protein:
3
g
|
Fat:
16
g
|
Saturated Fat:
9
g
|
Cholesterol:
44
mg
|
Sodium:
73
mg
|
Potassium:
191
mg
|
Fiber:
2
g
|
Sugar:
10
g
|
Vitamin A:
295
IU
|
Calcium:
44
mg
|
Iron:
2.1
mg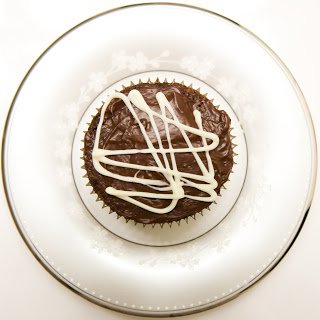 Stay Connected!
Join my mailing list - and receive a free eBook!