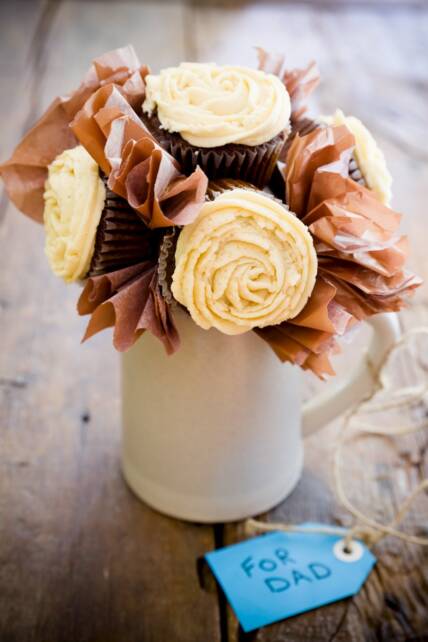 Over on the Cupcake Project Facebook page, many of you told me that you would not give flowers to your dad for Father's Day.  But, what if those flowers were actually cupcakes – and what if those cupcakes were made with beer?  This Father's Day cupcake bouquet made with beer cupcakes is served in a beer mug and would be just the thing to grace your Father's Day breakfast table.
Cupcake bouquets can be intimidating to make.  It was hard for me to wrap my brain around the fact that the cupcakes would really stay put and the frosting wouldn't just fall off.  But, cupcake bouquets are surprisingly easy to make and, as long as you use a fairly stiff frosting, the frosting will magically stay in place on the cupcakes.  I kept checking back on my bouquet and found that even a day later everything was exactly in place as I had left it (insert sigh of relief here).
What You'll Need to Make a Father's Day Cupcake Bouquet
Your favorite cupcakes!  A standard-sized beer mug bouquet will hold 7 cupcakes.  Any recipe will will do, but if you want to go the beer cupcake route, I've got lots of beer cupcakes to choose from.
How to Make a Father's Day Cupcake Bouquet
I used Stephanie's excellent cupcake bouquet tutorial on 52 Kitchen Adventures as my guide when I made this Father's Day bouquet.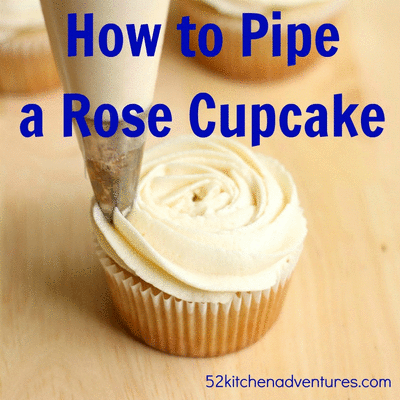 She's got great tips on how to make bouquets as well as how to pipe roses on your cupcakes.  The so very helpful animated photo above is from Steph!
More Father's Day Cupcake Ideas
Are you looking for more Father's Day cupcake ideas?  The Cupcake Project Pinterest Explorers have a board for that!