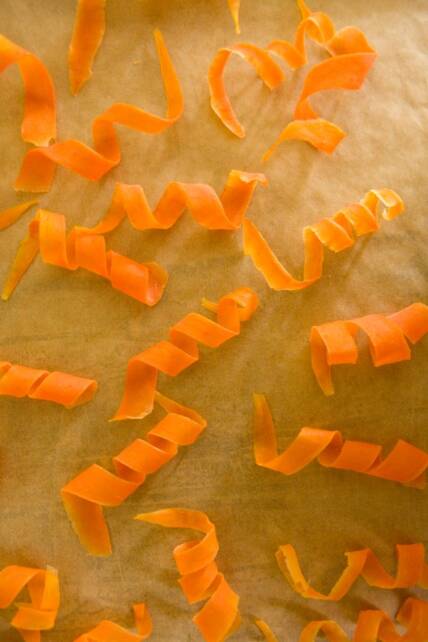 Why are carrot cakes and carrot cake cupcakes always topped with a piped carrot drawing?  Apple cakes don't have apple drawings on them, nor do peach cakes have little piped peaches.
Why not top your carrot cakes with the real thing?!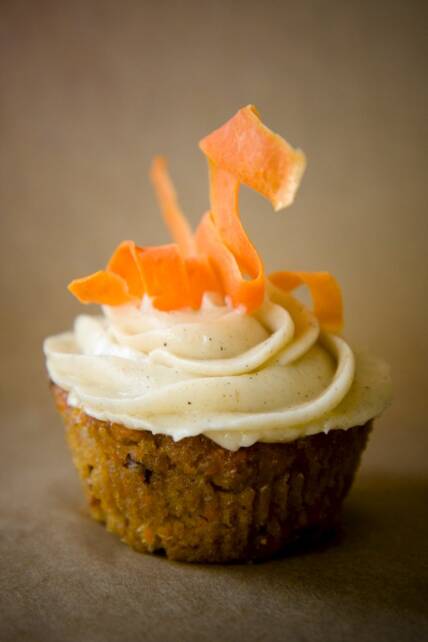 Don't be alarmed by the number of steps in the carrot curl instructions.  I know it sounds like a lot of fussing, but making the carrot curls is really quite simple and the result is beautiful.  When Bride 3.0 saw the cupcakes topped with these, she loved that they looked like little ribbons.
These curls can be made up to five days in advance and recrisped. I also suggest making more than you think you will need as inevitably some end up losing their shape and some end up looking fantastic!
Ingredients
1 large thick carrot
1 cup water
1 cup sugar
Instructions
Use a peeler to peel wide strips of carrots. You may need to discard several strips before the strips become wide, they will get wider as you go and it's OK if they aren't all the exact same size.
In a small saucepan on high heat, bring water and sugar to a boil, stirring until sugar has dissolved.
Add carrot strips and reduce heat to medium-low. Simmer for 15 minutes.
Remove from the heat and strain out liquid. The liquid can be discard or used to sweeten drinks.
Let stand until carrots are comfortable to the touch.
Preheat oven to 225 F with rack in middle.
Arrange candied carrot slices flat in a single layer on a parchment- or silicone mat-line baking sheet.
Bake until dry but not brittle, about 30 minutes. (Leave oven on.)
Working quickly, wind carrot strips, one at a time, in a spiral around the end of handle of a wooden spoon. Return them to the baking sheet in their curled form, seam sides down.
Return the baking sheet to the oven until the carrot curls crisp up - start checking for this at 20 minutes, but depending on how thick your peels were it could take up to 45 minutes.
Once dry, remove the curls from the oven and transfer them to a baking sheet to cool completely. Carrot curls can be made up to five days ahead. Store in an airtight container at room temperature. When ready to use, recrisp in a 250 F oven for 10 minutes. Warning: Don't put them on your cake until just before serving or the curls will get soggy.
Notes
Adapted from Epicurious (they got it from the December 2007 issue of Gourmet).
http://www.cupcakeproject.com/2010/04/candied-carrot-curls-unique-carrot.html
Note:  If you don't want to make carrot curls but still want to top your cupcakes with real carrots, you might consider Chockylit's carrot sprinkes.