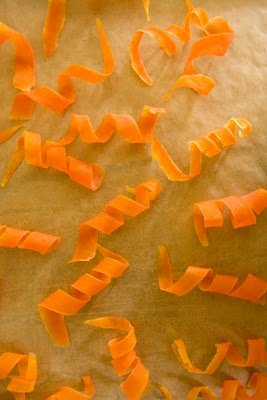 Why are carrot cakes and carrot cake cupcakes always topped with a piped carrot drawing?  Apple cakes don't have apple drawings on them, nor do peach cakes have little piped peaches.
Why not top your carrot cakes with the real thing?!  I found the recipe for these candied carrot curls on Epicurious (they got it from the December 2007 issue of Gourmet).
Don't be alarmed by the number of steps in the carrot curl instructions.  I know it sounds like a lot of fussing, but making the carrot curls is really quite simple and they will easily impress your cupcake eaters.  When Bride 3.0 saw the cupcakes topped with these, she loved that they looked like little ribbons.

Here is the reprint of the recipe, along with my notes:

1 large carrot (preferably fat) or 2 medium
1 C water
1 C sugar
Peel layers from carrot lengthwise on one side with peeler until you begin to get wide slices. Peel wide strips, reserving them, until you get about 15 (there will be a few extra).

(I just did the whole carrot.  I figured that it couldn't hurt to have extras.)

Bring water and sugar to a boil in a small heavy saucepan, stirring until sugar has dissolved.
Add carrot strips and simmer, uncovered, 15 minutes.
Strain through a sieve into a bowl, discarding syrup.
Let stand 15 minutes.
Preheat oven to 225 F with rack in middle.
Line a large baking sheet with nonstick liner

(I used parchment paper)

, then arrange candied carrot slices flat in 1 layer on sheet.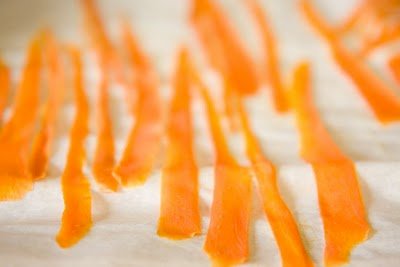 Bake until dry but still flexible, about 30 minutes. (Leave oven on.)
Wind carrot strips, 1 at a time, around end of handle of a wooden spoon in a loose spiral, then slip off each curl and return, seam sides down, to lined baking sheet.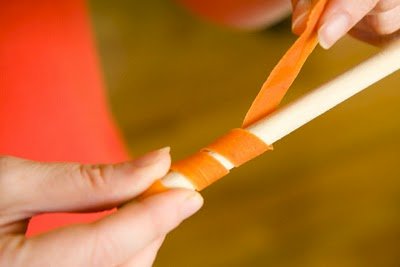 Return curls to oven to dry until crisp, 30 to 45 minutes more.

(Some of my curls looked less curly after this step. I'm not sure why it happened – maybe they weren't seam side down, or maybe they got too dry.  I loved them anyway.)

Cool completely on baking sheet.  Carrot curls can be made 5 days ahead and cooled completely, then kept in an airtight container at room temperature. Recrisp in a 250 F oven 10 minutes.

(Don't put them on your cake until just before serving or they will get soggy.)
Note:  If you don't want to make carrot curls but still want to top your cupcakes with real carrots, you might consider Chockylit's carrot sprinkes.